Mighty Harajuku Project World Tour Pictures – US & Canada
The Mighty Harajuku Project was born in the days just after the massive 110311 earthquake struck Japan. Sebastian Matsuda from the Japanese fashion brand 6%DOKIDOKI was looking for something positive to channel his energy into – something that would not just help raise money for victims, but that would also help raise the spirits of people in the neighborhood 6%DOKIDOKI calls home. Sebastian's message was simple, but hopeful: let's work to help those who are in need, we will get through these difficult times together, let's show the world that Japan is still strong, and the future will be brighter for everyone.
Two months have passed since the earthquake. Indeed, things have improved greatly in Japan. Those in the tsunami areas are still struggling to get their lives back, but even in the worst hit areas we have seen many hopeful and inspirational stories in aftermath of the disaster. During the recent Golden Week holidays, the streets of Harajuku were bustling with people, shops and restaurants were packed, and the sound of Japanese high school girls laughing and having fun filled in the air. There were still less tourists that usual, but their numbers are growing week by week. It's probably too early to say that things are "back to normal" in Harajuku, but certainly we are well on our way.
Mighty Harajuku – a simple idea to encourage and bring hope to a single neighborhood, conceived only hours after the quake hit – has also changed a lot in the two months since the disaster. In fact, it has grown into something bigger than Sebastian ever imagined. In April, 6%DOKIDOKI took Mighty Harajuku on the road – traveling to the United States and Canada to raise money for earthquake victims and to bring a message of thanks to people around the world who have been so supportive of Japan.
The Mighty Harajuku World Tour accepted donations for earthquake victims at every stop – including at an art gallery in Los Angeles, at the Art Institute of Vancouver in Canada, and at Sakura-con in Seattle. Anyone who donated was given either a Mighty Harajuku button, a photo with the 6%DOKIDOKI staff, or both! Sebastian and the entire 6%DOKIDOKI crew were overwhelmed by the kindness shown by people they met along the way. From the youngest babies to college students to grandparents, everyone was very supportive and showed tremendous love and concern for Japan.
Several photographers who took pictures during the Mighty Harajuku World Tour were nice enough to share their images with us so that we could share them with you. There are many great pictures from every stop, but one set of photos amazed us most of all. At the Hollywood Walk of Fame, tourists from all over the world – along with an only-in-Hollywood gang of celebrity impersonators and superheroes – joined in to show support for the Mighty Harajuku Project. Who would have ever believed two months ago that Tom Cruise, Spiderman, Mario, Predator, and Barney the Dinosaur (or close facsimiles thereof) would be sending messages of love from Hollywood directly to Harajuku? There's really no way to explain the awesomeness of it all. You simply must see the pictures!
Mighty Harajuku in Hollywood & LA, California (photos by Dave Tada)
Mighty Harajuku in Vancouver, Canada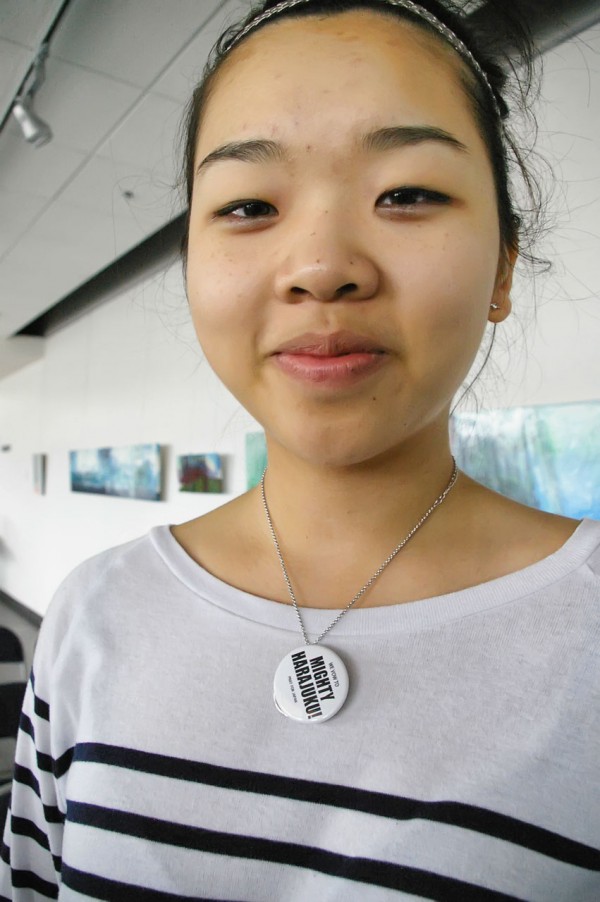 Mighty Harajuku in Seattle, Washington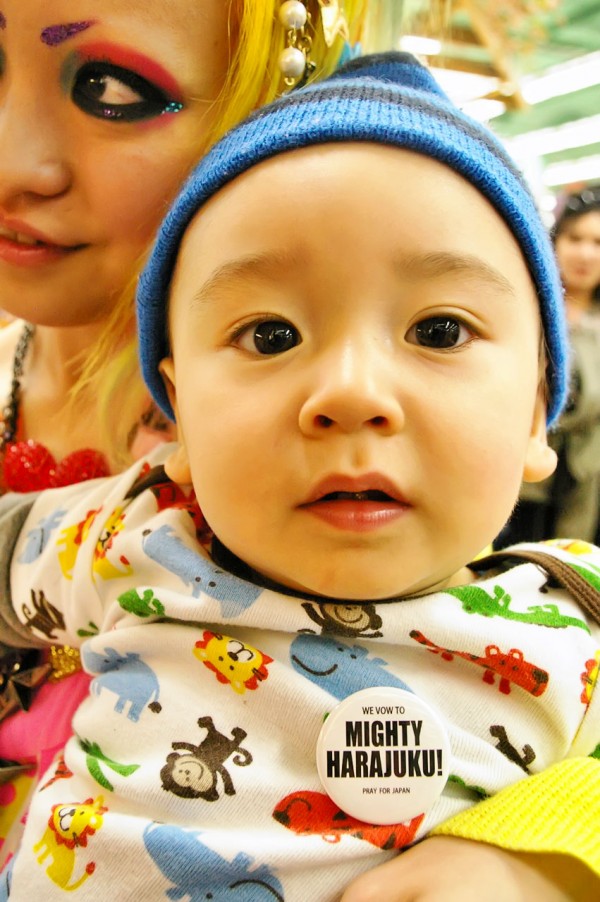 Click any of the Mighty Harajuku Project pictures to enlarge them.
Besides the actual Mighty Harajuku tour, people from all over the world have been submitting their own Mighty Harajuku support photos via blogs, Twitter, and Facebook. You can see a gallery of submitted Mighty Harajuku photos on the 6%DOKIDOKI Facebook page. You can also see more of Dave Tada's pictures from the Hollywood Mighty Harajuku event on the Sweet Streets Flickr.
Mighty Harajuku donation locations on this tour included these venues:
Los Angeles: Space15Twenty, Mann's Chinese Theater, Hollywood Walk of Fame
Vancouver: Art Institute of Vancouver, Caprice Night Club
Seattle: Uwajimaya & Kinokuniya Book Store, MOMO Japantown, VAIN Hair Salon, Kushibar, ROCK BOX Karaoke, Sakura-con
A big THANK YOU to everyone who came out to support Mighty Harajuku in America and Canada. Also, thanks to the kind venues who hosted the events in each city.
Photos above not credited to another photographer are courtesy of 6%DOKIDOKI.