MTV Video Music Aid Japan & Flea Market for Tohoku
Since the Tohoku earthquake struck Japan back in March, we've been reporting on the various ways that Japan's fashion industry has come together to support victims of the disaster. At the end of June, MTV Japan organized a full day of earthquake relief events bringing together musicians and entertainers from all over the world, along with many top names from Tokyo's fashion scene.
In honor of earthquake and tsunami victims, this year's MTV Japan Video Music Awards show was renamed "MTV Video Music Aid Japan". The goal of the event was to raise money for the Japanese Red Cross. Held at Makuhari Messe, just outside of Tokyo, Music Aid Japan featured an impressive lineup of Japanese and international guests – including Lady Gaga, Girls Generation, AKB48, SHINee, Namie Amuro, Tokio Hotel, Verbal, Thelma Aoyama, Anna Tsuchiya, Monkey Majik, Kana Nishino, The Shibuhara Girls (from the MTV reality show), and many more.
With all of these huge names joining forces with MTV to support earthquake victims, the crowds at Makuhari were massive. We were heartened to see so many music fans come out not just for the live performances, but also to help raise money for the Red Cross. And, as is usual when Lady Gaga visits Tokyo, her Japanese fans were out in force – many in amazing costumes, hair, and makeup.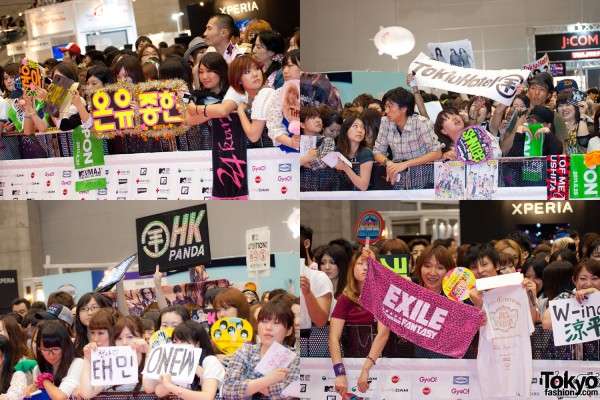 After the MTV Video Music Aid Japan show, many of the artists made their way to the Flea Market for Tohoku. This MTV-sponsored event brought musicians together with notable personalities from Japan's fashion industry in an effort to raise even more funds for earthquake victims.
At the Flea Market, visitors could purchase limited edition and one-of-a-kind creations from Japanese fashion designers, with the proceeds going to disaster relief. There were also live performances and stage appearances by many artists. Participants in this event included Tokyo fashion brand SPANK!, designer & DJ Mademoiselle Yulia, Iconiq, Yuya Nara (hairdresser to Japanese celebs & Lady Gaga when she's in town), Tokio Hotel, Elli-Rose (aka Van Cliffe.D), Alan, Marty Friedman, May J, Verbal, Anna Tsuchiya, and more.
As part of The Flea Market for Tohoku, many of the artists are auctioning off musical equipment and other signed items in an online charity auction to benefit the Japanese Red Cross. So far, between the Flea Market and the auction, over four million yen has been raised. The online auctions continue through July 23rd, so you still have time to do your part for earthquake victims – and walk away with one of Tokio Hotel's signature guitars or other cool items. Check out all of the earthquake charity auctions – with full English-language bidding support – right now!
MTV was nice enough to invite us to both of their events – MTV Video Music Aid Japan and Flea Market For Tohoku. We brought back lots of exclusive pictures to share with you. Please check out all of the photos below, and remember that you can click on any of them to see them in extra-super high resolution!
MTV Video Music Aid Japan
Flea Market for Tohoku
For more information on either event, check out these links:
About the photographer:
Michael Steinebach has been fortunate enough to travel and see the world. Exposed to the limitless possibilities of photography 20 years ago, he grew up looking at things differently. He currently shoots in the areas of people, fashion, and news photography in Japan. He maintains a Facebook page with samples of his work. He can be emailed about contract work or with questions or comments on his photography.