Nicopanda Harajuku Popup Shop with Nicola Formichetti, Hirari & Juria
Nicola Formichetti is one of the most well-known and influential creatives in the fashion world today – and a very, very busy man. His countless projects range from styling global superstars like Lady Gaga to fashion directing Vogue Homme Japan to acting as head creative at Mugler and working with Japanese juggernaut Uniqlo. Formichetti launched his own brand Nicopanda in 2011. Nicopanda's quirky-kawaii designs quickly gained a worldwide following.
At the beginning of March, a bright pink Nicopanda popup shop appeared on the front of LaForet Harajuku – complete with a giant panda, a UFO catcher, and an amazing Hello Kitty panda dress. This week, the head panda himself has been hanging out in his Harajuku shop, to the delight of his Japanese friends and fans.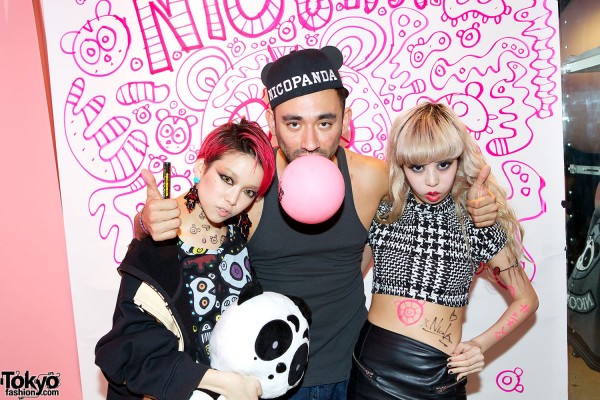 Nicola Formichetti's resume may be a who's-who of international brands, but he was born in Japan and has always had a strong connection to Japan's street fashion scene. Nicopanda is a labor of love for Formichetti. The quirky-kawaii pieces he creates for the brand resonate strongly on the streets of Tokyo.
In addition to his own work, Formichetti is admired for his ongoing discovery and nurturing of young creatives. For example, popular Harajuku models Hirari Ikeda and Juria Nakagawa began working with Nicopanda before their names were known by many people outside of Japan. Both Hirari and Juria – along with a number of other Tokyo street fashion personalities who have been involved in Formichetti's previous projects – are working at the Nicopanda Harajuku popup shop.
We covered the Nicopanda Shinjuku popup shop last year, but we knew that Nicopanda Harajuku would be much bigger and even more fun. Thus, we were excited when Nicola's brother Andrea invited us to photograph the shop and shop staff. We were even more excited to catch Nicola Formichetti at Nicopanda Harajuku – and to watch him interacting with his fans, drawing pandas, and just generally having a fun time.
If you're going to be in Tokyo before March 31st, we highly recommend that you check out the Nicopanda Harajuku Popup shop at LaForet Harajuku! In the meantime, enjoy all of our pictures! Big thanks to both Nicola Formichetti and Andrea!
Nicola Formichetti at Nicopanda Harajuku
Nicopanda Girls Hirari Ikeda & Juria Nakagawa at Nicopanda Harajuku
Nicopanda Harajuku Popup Shop
Thank you once again to Nicola Formichetti and Andrea Formichetti as well as Juria Nakagawa and Hirari Ikeda.
Please go check out the Nicopanda Harajuku shop for yourself. It can be found on the front of LaForet Harajuku (directions here) through March 31, 2013.
Shop & Juria/Hirari pics by Michael. Nicola live event photos by Kira.
***
About the photographer:
Michael Steinebach has been fortunate enough to travel and see the world. Exposed to the limitless possibilities of photography 20 years ago, he grew up looking at things differently. He currently shoots in the areas of people, fashion, and news photography in Japan. He maintains a Facebook page with samples of his work. He can be emailed about contract work or with questions or comments on his photography.
About the photographer:
Born in Japan, educated in Japan and the US, Kira shoots exclusively with Canon DSLRs. Photography assignments include fashion, bands, sporting events, and portraiture for various companies and bands throughout Japan & the world. His portfolio can be viewed at Artist-Photo.