Nike Harajuku Shop Opening
On October 11, 2008, the new Nike Sportswear Shop (NSW Tokyo) opens in the Harajuku area of Tokyo, Japan. The new Nike shop is located on Cat Street between Omotesando Dori and Meiji Dori. In the weeks leading up to the opening, Nike has been running billboards all over Harajuku. Many of the billboards feature Harajuku fashion legend, and Honeyee founder, Hiroshi Fujiwara. On the night before the opening, we hit the streets of Harajuku to snap some photos of the new shop location and the billboards. The opening day for Nike should be a who's who of Tokyo fashion designers, clothing company execs, Japanese celebs, and of course lots of Japanese kids who are just into sneakers. Unfortunately, we are not sure if we'll have someone at the opening because it's on the same day as Tokyo Game Show, so here are the night before pics at least.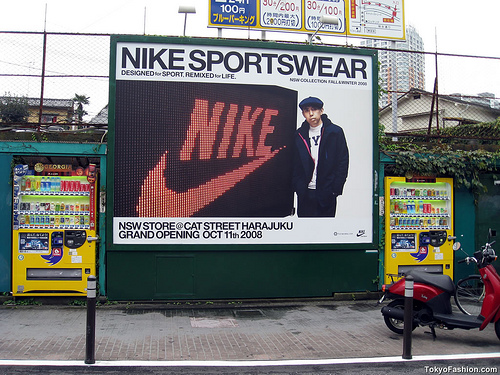 This new Nike shop is in a cool building on Cat Street that used to have some other shop that I can't remember right now. The address for the new shop is:
Nike Sportswear Tokyo Store (NSW Tokyo)
6-14-5 Jingumae, Shibuya-ku, Tokyo
It's directly across from the Arizona Freedom jewelry shop. Here is a map showing exactly where the shop is:
View Larger Map
Lastly, for those of you who may be nostalgic for the old Harajuku or the old Nike – here is a photo of the Nike Concept Shop that used to be in a different location on Cat Street.
The old concept shop is long now gone, but it was cool while it lasted. Nothing ever seems to stay the same in Harajuku. There is a photoset with more Nike Harajuku pics on the Tokyo Fashion Flickr page.