North Face Tokyo Exhibition at Spiral
"Do More With Less – 40 Years of North Face", an exhibition celebrating the history of the North Face outdoor clothing and lifestyle brand, opens on Saturday (November 29, 2008) at Spiral Garden in the Aoyama area of Tokyo.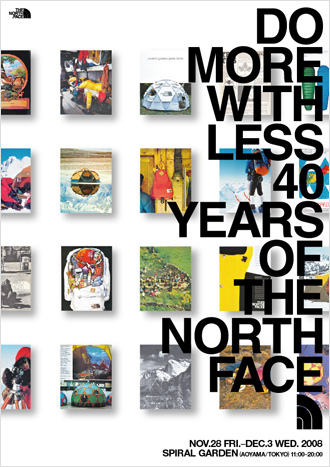 The North Face is a popular fashion brand in Tokyo (as it is worldwide) and you see kids wearing their TNF backpacks, jackets, boots, and other clothing and accessories all over Harajuku, Shibuya, and other areas. The annual Fuji Rock Festival just wouldn't be the same without all of the North Face camping gear scattered over the hillsides in the area. North Face also have a flagship shop on Meiji Dori, not too far from LaForet, on the other side of Omotesando Dori.
The "Do More With Less" show was put together to celebrate the 40th anniversary of the brand and showcase some cool items from its history. The North Face was founded in 1968 in San Francisco – the world, and the brand, has changed a lot since then.
Besides showing off some items from the brand's history, The North Face will also hold some talk show events during the exhibition and some limited edition retro items, including "Do Less With More" print bags and vintage styled jackets and retrospective books will be available.
Here are some related links:
The show only runs through December 3rd, so check it out soon if you are interested!