Punk Cake – 1980s & 1990s Vintage Fashion Boutique in Harajuku
Styles of the 1980s and 1990s are extremely popular in today's Japanese street fashion scene. While smaller Tokyo neighborhoods like Koenji, Nakameguro, and Shimokitazawa lay claim to countless resale and vintage shops, Japan's most influential vintage boutiques are located in the back streets of Harajuku. Japanese street fashion magazines and websites (including this one) are packed with mentions of trend-setting shops like Kinsella, Bubbles, G2?, and PinNap – all of which are located within a short walk. The newest member of Harajuku's vintage inner circle opened in October of 2013. Welcome to Punk Cake!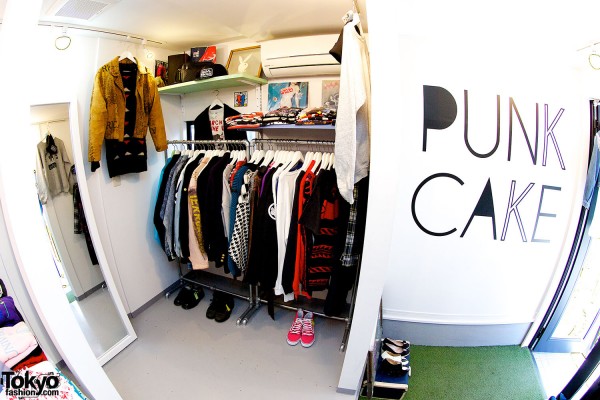 Punk Cake specializes in 1980s and 1990s fashion, as well as stocking few selected new items. Each of the Tokyo vintage shops in this space is defined by the personal tastes of the owner. Punk Cake's owner Kinji has years of experience as a buyer for one of Japan's largest resale fashion chains. Leaving the corporate world behind and opening his own independent shop has meant that Kinji can let his personal interests and tastes (like early 1980s punk music) influence his buying choices. Every item at Punk Cake is hand-selected, and the store's inventory has a strongly curated feel.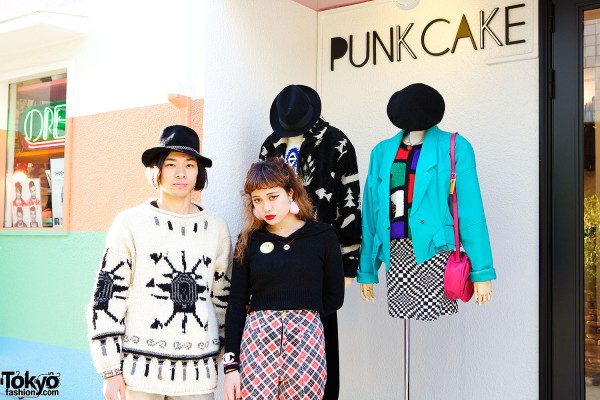 Longtime Harajuku style icon Mikki is on staff at Punk Cake, and Kinji told us that Mikki's fiercely independent personal style has been a big influence on his vision for the womenswear carried by the shop. In addition to her work in the shop, Mikki is the main model for a series of ongoing Punk Cake photo shoots. These photo shoots, taken at various locations around Tokyo, give a strong indication of the visual concept that Kinji has for the boutique.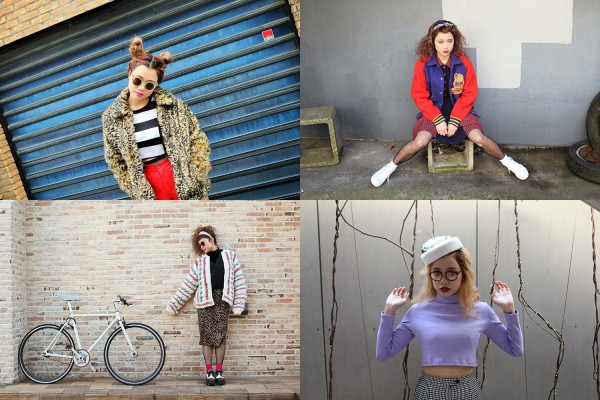 Punk Cake's interior is decorated with a mix of retro items from Japan and abroad – including vinyl albums (Blue Hearts, New York Dolls, Sex Pistols. Plastics), posters (Keith Haring), manga (Akira), magazines, and even a few memorable toys of the era. Overall, the store has a very clean feel compared to some of the other vintage shops, and the pastel stripes on the front of Punk Cake also make it stand out from its peers.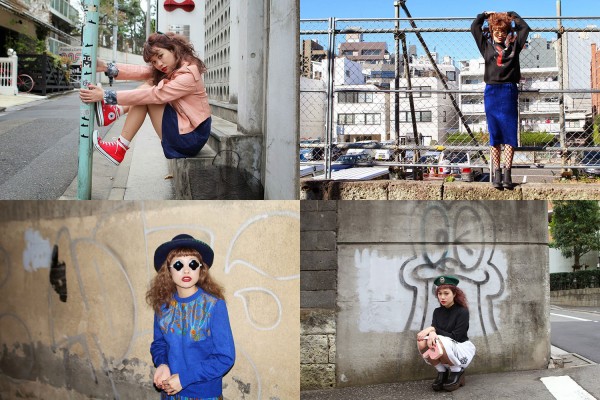 Punk Cake sells vintage and resale fashion for both men and women, but the current inventory clearly tilts in favor of womenswear. We are currently in the middle of winter in Tokyo and inventory reflects that with a focus on colorful sweaters and jacket. The shop also stocks retro skirts and dresses, t-shirts, denim, footwear, hats, purses, backpacks, and lots of accessories (studded jewelry, vintage buttons, belts, sunglasses), and more.
Punk Cake is located on a small Harajuku backstreet that runs between Harajuku Dori and Omotesando Dori. It is a short walk from any number of must-visit Harajuku destinations like Nadia Harajuku, LaForet, Dog, and Tokyo Bopper. The next time you're in the area, consider stopping in and having a look around Harajuku's newest vintage boutique! Scroll down to the bottom of the page for business hours, address, shop map, and other important details.
Click on any of the Punk Cake pictures to enlarge them.
About Punk Cake Harajuku:
Mikki photos courtesy of Kinji. Punk Cake photos by Kira.
***
About the photographer:
Born in Japan, educated in Japan and the US, Kira shoots exclusively with Canon DSLRs. Photography assignments include fashion, bands, sporting events, and portraiture for various companies and bands throughout Japan & the world. His portfolio can be viewed at Artist-Photo.