Roppongi Christmas Pictures 2010 – Including Illuminations at Tokyo Midtown and Roppongi Hills
Welcome to our Roppongi Christmas Photo Walk for 2010. We'll let you know right up front that this walk will be a little weak compared to some of the other areas we're covering. Because of time constraints, we weren't actually planning to cover Roppongi at all this year. But on an unplanned visit to eat Mexican Food at Tokyo Midtown, we decided to bring along our camera and squeeze in a short walk just to give you a taste of what's going on in this part of town. We also never miss an opportunity to shoot pics of Tokyo Tower, something that's very easy to do from certain locations around Roppongi Hills!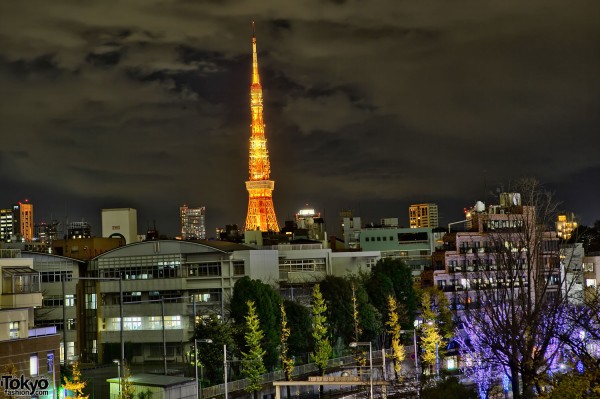 As I said, we'll do a pretty short walk this time – mostly just a quick dash between Tokyo Midtown and Roppongi Hills. Luckily, both of these humongous futuristic Tokyo developments have nice Christmas illuminations every year. So even if we aren't covering as much ground as we'd like, at least we'll see some of the most beautiful holiday lights in Roppongi. Alright, enough talking (writing). Let's get walking!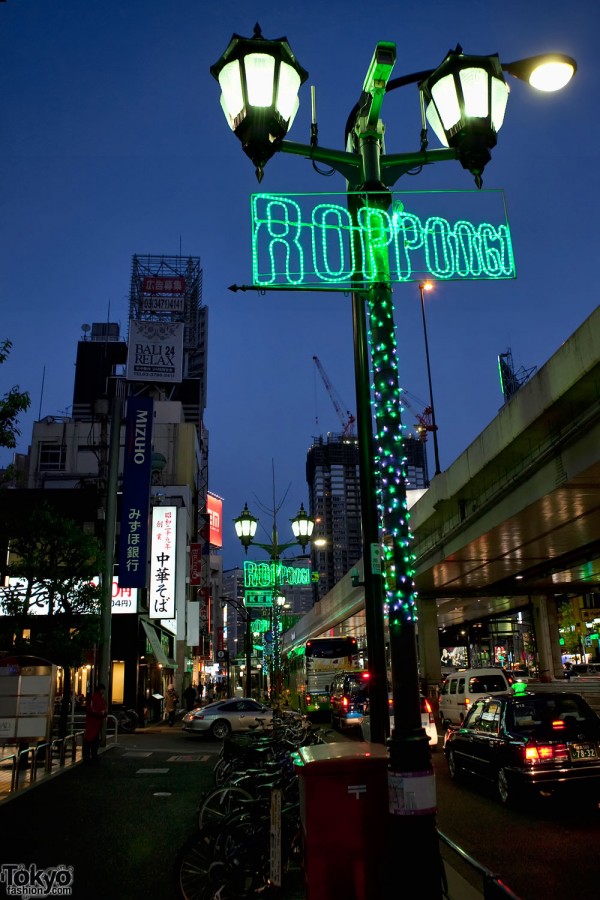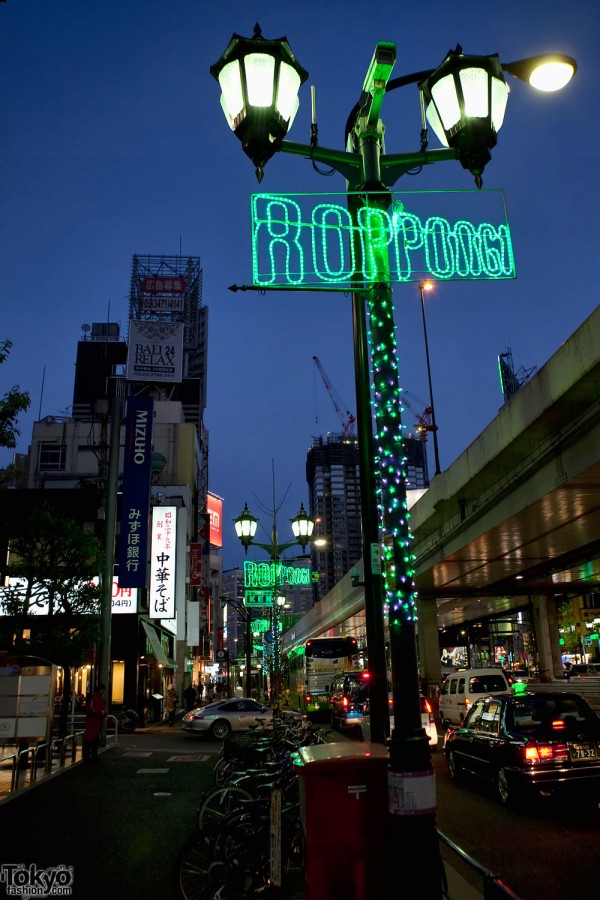 To start with, we're walking toward Tokyo Midtown. The first thing you notice is that all of the major streets in Roppongi are decorated with these green lights that say – you guessed it – "ROPPONGI". The rows of these signs look pretty nice along the sides of the road, but it was hard to get a good photo of a bunch of the signs together without walking out into the street and getting run over by crazy Roppongi drivers.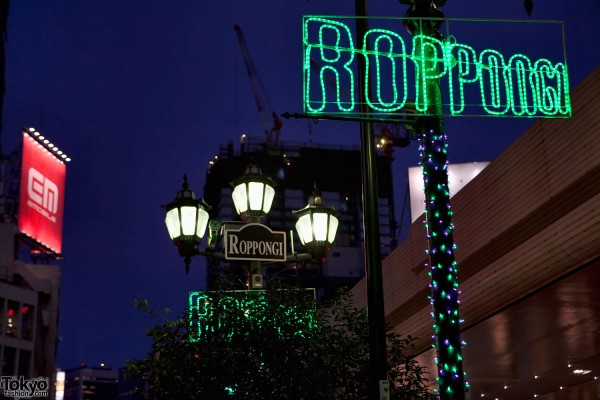 Another couple of "Roppongi" signs for your enjoyment.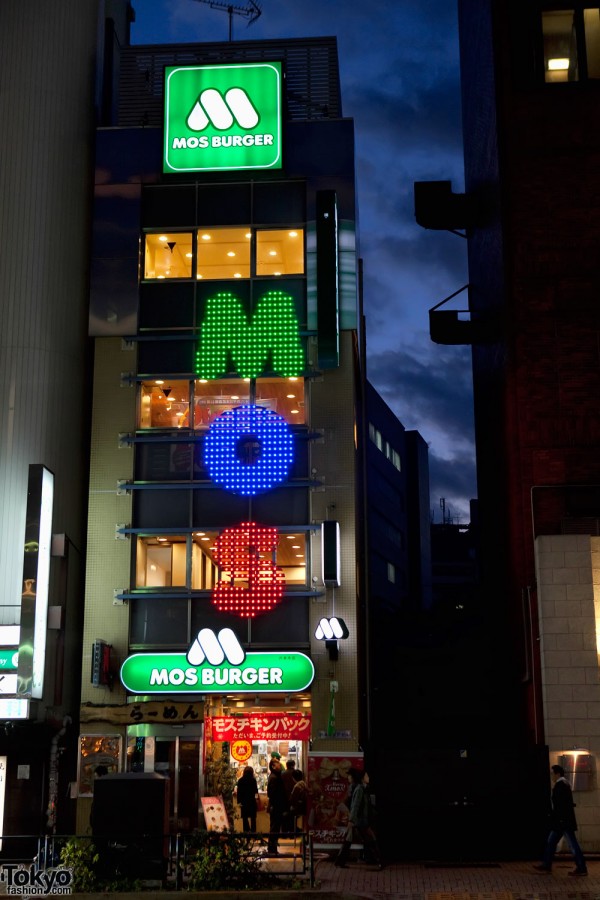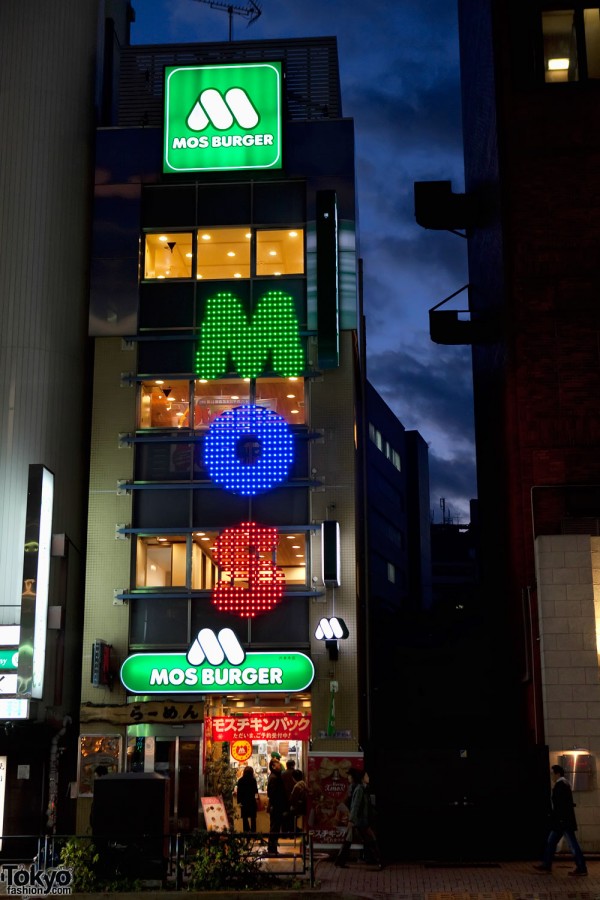 If we weren't on our way to get Mexican Food, there's a pretty good chance we'd stop right here and have some Mos Burger. Notice the clouds in the sky? Hope it doesn't rain before we get started. My camera doesn't like water too much.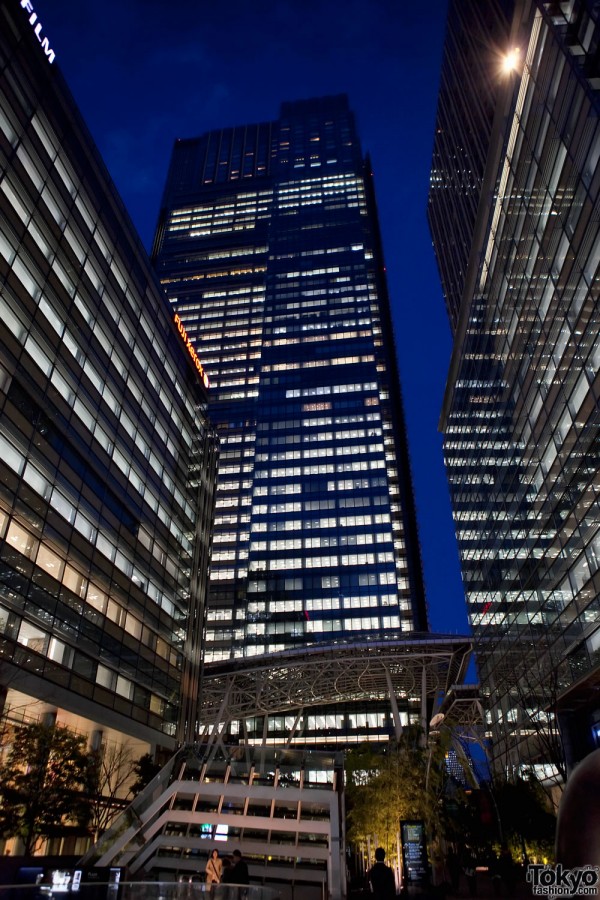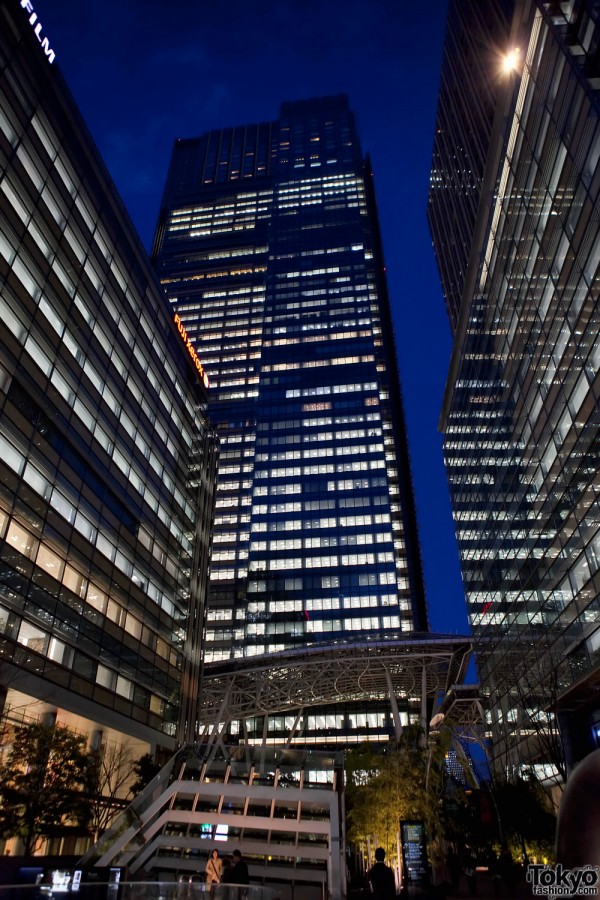 Right now we're passing by the front of Tokyo Midtown. It's a bit early in the evening (giving us time to eat Mexican food before taking more of our photos), so the building isn't yet lit with holiday lights. We'll pass here again later.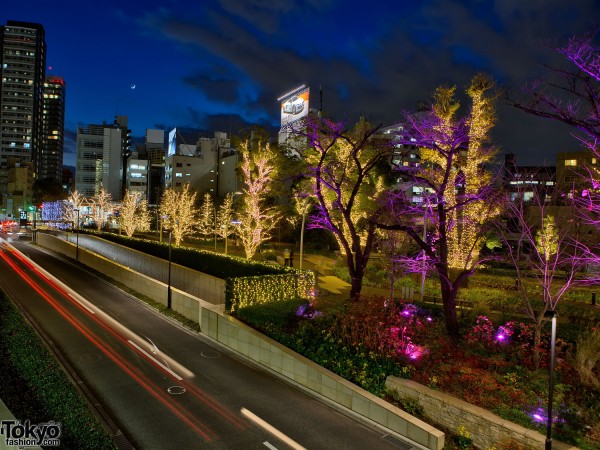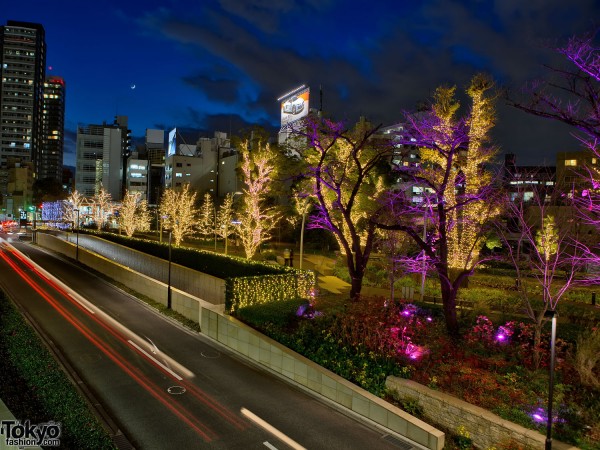 After killing time at the restaurant, we find that the Midtown Illumination is now illuminated. This photo was taken around the back of Tokyo Midtown, in the gardenside area near 21_21 Design Sight. Everything here is lit up beautifully! Make sure you click this photo so you can see all of the details – including the moon!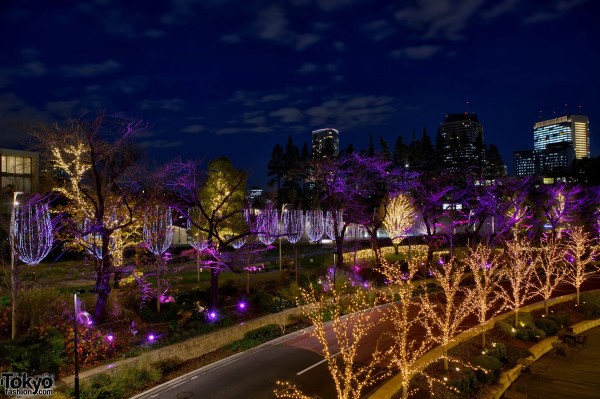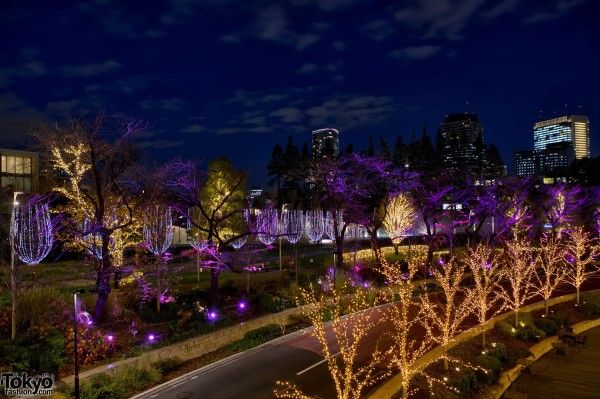 In this picture, you can see that they've covered nearly every tree in the garden area with lights in a variety of colors. What you can't see in a photo is that many of these lights blink and flicker in time. It's quite magical. You should check it out if you get the chance!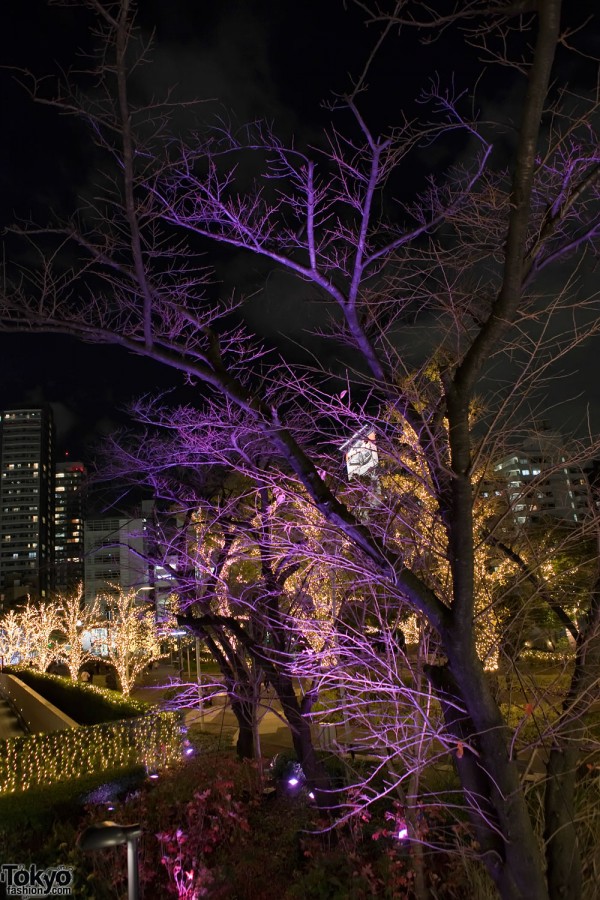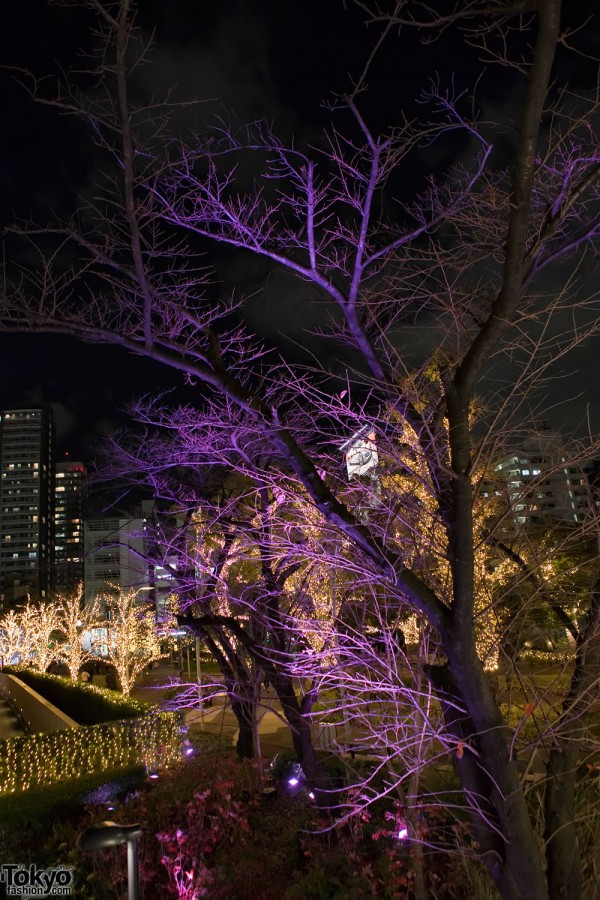 I love the purple lights on this leafless tree at Midtown. Looks like something from the 1980s movie "The Dark Crystal", no?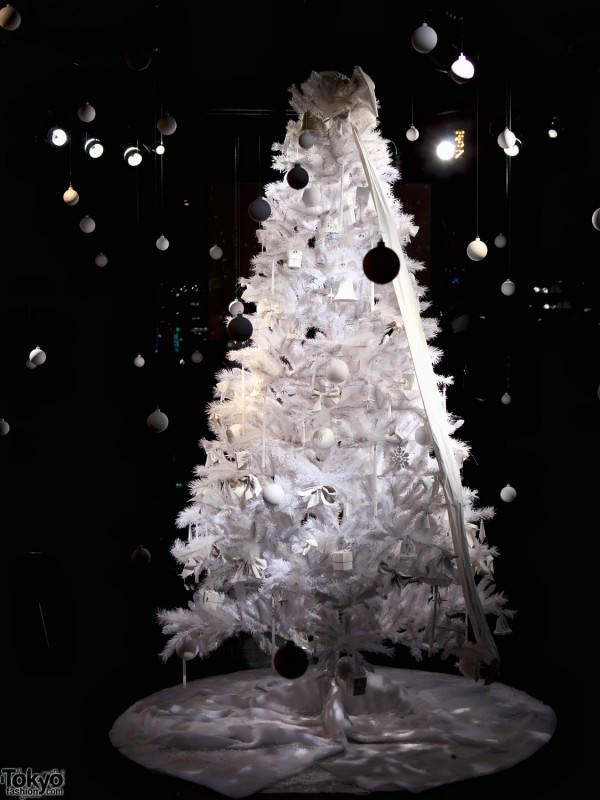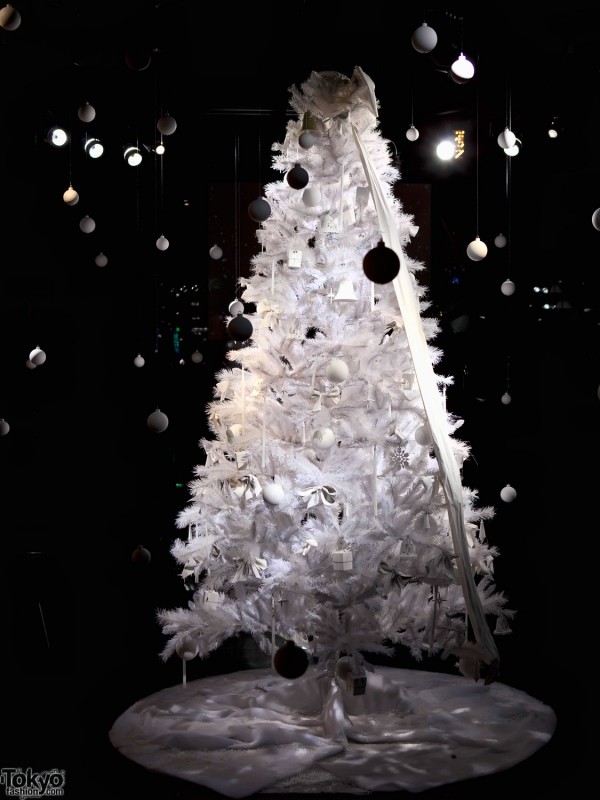 A nice white Christmas tree at Tokyo Midtown. Here's the strange thing – it was inside of this dark little room that I just peeked into as I was walking by. Not sure why there's a pretty tree like this in a dark little room, but there it was. A mystery!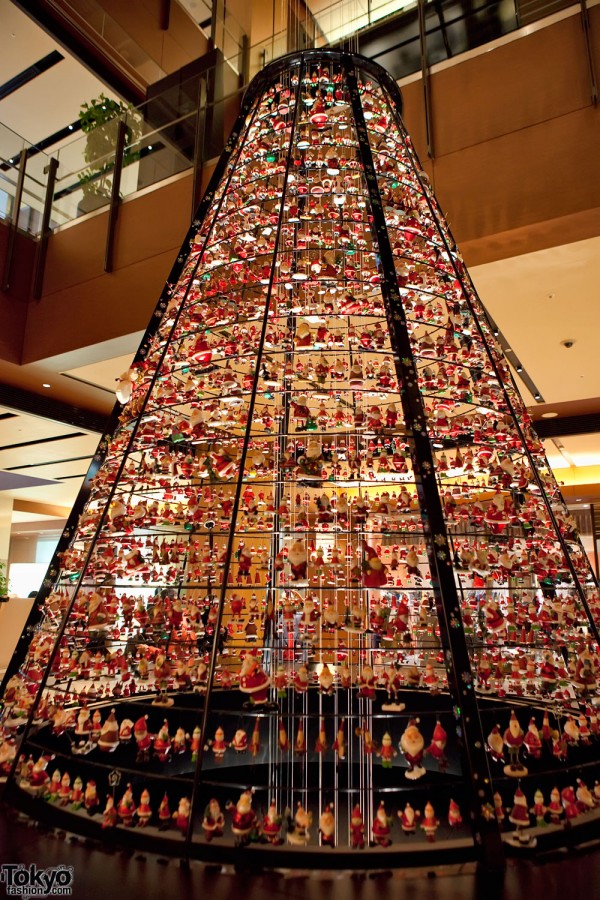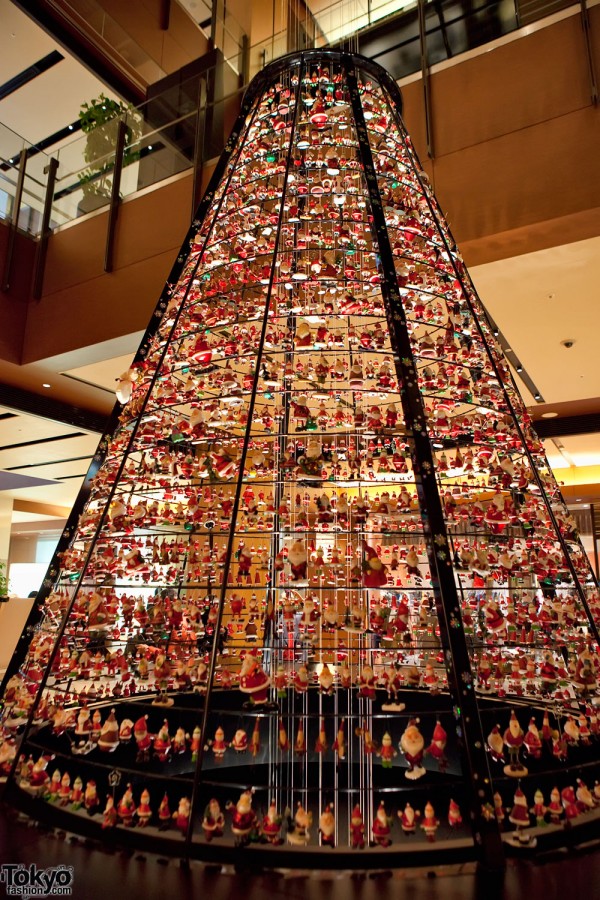 Speaking of Christmas trees inside of Tokyo Midtown, here is a terrible photo of an interesting tree made of billions of little Santa Claws. No, wait, it's made of billions of little Santa Claus figurines! This blurry picture is just to show you how big it is, check the next photo for a nicer detail shot.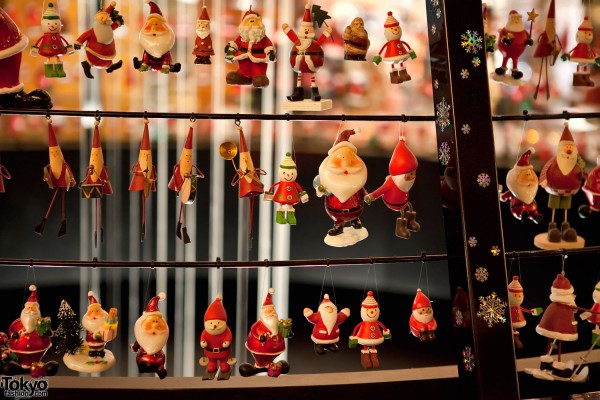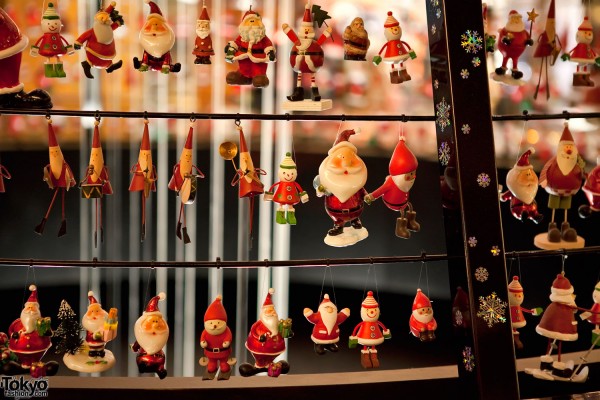 This is a close-up of the Christmas tree seen in the previous picture. The entire tree is like this – lots and lots of little Santa ornaments, each one cuter than the last. I'm sure there is an exciting story behind this tree and the little figures, but we don't have time for stories now. We have to get over to Roppongi Hills before the lights go out!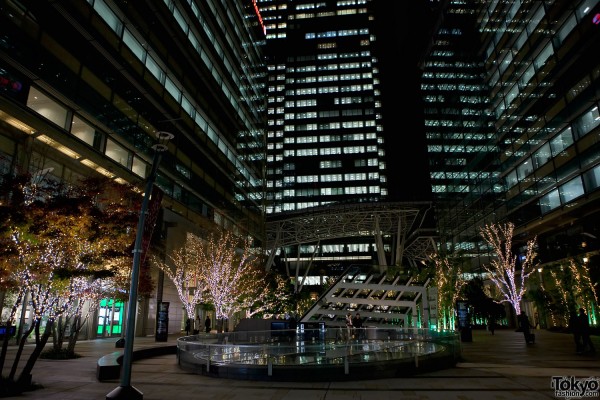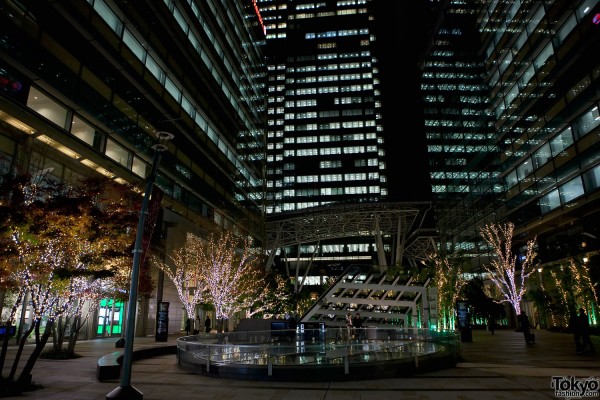 We're back outside now. Do you remember this place? It's the front of Tokyo Midtown again. Hooray, the trees are all lit up now. Time for us to leave! :-)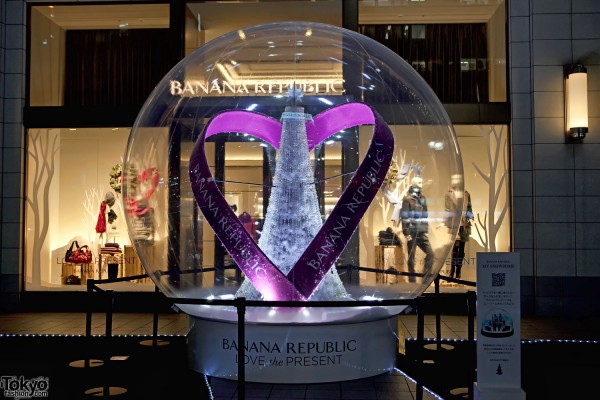 Walking along the road from Midtown to Roppongi Hills, we stumble upon a Banana Republic store with a huge lighted snowglobe out in front. The globe is filled with soft white feathers to give the appearance of snow. Unfortunately, it looks like the feather-snow all got stuck on some of the ornaments inside the globe, so it's not flying around like it should – but it's still cool.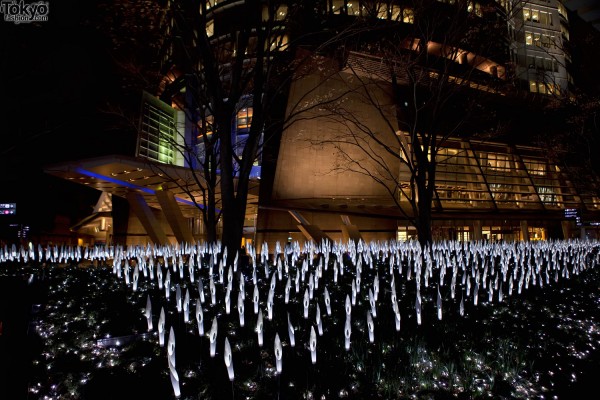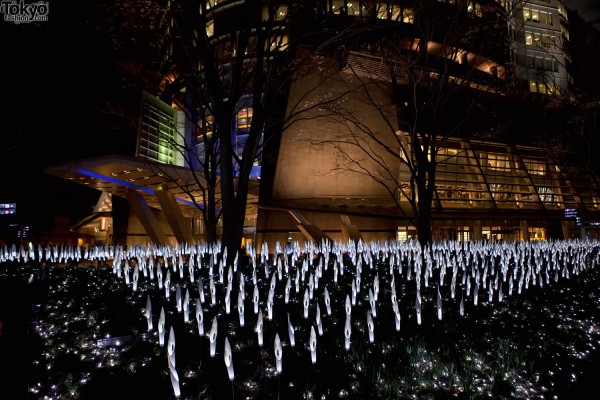 Now we've reached Roppongi Hills. These pretty white lights are everywhere. Not sure how to describe them properly. They look sort of like lighted flutes. Update: I found out that this is called the "Hikari no Ho illumination" and it's officially described as, "a vision of a snowfield with heads of grain swaying in the breeze." Wow, that's so much cooler than lighted flutes!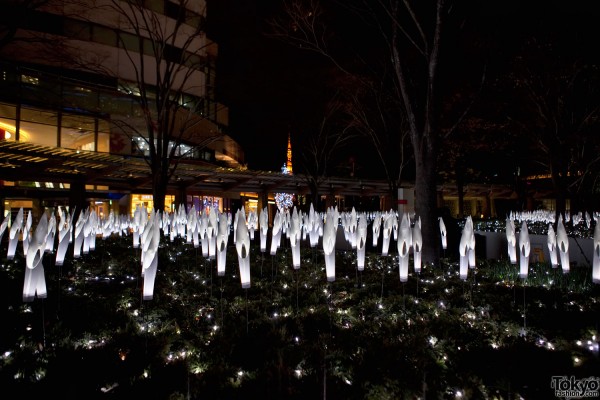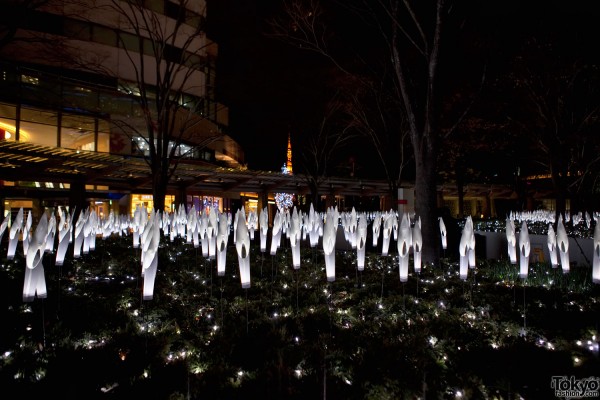 Another view of the lights. From here they kind of look like futuristic lilies. Speaking of the future, that's Tokyo Tower in the background. We'll be seeing more of the tower in the very near future!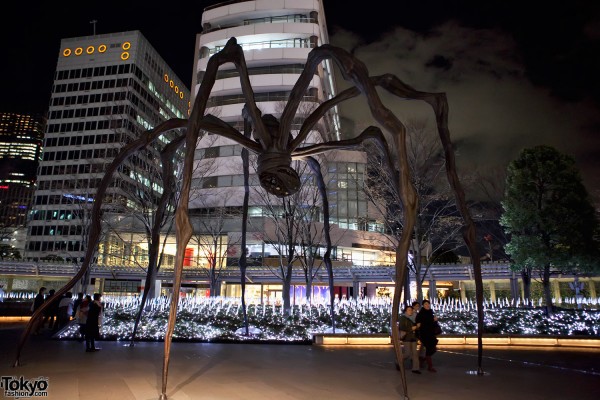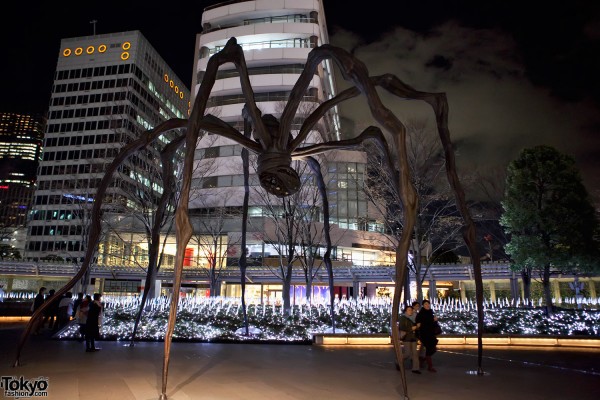 The famous Roppongi Hills Giant Spider (created by artist Louise Bourgeois) isn't very Christmas-y, but it's darkness contrasts nicely with all of the holiday lights surrounding it.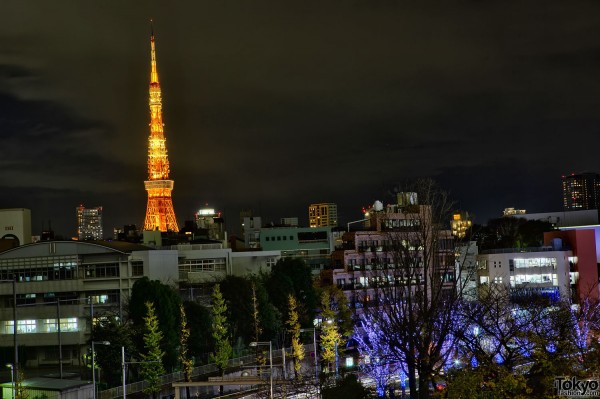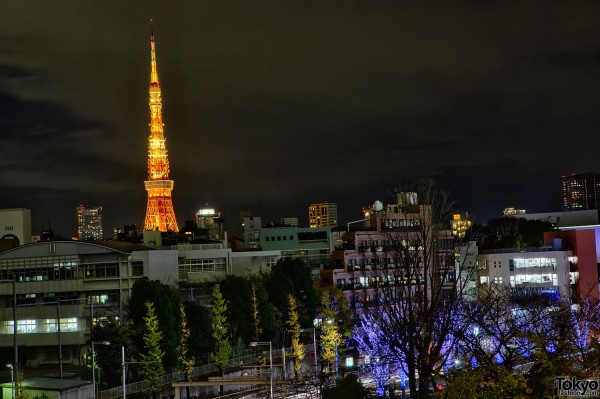 From one of the Roppongi Hills stairwells, we get a nice view of nearby Tokyo Tower – and holiday lights on the street below. If you're looking for a place to photograph Tokyo Tower, Roppongi Hills has a few nice spots (including, of course, the Mori Art Museum's observation deck).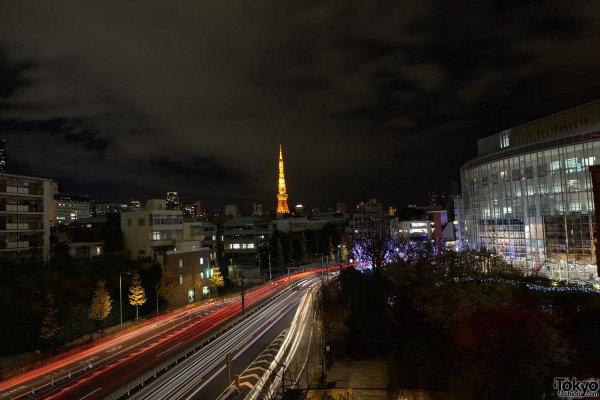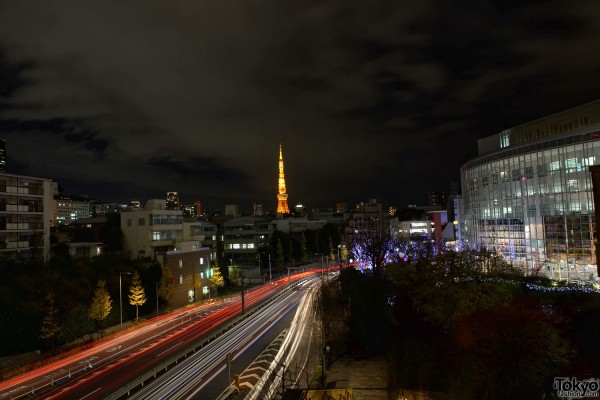 Here we can see Tokyo Tower with a busy highway in the foreground. The lighted glass building to the right is the TV Asahi building, where you can take your picture with a larger-than life statue of Doraemon. I think it's for kids, but I didn't let that stop me. :-)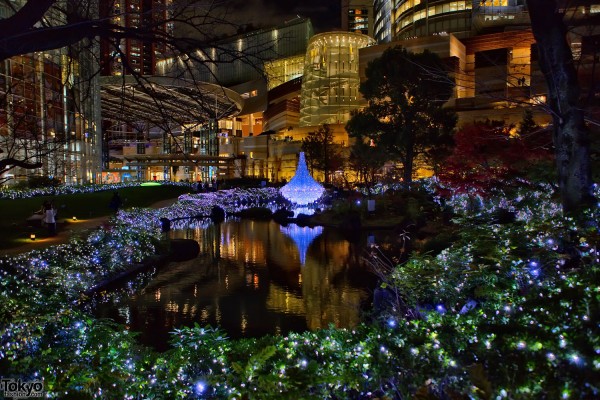 We're now in the Mori Garden area of Roppongi Hills. This year, they've placed an amazing lighted glass tree in the middle of the pond, and strings of lights all over the foliage around the water. The TV Asahi building is to our far left, and Mori Tower is in the distance behind the tree.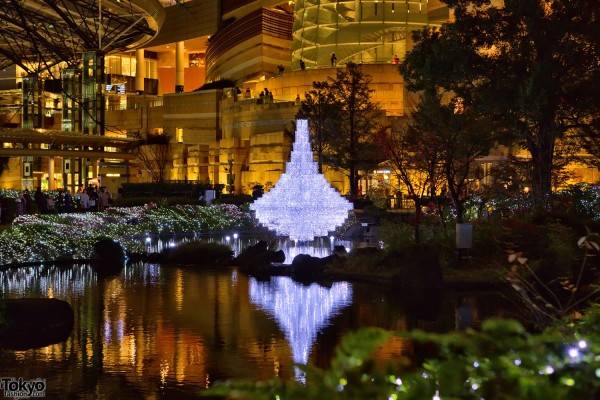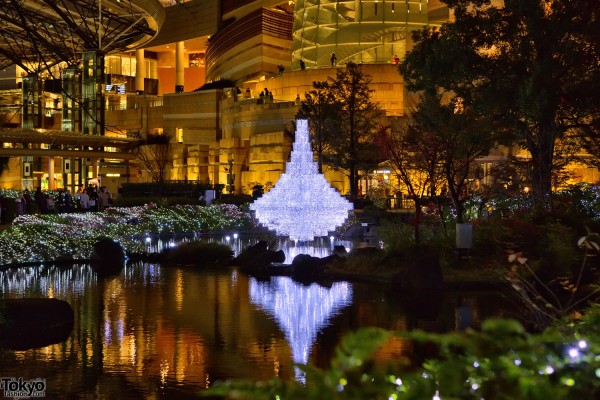 Let's talk about this glass tree. I'm not really sure who designed this thing, but it looks like a giant chandelier that glows brilliantly from inside. It's so bright and sparkling that it's really hard to photograph properly without a tripod. (I'm still traumatized from my Tokyo Christmas Police tripod bust during our Shinjuku Walk, so I didn't dare bring my tripod this time.)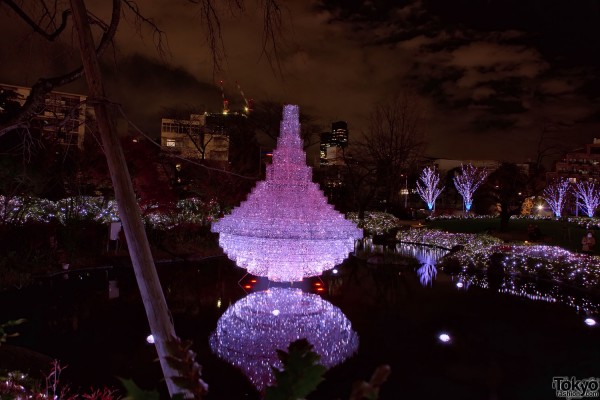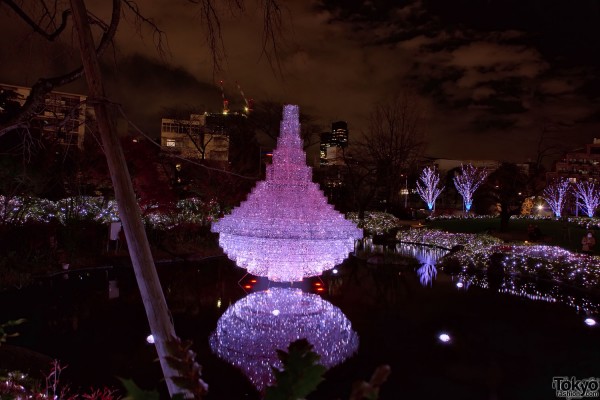 Not only does this tree sparkle and light up the entire garden, but it also changes colors slowly as you watch. Now it's purple!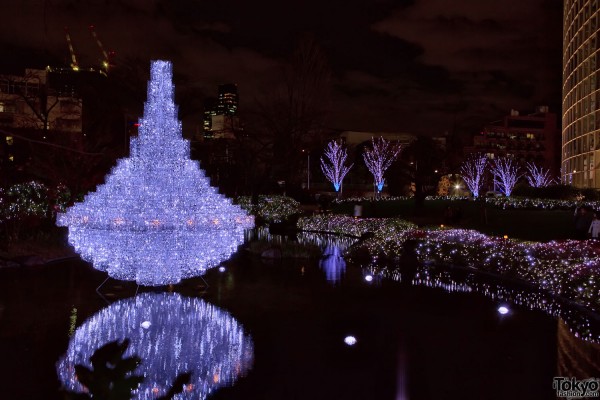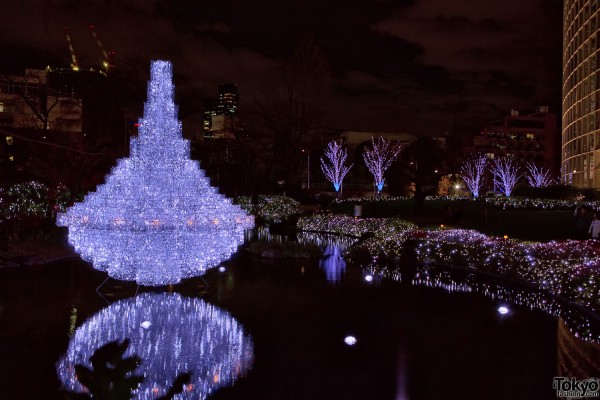 Another view of the tree reflecting on the pond. This time, we've got our backs to Mori Tower, with TV Asahi to our right. Still not too late for a Doraemon photo!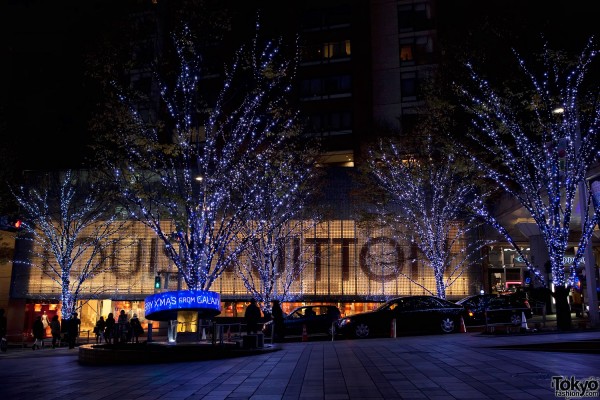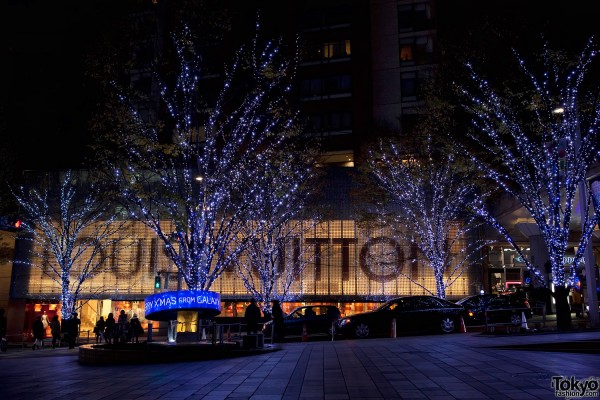 We've left the garden now, and we're walking through Roppongi Hills, heading toward the subway. On the other side of Mori Tower, we see the Louis Vuitton store – and lovely lit trees.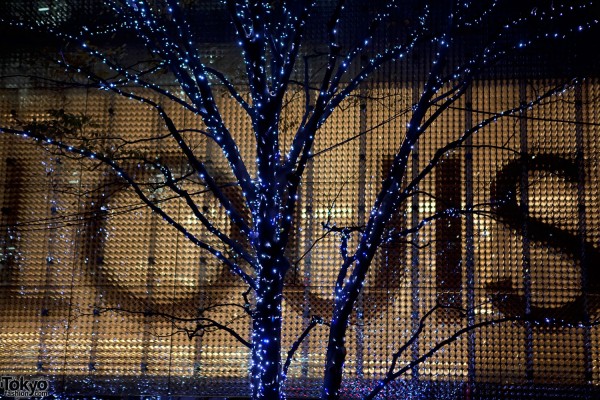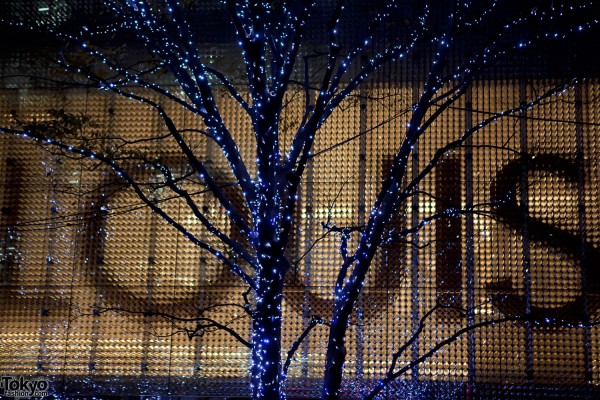 It's getting late, so we'll end this photo walk with a photo of a very popular person in Japan this time of year – meet our friend "LOUIS".
As usual, you can click any of the photos to see them in super high resolution.
That concludes our Roppongi holiday photo walk. I know this walk wasn't very comprehensive, but at least we covered a couple of the major spots. Don't forget to check out the rest of our Tokyo Christmas Pictures 2010 (coming soon) – including Harajuku, Shibuya, Shinjuku, and lots more.
Happy Holidays from Tokyo!