Roxy / Quicksilver Harajuku Grand Opening
This weekend was the grand opening of the new Roxy / Quicksilver Harajuku Flagship shop. The new store is located on Meiji Dori between Omotesando Dori and Shibuya, in the building that used to be Energie / Miss Sixty.
To celebrate the grand opening, you can get discounts on both Roxy and Quicksilver clothing and they are having a sweepstakes drawing where you can win various prizes like Japanese nail art, restaurant gift cards, and even a free trip to the surf and snow.
Roxy Harajuku Grand Opening: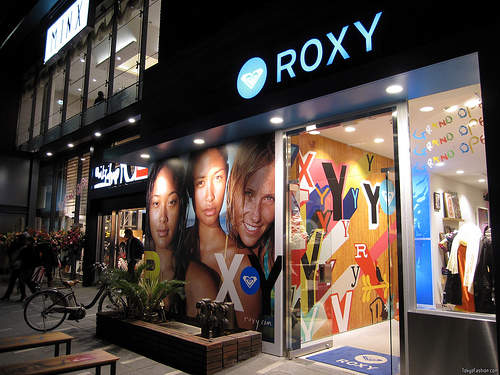 As far as the new shop itself, this new location replaces the old one they recently shut on Shibuya Koen Dori in Shibuya. The new Harajuku shop seems bigger and definitely looks more modern and cool than the old one.
For the grand opening weekend, the shop had a cool old American bus from the 60's or 70's all decorated in Roxy and Quicksilver stickers and logos driving around the streets of Shibuya. The bus looks like an old surfer bus from the hippy days – the kind you still sometimes see in beach cities of California.
Quicksilver Harajuku Opening Weekend:

Opening Day Flowers at Quicksilver / Roxy:

Inside of the shop, it's packed with the usual Roxy girl's clothing and Quicksilver men's clothing, all with a surf/skate/snow theme. They have a corner for DC Shoes, and carry bikinis for girls, shorts for guys, and various other random related goods for snowboarding, surfing, swimming, and skateboarding in Japan (or wherever you want to go after leaving the shop).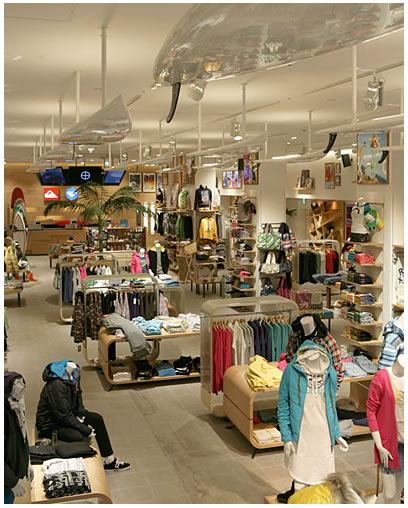 If you want to check out the new store, here are all of the important details:
What: Roxy and Quicksilver Harajuku Store
Where: Harajuku, Tokyo, Japan – on Meiji Dori Street
Address: 6-25-14, Jingumae, Shibuya-ku, Tokyo
Hours: 11am – 8pm
Phone: 03-5766-9195
Nearest Train Station: Harajuku Station or Meiji-Jingu Mae Station
Website: Official Site (Japanese)