SHINee World 2012 Tour in Tokyo – Fan Fashion Snaps
The Tokyo metropolitan area is home to over thirty million people, making it an extremely popular concert stop for bands touring Asia. We enjoy visiting various concerts around Tokyo to document the fashion of fans in attendance. Over the years, we've snapped fans of J-Pop, rock, dance music, visual kei, punk and other genres – with our best-known concert snaps being those of Japanese Lady Gaga fans.
For the last few years, K-Pop has experienced a major boom in Japan. So when Korean boy band SHINee announced they would be playing six shows in Tokyo as part of their "SHINee World 2012" tour, we grabbed our cameras and headed out. Luckily for us, the show on June 2nd was held at the Yoyogi National Stadium, very near to our headquarters in Harajuku!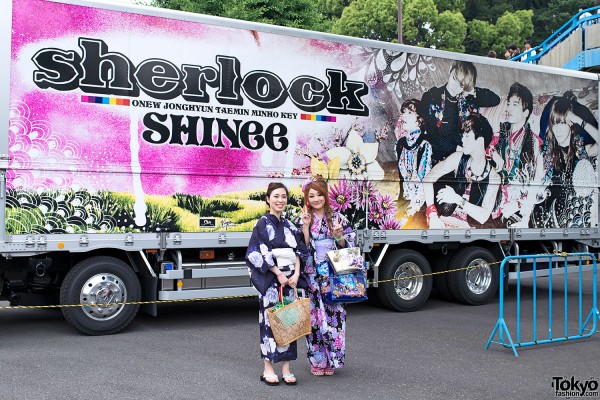 The SHINee World 2012 tour includes a total of twenty concerts in Japan, all in support of their new single/EP "Sherlock".
The SHINee fans we met before the Harajuku concert were all very friendly. Many of the fans were wearing SHINee-inspired fashion and/or concert t-shirts. We also saw quite a bit of Harajuku fashion, including items that we recognized from Spinns Harajuku and Nadia Harajuku. As is usual with our snaps at concerts, we didn't have time to ask everyone what brands they were wearing. There were many thousands of SHINee fans, so we picked out people who we thought looked fashionable, unique and/or fun!
As an added bonus, the three stylish Korean guys in the first photograph below were from a Korean-themed "handsome guys cafe" called "Triple-K" located in the Shin-Okubo area of Tokyo. They were outside of the SHINee concert distributing flyers and posing with K-Pop fans.
Enjoy the SHINee fan fashion snaps! Remember that you can click on any of the pictures to see them in high resolution.
Click any of the SHINee fan snaps to enlarge them.
A big thank-you to all of the SHINee fans who were nice enough to pose for our pictures.
We hope you enjoy these ongoing concert fashion snaps. If there are any bands whose fans you'd like us to considering snapping the future, please let us know in the comments!
The official SHINee Japan website is here.