Lady Gaga Fan Fashion in Japan – 150+ Amazing Pictures!
It would be hard to imagine a modern celebrity who has done more to promote Japanese fashion around the world than Lady Gaga. With help from her stylist Nicola Formichetti (himself half-Japanese), Gaga's bleeding-edge wardrobe choices have launched one Japanese designer after another into the global consciousness. And unlike some foreign celebs who "borrow" Japanese ideas and claim them as their own, Lady Gaga has always been vocal and proud of her support for Japanese designers. In addition to Japanese fashion, Lady Gaga has shown a lot of love for Japan through her ongoing fundraising efforts for victims of last year's earthquake and tsunami.
Lady Gaga's love for Japan is definitely reciprocated. When she announced that her 2012 "Born This Way Ball" world tour would be making several stops in Japan, Gaga's Little Japanese monsters were ecstatic!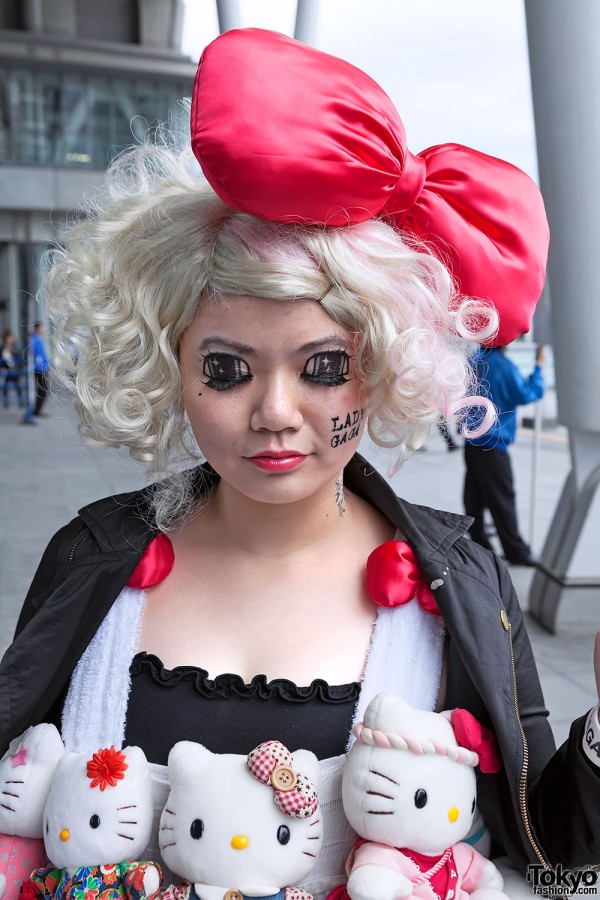 We've been covering Lady Gaga's visits to Japan since her first ever live Japanese performance at Summer Sonic 2009. During that show, and even more so at her sold-out Tokyo concerts in 2010, Lady Gaga's Japanese fans went all out to create fashion that showed their love for the one they call "Mother Monster".
Lady Gaga's little Japanese monsters were out in force on May 10, 2012 – the first of Gaga's three "Born This Way Ball" dates in Japan. The weather was cloudy and windy, but not even snow or blizzards would have dampened the spirits of Gaga's hardcore Japanese fans. We made the trek from Harajuku to Saitama Super Arena to check out the scene, and to document the amazing fashion we knew Lady Gaga fans would be wearing!
We were happy to see several familiar faces from the shows we covered back in 2009 and 2010, as well as plenty of new Lady Gaga fans (including some adorably fashionable children who may not even have been born when Gaga first touched down in Japan). As has been the case with all of our interactions with Lady Gaga fans, the crowd was an extremely friendly, happy, and positive bunch. We had a great time hanging out with Gaga's fans as well as enjoying the amazing and often handmade outfits!
We hope that these pictures will give you an idea of the total dedication of Lady Gaga's "Little Japanese Monsters". We also hope they will put a big smile on your face, just like they did ours. Enjoy the photos! Click on any of the photos to see these awesome outfits in high resolution.
Click any of the Lady Gaga fan snaps to enlarge them.
We would like to thank each and every one of Gaga's "Little Monsters" who we met while working on this article. We are always impressed by how friendly Lady Gaga's fans are, and we hope that we'll get a chance to see them again soon.