Spell Harajuku – New Shop
Talking in Harajuku last weekend, I noticed a new clothing boutique catering to Japanese girls on Meiji Dori near the Beams shops. The shop is called Spell by Under a Spell. I think it is in the same location as a shop that used to be called Unselfish Girl. I am not sure if the new shop is related to the old shop or not, but they seem to carry some of the same type of clothing and accessories, so maybe.
The Spell by Under a Spell select shop seems to be a little similar to the recently opened Glam Honey shop, which is just down the street a bit. Spell looks like it carries some imported international brands, with a focus on Los Angeles hipster casual clothing, jewelry, and accessories. On their website, they say that their fashion buyers go to Los Angeles to check out fashion and brands favored by celebrities.
Brands that the shop carries include: Kitson LA, Jessica Kagan Cushman, Ettika Jewelry, Love Quotes scarves, Joy Rich / JoyRich, Lipstick Bandits, Fay, La Fine, Forever 21, Lounge Fly, Fluff, Brown Bunny Doll, Free People, and more. Items carried include boots, bags, tops, t-shirts, jackets, pants, dresses, accessories, pajamas, and more.
Here is a photo of the front of the front of the new Spell Harajuku shop: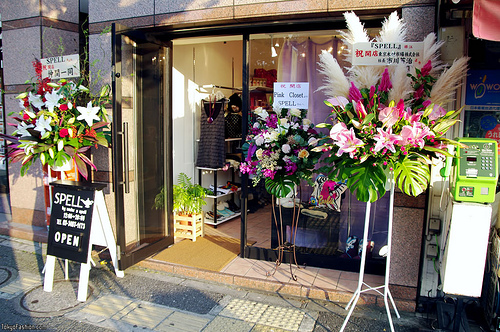 If you have ever been to Tokyo, you will recognize those flower stands out in front of the shop. When a new Japanese shop opens, friends, magazines, suppliers, and other companies and people send flower stands to congratulate them on the opening. These flower stands also appear at other events in Japan, like concerts, art openings, store anniversaries, parties, etc. Attached to the flower stand will always be a sign telling who it's from.
Here is a closeup of one of the Spell by Under a Spell grand opening flower stands:

And here is the new sidewalk shop sign for Spell:

And some girls (maybe the Japanese shop girls working there?)
from inside the shop came out to check out the new sign:

If you are interested in checking out the shop, you can get there easily from either Harajuku Station or Meiji-Jingu-Mae Station. You could exit Harajuku Station at the Takeshita Dori exit and walk down the street to Meiji Dori, then cross Meiji to the KDDI Studio side of the street and turn left. Now that you have turned left onto Meiji Dori, walk down the street like you are heading for Beams or Killer Dori. But, you will see Spell on your right, before you get to the first of the Beams shops. Check the map below for the exact location.
Here are the full details for the store:
What: Spell by Under a Spell Harajuku
Where: Meiji Dori in Harajuku, Tokyo, Japan
Address: 3-23-2 Jingu-mae, Shibuya-ku, Tokyo
Phone: 03-3497-1173
Hours: 12:00 – 20:00 (closed Wednesday)
Website: Official Site (Japanese)
Map: Harajuku Shopping Map (including Spell)
More new Tokyo shop news soon.