Tokyo Dolores – Exploring The Spirituality of Japanese Girls Through Dance & Performance Art
Imagine a world where acrobatics are inspired by anime; where ancient fairy tales meet modern Harajuku girls; where gothic and lolita fashion meets pole dancing; and where kawaii costumes take on deep spiritual meaning. If this is a world that sounds interesting to you, you may already be a fan of Japan's performance art group Tokyo Dolores!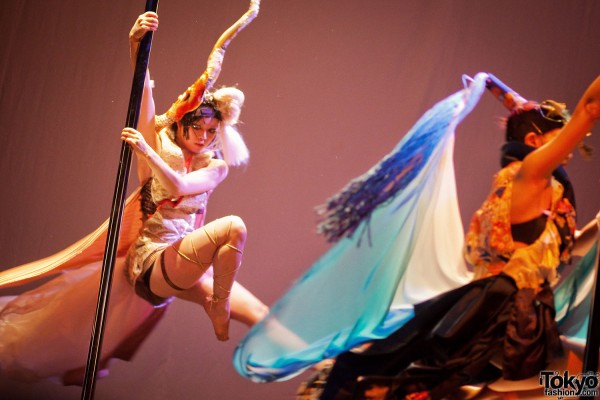 Tokyo Dolores is a Japanese performance art project created by Cay Izumi. Cay created Tokyo Dolores because she felt that Japanese fashion and popular culture present an image of kawaii and fun without showing the spirituality beneath. Cay's goal is to convey the complicated and deep nature of a Japanese girl's spirit through Tokyo Dolores. Cay's background includes modeling for Kera Magazine, dancing all over the world, and acting in "Tokyo Gore Police" as well as several other Japanese films.
Often inspired by folklore and fairy tales, Tokyo Dolores' live shows mix elements of dancing, Japanese pop culture, street fashion, subcultures, elaborate costumes, and visual arts. Since 2009, Tokyo Dolores have performed numerous shows in Japan, as well as visiting America, Canada, and Europe.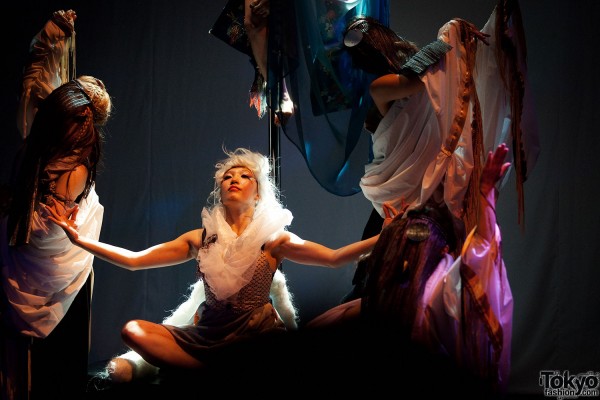 In addition to the group's leader Cay, there are three other full time members of Tokyo Dolores – cute Aloe, eccentric Nancy, and mysterious Jill – along with a larger supporting cast for each show. Tokyo Dolores collaborates with artists, costume designers, videographers, and other creative people during the production of their live performances.
Tokyo Dolores creates several original productions every year, as well as appearing at various events around Japan (including a recent appearance with Sugizo of Luna Sea). Their latest show is called "Kojiki – Ancient Matters for Future". Other shows in the last few years have included "Anime Battle Show – Bionic Trigger", "Akazukin – Red Riding Hood", and "Eline – The Mermaid".
During their "Akazukin" show last year we had a chance to sit down with Tokyo Dolores and ask them a few questions, as well as shooting video of the production itself. Please check out our video and visit the Tokyo Dolores Facebook Page for info on upcoming events, pictures, and more.
Tokyo Dolores – "Akazukin" Performance Video & Interview

Don't forget to Follow TokyoFashion.com on YouTube.
Tokyo Dolores – "Kojiki : Ancient Matters for Future" Photos
Click on any of the Tokyo Dolores photos to enlarge them.
Tokyo Dolores – "Akazukin : Red Riding Hood" Photos
Click on any of the Tokyo Dolores photos to enlarge them.
A big thank you to Cay Izumi and the entire Tokyo Dolores team for answering our questions and for inviting us to their show. If you have a chance to see Tokyo Dolores in person, we definitely recommend it!
For more info on Tokyo Dolores:
All photos and video produced by 1K Films/Anthony Knight.
***
1K Films is a full production independent video company working in both the US & Japan. For more info, check out the 1K Films & Anthony Knight Photography website.