Tokyo Fashion Week 2010/2011 A/W Brands
Tokyo Fashion Week 2010/2011 Autumn/Winter edition, officially known as the 10th "Japan Fashion Week in Tokyo", starts on March 22, 2010. TokyoFashion.com will be covering the event this year, bringing you exclusive pictures directly from the runways of the participating Japanese fashion brands. We probably won't be able to get pictures from every single show, but our photographers are planning to hit as many as they can.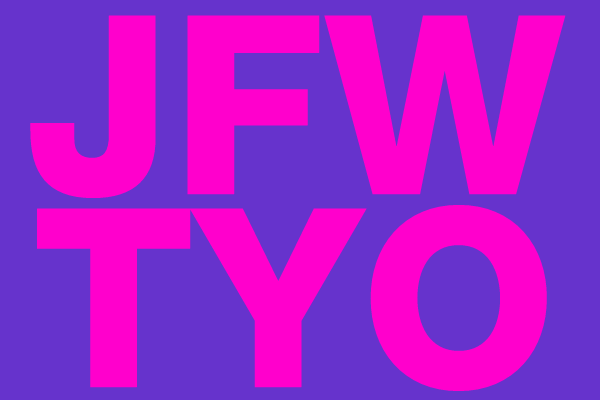 The Japan Fashion Week Organization (which manages Tokyo Fashion Week) has released their latest list of the Japanese fashion brands that will be showing this year. We've posted the current brand list below, but be aware that there may be more changes in the coming weeks. Check back often for further updates on Tokyo Fashion Week.
The Japanese fashion brands participating in next month's Tokyo Fashion Week are as follows:
03/23/2010
Brand: ENTOPTIC
Designer: Wataru Matsumoto / Kenta Kakinuma
Brand: @IZREEL
Designer: Kazuhiro Takakura
Brand: ERI MATSUI
Designer: Eri Matsui
Brand: SHIDA TATSUYA
Designer: Tatsuya Shida
Brand: JUNYA TASHIRO
Designer: Junya Tashiro
Brand: Satoru_Matsuda
Designer: Satoru Matsuda
Brand: everlasting sprout
Designer: Keiichi Muramatsu
Brand: HIROKO KOSHINO
Designer: Hiroko Koshino
Brand: FACTOTUM
Designer: Koji Udo
Brand: DISCOVERD
Designer: Tatsuya Kimura / Sanae Yoshida
Brand: mintdesigns
Designer: Hokuto Katsui / Nao Yagi
03/24/2010
Brand: araisara
Designer: Sara Arai
Brand: motonari ono
Designer: Motonari Ono
Brand: Takumi Hatakeyama
Designer: Takumi Hatakeyama
Brand: Tokuko 1er Vol
Designer: Tokuko Maeda
Brand: IN-PROCESS BY HALL OHARA
Designer: Steven Hall / Yurika Ohara
Brand: YUMA KOSHINO
Designer: Yuma Koshino
Brand: The Dress & Co. HIDEAKI SAKAGUCHI
Designer: Hideaki Sakaguchi
Brand: AGURI SAGIMORI
Designer: Aguri Sagimori
Brand: HISUI
Designer: Hiroko Ito
Brand: PHENOMENON
Designer: Takeshi Osumi
Brand: yoshio kubo
Designer: Yoshio Kubo
03/25/2010
Brand: matohu
Designer: Hiroyuki Horihata / Makiko Sekiguchi
Brand: support surface
Designer: Norio Surikabe
Brand: KAMISHIMA CHINAMI
Designer: Chinami Kamishima
Brand: jazzkatze
Designer: Ayumi Sufu
Brand: lessthan*
Designer: Ohal Ando
Brand: fur fur
Designer: Aya Furuhashi
Brand: SOMARTA
Designer: Tamae Hirokawa
Brand: DRESSCAMP
Designer: Marjan Pejoski
Brand: G.V.G.V.
Designer: MUG
Brand: MIHARAYASUHIRO
Designer: Yasuhiro Mihara
03/26/2010
Brand: GUT'S DYNAMITE CABARETS
Designer: CABARET AKI / JACKAL KUZU
Brand: mercibeaucoup,
Designer: Eri Utsugi
Brand: beautiful people
Designer: Hidenori Kumakiri
Brand: Yukiko Hanai
Designer: Yukiko Hanai
Brand: MISS ASHIDA
Designer: Tae Ashida
Brand: ODRADEK
Designer: Demian Celica KANOU
Brand: THEATRE PRODUCTS
Designer: Akira Takeuchi / Tayuka Nakanishi
Brand: TROVE
Designer: Daisuke Kamide
Brand: tiny dinosaur
Designer: Naomi Yamamoto
Brand: YUKI TORII INTERNATIONAL
Designer: Yuki Torii
The following brands are planning to show, but dates have not yet been determined: DRESS33, KEITAMARUYAMA, and RITSUKO SHIRAHAMA.
For more information on Tokyo Fashion Week, check out the official website, available in both English and Japanese.