Top 10 Tokyo Tattoo Shops: Favorite Ink of Japan's Young & Hip
Japan is home to a rich tradition of tattooing. Despite the widespread discrimination towards people with tattoos, with rules that prohibit tattooed people into hot springs, golf courses and gyms, it is still one of the best places in the world to get the best quality ink jobs.
Although nowhere near the scale of LA or NY, Japan is slowly opening up to the idea that tattoos are fashionable. Led by celebrities such as Amuro Namie and Hamasaki Ayumi, the notion of getting skin art is hardly as taboo as it used to be, with its stygian yakuza associations.
Whilst traditionally getting tattoos was predominately the pastime of men, women are also taking an interest in fashionable skin art and have a strong presence in the tattoo industry. Many of the top artists are female, the editors of the tattoo magazines are also typically women, and the pseudo fashion magazine Tattoo Girls features models from agencies shot by prominent photographers such as Hiromix…although strangely enough, they are all sporting fake tattoos.
Osaka's Nattsu at Chopstick Tattoo tells me, "I get lots of girls, girls working in the fashion and beauty industries, and gay guys," and her portfolios are filled with super cute tattoos. Moreover, Horisho from Mindscape tattoo, says, "My clients are going from being the blue-collar workers and laborers who were my usual clientele to a sudden surge in interest from fashion people, designers, hair-dressers and many more female clients."
There is no doubt about the popularity of tattoos in Japan. There are three major magazines for the tattoo enthusiast, and half the pages are ads for tattoo shops. There are tattoo events on at least once a month. I'm told that there are over 500 shops all over Japan.
However, having said that, be aware that most people are still quite shocked by tattoos- and if you get heavy tattoo work, you will inevitably find yourself wearing long sleeves in summer. They simply don't do much to aid employment, according to Hata from Koenji's inkrat.
"I foresee a generation of elaborately tattooed homeless in the future," he says, only half jokingly. "It's hard to get bank loans and rental contracts with visible tattoos. Things haven't changed much."
Aside from being aware of the fact that you probably won't be able to go to your favorite onsen without either refusal or quizzical stares, also take into consideration that tattoos are quite the luxury, with a standard 15,000 yen per hour charge. They are also addictive!
As with any expensive purchase, get as much information as possible. There are several excellent tattoo magazines, the best being Tattoo Burst, and numerous books aimed for the fashion conscious sold at any bookstore, especially the cooler shops like Village Vanguard.
Japan is full of inspiration, and tattooing motifs can come from the classic lexicon of traditional tattooing motifs, such as dragons, carps, phoenixes, foo-dogs and the like, that come with their own prescribed meanings, that should be taken into consideration. However, living in Japan, it's just as common for clients to get inspired by Sanrio characters, kimono prints, and Pokémon. There is no shortage of places to look.
Some of the questions you should ask are:
Do I really want something permanent? How big, and where do I want it? What do I want? And, Who do I go to?
We have selected ten of the more reputable street shops in Tokyo that are accessible, friendly, offer top notch tattoos, and are strict with sterility.
The wait lists for some of these shops can be incredibly lengthy, although some people luck out and get a "walk-in" tattoo. It's best to go, consult with the artists, see if you actually like the person, and are comfortable getting tattooed by them, and then proceed.
Our top 10 Tokyo tattoo parlors for the young and fashion conscious:
1. Scratchaddiction
Scratch Addiction is one of Japan most famous tattoo shops. Located in Takeshita Dori in Harajuku, they are the first street shop in Japan – reflective of the American system of entering a shop and ordering a tattoo, as opposed to the subterranean norm of yore where tattooing was done in someone's apartment, with little advertising. The shop is quite small, and resembles an overseas tattoo shop with flash on the walls, and a counter with booths in the back, but the art work delivered is top notch.
They have accordingly housed some of Japan's top tattoo legends. The artists are able to tattoo any style, and are highly reputable. At the moment there are 4 tattoo artists – Yushi, Kou, Yuya, and Kobayashi.
2. 56 Tattoo
56 tattoo is conveniently located in Shibuya, and houses one of the Japanese tattoo scene's veterans, Horimasa – a tattoo pioneer to the craft having learnt under Horitoku, one of Japan's top tattooing masters. He is well respected and with an aptitude of all tattooing styles. Highly regarded for a reason, his shop is welcoming and he is one of the most skilled artists in Tokyo.
3. Inkrat
Inkrat are a modern street shop in Koenji that has taken as is its mission the task of introducing American traditional to a local audience. They are exemplary of the Japanese fascination with overseas culture, and the importation of tattoo culture from America to Japan, that helped bring tattoo culture into the mainstream.
Inkrat is made up of two artists, Rei and Hata. Rei the owner has been tattooing for 14 years, making him one of the pioneers of modern tattooing in Japan – starting in the hot bed of tattoo talent, Osaka, and moving to Tokyo.
Although he insists he does all styles "except for biomecha" much of his work focuses on American traditional, and says of the appeal of traditional: "It has a background, just like Japan's traditional tattooing, I found that really appealing, and got influenced by the way of thought, it's really positive, and has strong conceptualization, so gradually started to do more."
Most of the tattoos consists of solid, minimal color usage, good line work, appealing designs, and are decidedly clean, and simple.
4. Shiryudou
This is an unusual shop in that it specializes only in tribal and esoteric designs. So rather than motifs with solid compartmentalized colors, most of the designs are geometric lines and are small in size. They are subtle, and elegant and have an Eastern aesthetic to them, with very little usage of colors. If discretion is an issue, but you still want a nice motif, this is a nice place to start, and the interior of the shop is like a salon.
5. Hocus Pocus
Although this shop is in Shizuoka Prefecture, not Tokyo, it is worth the trip for quality work, and one of the most comfortable and stunning studios in Japan. For many Japanese clients who are worried about the underground image of tattoos, this is particularly important.
Hocus Pocus artist Makoto is a self proclaimed "all rounder", and prefers larger pieces of the oriental/Japanese persuasion. Tattooing since 94, he traveled around Japan and settled back at Shizuoka 7/8 years ago, saying, "I could do the illustrations I liked, and the clientele was good. Shizuoka is probably the most average place in Japan. If a company puts out a new product, they test it on Shizuoka people! The climate, the winter is mild, and the summer is mild, the people are easy going. "
Makoto believes that he should be able to insert anything rather than stick to one style.
"Tattoo trends are the same as music, probably. It goes in cycles," he says. "Just before it was Japanese illustrations, now it's Tibetan style — with my clients, anyway. In Japan, there are lots of people wanting lettering this year, such as kanji and English, for some reason.
"The clientele usually come in groups, which happens a lot in areas out of the big cities. Like say one kid wants a dragon, the next will want a carp. But still it will be in the Japanese genre."
6. Studio Muscat
Female tattoo artist Asao is super friendly and down to earth, operating out of a small and clean studio in Shibuya.
She tells us that she used to be a pattern maker in the fashion industry, and turned to tattooing after she got fired! She says a lot of her clients are female musicians, and she does get a lot of clients because they feel less threatened by her.
While she can do any style, she does a lot of tribal – strong lines and shapes, but with a certain delicacy, and an undeniably Japanese aesthetic. She says she is conscious of her being Japanese and, accordingly, uses traditional Japanese motifs, and draws inspiration from Japanese art such as wood block prints. Her Black and Gray work is stunning.
7. Aya @ La Perra negra
Aya has been tattooing since '91, thinking it "looked like fun" and at the time, was one of the few female tattoo artists in the industry. She trained for two years – and was at Tokyo Magical Tattoo, which is now shut, but was considered one of the best tattoo shops in Japan. She has had her own clean and funky studio in Shibuya for a decade.
She is an "all rounder", which means she can do it all, and is one of the best female tattoo artists, catering to a bevy of stylish Japanese fashionistas. She also does permanent make-up, such as eyebrows. While it sounds extreme, it is done with extreme subtlety, so the tattoo looks completely natural.
8. Horiyasu
If large scale Japanese work is your cup of tea, then Horiyasu is one of Japan's best. His work is flawless, but take note that he only specializes in Japanese work- no anchors or roses here!
He is tucked away in an apartment in the Asakusa area. He requires advance notice and a Japanese translator who will make communication, although he is one of the most hospitable and genuinely lovely people in the Japanese tattoo industry.
He is one of the most highly regarded Japanese masters, and is world renowned for his striking traditional pieces that are executed with a modern flare, having won numerous awards at conventions internationally.
He will only take on large pieces, as traditional Japanese work is typically of a prolific size – although the end result will flow beautifully with the body.
Horiyasu has one of the most fascinating backgrounds of any artist in the Japanese tattoo scene. Starting as a sword smith, after working on blades for 16 years, he changed his career at the age of 36. He quickly rose to the top, winning the respect of both old school tebori artists and modern street shop artists along the way.
9. Rin-kg
Rin-kg are a highly lauded tattoo shop in the trendy Daikanyama area. The tattoo artists are friendly, the studio is impeccably clean and they place a fantastic tattoo. They now have three artists- Kohki, Kouichi, and Hase. Kohki uses fantastic subtle colors and his work is very clean, and they all excel at small, trendy designs.
10. Horizaru
Horizaru is an appointment only, custom only shop. He is amazingly skilled at Japanese neo-traditional work. The tattoos are beautiful, artistic, and is highly recommended by many people in the tattoo industry.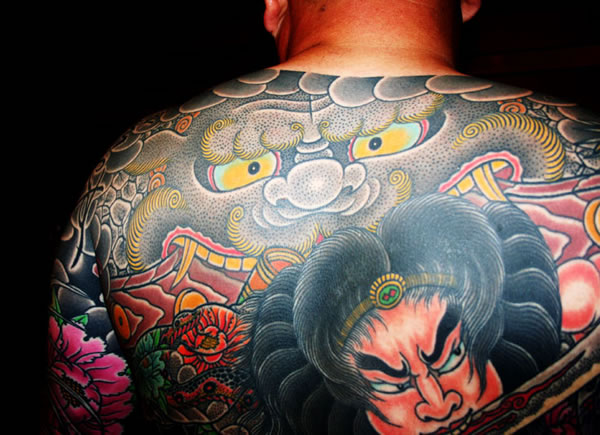 Article text and all photos by Manami "Maki" Okazaki.
About the author:
Maki is a globetrotting journalist that collects tattoos. Her travels have taken her to the villages in Tibet, the Sound Systems of Jamaica, the anarchist squats of Greece, the catwalk shows in Paris, the Playboy mansion parties to the surf gangs of Hawaii. Her work has appeared in Asian GEO, CNN traveler, Transit, and the Japan Times amongst 50 other publications. Her first book Tattoo in Japan received positive press from magazines ranging from Vogue to Maxim and is available from L'ippocampo publishing.