Topshop Kate Moss Japanese Clutch
In our ongoing series of Japanese fashion magazine furoku (free items given away with magazines), we present an exclusive Kate Moss x Topshop Japan vinyl clutch bag.
The free Topshop Japanese bag comes with the Autumn / Winter 2008 Topshop Japan catalog MOOK. The mook has Kate Moss on the cover and inside it showcases the launch of the Kate Moss for Topshop line of clothing and accessories.
Topshop Japanese magazine with Kate Moss: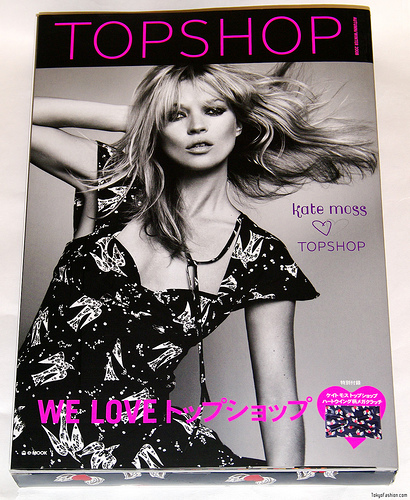 The mook also promotes the launch of the new Japanese Topshop shop at LaForet, which re-opened in a bigger space in October 2008.
Topshop Harajuku at LaForet:

The interesting part isn't the catalog itself, though, but the free Topshop bag contained inside. The bag is a blue vinyl clutch that is an exclusive part of the Kate Moss for Topshop Japanese collection. The clutch is covered in red hearts with white wings and has a big bow on the front. In a picture, they show the bow being used as a handle for the bag, as it is only attached at the sides, not in the middle.
Kate Moss for Topshop vinyl clutch:

The bag opens via a zipper on top and the inside is red.
Inside of the Topshop clutch:

The size of the bag is about 27cm x 16cm – a little bigger than the magazine itself (the bag is folded in half to fit inside).
Magazine and bag together:

The Topshop mook magazine, with the free bag inside can be found at various Japanese bookstores and other locations that sell fashion magazines – if it's not sold out already. The price is 1300 yen (about US$15).
Topshop Harajuku is located right outside (and inside) of LaForet Harajuku. If you walk up to the front entrance of LaForet, you will see Topshop to your right.