UNIQLO Down Jackets 2008
UT (UNIQLO T) on Meiji Dori in Harajuku has a new window display up for November. Now that the weather is finally getting colder in Tokyo, they are advertising there selection of Japanese down jackets. The shiny puffy jackets are available in lots of colors and they are priced at 5,990 yen (about US$60). The window display for these is a bunch of photos of people wearing the different colored jackets.
UT Harajuku has one of the most hi-tech shop designs in Tokyo. They are famous for selling t-shirts in canisters, all sorted on the shop walls like a giant vending machine. The front of the shop has all kinds of digital signs running right left and up and down, making it look really sci-fi, if a little over the top.
Anyways, here are pictures of the new down jackets window display: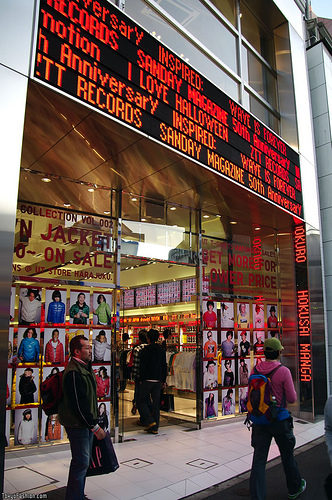 Closeup of the pictures in the right window:

Closeup of the jacket pics in the right window:

One more thing about this UT window ad. UT stands for UNIQLO T, meaning the UNIQLO t-shirt shop. I have noticed that they are carrying more and more stuff in this shop that isn't t-shirts. It seems like when they first opened, it was only UNIQLO t-shirts. Now, they carry other hip UNIQLO clothing along with the shirts. It's cool clothing and all, but why can't they just let UT be UT and let the other UNIQLO shops carry the rest of the fashion line? Maybe not enough people are buying shirts? Rent in Harajuku has to be expensive, that's for sure. Who knows what's going on.