Uniqlo Shinjuku – New Shop Coming Soon
With the economy hitting a new bottom day after day, there always seems to be one Japanese fashion company releasing good news – Uniqlo. No matter who badly the luxury brands get pounded, no matter how many select shops close down, Uniqlo sales always seem to be up and they always seem to be expanding, both in and outside of Japan.
So, the news that a new Uniqlo shop will be opened later this month in Shinjuku should come as no surprise. Here is a picture of some Japanese girls handing out leaflets promoting theupcoming opening of the new store.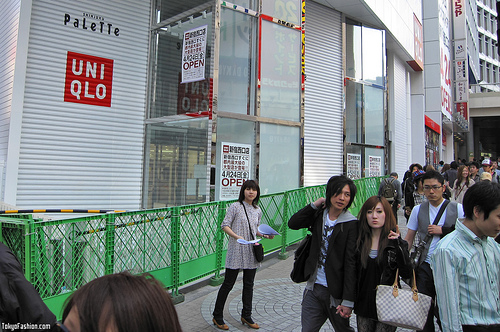 The new Uniqlo Shinjuku location will be on the North West side of Shinjuku Station in the Shinjuku Palette building where the old Sakuraya electronics store was. Not sure why Sakuraya left the building, but there is a huge Bic Camera location almost right across the street and Yodobashi is just South a bit on the West side of the station also.
Sakuraya (now gone), Going Out of Business December 2008:


Photo by DigitalBear.
The opening day for the new Uniqlo Store in Shinjuku is April 24, 2009. Not sure if they are having any special promotions or a big sale or anything to celebrate the opening, but we'll try to swing by the location on the opening day to find out.
If you can't wait for the new store to open to buy some Uniqlo goods, they have about a million other stores around Tokyo (including some other ones in Shinjuku), and they recently updated their Japanese online store as well.
More updates on this as we get them.