Viva Cute Candy! Kawaii & Colorful Hair Salon in Tokyo – Styling Video & Pictures Featuring Haruka Kurebayashi
Japanese street style is famous around the world, but it's not just extraordinary fashion that turns heads. In Harajuku especially, a creative and colorful hairstyle can be the make-or-break element of a drop-dead-cute look. We often publish profiles of quirky indie fashion brands that make Tokyo's fashion scene special. Now it's time to take a look at a hair salon that's helped to keep Harajuku kawaii for nearly a decade – Viva Cute Candy!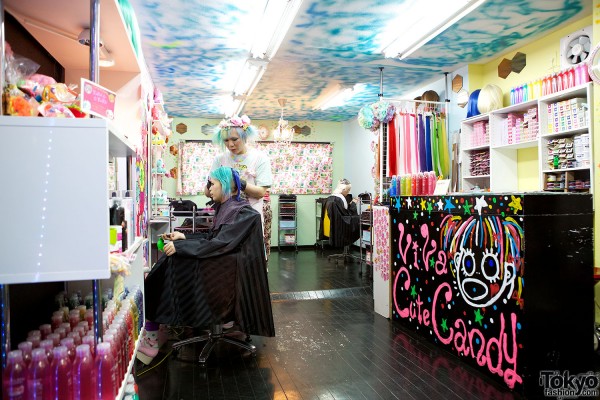 Viva Cute Candy opened its doors in Tokyo's famously-funky Shimokitazawa neighborhood eight years ago. Four years later, kawaii-loving stylist Iku took over the salon. Since then, Viva Cute Candy has built a reputation as a dream salon for the most colorful Harajuku kids. We often spot Viva Cute Candy hairstyles while doing street snaps in Harajuku, and the salon's name comes up repeatedly in popular Japanese street fashion magazines. One of the salon's most famous customers is Harajuku style icon (and Kera Magazine model) Haruka Kurebayashi.
Iku, the head stylist and owner of Viva Cute Candy, is himself an active participant in the Harajuku fashion scene. We see him around the streets of Harajuku as well as at Harajuku-themed events in Tokyo. Iku started his career as a beautician in Hiroshima before making his way to Tokyo. His dream for Viva Cute Candy is to eventually move the shop to Harajuku, right in the heart of the world's most kawaii neighborhood.
Iku told us that his vision for the Viva Cute Candy salon is to make it an "ultra-happy place" where kids with an interest in "natural, pop, and cute" hairstyles can visit and have fun while getting their hair styled with creativity and color. The interior of the shop – all designed by Iku himself and reflecting his personal taste – is super-kawaii, with plenty of pastel colors, 1980s toys, and an atmosphere of fun and positivity. On the salon's website, Iku says he also enjoys talking to his clients about their lives while styling.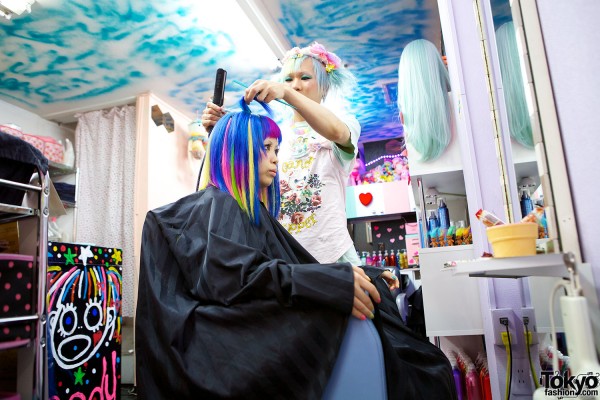 Viva Cute Candy offers the same basic services as normal salons – including cuts, colorings, perms, hair straightening, and extensions. That said, the big draw of Viva Cute Candy is its large selection of cute colors, extensions, and kawaii styling. Of course, Iku is happy to give you a stylish yet more conventional hairdo. But if a customer wants something special with bright colors, pastels, rainbows, designs shaved into the side of his or her hair, or other special kawaii styling, Viva Cute Candy will go all-out to bring those kawaii visions into a one-of-a-kind hairstyle!
When we asked Iku if he had any message for international fans of Harajuku styles, he said, "If you make your hair colorful, you can become ultra happy, right down to your core. I am waiting to meet you!"
Kawaii Japanese style icon Haruka Kurebayashi invited us to tag along on her most recent visit to Viva Cute Candy. We brought back pictures and video of Iku creating a super cute and colorful hairstyle for Kurebayashi. A big thank you to both Viva Cute Candy and Kurebayashi. Scroll down for the the salon's address, hours, and more!
Kawaii Icon Haruka Kurebayashi Styled by Viva Cute Candy

Don't forget to Follow TokyoFashion.com on YouTube.
Viva Cute Candy Salon x Haruka Kurebayashi Kawaii Hair Style Pictures
Click on any of the Viva Cute Candy pics to enlarge them.
Thank you to both Iku at Viva Cute Candy and Haruka Kurebayashi for inviting us to film them and for being so fun! Hope all of you get a chance to visit Viva Cute Candy for yourselves next time you're in Tokyo!
Here's the full information on Viva Cute Candy:
What: Viva Cute Candy Hair Salon
Where: Shimokitazawa, Tokyo, Japan (2 minutes from Shimokitazawa Station)
Address: 3rd floor, 2-10-10, Kitazawa, Setagaya-ku, Tokyo, 155-0031
Map: Viva Cute Candy Map
Hours: Mon-Fri 11am-9pm / Sat-Sun 10am-8pm
Phone: 03-3466-3492
Email: [email protected]
Website: Official Website
Twitter: ikuviva
Photos by Kira.
***
About the photographer:
Born in Japan, educated in Japan and the US, Kira shoots exclusively with Canon DSLRs. Photography assignments include fashion, bands, sporting events, and portraiture for various companies and bands throughout Japan & the world. His portfolio can be viewed at Artist-Photo.