Tokyo street fashion picture taken on Cat Street.
This cute and charismatic Japanese guy and girl posed for our photo in Shibuya, very near Harajuku. The Japanese guy has great spiked blonde hair, an orange Edwin Jeans brand t-shirt that says "Reach The Stage Of Next", tan pants, and red-ish leather boots. The so-cutely dressed girl next to him is wearing blue baggy denim overalls with a bit of a drop crotch. She's got the overalls belted with a wide black belt, rolled up at the bottom of each leg, and she's wearing a white print t-shirt under them. She's also wearing cute plaid flats. They are both carrying bags and both wearing silver necklaces. She's also wearing a second necklace, which is a vintage-looking skeleton key on a long string.
The guy giving us a another cool facial expression: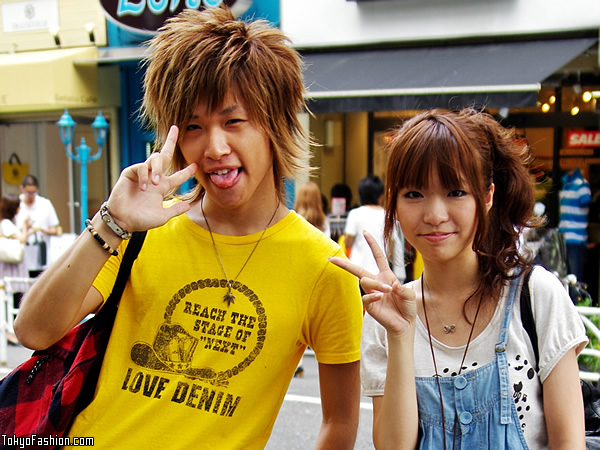 You can click the top photo to see a bigger version with better details of their outfits.