Wonder Worker Guerrilla Band Hot Chocolate at UT
Earlier this week, UT Harajuku launched a new fashion collaboration with the Wonder Worker Guerrilla Band, the Japanese design collective. The limited edition pieces available at UT as part of this collection/brand are called "Hot Chocolate".
Here is the front of the Uniqlo UT Harajuku store, all decorated in tasty Hot Chocolate goodness: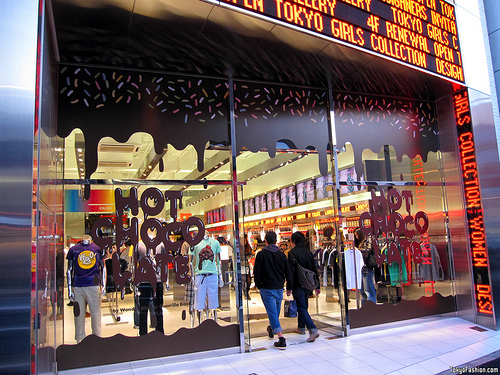 The Wonder Worker Guerrilla Band Hot Chocolate collection itself is mainly a line of cool design t-shirts, as you would expect at the Uniqlo T-shirt shop, but it also includes some all over graphic hoodies in various colors. Here are a few samples of the items available at the shop:
If you want to see the full collection, there is a special page on the UT website (see link below). These pieces are all limited, and you need to hit the store to pick up most of them, but a few of the t-shirts from the collection are available at the UT online shop as well.
As far as the Wonder Worker Guerrilla Band and who these designers actually are, I'm not 100% sure. It seems to be some kind of part of – or collaboration with – the guys at Sasquatch Fabrix. There is a post on the Sasquatch Fabrix blog announcing the new Wonder Worker Guerrilla Band x UT collection, and just about every Japanese blog that mentions Wonder Worker Guerrilla Band talks about Sasquatch Fabrix too, so I guess they are closely related. If you know exactly who the members of the design collective are, feel free to drop us a line and we'll update this article with the facts.
So, to recap – if you're looking for some of the new Hot Chocolate clothing at UT, you better get it quick because it's new and limited and looks like the kind of stuff that will sell out quickly in Harajuku.
That's all for now – more UT Harajuku updates as they happen.
External Links: