ANAP
A profile of the popular Japanese fashion brand ANAP.
Articles containing the brand: ANAP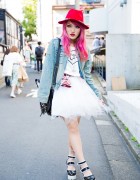 Harajuku guitarist with pink hair and red hat wearing a denim jacket over a crop top, tutu, 13 bag and heeled shoes.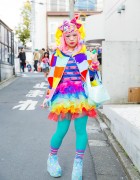 Harajuku decora girl with pink & yellow hair, knit cape, rainbow ruffled skirt, striped top, Hello Kitty bag & star print shoes.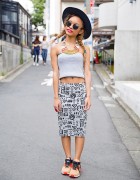 Harajuku girl in an ANAP tube top, Forever21 skirt, Nike Air Max 90 Cork sneakers, wide brim, hat, & twin tail braids.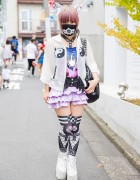 Harajuku designer with lilac twin buns and face mask, harness over tank top, yin yang jacket and bag, ruffle skirt and bat wings belt, knee highs and platforms.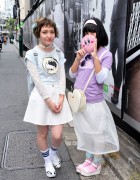 Harajuku girls wearing a sheer skirt and cute tops from Bubbles Harajuku with platform sandals from WEGO and ANAP.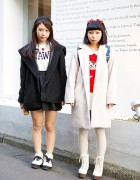 Harajuku girl in white t-shirt, mini skirt, jacket and faux fur shoes vs Harajuku girl in pastel coat, cat sweater & white dress.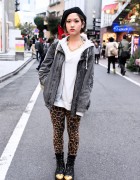 Harajuku girl in a knit beret with an oversized acid wash jacket, leopard print pants and metal toe boots.
Harajuku girl in floral mini dress, black jacket, studded bag and gold toe lace-up boots.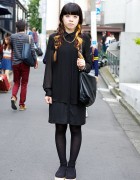 Harajuku girl with braided tails & blonde highlights wearing all black shirt dress, rocking horse shoes, bag & chain necklace.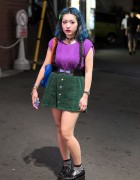 Spinns Harajuku staffer with pretty blue hairstyle, knit sweater, corduroy skirt & platform penny loafers.