Acid Wash Jackets & Denim Shirts – Tokyo Spring Street Fashion Trends
Spring has arrived in Tokyo! The city's beautiful cherry blossoms have come (and then gone), the weather has started warming, and – most importantly – Spring 2012 fashion trends are booming! There are numerous minor trends rising and falling at any given moment on the streets of Tokyo. You can watch them come and go by keeping an eye on our daily street snaps. A few times a year, though, a trend blows up so big that it becomes "THE" trend of the season. A trend of that magnitude is currently rocking the streets of central Tokyo.
For spring 2012, the dominant Tokyo street fashion trend is… acid wash jackets and denim shirts!
Acid wash has always had a niche place in the Tokyo street fashion scene, beloved by Japanese fans of 1980s and retro fashion. But the Spring 2012 acid wash boom has gone far beyond niche. You can't walk ten steps down Takeshita Dori in Harajuku without seeing acid wash – in the shops and on the shoppers.
We first started noticing an increase in oversized acid wash denim jackets worn by the hippest Harajuku street kids around the beginning of 2012. These early adopters were mostly girls working at taste-making vintage shops like Bubbles Harajuku, Kinji, and Kinsella. The jackets were authentic 1980s vintage acid wash denim. As spring approached, the number of people wearing acid wash jackets on the streets of Harajuku began increasing. More vintage/resale shops began putting acid wash jackets on display, and we started seeing acid wash shorts, acid wash skirts, vest, and other acid wash items as well.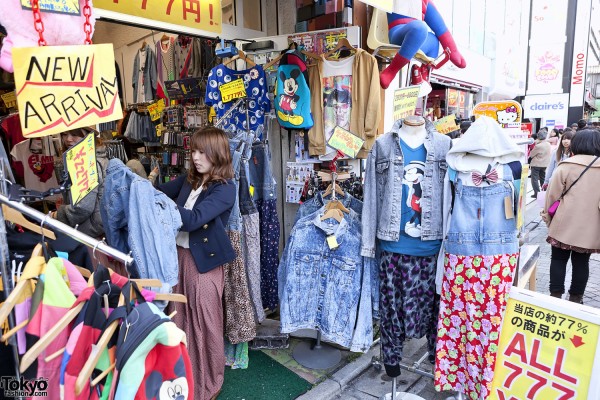 Most of the acid wash activity we first noticed was centered in Harajuku. But with the arrival of Tokyo Girls Collection Spring/Summer 2012, we realized that a parallel trend was gaining traction with girls who were into hip Japanese "real clothes" brands commonly seen on the streets of Shibuya and other areas. That second closely-related trend was long denim shirts. Many of the trendy denim shirts were also acid wash, but some were plain blue denim, stone washed, patterned, and a few might even have been chambray with the look of denim.
These two trends continued to strengthen until the streets of both Harajuku and Shibuya were awash in denim shirts and acid wash. The supply of real vintage acid wash wasn't enough to feed demand (and vintage clothing can be expensive in Tokyo), so many trend/price-conscious shops began selling brand new acid wash jackets, shirts, skirts, and other items. A few days ago, we even noticed several staff members of Forever 21 Harajuku wearing acid wash denim jackets while standing out in front of the store promoting the store's latest arrivals.
Those of you who pay attention to our daily Harajuku street snaps have likely noticed the boom in acid wash and denim shirts already. What you can't see in street snaps, though, is the how aggressively shops have begun promoting these items. So, we spent a few days out on the streets of Harajuku and Shibuya shooting store fronts and shop windows. Between fighting the huge Takeshita Dori crowds and shooting through glass, these may not be our most brilliant pictures, but we hope they'll give you a pretty good idea of just how popular these trends have become. There's no way for us to know how long acid wash and denim shirts will be around (will they end with spring or hang around until summer?), but for now, this is the #1 fashion trend on the streets of central Tokyo.
We've put together over 100 pictures featuring acid wash and denim shirts – including recent street snaps and lots of shops selling these items. You can click any of the pictures below to see them in high resolution, as always.
Acid Wash & Denim Shirt Street Snaps
Acid Wash & Denim Shirt Tokyo Shop Photos
Click any of the street snaps or Tokyo shop pictures to blow them up.
All pictures in this article were taken by Kira (Artist-Photo.jp) and other TokyoFashion.com photographers.