Adidas Originals Shop Shinjuku Opening
Tokyo sneakers fans rejoice. A week ago, on the 28th of November, the newest Adidas Originals shop in Japan opened in the Shinjuku area of Tokyo. Adidas Originals Shinjuku is located just across from Takashimaya Times Square on the South-East side of Shinjuku Station.
This is the new Adidas Originals building: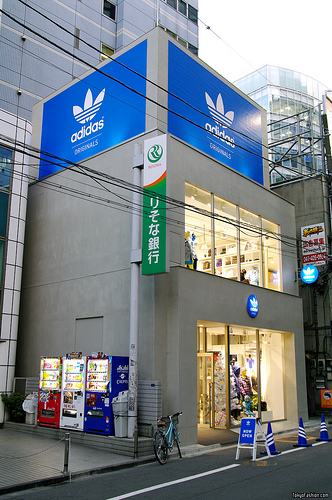 And some pictures of the inside of the shop:

For the opening of the store, Adidas pulled out all of the stops. They created some new "I Love Shinjuku" t-shirts.
Check these exclusive Japanese t-shirts out:

They also put together an Adidas party package for customers with a party hat, some glasses, pins, stickers, a noisemaker, and more. It was cute and funny.
The party goods in a bag:

The Adidas party goods laid out:

Adidas stickers:

Other than the party goods and fun, the new shop stocks some of the cool new Adidas sneakers that people look for on fashion trips to Japan, so it might be worth checking out. I noticed they had some nice pairs of Rod Clean Vulcan Mids in stock for the opening.
If you're thinking of checking out the shop, here is the important info:
What: Adidas Originals Shinjuku
Where: Shinjuku, Tokyo, Japan, near the New South exit of Shinjuku Station
Address: 4-1-4 Shinjuku, Shinjuku-ku, Tokyo, Japan
Phone: 03-5363-0431
Hours: 11:00 – 20:00
Website: Official Site (Japanese)
On the 23rd of December, Adidas will be opening another new concept shop – this one in Shibuya. We'll keep you updated on that store as well!