Adidas Shibuya Grand Opening
Today was a big day for Tokyo sportswear and streetwear fans – it was the grand opening of the Adidas Shibuya Performance Centre (or "Center" if you prefer). The new store is directly across from Shibuya 109 and only a couple of minutes from Shibuya Station, depending on how long you have to wait at the light at Shibuya Crossing.
The new shop is in a shiny black building with three giant white stripes on the side.
The new Adidas Shrine in Shibuya: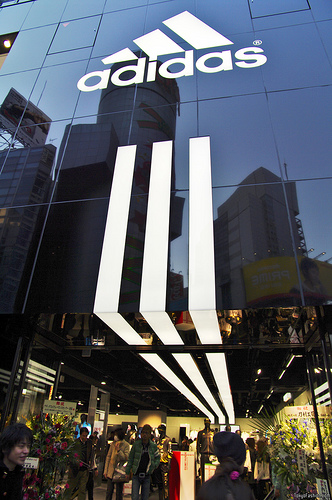 Like the Shinjuku Adidas shop that recently opened, the Shibuya store is celebrating "60 Years of Soles and Stripes" – the 2009 anniversary of the Adidas brand.
60 Years of 3 Famous Stripes:

For the opening party, the Shibuya store is offering some limited edition goods and give aways. Outside of the store, they were handing out these cool fliers with a photo showing Shibuya Crossing covered in the famous Adidas stripes.
Shibuya Crossing Gets Striped:

I Love Shibuya T-Shirt, and Other Limited Goods:

The Friendly Japanese Adidas Flier Guy:

One of the strangest things that they had going on to promote the grand opening, is the appearance of these Japanese Adidas cosplay guys. They were at Shibuya Station dressed in masked hoods and full matching black Adidas tracksuits. They were pretending to play various sports and entertaining the crowd with general strangeness. Before they left the station, they held up signs promoting the new store in perfect synch. It was very surreal!
The Adidas Shibuya Synchronized Cosplay Team?

With the dark face masks and full bodysuits, those guys could have been Ultraman's enemy in some old Japanese TV show!
The new Adidas building seen from 109:

If you're in Shibuya and want to check out the new Adidas store, here's the info you'll need:
What: Adidas Performance Centre Shibuya
When: Opened 12/23/2008
Where: Near Shibuya Station, across from Shibuya 109
Address: 23-5 Udagawa-cho, Shibuya-ku, Tokyo, Japan
Phone: 03-5456-6820
Hours: 10:00 – 21:00
Nearest Station: Shibuya Station
Map: Adidas Shibuya Map
Website: Official Website (Japanese)
There are more pictures and bigger versions of these pictures on the Tokyo Fashion Flickr page.
More new Tokyo shop openings soon!