Alice Black 2012-13 A/W "The Queen is Dead" Featuring Hirari Ikeda
Alice Black is a Japanese jewelry brand which comes directly from the streets of Tokyo. When we first met the brand's creator Norimi a few years ago, he was a DJ and regular fixture in the Harajuku fashion scene. Norimi launched Alice Black because he has a passion for punk-inspired silver jewelry. And it turns out he's not the only one. Alice Black has taken off on a big way, and we now see the brand's trademark pieces being worn by hip kids on the streets of Harajuku almost daily. Alice Black has also been involved in collaborations with various musicians and artists, including last year's limited edition releases with the popular Japanese visual kei brand SuG.
The Alice Black Autumn/Winter 2012/13 collection is titled "The Queen is Dead". The official campaign model for the collection is none other than Harajuku's own Hirari Ikeda!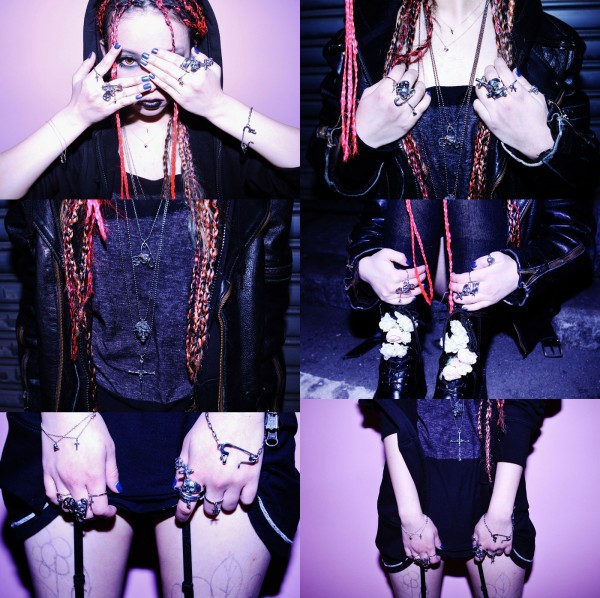 Alice Black's upcoming "The Queen is Dead" collection features variations on the brand's trademark pieces (a skull with anarchy symbols) alongside brand new designs. The items in the collection – mostly rings and necklaces – mash up punk themes (safety pins, skulls, symbols of revolution) with (distorted) beauty and religious icons (flowers, hearts, crosses).
Norimi was nice enough to invite us to photograph the jewelry at his recent exhibition so we could share the designs with you. Click any of the pictures to see detailed views.
Click on any of the Alice Black pictures to enlarge them.
For more information on Alice Black, check the brand's official website.
Photos by Kira. Hirari Ikeda pictures courtesy of Alice Black.
***
About the photographer:
Born in Japan, educated in Japan and the US, Kira shoots exclusively with Canon DSLRs. Photography assignments include fashion, bands, sporting events, and portraiture for various companies and bands throughout Japan & the world. His portfolio can be viewed at Artist-Photo.