Atmos Tokyo x Hello Kitty x Parco Shibuya 2009
Parco in Shibuya has a limited time Hello Kitty x Atmos Tokyo shop on floor B1 right now. The shop is there for a short time and it's supposed to be carrying some limited edition goods, so we decided to check it out. Unfortunately, they weren't allowing photos, but we did get one thanks to the kindness of the staff.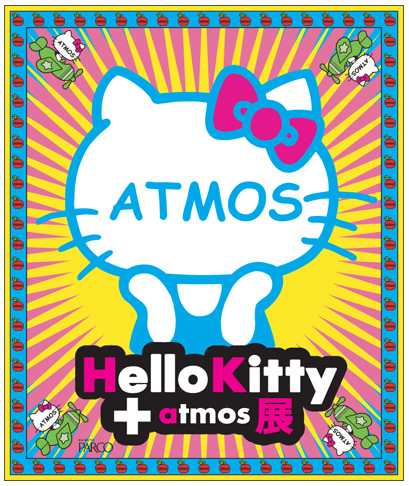 The Atmos x Hello Kitty shop is located in the back of the Logos shop in the basement of Parco Part 1 in Shibuya. They are carrying various items including the Hello Kitty x Porter bags collection, some Hello Kitty shoes, various key chains, t-shirts, clothing items, and other stuff.
Perhaps the coolest thing they're carrying is a line of limited edition Hello Kitty x Atmos figures. The Kitty figures have the Atmos name across the face. There are a bunch of different color combination, including figures that are multicolor, and some that are a single color – including a gold and silver model.
Atmos Tokyo x Hello Kitty Limited Edition Figures

Each of the limited edition Hello Kitty figures costs about 5000 yen, which ends up being around $55 in American money. The figures are around 17cm (6.5 inches) tall, so not too small. Not sure what the production numbers on these are, but they have "limited edition" written all over the place where they have the figures on display. There is also some cool Atmos x Hello Kitty artwork on the walls that looks a bit Andy Warhol inspired, but that didn't seem to be for sale from what I could tell.
Parco Shibuya Loves Hello Kitty

The special Hello Kitty store opened yesterday (Jan 23, 2009) and will close at the end of the day on Feb 5, so you'd better hurry over if you want to check it out and/or grab any of the limited edition figures. Again, just go to Parco Part 1 Shibuya and hit the basement.
External Links: