The Barney's New York Shinjuku department store has a crazy window display for the 2008 winter holidays. The display is celebrating the 50th anniversary of the peace sign, and Barneys went all out in full hippie psychedelia mode.
Peace signs in Shinjuku: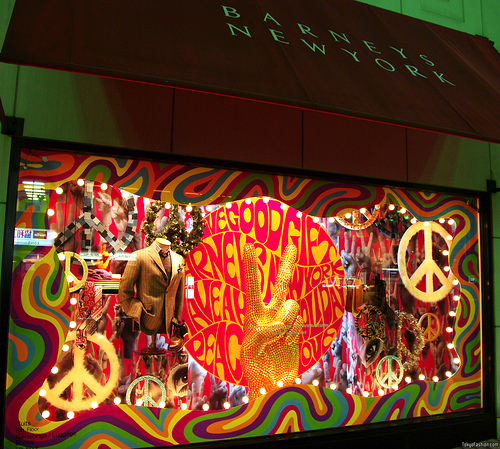 Happy Hippie Window at Barneys NY in Tokyo:

The most important thing to know about posing for a picture in Japan:

Peace and love and lots of little colorful pins:

The Barneys New York shop in Shinjuku is 9 stories tall (though each floor is quite small) and carries a lot of cool brands, both Japanese and international. You may want to check it out if you're looking for high end brands like Junya Watanabe, Kris Van Assche, Raf Simmons, Dior, Band of Outsiders, Comme des Garcons, etc. They also often have cool window displays.
The Barneys store is very near to the East Exit of Shinjuku Station – maybe a 5 minute walk depending on which exit you go out and how crowded it is at the time. It's also just a few minutes from Kabukicho if you're feeling like having some real Japanese fun.
Here is all of the important info:
What: Barneys New York Shinjuku Department Store
Where: Shinjuku, Tokyo, Japan
Address: 3-18-5 Shinjuku, Shinjuku-ku, Tokyo, Japan
Phone: 03-3352-1200
Hours: 11:00 – 20:00
Nearest Train Station: Shinjuku Station
Website: Official Site (Japanese)
Map: Barneys Shinjuku Map