Broken Doll Japan – Indie Fashion Brand, Rock Band, and Tokyo Shop
Broken Doll is best known internationally as a 1980s-inspired Japanese rock/punk band who often perform in flamboyant Harajuku fashion. People in Tokyo also know Broken Doll the band, but another Broken Doll is just as well known – Broken Doll, the fashion label! We see kids on the streets of Harajuku wearing Broken Doll accessories every week, and the brand's shop in Tokyo carries several other popular indie Japanese street labels. It may sound confusing at first to have a fashion brand, a shop, and a band with the same name, but confusion, rebellion and anarchy are things that the punk-spirited Broken Doll crew embrace enthusiastically!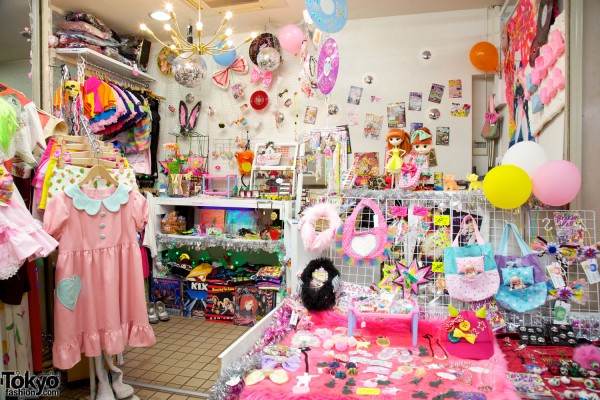 The mastermind behind all three entities in the Broken Doll empire is Kensuke. Kensuke is the guitar player in Broken Doll the band, the head designer for Broken Doll the fashion brand, and the owner of Broken Doll the shop. If you want to know about Broken Doll, Kensuke is the man to talk to. And that's just what we did!
Besides Kensuke's guitar playing, Broken Doll the band features Sachi on vocals (her hyperactive stage presence and sexy-meets-Harajuku styling give the band a lot of its visual identity), Mii on bass, and Maro on drums. The band has released multiple albums, EPs, and singles over the last 5 years. Their most recent album "Reach For The Sky" [US iTunes link here], hit the streets of Japan (and worldwide) in April of 2012.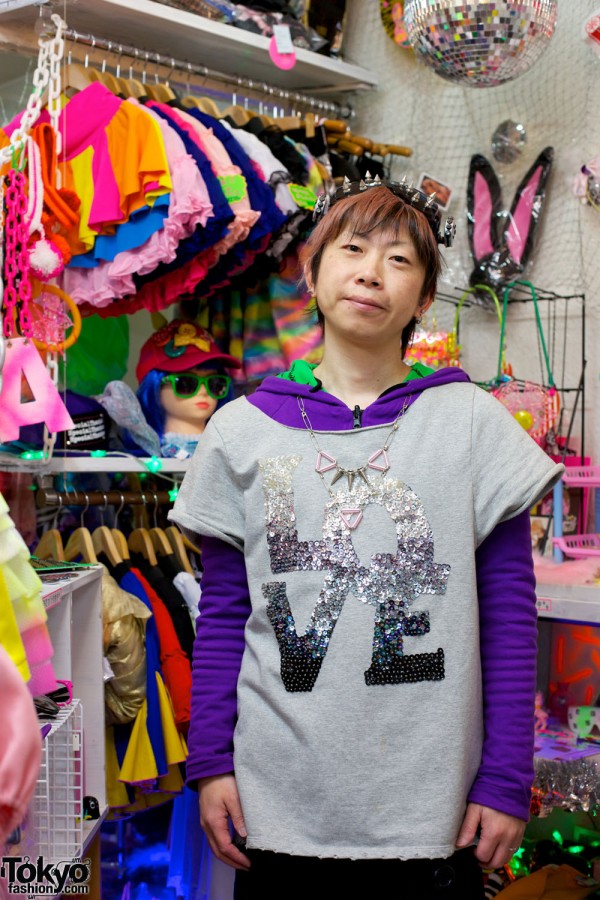 The Broken Doll fashion brand features kawaii-meets-punk accessories and clothing that are popular with the kids you see in FRUiTS, here on TokyoFashion.com, and in other Harajuku street fashion magazines. We most often see the Broken Doll accessories – all of which are hand made and most of which mix darkness into their cuteness. If you want a cute pink heart necklace, there are plenty of shops in Tokyo where you can find one. If you want a necklace featuring a hand-painted 3D human heart with metal screws in it, Broken Doll is just the brand you're looking for! Almost all of the Broken Doll items are handmade in Tokyo, so most of the goods they sell are one of a kind. Broken Doll has its roots in punk rock, and they strongly believe in the indie DIY ethic.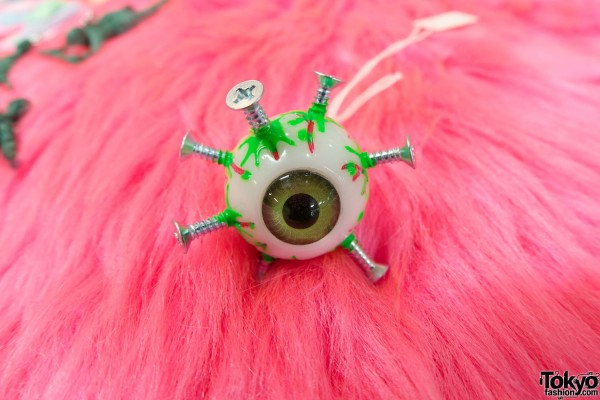 Located in Shimokitazawa, the Broken Doll shop is the home base of the brand and the band. Kensuke and Maro can often be found there, talking to customers and working on new designs. Besides stocking the full line of Broken Doll band merchandise and the Broken Doll brand items, the shop also carries several other indie and up-and-coming Japanese streetwear brands. It isn't easy for young Japanese designers to find a place that will give them exposure when they're just getting started, so Broken Doll does their best to help out. Once again, that philosophy all goes back to the band's punk roots!
Kensuke from Broken Doll invited us to visit the shop so we could take pictures to share with all of you. We also had a chance to ask him a few quick questions about the brand. Please enjoy the Broken Doll pictures and check out what Kensuke has to say below!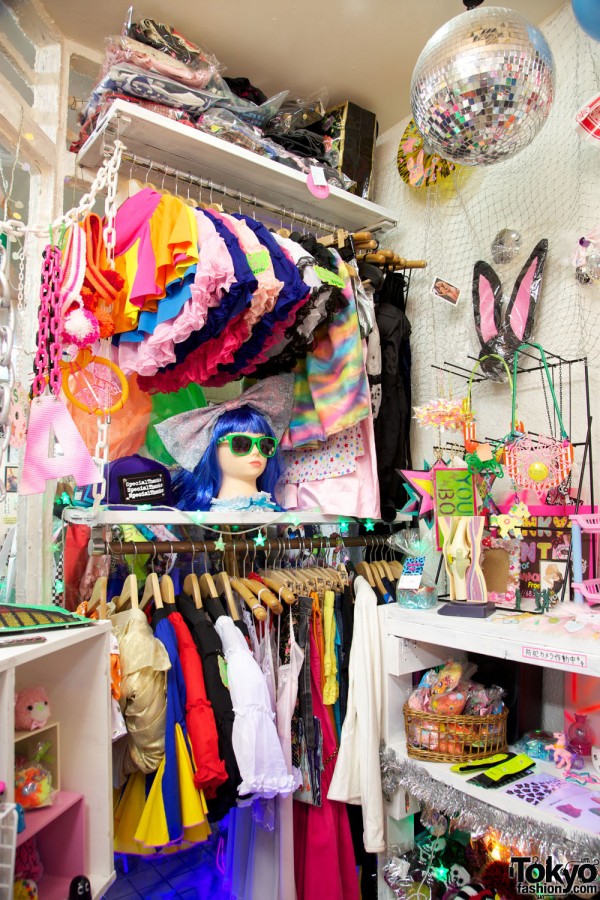 Q. What is the name of your brand & when was it founded?
A. Broken Doll was started in 2006.
Q. Who are the main people behind the Broken Doll label?
A. Kensuke is the founder. The chief designers are Kensuke, naope and Yumaronta (aka "Maro").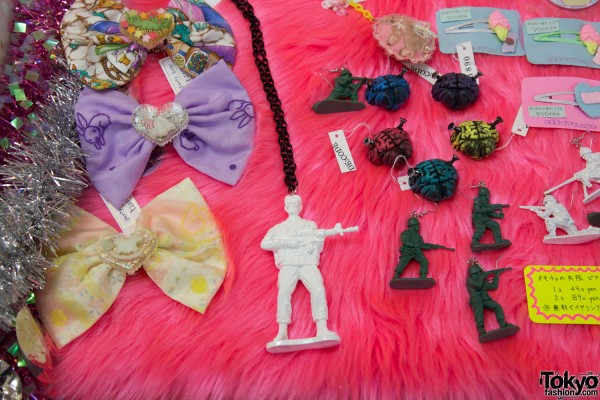 Q. Tell us about the Broken Doll brand concept.
A. All things begin with destruction. Everything is handmade.
Broken Doll is a fusion of fashion and music, born from the visions of musicians in a female vocal rock band working at the frontlines of the scene. Broken Doll's style is made through destroying categories, dissolving different genres of fashion and music and recreating them.
There are elements from fairy, cute, sexy, rock, punk, and bondage styles.
Having lived through fashion and music of the 1980s, Kensuke – the owner and main designer – wants the brand to bring back the tastes of 1980s fashion in a way that other brands can't.
Q. What are the main brands that are carried in the Broken Doll Shimokitazawa store?
A. Broken Doll (of course, Party Baby by Kumamiki, DECOTRAND, DE:CODE, I LOVE ME, FUNKY PENT, CATLIKE and PLASTIC SUGAR.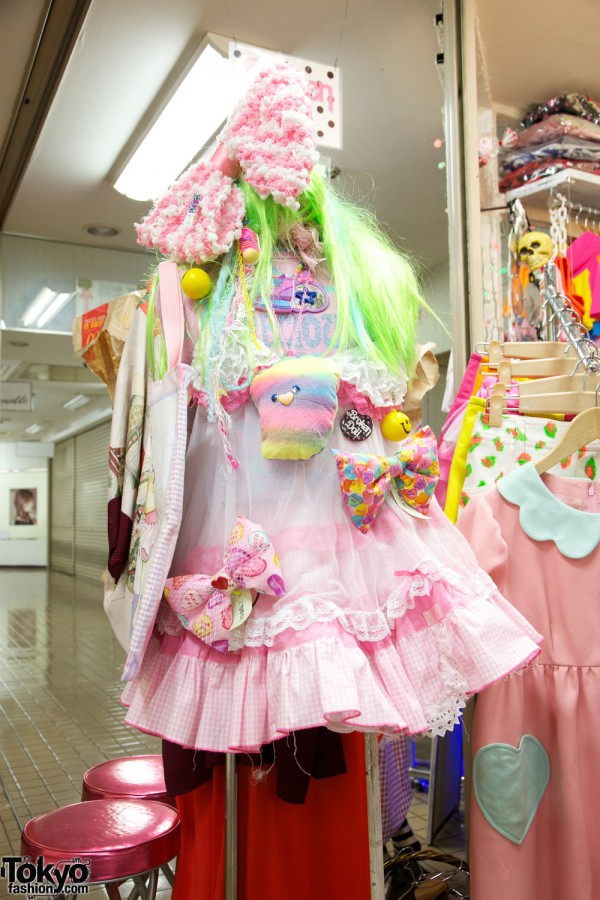 Q. Any final comments for TokyoFashion.com readers?
A. Please come see Broken Doll's live show when you come to Japan, and enjoy the latest fashions and the latest in music from Broken Doll. Our band's CDs are also on sale worldwide.
Broken Doll Shop Pictures
Click any of the Broken Doll pictures to enlarge them!
We'd like to thank Kensuke and everyone from Broken Doll for inviting us to visit their shop, as well as for all of the fun we've had at their concerts over the years. If you're planning to visit Japan and you like colorful handmade Japanese fashion, definitely stop by the Broken Doll shop in Shimokitazawa and say hello to them!
Here is all of the essential Broken Doll info:
What: Broken Doll – A shop, fashion brand, and Japanese rock band.
Shop Address: 2-10-15 Kitazawa, Marche Shimokitazawa 2F, Setagaya-ku, Tokyo 155-0031 Japan
Hours: 13:00-20:00 (Closed Mon/Tues/Thurs)
Online: Official Website, Blog, Twitter, Facebook YouTube.
All photos by Kira.
***
About the photographer:
Born in Japan, educated in Japan and the US, Kira shoots exclusively with Canon DSLRs. Photography assignments include fashion, bands, sporting events, and portraiture for various companies and bands throughout Japan & the world. His portfolio can be viewed at Artist-Photo.