Modern Harajuku street style meets traditional Japanese fashion on June 29th at the Candy Pop Summer Party in Tokyo. The centerpiece of the party is a fashion show featuring eyeball-print kimono from gothic Japanese fashion brand Edge of Darkness – along with matching eyeball headpieces by eses. Popular personalities from the Harajuku scene – including Juria Nakagawa, Haruka Kurebayashi, AYAME, and Amihamu – will be on hand to model the kimono and headpieces.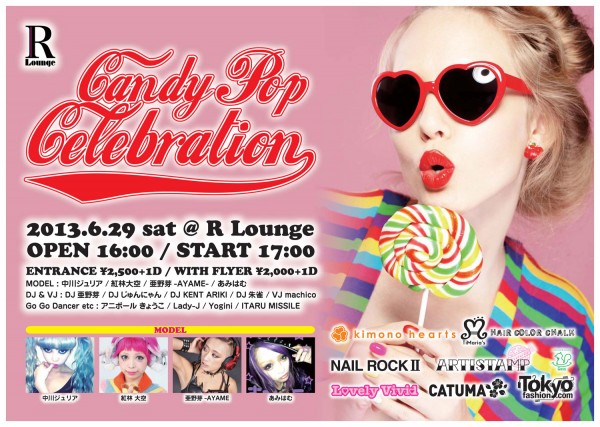 The Candy Pop Summer Party will features lots of other fun stuff as well – including DJs, go-go dancers, fashion booths, and style snaps by TokyoFashion.com. The lineup of DJs for the event includes Ayame, Junnyan (Harajuku Fashion Walk), Kent Ariki, Suzaku, and VJ Machico. Go-go dancers include Anipole Kyoko, Lady-J, Yogini, and Itaru Missile (who has appeared in several of the Pop N Cute fashion shows previously).
The Candy Pop Summer Party will take place on Saturday June 29, 2013 at the R Lounge in Shibuya. Doors open at 16:00 and the party starts at 17:00. Tickets are 2500 yen, or 2000 yen with a flier. For a map and more details, check the official Facebook Event Page.
For the latest updates on the party lineup and news, follow the
Candy Pop Facebook Page
!
Candy Pop party's sponsors include:
See you there!