Christmas in Harajuku 2013 Pictures – Meiji Dori & Harajuku Dori
Merry Christmas, and welcome to the second in our series of Harajuku and Shibuya Christmas picture posts for 2013!
In this Christmas photo walk, we start where the Takeshita Dori Christmas pictures left off, at the intersection of Meiji Dori and Takeshita Dori. We will walk down Meiji Dori in the direction of Shinjuku, passing Nile Perch and all of the Beams Harajuku shops. At Killer Dori, we'll turn right and then make another quick right (yes, that's a u-turn) onto Harajuku Dori.
We sometimes call Harajuku Dori "Dog Street" because it's the street where Harajuku's most influential boutique lives – Dog Harajuku. On Harajuku Dori, we'll see several of Harajuku's coolest indie shops (Pin Nap, Berberjin, Bunkaya Zakkaten, Dog, etc.) as well as taking a very quick detour to snap Harajuku's favorite source of quirky vintage toys, the tiny Spiral Harajuku boutique.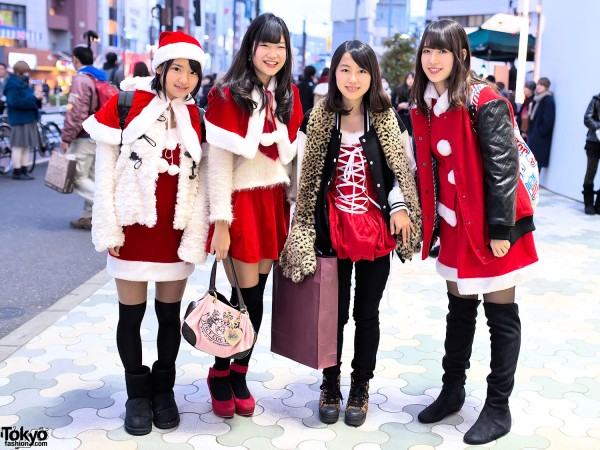 When Harajuku Dori rejoins Meiji Dori at the intersection of Takeshita Dori, so will we. We'll then follow Meiji Dori all the way down to the border of Shibuya. Then we'll cross the street and turn back toward Harajuku, snapping all of the shops on the other side of the street.
Along Meiji Dori, we'll take some quick snaps of the Omotesando Christmas illumination, which will appear in more detail in one of our next photo walks. Meiji Dori is one of Tokyo's major streets, so many of the shops along here are big – including LaForet Harajuku, H&M Harajuku, Forever 21 Harajuku, Tokyu Plaza Omotesando Harajuku, and Super WEGO. There are smaller shops on Meiji as well – such as Kinji, Bubbles, Baby The Stars Shine Bright, Milk, and Hysteric Glamour.
Enjoy the Harajuku Christmas pictures (click any of them to see them in high resolution), and check back soon for our next holiday photo walk – Urahara, and then we'll finish up with a few Shibuya Christmas pictures! Merry Christmas, Happy Holiday to all of you, and hope to see you in Tokyo in person next Christmas!
Click on any photo to enlarge it.