Coach Japan x Poppy-chan Cuteness
The economy is bad right now and many people are sad. So, what can a fashion label to do to cheer people up? How about introducing a new line of designer purses and handbags at reasonable prices? Not good enough? How about designer bags, reasonable prices, and super kawaii Japanese cartoon characters to go with them? Sound good? Meet Poppy-chan…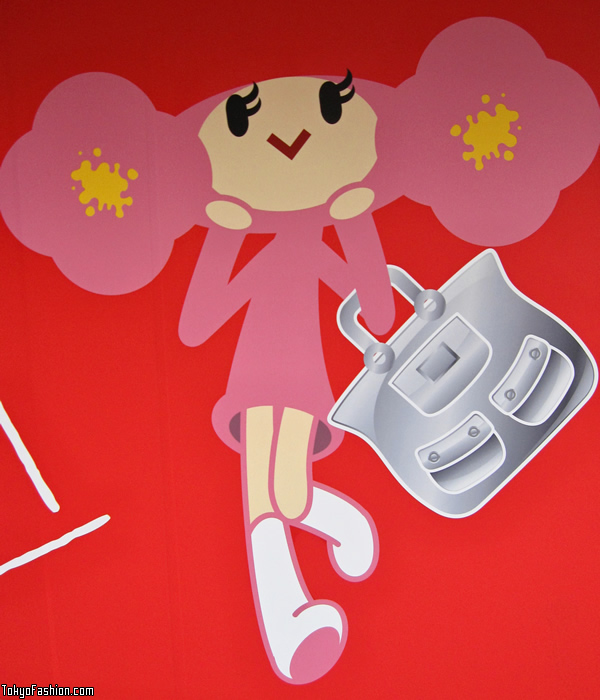 Poppy is the recently introduced line of bags by the luxury brand Coach. The new collection is more budget friendly and young feeling than their main Coach collection. It's also more punk and edgy and full of bright colors, prints, sequins, retro inspiration, and cute designs. Besides just handbags, shoulder bags, and purses, the Poppy collection also includes footwear, glasses, headbands, jewelry, and other accessories. Prices are reasonable – by Coach standards – with most items priced below US$500.
The Poppy collection by Coach is available worldwide, but Japanese shoppers gets something special – Poppy-chan! Poppy-chan is a cute Japanese cartoon character being used by Coach in Japan to help promote the new line. According to the Coach Japan website, Poppy-chan is "Playful, Pretty, Cool, Fun, Glamorous, Sporty, and Hip!" The Shibuya Coach store is currently decorated all over in Poppy-chan cuteness. Here are some pictures of the store covered in cuteness in July of 2009:
And here is a video of Poppy-chan in action promoting Coach to Japanese fashion lovers:

Check out the entire line at the Coach Japan website featuring Poppy Town.