Cred Tokyo – New Tokyo Shop
Just a quick update to let you know about a new clothing shop in Harajuku called "Cred Tokyo". It just opened this month, September 2008.
The shop is on Meiji Dori between Takeshita Dori and Killer Street, not too far from the Beams shops. It's a menswear select shop carrying both Japanese brands and import brands. It carries the jeans brand AG Adoriano Goldschmied and seems to be owned by the same company. AG Adoriano Goldschmied company has an office a block or so down Meiji Dori from the new Cred Shop. The new shop also carries Levis, Nudei, Duvetica, and various other brands.
The Cred Tokyo design / architecture is nice with the outside covered in metal slats. The shop covers two stories in the building. Here are a couple of pictures of the shop: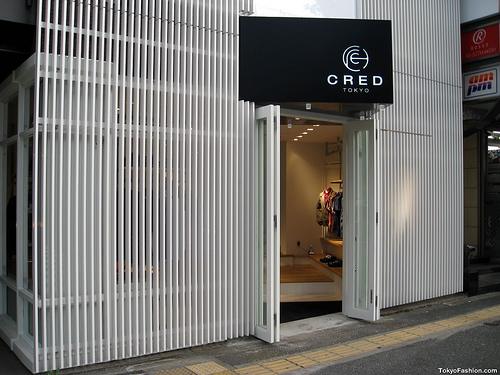 Cred Tokyo Info:
Address: 3-23-1 Jingumae, Shibuya-ku, Tokyo
Phone: 03-3404-6052
Hours: Not sure!
Related Links:
More new Tokyo shop news soon!