Dorothy Vacance – Japanese Remake Fashion Brand, Boutique, Gallery & Atelier
Inspired by Judy Garland's character Dorothy in iconic film "The Wizard of Oz", Dorothy Vacance has grown from a college student's idea into a fashion and art boutique like nothing else.
While at Sugino Fukushoku Daigaku (Sugino Fashion College), Ayano Nakayama – aka Gon – had an idea centered on a character called Dorothy Vacance, based on Garland's Dorothy and a real-life gallery curator in Tokyo who she views as a stylistic muse. A few years ago, Gon developed the idea into a website, blog and online store (which has readers and customers from all over the world, including Brazil and Russia) in which women could order remade and custom-made shirts. This isn't your usual remake business, however, as she takes her friends fathers' old work shirts and remakes them into cute and one-of-a-kind items – reversing them, remaking and wearing them backwards with unbelievable results.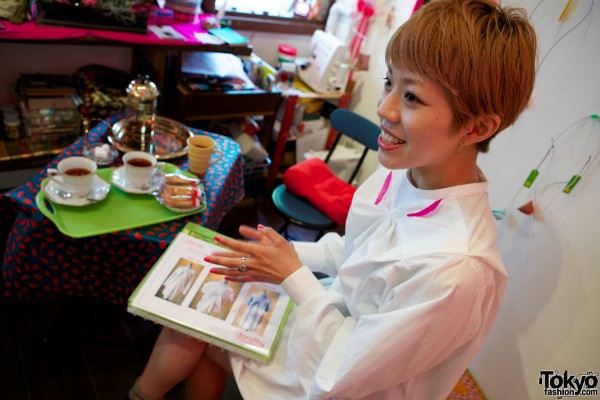 Gon wanted to do something unique and also develop a project in which we value clothing as something we can preserve and reuse. Great for the environment and totally different from other styles available on the high-street, she sold some items in Cat Street boutique Casselini in addition to her own site. Word of mouth, a legion of loyal fans, and a few years later, Dorothy Vacance has found a permanent home in Tokyo's Omori district – near Shinagawa. Omori isn't the first choice for a fashion and art boutique, but Gon wanted to find "a fresh location" for her new venture. The boutique, essentially a destination store, is a breath of fresh air in what is traditionally a pensioners' town. She wants customers to have "a real episode" when they enter the Dorothy Vacance world which is the opposite idea to the modern-day ultra-convenient fast fashion experience.
The boutique has three fundamental functions – store, gallery, and atelier complete with sewing machines and pin cushions. There are also additional plans in the works such as a fashion and art school for children and adults so check the brand website and blog for more details.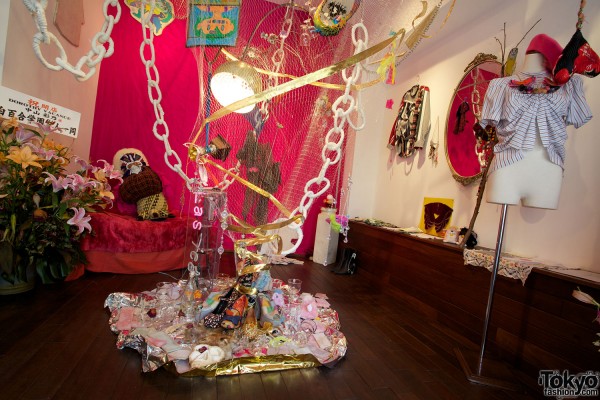 It's a friendly and comfortable boutique which also carries other designers in addition to Dorothy Vacance. Erik Bernhardsson's Arizona Dreaming from Sweden and Canadian label De Face designed by Daphne Mohajer are both represented and the art work on display is also courtesy of various other talented friends. The focus of the small gallery is the tornado installation titled "The Beginning of Dorothy's Dream" which was created by a group of artists from the Zenshi Gallery in Kanda. There are also paintings, fabric sculptures, an amazing range of accessories including De Face electric cord and train ticket necklaces and even colorful woolen room shoes made by Gon's great-aunt.
Dorothy Vacance shirts, at the moment, come in three styles – Ribbon, Heart and Triangle all in a free-size. For an extra fee, you can have Japanese, English, and even Furbish (the language of Furbys) messages embroidered on the shirts. Basic shirt prices start at 15,000 yen, but if you send your own shirt to be remade it comes in at 12,800 yen. Any extra embroidery is priced from 1,000 yen. Dorothy Vacance also offers a "remake hospital" service for anyone who wants to remake and redesign their own garments.
What sets the brand and shop apart from its competitors is the level of creativity and home-made ethic applied to everything from the shirts and necklaces to the paintings and other art work. Gon has a unique sense of style and has been recognized as a trend setter and stylist in her own right very much separate from other fashion leaders in contemporary Tokyo. It also shows that if you have self-belief and a solid idea, you can achieve anything you want to. Gon and Dorothy Vacance have become and will continue to be an inspiration to others who share a similar DIY approach to fashion.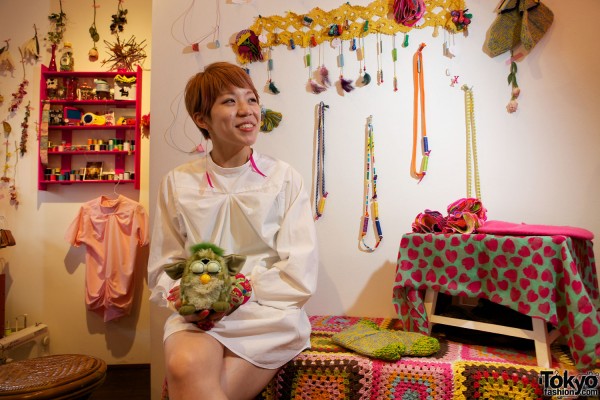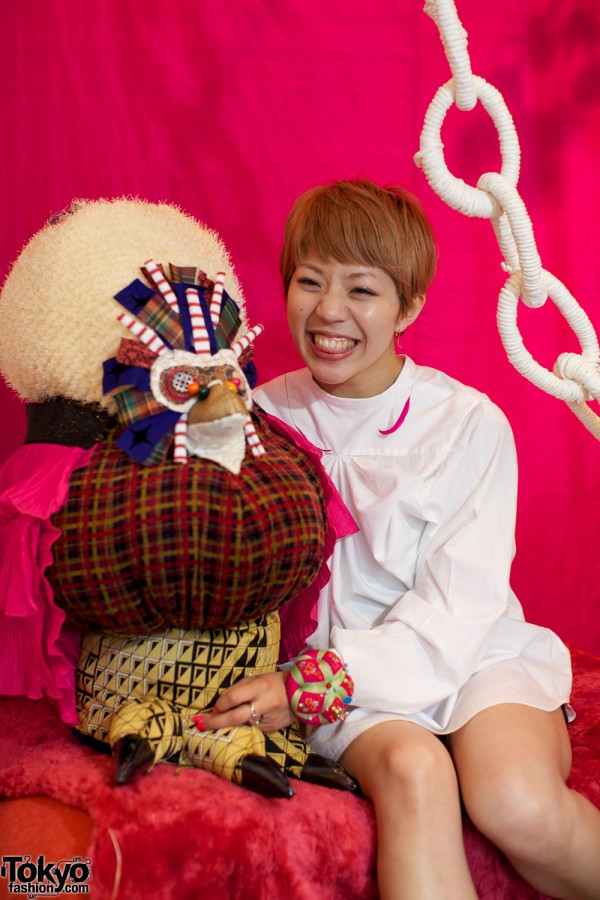 Dorothy Vacance Shop Info:
Article text by Paul McInnes and all photos by Will Robb.
About the author:
Paul McInnes is a fashion and arts journalist based in Tokyo. He is the fashion editor (menswear) and contributing arts editor of The Japan Times. He is also the Tokyo editor of Sportswear International and contributes to publications such as High Fashion, Dazed Digital, JC Report and Japanese Streets. He has also been interviewed for TV including NHK's Tokyo Fashion Express and lifestyle magazines such as Metropolis and Kaleidoscope magazine.
About the photographer:
As long as he is behind his camera Will is a happy man. He has photographed everything from the slums of Bangkok to the catwalks of Tokyo. He is a contract photographer for Lonely Planet, his images and photo essays have appeared in Time Out, The Japan Times, Sportswear International and a variety of other newspapers, magazines and guidebooks around the world and his photo essays from Iraq for The Griffith Review even earned him a mention in the Australian book review of the year in 2006. In addition to his media related work, Will also shoots events, portraits, weddings and the occasional CD cover. Whatever he's working on, he always writes about his jobs and how he goes about them at Will Robb Photography.