Edwin Denim Galaxy Harajuku Coming Soon
On April 26, 2009, Edwin Jeans Japan will open their new Edwin Denim Galaxy shop, art, and event space in Harajuku. The location of the new shop is on Meiji Dori almost directly across the street from their existing store and just a couple doors down from the WEGO clothing shop on the corner of Meiji and Omotesando Dori.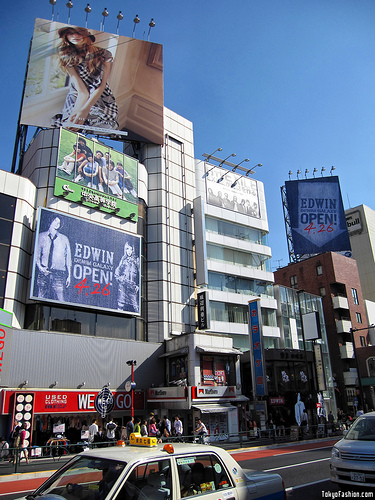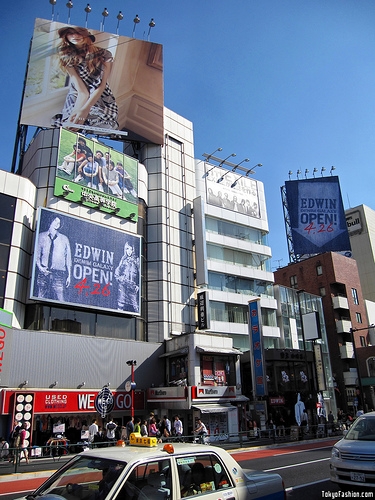 The site is still under construction right now, but they've got the construction walls covered in signage promoting the opening. The floor guide shows the place having quite a lot of shop space as well as a stage area, kids clothing area, smoking / meeting space, and more.
The stage and other non-shop elements will allow the popular Japanese jeans company to put on art shows, hold events, and do other promotions and exhibitions in the heart of Harajuku. Diesel has a similarly named "Denim Gallery" in Daikanyama where they regularly put on art shows with well known contemporary artists.
According to the Edwin website, the first exhibition at the Galaxy will be related to the Edwin Love Jeans Collection. The Love Jeans Collection is the Edwin collaboration with Shibuya Girls Collection model Gyaru / Gal superstar Masukawa Tsubasa and her man Naoki Umeda. Not sure what the exact specifics of this show are, but we'll post more info as we get it.
We're also not sure if Tsubasa and Umeda will be at the opening of the gallery space on April 26th, but if the super-couple are there in person, you can bet it will be mayhem on that day with lines stretching for miles down Meiji Dori. We'll try to get pictures either way.
More updates as opening day of Edwin Denim Galaxy gets closer.
External Link: Denim Galaxy Official Site (Japanese)