Fairy Kei Fashion From the Streets of Harajuku – Strawberry Planet & Mello Brand Profiles
Harajuku is known worldwide for its eclectic street fashion scene. There are hundreds of fashion genres, subgenres, & subcultures that have bloomed on these famous streets.
One of the Harajuku styles that has reached "iconic' status is fairy kei. Fairy kei fashion features rainbows of pastel colors, bright bows, and supercute accessories. Japanese fashion brands popular with fairy kei girls include 6%DOKIDOKI, Nile Perch, Spank!, and ManiaQ. In addition to the established brands, young Japanese designers also contribute their creativity to the Harajuku fairy kei scene. Two of these up-and-coming designers are Moco & Tomo, founders of the indie fairy kei fashion brands Strawberry Planet and Mello.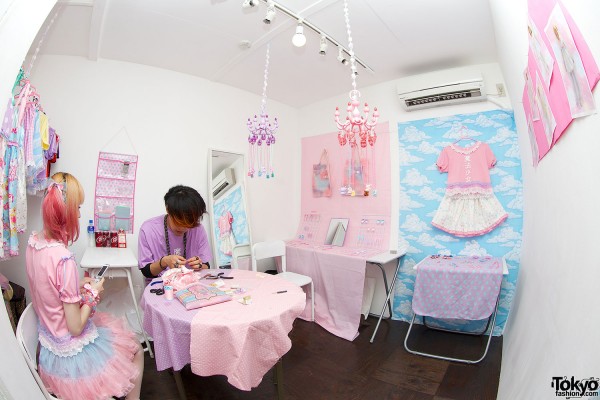 Moco and Tomo are both students at Bunka Fashion College, Tokyo's most prestigious fashion school. Moco is also a well-known blogger and personality in the Harajuku fashion scene. She has been featured in the pages of FRUiTS, Kera, and other magazines, as well as on countless Japanese street snap websites. Earlier this year, the duo launched their indie fairy kei fashion brands – Strawberry Planet and Mello. Mello is a fairy kei clothing line, while Strawberry Planet features cute colorful accessories to compliment the fashion coordinates.
Currently, the collections are available via a monthly popup shop in Harajuku, as well as online. We visited a recent Strawberry Planet & Mello popup shop in Harajuku and sat down with Moco and Tomo for a short interview. Please have a look at our (English-subtitled) video to hear the designers talk about their fashion brands, the streets of Harajuku, and their future plans:
Strawberry Planet Interview With Moco & Tomo – Video
Don't forget to Follow TokyoFashion.com on YouTube.
In addition to the video, Tomo and Moco were nice enough to let us take photos of the items that they were selling at their Harajuku popup shop. All of the items in both collections are designed and handmade by Tomo and Moco. Some of the accessories are "remakes" in which found items are incorporated into the designs. Enjoy the photos! Check the bottom of the article for more information on Strawberry Planet and Mello.
Click any of the Strawberry Planet/Mello photos to enlarge them.
We appreciate Moco and Tomo taking the time to show us their fashion creations, and thank them for answering our interview questions.
For more information on Strawberry Planet & Mello, check these links:
All photos by Kira.
***
About the photographer:
Born in Japan, educated in Japan and the US, Kira shoots exclusively with Canon DSLRs. Photography assignments include fashion, bands, sporting events, and portraiture for various companies and bands throughout Japan & the world. His portfolio can be viewed at Artist-Photo.