Faline Tokyo 8th Anniversary & Valentine's Day Party Pictures
Located just off Takeshita Dori in Harajuku, Faline is an iconic, edgy Tokyo select shop. The store is small, but its influence in the Tokyo street fashion scene is huge. Faline was an early supporter of designers like Jeremy Scott (who visits the store when he's in Tokyo) and KTZ. Much of their artwork is created by French graffiti legend Fafi. The shop's owner and buyer Baby Mary Faline is a familiar sight at fashion parties and events all over the planet. If you were making a list of the top shops you should visit to see what the coolest kids in Tokyo are wearing, Faline would definitely be on the list.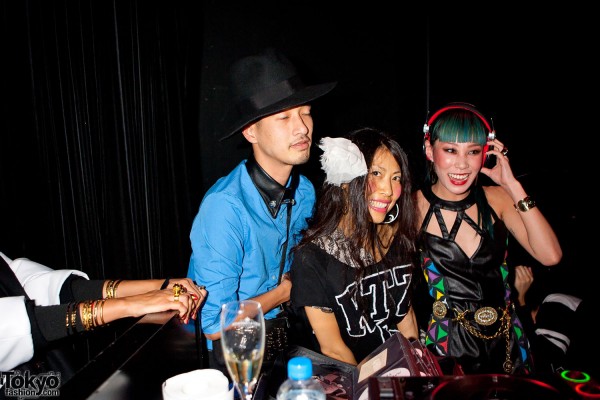 So when Faline Tokyo announced they were throwing a big party for their 8th Anniversary (and to celebrate Valentine's Day), you can bet we were excited. And we weren't the only ones! Many familiar faces showed up for the evening party at the Harajuku storefront. The crowd then made their way over to Le Baron de Paris Tokyo for an all-night afterparty. The DJs for the Faline party at Le Baron included Mademoiselle Yulia, Yuya Nara & Sachiko, the guys from Tokyo Dandy, 2Boy, and more!
We were lucky enough to score an invite to both parties. We've brought back over one hundred pictures to share with you. Enjoy the fashion and fun, and please join us in wishing Faline Tokyo a Happy 8th Anniversary! Click any of the pictures to see them in high resolution.
Click any of the Faline Tokyo pictures to enlarge them.
We send our congratulations to Faline Tokyo for eight great years, and wish them many more to come. For more information on Faline, please check out their official website.
***
About the photographer:
Michael Steinebach has been fortunate enough to travel and see the world. Exposed to the limitless possibilities of photography 20 years ago, he grew up looking at things differently. He currently shoots in the areas of people, fashion, and news photography in Japan. He maintains a Facebook page with samples of his work. He can be emailed about contract work or with questions or comments on his photography.