Forever 21 Harajuku – The Night Before Opening Day
Tonight was the preview party for the soon-to-be-open Forever 21 Harajuku store.
Tomorrow, April 29, 2009, is the official opening of the first every Forever 21 store in Japan – just in time for Golden Week. But, tonight invited guests, the press, and some VIPs got to check out the store, get a gift bag, and schmooze with the staff and management. A few hours from now, Wednesday morning, the doors will open for the rest of us.
Tokyo Fashion was on the scene and brought back some pictures for you from Forever 21 Harajuku's night-before-opening preview. Here's what you missed…
H&M's new neighbor is almost ready for action: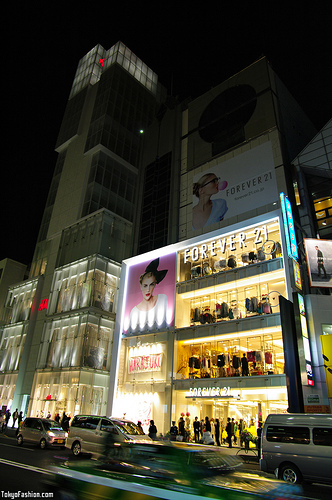 Forever 21 Harajuku says "Tokyo We Love You!"

The doors are open – but not for you, until tomorrow:

Special invited guests and their exclusive Japanese Forever 21 gift bags:

The new shop lit up and looking pretty on Meiji Dori:

People browsing inside the new Forever 21 Harajuku shop the night before opening day:

We'll have more Forever 21 Harajuku pictures for you from the opening tomorrow morning, so check back soon!