Forever 21 Shinjuku Grand Opening
Today, Saturday, May 29, 2010, the new Forever 21 store in the Shinjuku area of Tokyo will hold its grand opening. Last night, before the "official opening", the store hosted a special "Pre-Opening Party" event where fans of the brand were invited – along with Japanese celebrities – to do a bit of early shopping. Plenty of Tokyo girls showed up ready to buy, buy, buy. Smiling shoppers clutching the famous yellow Forever 21 shopping bags could be seen flooding out of the store and into the streets of Shinjuku.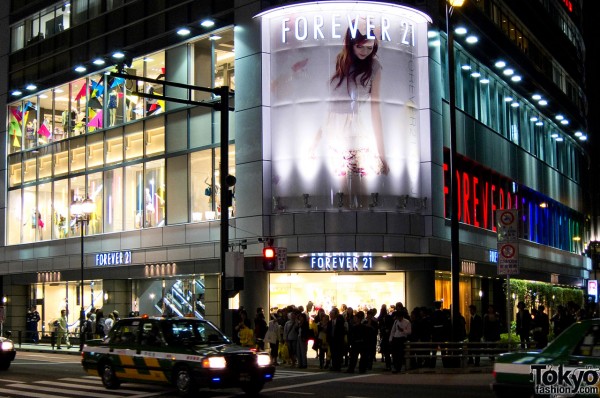 The new Forever 21 Shinjuku store is located on the corner of Meiji Dori, where In The Room (the Marui interior design store) used to be. The store occupies floors 1-3 plus one basement floor. The location is centrally located between the various Marui department stores and Isetan on the East side of Shinjuku Station. It becomes an instant presence in one of the most visited shopping areas of Tokyo – if not one of the most visited shopping areas on the planet!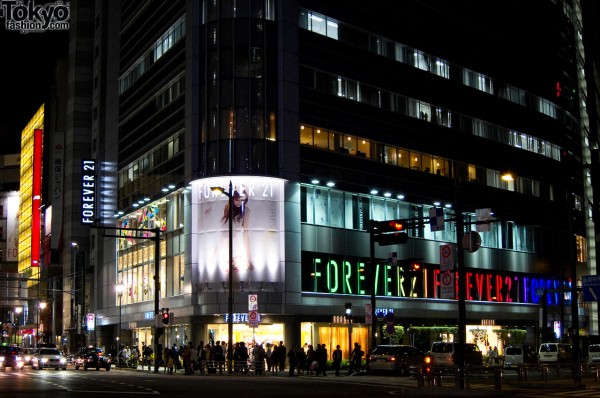 Click either of the pictures to enlarge them.
Here's all the info on the new Japanese Forever 21 store:
What: Forever 21 Shinjuku
Where: Shinjuku, Tokyo, Japan
Address: 3-1-13 Shinjuku, Shinjuku-ku, Tokyo, Japan
Train Station: Shinjuku Station (South Exit) or Shinjuku Sanchome Station
Phone: 03-5269-810
Hours: 10:00-21:00 (open until 10pm on Friday/Saturday)
Official Website: Forever 21 (Japanese)