FrancFranc Tokyo Christmas 2008
The 2008 holiday shopping season is in full swing in Tokyo and that can mean only one thing – lots of Tokyo Fashion updates on Japanese shops decorated for Christmas.
In this episode, we take a look at FrancFranc. Technically, FrancFranc isn't a fashion or clothing shop, but they are all about style. FrancFranc sells cool home goods. Maybe you could compare they a little bit to parts of Muji as far as some of the items they carry, but the style of FrancFranc is more flashy and cute/glamorous than Muji. So, if you were young and hip and Japanese and you wanted to buy some cute kitchen items, bedroom furniture, Japanese bedding, gadgets for around the home, beach accessories, or any number of other Japanese household items, you might head over to FrancFranc.
But enough about that – let's talk Christmas 2008!
FrancFranc has a new shop in Shibuya that opened within the last couple of months. They used to be in Parco, but now have their own dedicated Shibuya store. The new shop is very bright and sparkly – targeted right at the Shibuya girls who walk by it everyday. It's located between Parco, Spain Zaka, and Center Gai, so right in the middle of everything. For the holidays, the Shibuya shop is all decorated up with a Christmas tree out front and everything.
FrancFranc Shibuya Christmas 2008: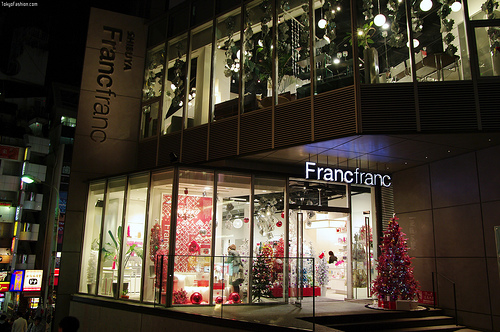 Not to be outdone, the FrancFranc in Shinjuku, on Shinjuku Southern Terrace, is also decorated for Christmas with a big painted holiday message ("The XMas Party") on the side of the building facing Krispy Kreme.
FrancFranc Shinjuku X-Mas 2008:

Inside of the stores, besides the usual FrancFranc inventory, you can buy lots of holiday stuff like stockings and mini-Christmas trees and toys and gifts in red and white. This year, FrancFranc even has it's own limited edition Bearbrick toy with its own stocking.
FrancFranc x Be@rbrick X-Mas 2008:

And, there are other cute Japanese Christmas toys as well, like a series of Sonny Angel figures dressed in various costumes.
Sonny Angel Christmas 2008 Figure – Snowman Costume:

That's just a small sample of the super kawaii goodness that is FrancFranc Christmas 2008. There are plenty of locations of this shop all over Tokyo, so you might want to check it out if you need some Christmas cheer for your Japanese home or office this year.