Fuji Rock 2009 Pictures
Last weekend was Fuji Rock 2009, the year's edition of Japan's coolest outdoor music festival. Fuji Rock is held every July in the mountain ski resort of Naeba – about 90 minutes outside of Tokyo by fast train. This year's festival was headlined by Oasis, Fall Out Boy, Basement Jaxx, Weezer, and Franz Ferdinand.
But, the headliners are just a small part of the full Fuji Rock experience – there are lots of other bands (both indie and major), food from all over the world, beautiful forests and streams, circus performers, light shows, and over 100,000 people rocking out in the spirit of peace and a love of nature.
Tokyo Fashion was lucky enough to make it out to Fuji Rock again this year, and we brought back a few pictures for those of you that might be interested. If you have a chance to visit Fuji Rock 2010 or beyond, don't miss it!
Jimmy Eat World: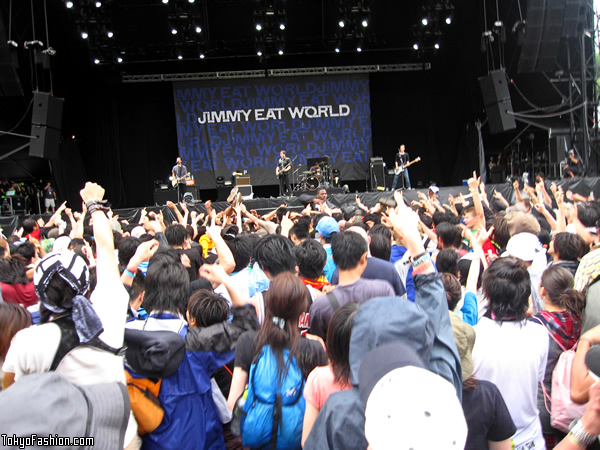 Fuji Rocker Fashion:

Tattoo Couple at Fuji Rock:

Smiling Japanese Girls:

Giant Rabbit, Small Girls:

Fall Out Boy Live:

Lily Allen:

People and trees everywhere:

Awesome Fuji Rock guy:

Imawano Kiyoshiro, RIP:

For more info, check out the official festival website (in Japanese and English).