Fuji Rock Festival 2010: Air, Massive Attack, Muse
Everyone here at TokyoFashion.com looks forward to the beginning of March. Why? Because that's when the big Japanese summer music festivals begin to announce their lineups. Summer Sonic and Fuji Rock are the two big ones, but there are others including Big Beach Fest, Rock in Japan, Rising Sun, etc.
If you have unlimited time and money, we recommend you hit them all! If you have to pick just one, Fuji Rock might be our first recommendation. Fuji Rock is held in the beautiful green mountains – not too far from Tokyo via Shinkansan – at Naeba Ski Resort. More than just music, Fuji Rock is about the beauty of nature, getting away from it all, and chilling out.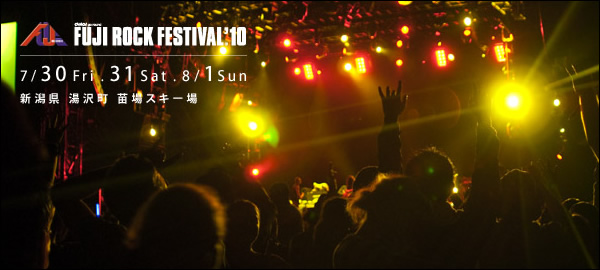 Now that March has arrived, the Fuji Rock organizers have made their first lineup announcement for the 2010 version of the festival. 27 artists have been announced so far, with lots more to come. The highlights of this year's lineup so far – which takes place over three days from July 30 to Aug 1st – include Air, Massive Attack, Muse, Belle And Sebastian, Boom Boom Satellites, and Boys Noize.
Here is the full Fuji Rock Festival 2010 first lineup announcement, in alphabetical order:
22-20S
Air
Alberta Cross
Belle And Sebastian
Boom Boom Satellites
Boys Noize
Broken Social Scene
The Cribs
Flogging Molly
Foals
Hot Chip
Ian Brown
John Butler Trio
Ken Yokoyama
Kitty Daisy & Lewis
Lcd Soundsystem
Magnetic Man
Massive Attack
Muse
Ocean Colour Scene
Parachute
Riddim Saunter
Them Crooked Vultures
Toe
Yeasayer
Vampire Weekend
Z-Trip
Rumors are still swirling about other possible acts that could be added to Fuji Rock later – including a lot of internet posts mentioning Bob Dylan and/or Gorillaz. Those are just rumors for now, though.
We expect Summer Sonic to make their first announcement very soon as well. We'll post more once that line-up has been announced.
For more info on Fuji Rock 2010, check their official website.