Fukubukuro / Lucky Bags – Shibuya 109 & Shibuya Shop Pictures 2013
It's the start of a new year. This means many things to many people, but to those of us in Tokyo it means one thing above all else – Fukubukuro! In the Japanese Fukubukuro (literally "lucky bag") tradition, the first few days of the new year are a time when you can buy all sorts of goods for much much cheaper than their retail value. The catch? You have no idea what you're buying. Does that matter to most people? No way – it's cheap and it's fun. Let the shopping begin! This year, our coverage begins in Shibuya – during the early hours of Shibuya 109's famous Fukubukuro madness!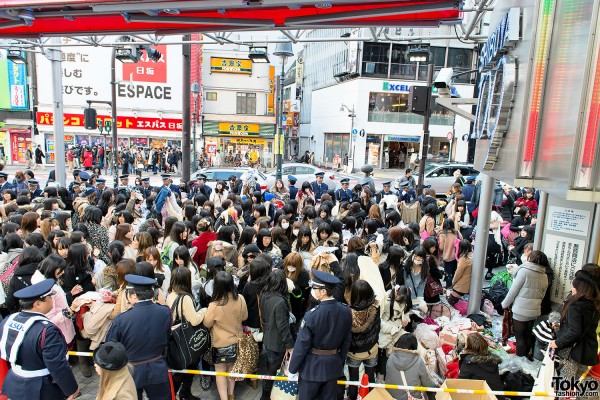 For those of you new to the Fukubukuro phenomenon, here's a quick introduction. Shops assemble bags (known by many names – happy bag, lucky bag, mystery bag, etc.) filled with random items, usually (but not always) from their winter stock. These bags are then put on display and sold at ridiculously marked down prices. For example, you might get US$500 or more worth of goodies for US$100. Again, the trick is that you have no idea which items are actually in the bag. You have to trust that you love the shop or brand you're buying from enough that you'll end up with goods you like. So, the customer gets an amazing deal and the shop gets to clear inventory in preparation for next season. Everyone wins!
The super deals, limited quantities (some shops just create 100 bags or less for thousands of potential customers), and fun of lucky bags drives people to line up for hours before shops open. LaForet Harajuku and Shibuya 109 usually have the longest lines – with many thousands of young women and men queuing through the night in anticipation.
In recent years, there has been a bit of Fukubukuro evolution. More and more shops are producing exclusive items just for their Fukubukuro, as limited items increases the bags' demand. Some shops now tell you exactly what's in the bags (boring!). Most shops let you know the sizes of the items in the bag (so you don't end up with an XXS if you're an XL). In addition, many brands and stores have become more creative with the shape that their Fukubukuro take. Rather than just bags, you'll see buckets, boxes, purses, backpacks, rolling luggage, and anything else that can be filled with goodies being used as Fukubukuro.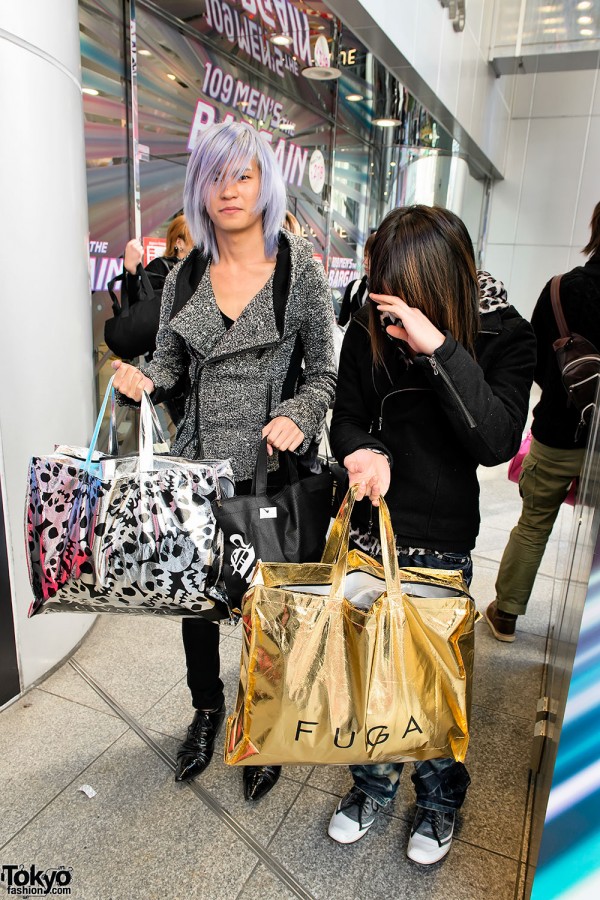 One of the big questions about lucky bags is: what do you do with all of the items you don't want? The answer: trade them for something you do want! In the early hours of January 2nd, a bustling swap meet springs up in front of the famous Shibuya 109 department store in Tokyo. The area around the entrance to 109 is packed with Japanese girls ripping open their Fukubukuro and waving items from their bags that they don't want above their heads. When another shopper sees something she wants being waved about, she approaches with something she doesn't want and the trading begins.
When we arrived at Shibuya 109 before 9am this year, the fun had already begun. As we've done in past years, we brought back dozens of pictures – of lucky bags, shops, crowds, lines, and the impromptu Shibuya 109 swap meet – to share with you! This is a shopping event everyone should experience for themselves at least once. We hope you'll enjoy the pictures. Happy New Year, everyone! Also, don't miss our Harajuku Fukubukuro pics (with LaForet, Takeshita Dori, Cat Street and more).
Shibuya Fukubukuro 2013
Click on any Shibuya Fukubukuro photo to enlarge it.
Don't miss part two of our 2013 Fukubukuro coverage with LaForet and the rest of Harajuku!