Fukubukuro Pictures – Takeshita Dori 2011
A new year has dawned in Tokyo, and that means it's time to go shopping! In Japan, "Hatsuuri" (the first sales of the New Year) is a great time to find everything from fashion to cosmetics to electronics to you-name-it at big discounts. Even more popular that price drops are the Fukubukuro (Lucky Bag) sales – also part of Hatsuuri. These super sales usually start on January 2nd or 3rd, but some crazy stores like LaForet Harajuku open bright and early on the morning of the 1st (right after New Year's Eve!) The epicenter of fashion hatsuuri madness for young Japanese is the areas surrounding Harajuku and Shibuya, including the supermalls LaForet and Shibuya 109, Cat Street, and – the street of dreams for many Japanese teens – Takeshita Dori.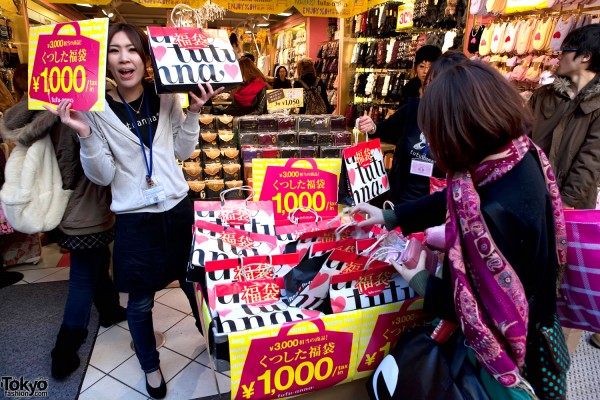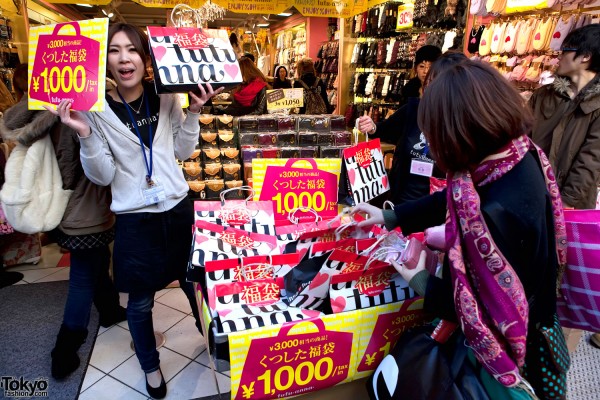 We spent the first few days of 2011 photographing the New Year's sales and Fukubukuro madness in Harajuku and Shibuya. In this first report, we'll be showing you a bit of the Takeshita Dori shopping frenzy. Our next report will cover LaForet Harajuku and the rest of Harajuku, and then we'll post Shibuya 109 pictures and the rest of Shibuya as well.
Before we start off, you should know that New Years sales in Japan work differently than in other places. While some Japanese retailers celebrate the New Year by cutting prices throughout the store – just like in American or European holiday sales – it is traditional for Japanese shops to offer fukubukuro ("lucky bags"). These are set price bags you buy without knowing what's inside. Stores promise that the value of the goods will be greater than the price you pay – i.e. a 5,000 yen bag could contain 20,000 yen worth of stuff. Stores often offer a limited number of fukubukuro, which means brand fans will line up hours before the store opens in the hopes of walking away with their very own lucky bag.
Though usually these lucky bags are literally shopping bags, many brands package the lucky goods in creative ways to grab shoppers' attentions. Shops like Liz Lisa and Gilfy often sell their high-end lucky goods inside logo-emblazed rolling luggage. This year, we noticed a few stores – Adidas and True Religion, for example – packaging their fukubukuro in big lidded buckets. However they wrap it, the mystery is part of the fun.
Enough explanation! Here are our pictures of 2011 fukubukuro, New Year's Sales, and the throngs of happy shoppers on Takeshita Dori in Harajuku. These photos are taken walking up Takeshita on the morning of January 1st, and then once we reach the top, we start back down shooting in the afternoon of the 2nd. So, it's actually two days worth of pictures because some shops weren't open on the first day. Enjoy, be sure to check back soon for the rest of Harajuku and Shibuya, and don't forget to click on the photos to see them bigger!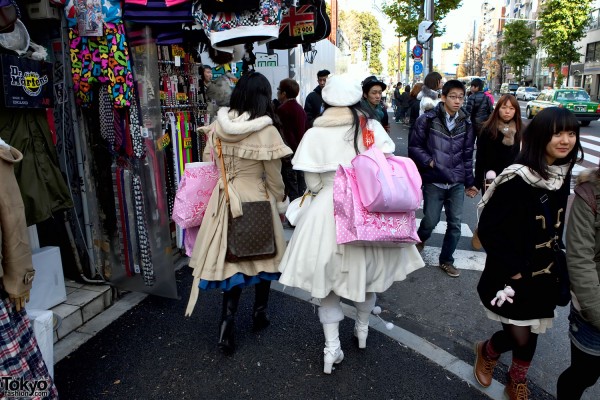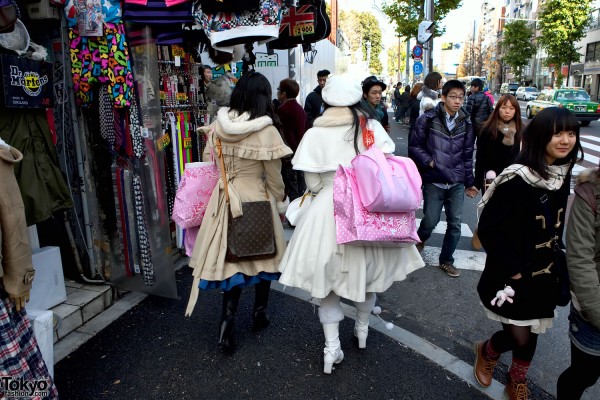 Here we are at the Meiji Dori end of Takeshita Dori. These two lucky girls are carrying fukubukuro from Angelic Pretty and Baby the Stars Shine Bright – very popular Lolita brands with shops inside of LaForet Harajuku.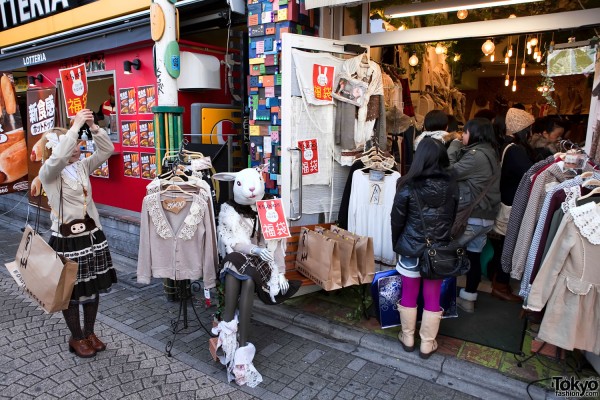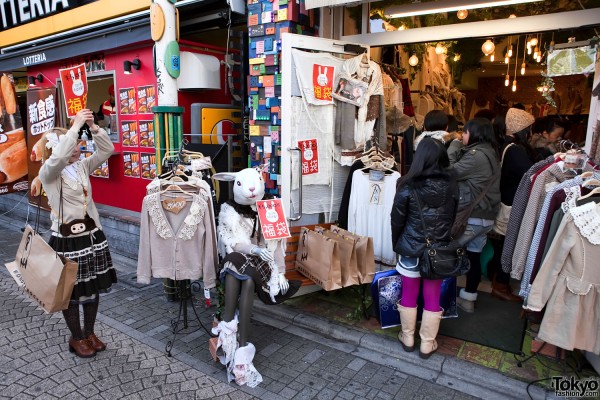 Wonder Rocket has fukubukuro and many shoppers. The cutely dressed girl out front is shop staff. Many shops having people standing outside yelling for you to come in and BUY something.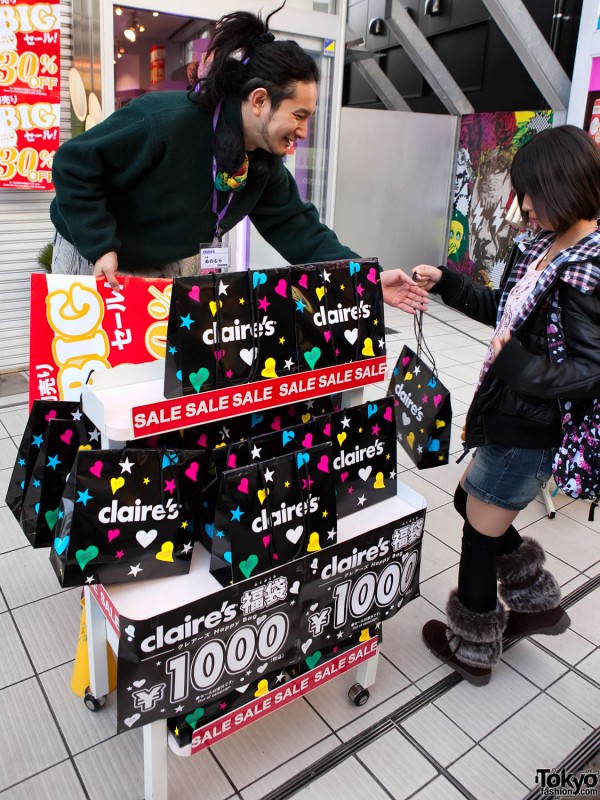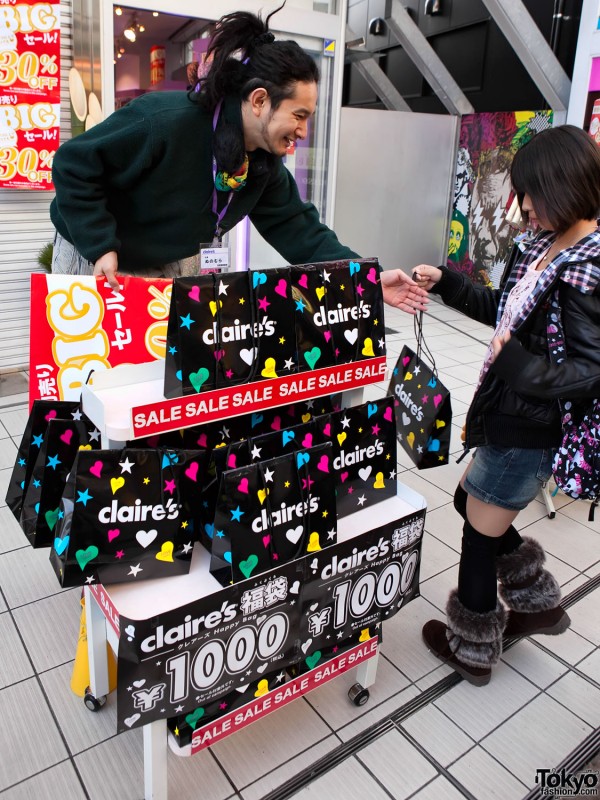 A friendly be-dreaded Claire's employee offers a sen-yen lucky bag.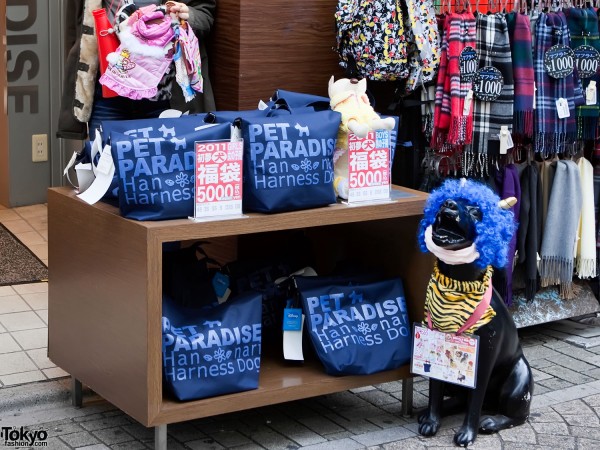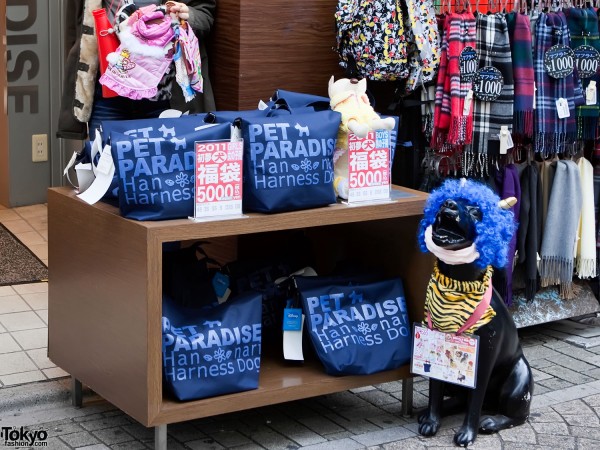 Fukubukuro full of pet clothing for the fashionable chihuahua.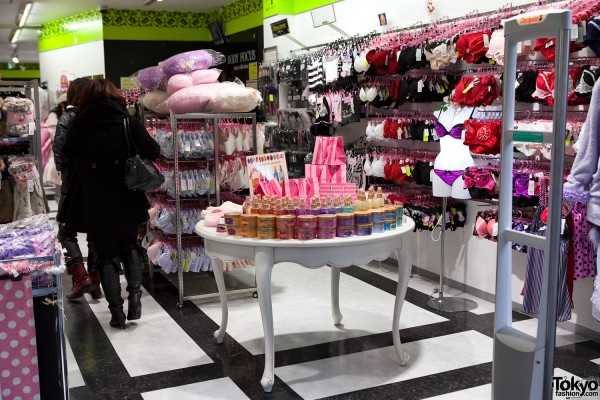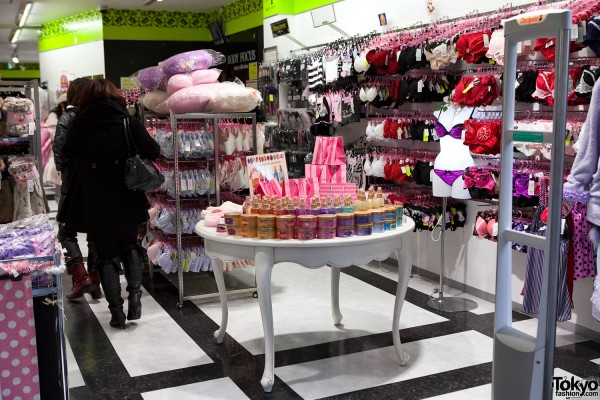 Body Focus offers lucky bags containing Victoria's Secret bath and body products.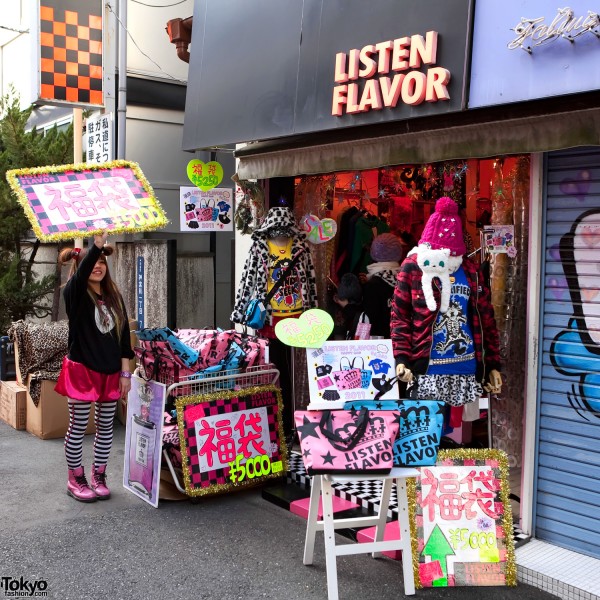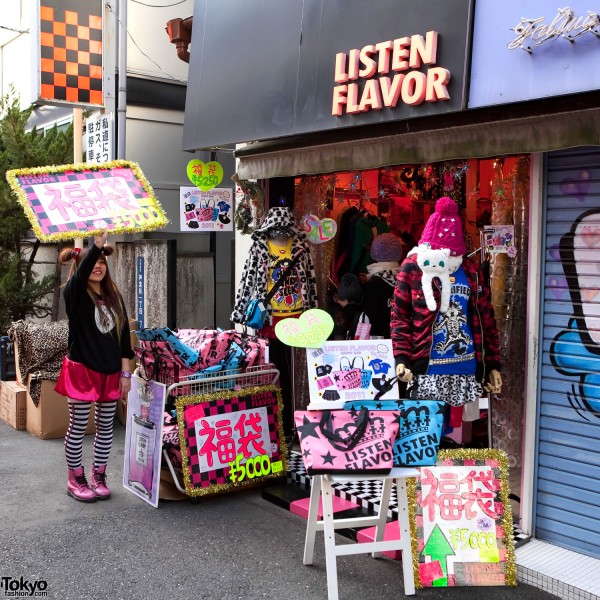 Listen Flavor's fukubukuro are brightly colored and 5,000 yen each.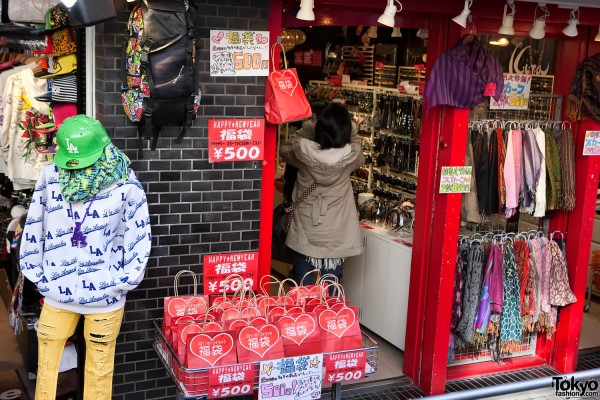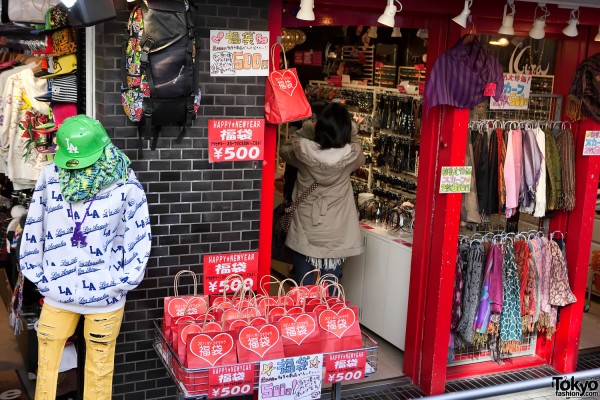 Tiny Fukubukuro filled with accessories.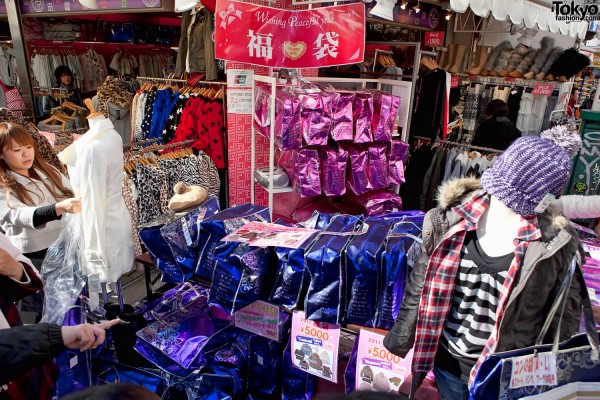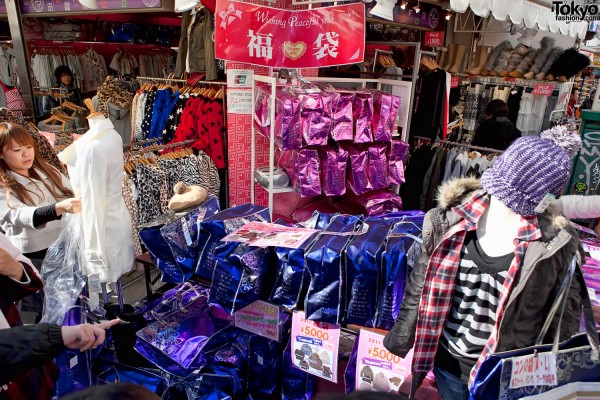 Trendy shop Gal Fit offers both lucky bags AND reduced prices on their other stock.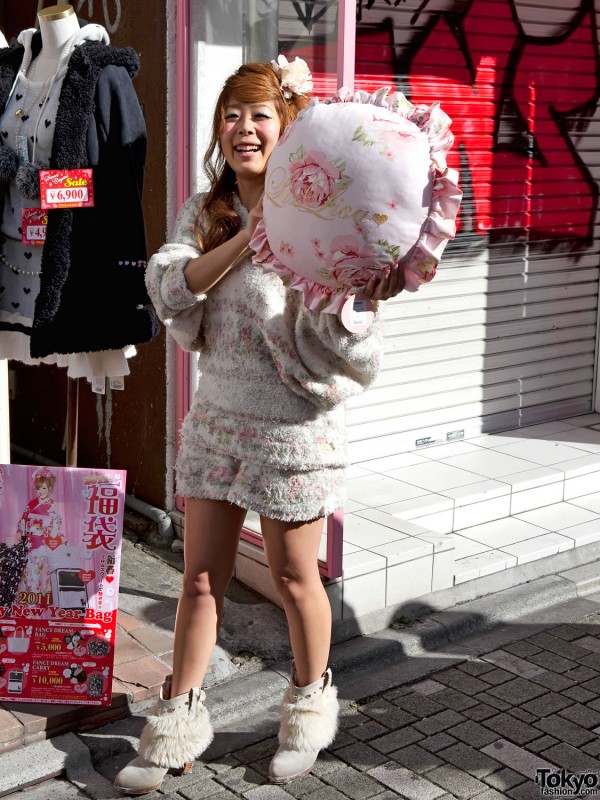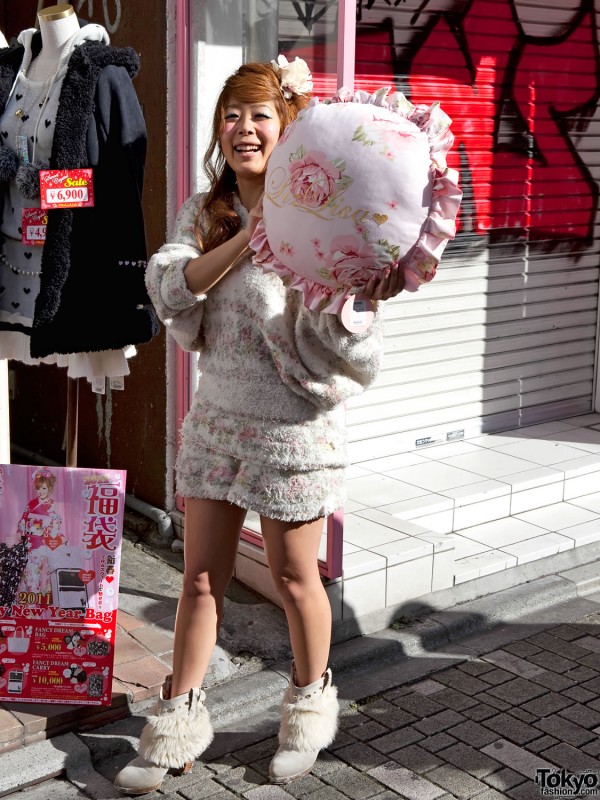 A smiley Liz Lisa staffer in trademark fuzzy floral print – and a fluffy pillow!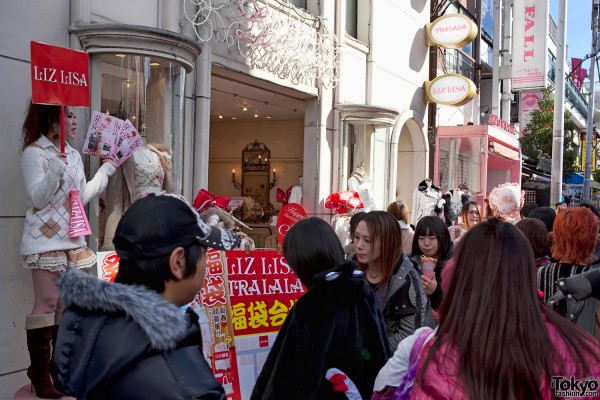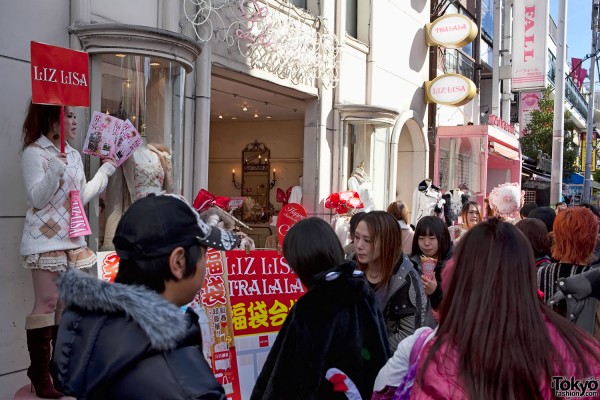 Liza Lisa is a very popular shop with young Japanese girls – especially with New Years' prices!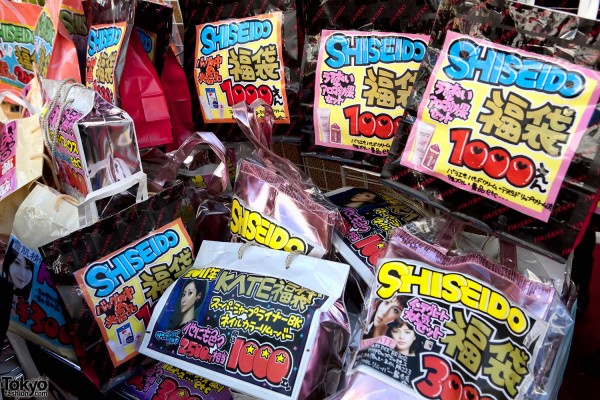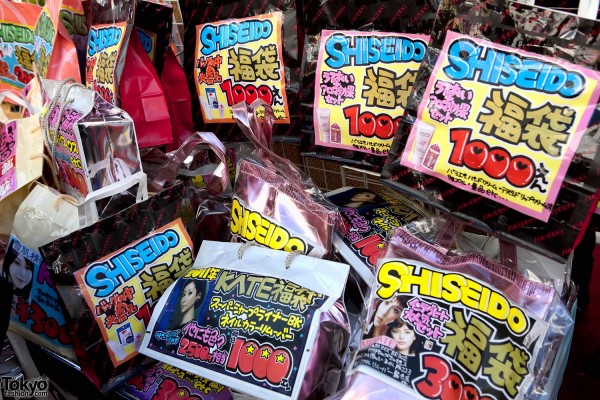 Cosmetic fukubukuro. Each bag shows roughly what's inside.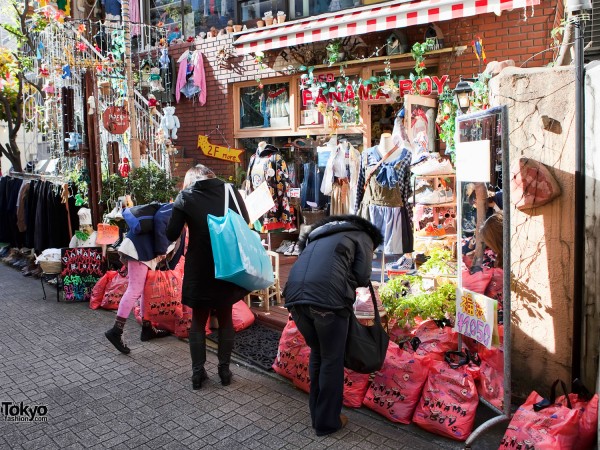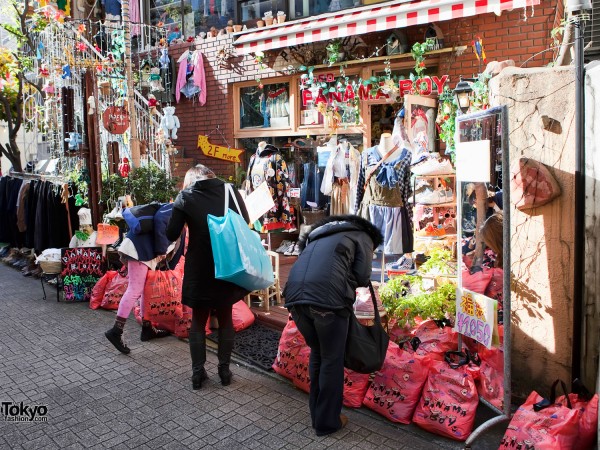 Shoppers take a close look at the Panama Boy lucky bags.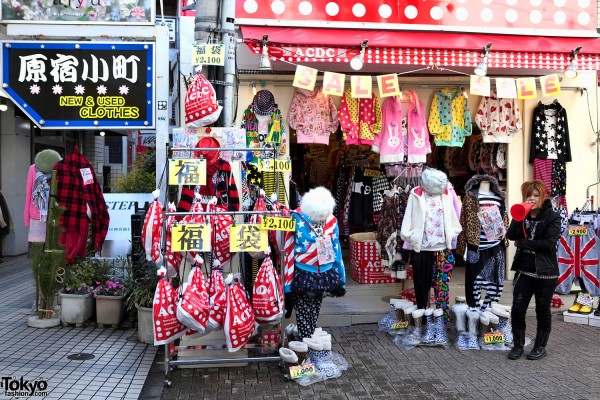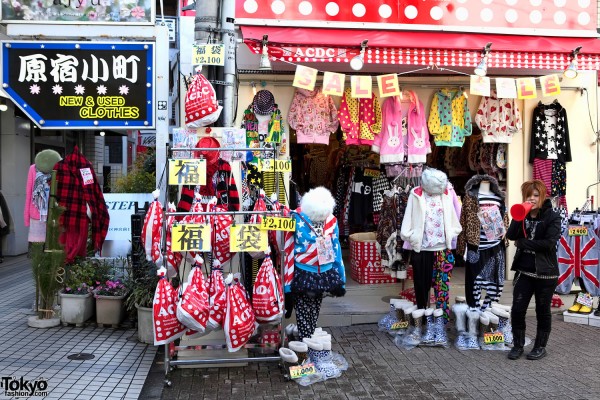 Popular shop ACDC still has fukubukuro, and a petite employee with a big megaphone.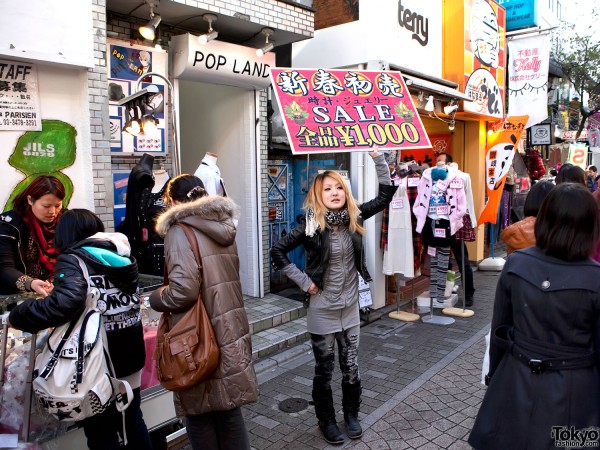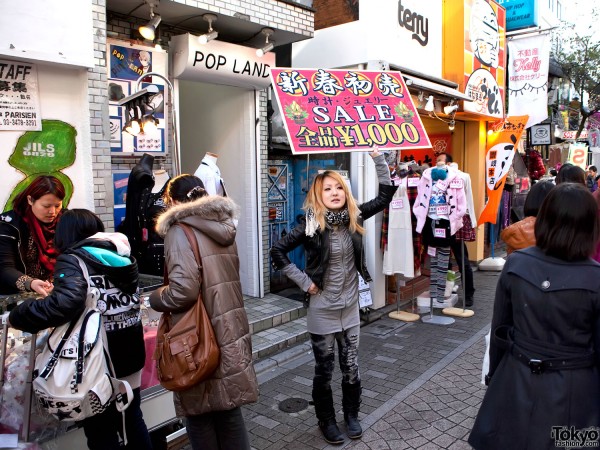 Shop staffer holding an advertising sign. Her arms must be so tired at the end of the day!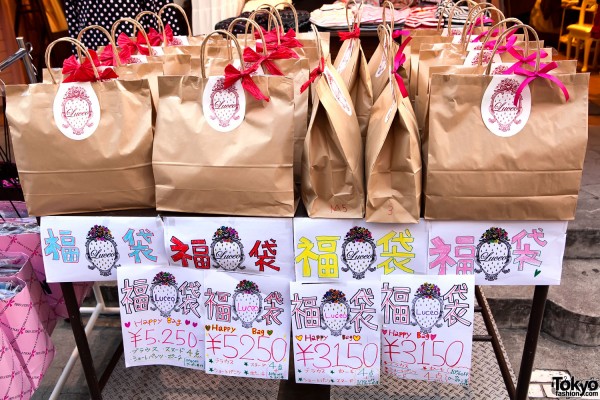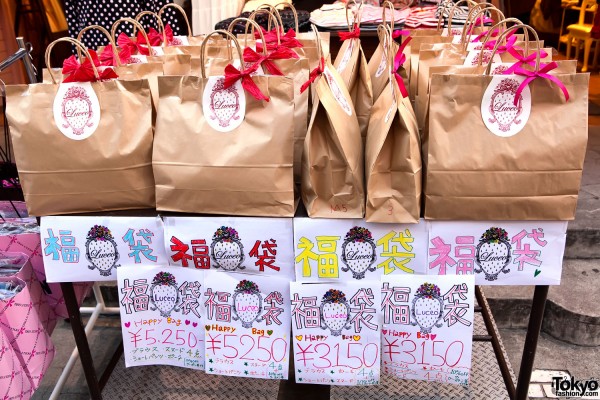 Luceo fukubukuro at two price points – 3,150 yen and 5,250 yen. The signs tell how many items are in each bag (four) and exactly what those items are. Though this is probably practical, it sort of takes the mystery out of "mystery bags"!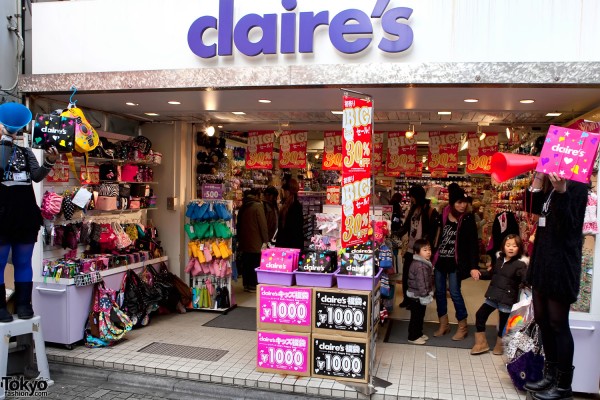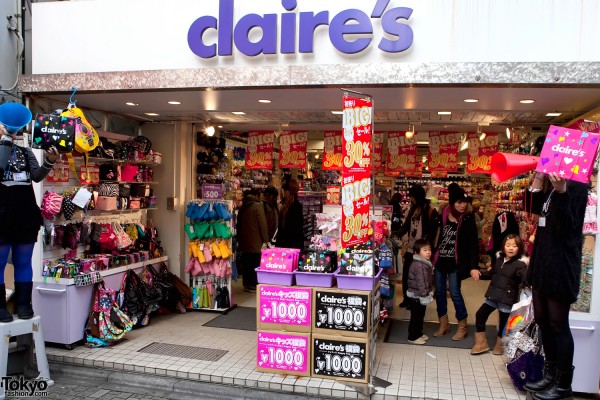 Claire's lucky bags and yelling shop staff standing on foot stools.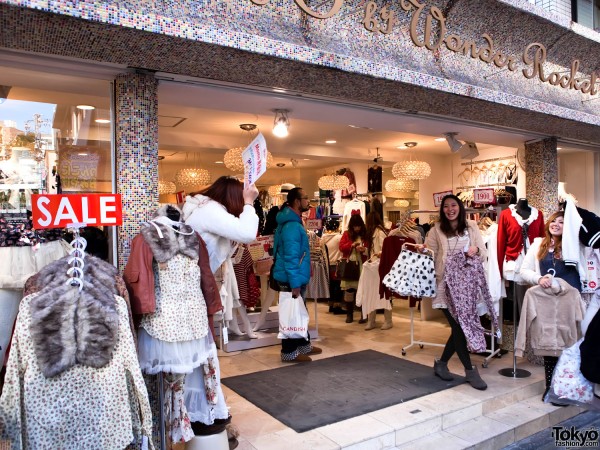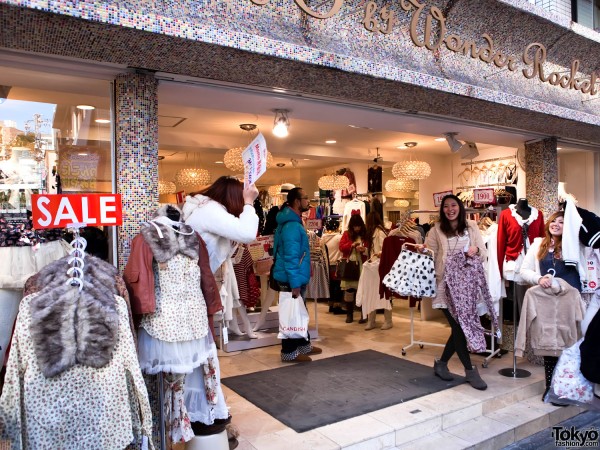 Momo by Wonder Rocket's staff has big smiles and handfuls of on-sale merch. No lucky bags in sight, though.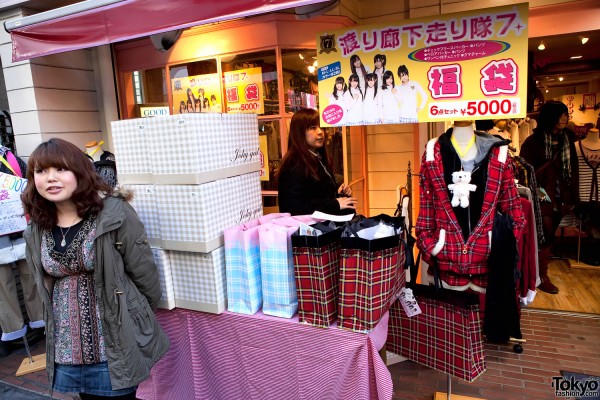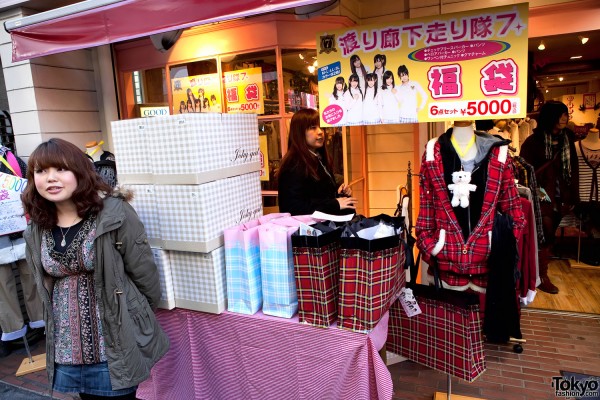 At this shop, you can buy a full six-piece outfit – including a furry-lined plaid hoodie and matching shorts – for 5,000 yen! Set comes in red or black.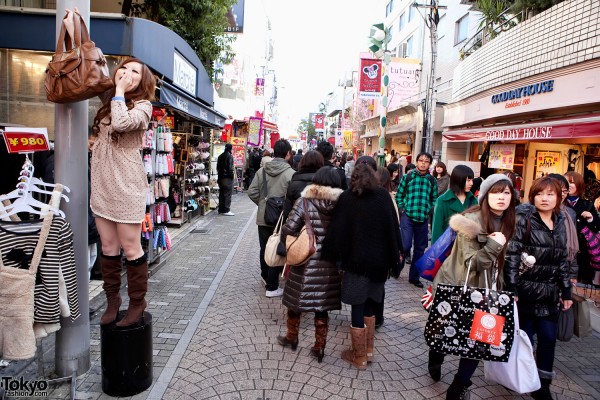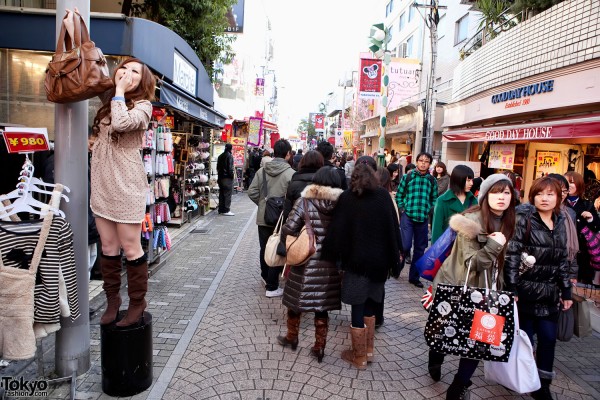 Hoping her voice can be heard above the other shop's staff, this staffer is standing on a tall stool while shouting out her store's sales news.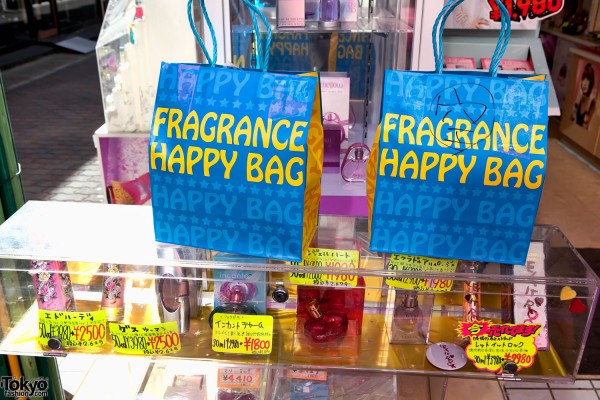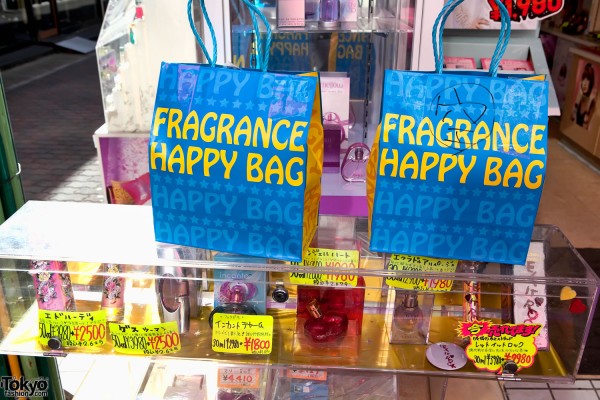 One of Takeshita Dori's perfume shops offers a fragrance lucky bag.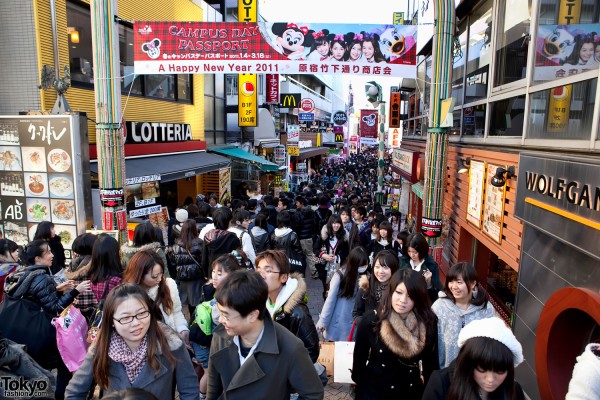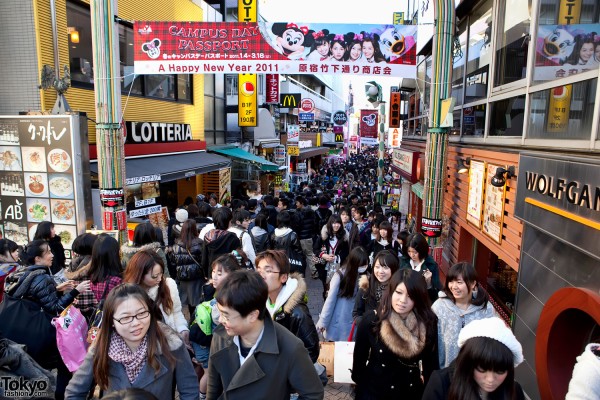 Whew! We've made it to the Harajuku Station end of Takeshita. Time to start back down the way we came, but one day later. :-)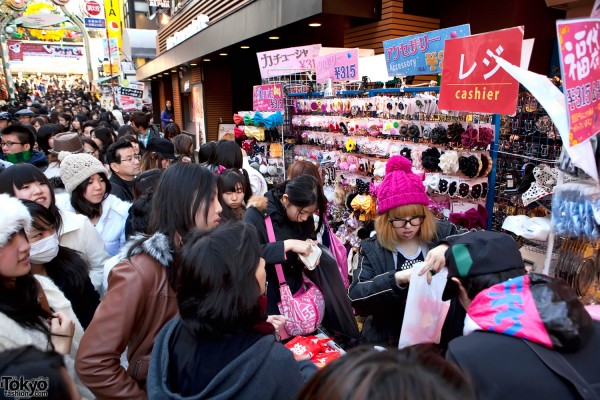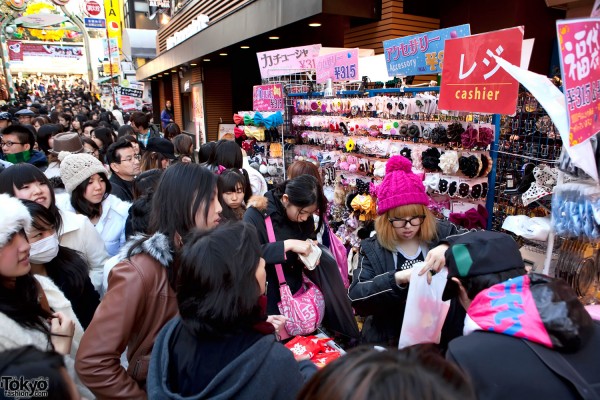 Moving back down Takeshita, we see shoppers flocking to Paris Kids' tiny fukubukuro.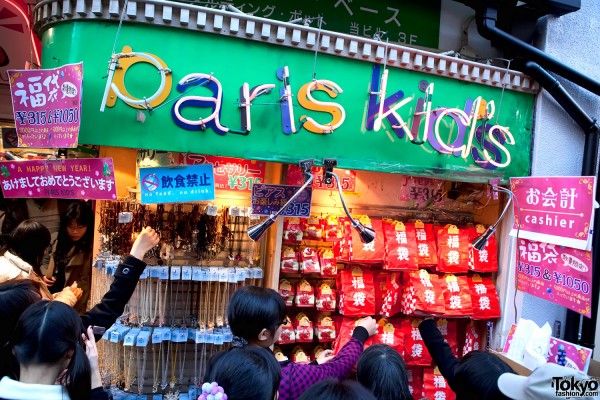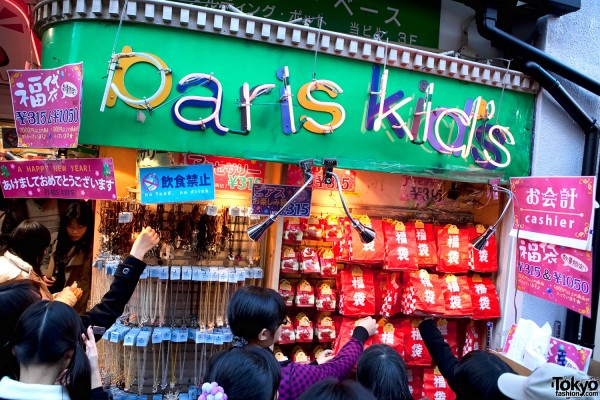 Paris Kids' two cashiers being kept busy by the crowd.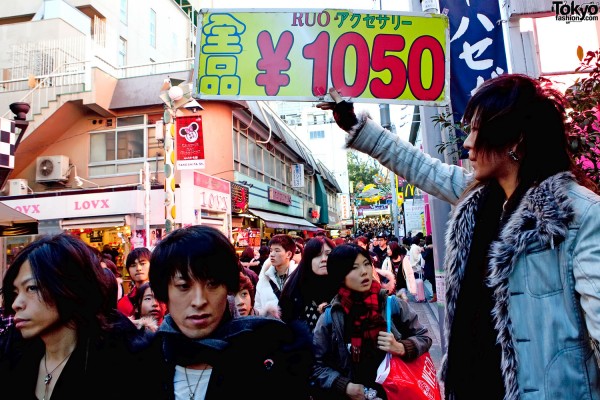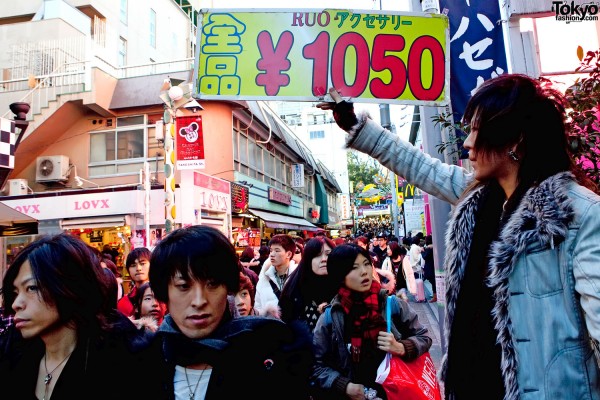 This awesome guy is promoting Ruo Accessory shop.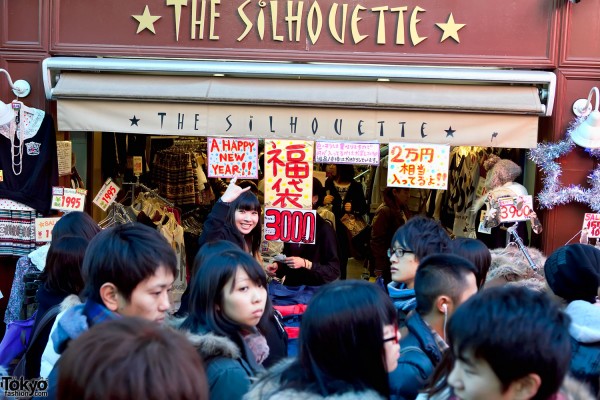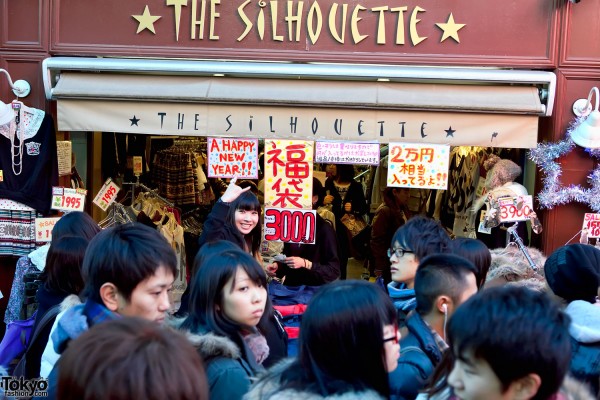 We took this photo by holding our camera above the crowd and shooting. We didn't realize we'd caught this staffer's awesome smile until we downloaded our photos. What a nice surprise!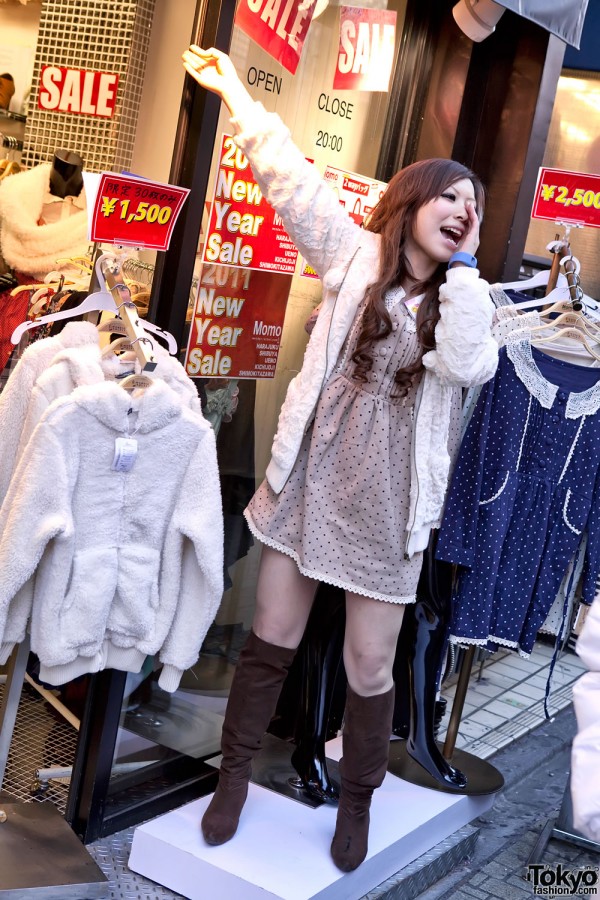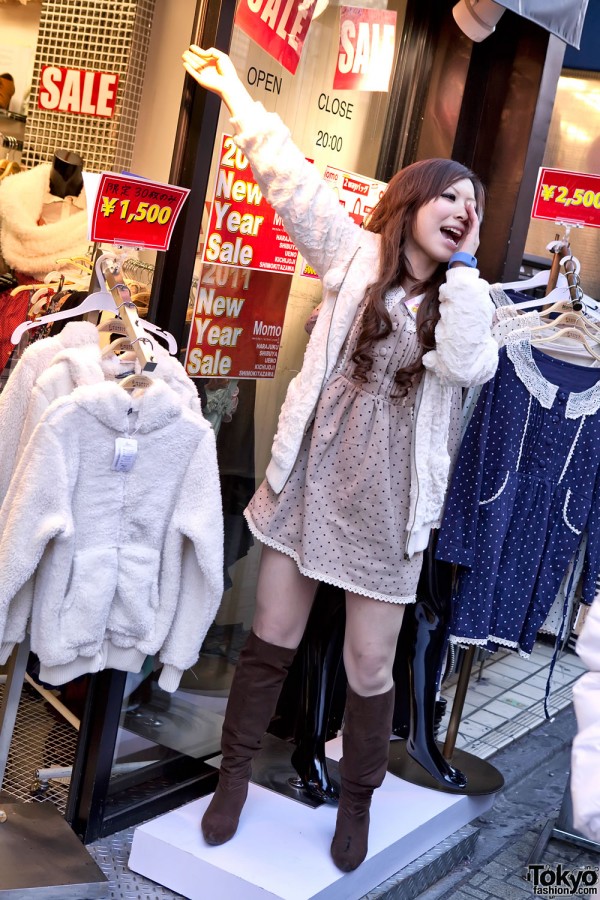 This Momo staffer may be petite, but she's got a great big voice! These poor girls must be completely hoarse after the sales are over.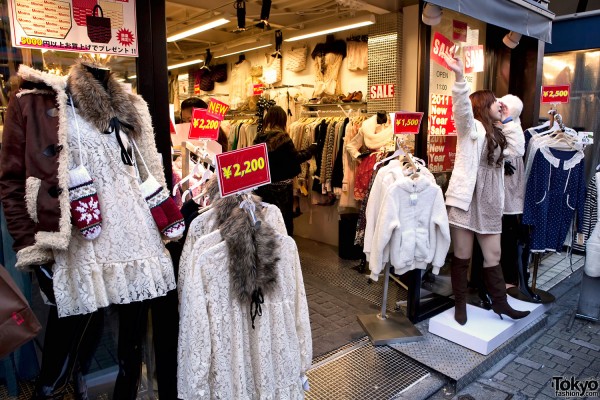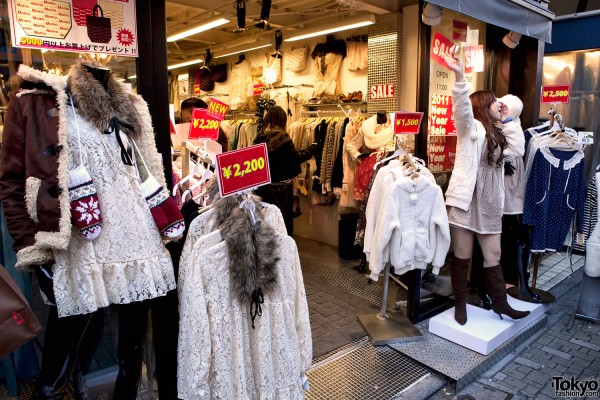 Plenty of clothes on sale…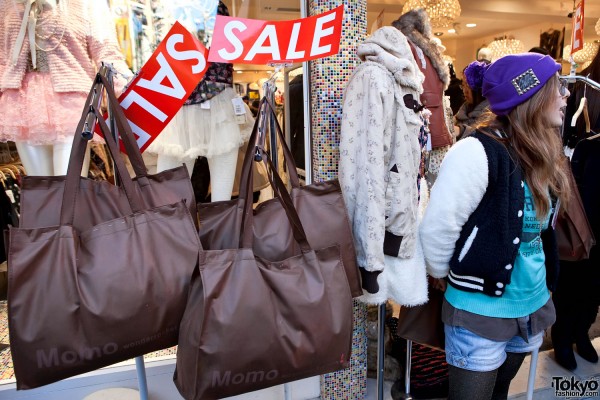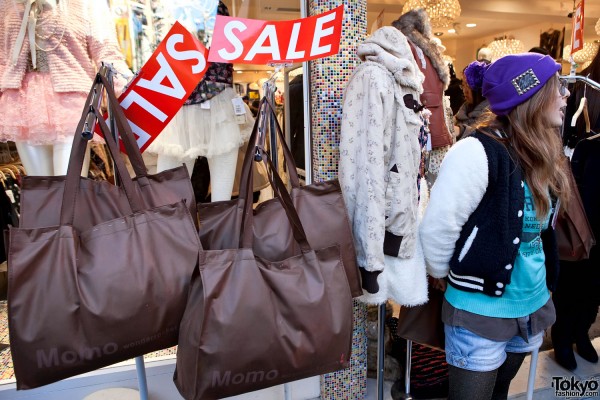 …and big Momo fukubukuro as well. Momo has a lot of shops on Takeshita and they seem to be adding more every few months. Soon they might own the entire street. :-)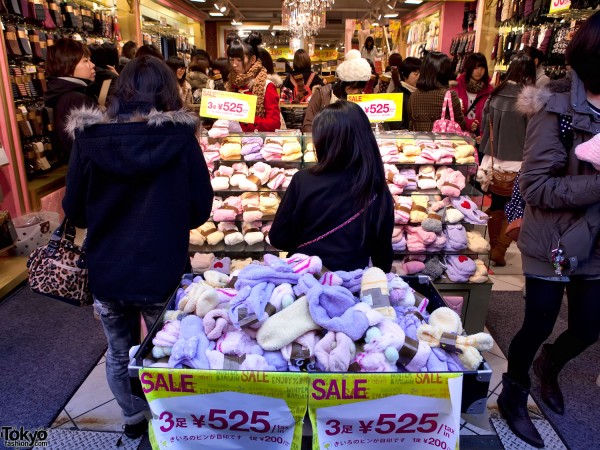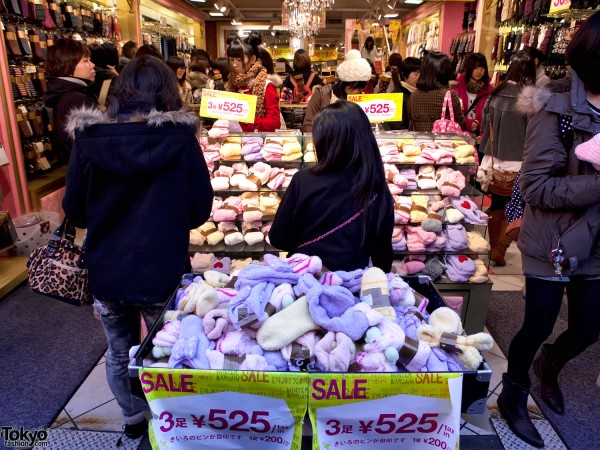 Super-soft socks, three pair for 525 yen.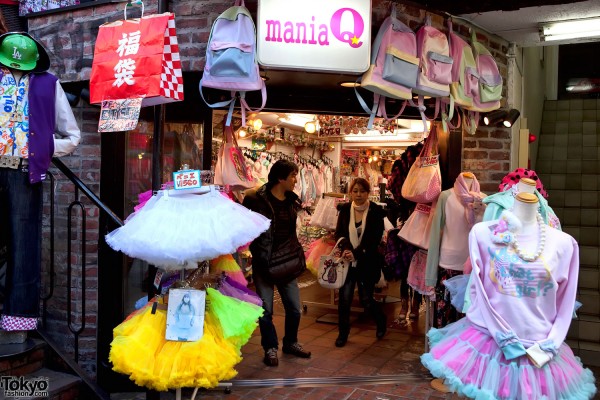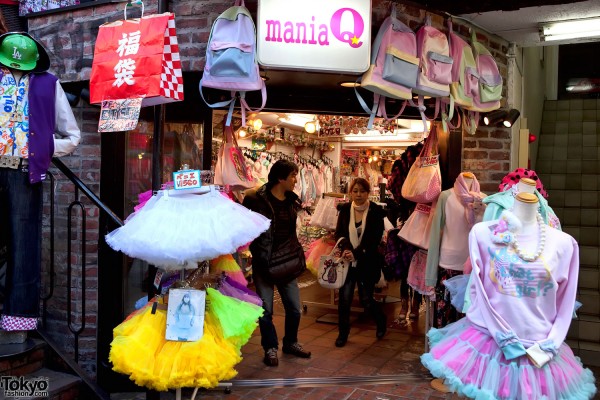 ManiaQ is packed floor to ceiling with fairy-kei colors.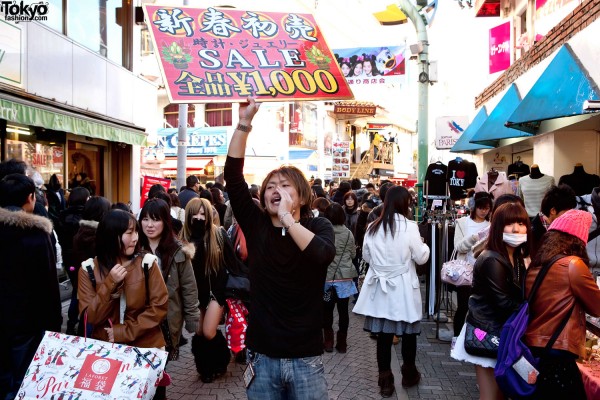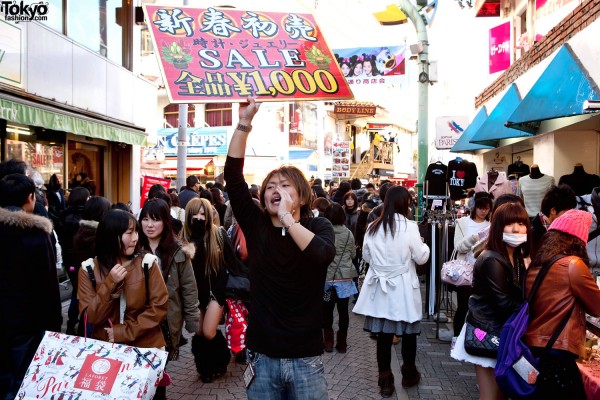 This guy was not only standing in the center of Takeshita Dori (rather than on the side), but was also shouting the loudest of all the shop staffers today.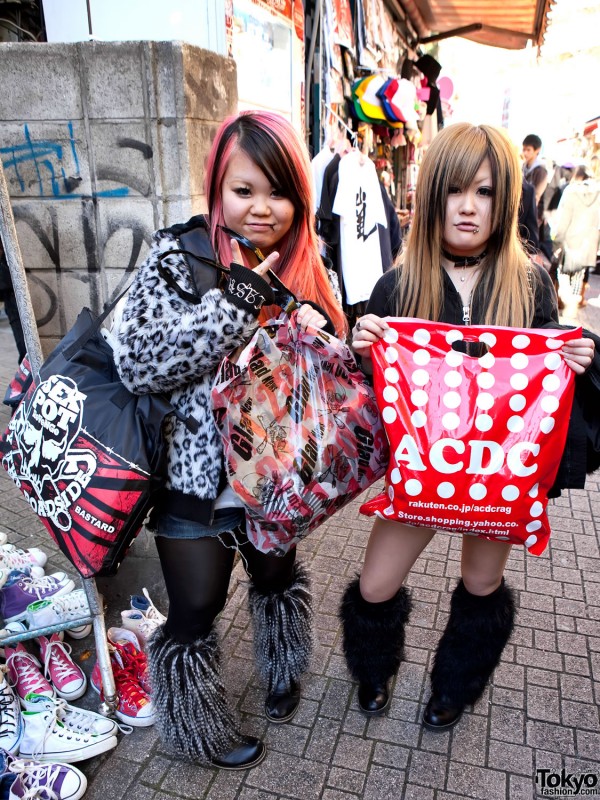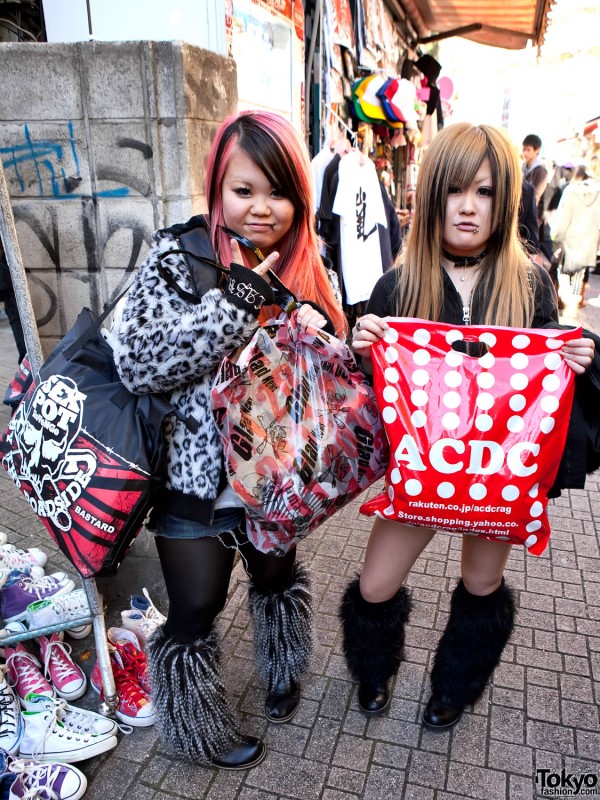 These friendly shoppers were nice enough to pose for us holding their Sex Pot Revenge and ACDC sale bags.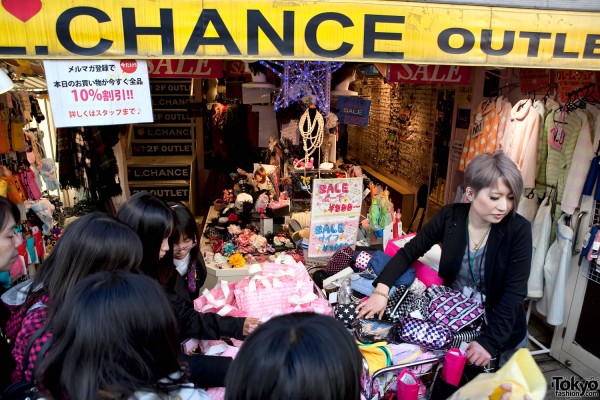 The L. Chance fukubukuro seems very popular.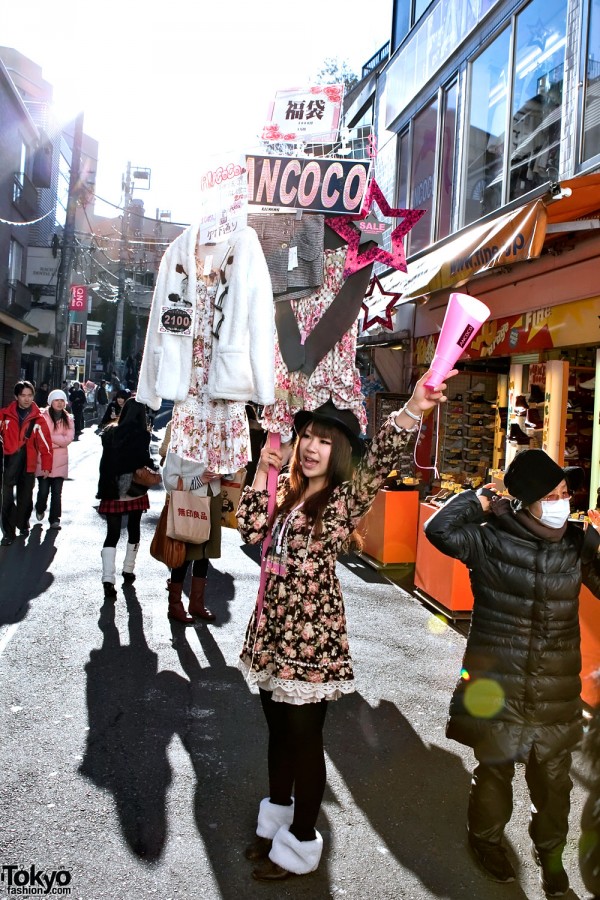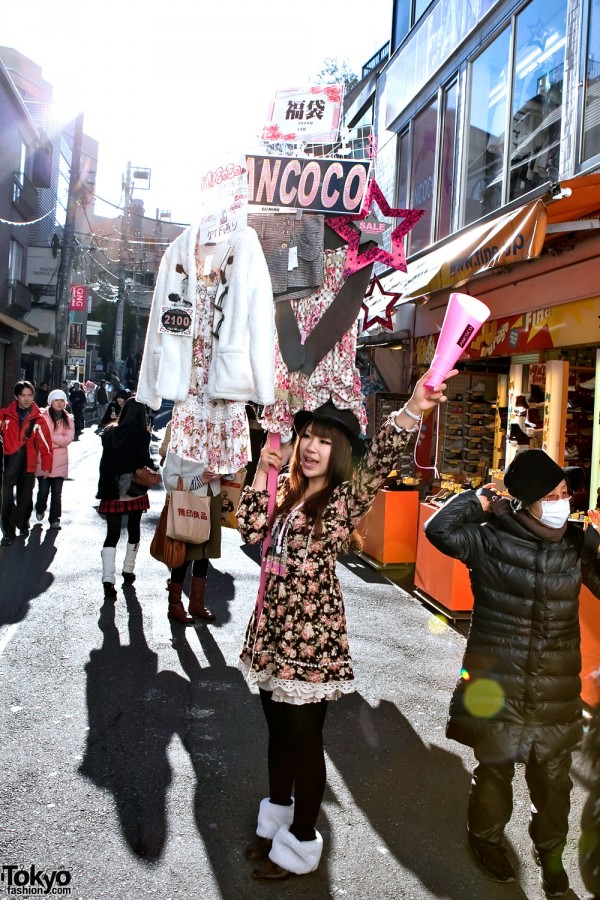 An Ancoco shopper carrying a very heavy-looking promotional sign. He voice carried so well she didn't need her megaphone!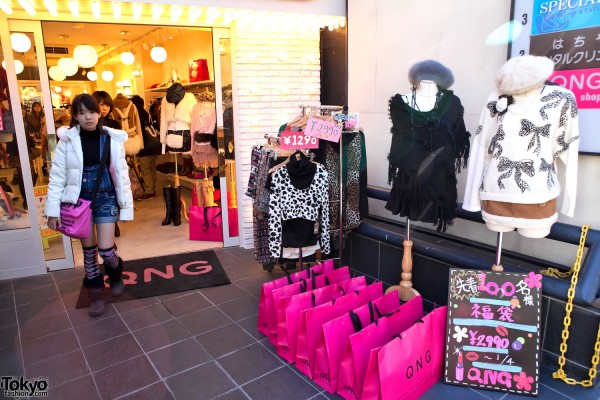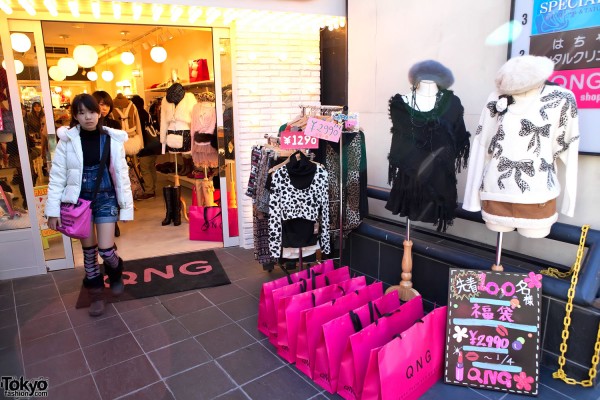 Bright pink lucky bags at QNG ("Queen's taste aNd Gorgeous").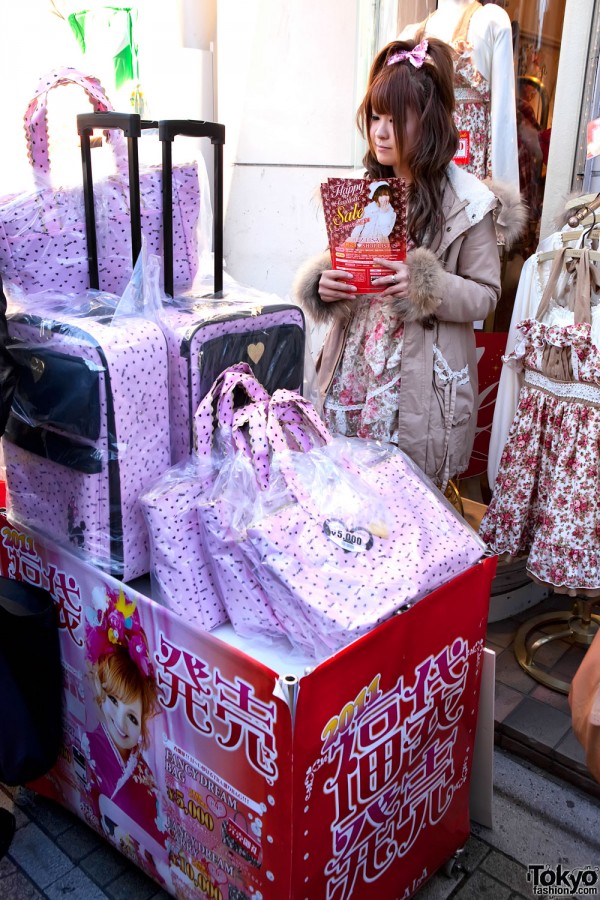 Every year at hatsuuri time, we see crowds of young women dragging Liz Lisa fukubukuro luggage. These rolling bags are stuffed with Liz Lisa clothes. Such a deal!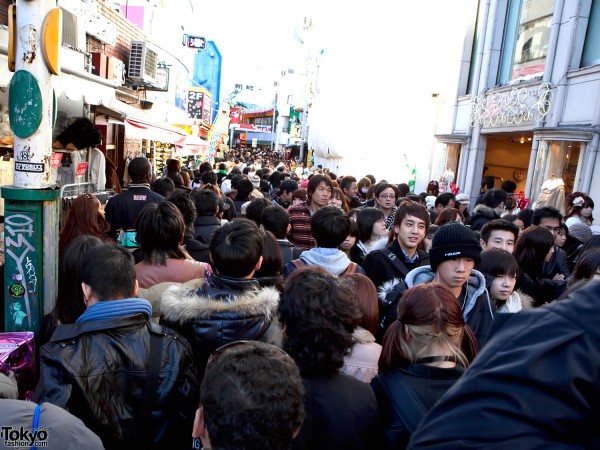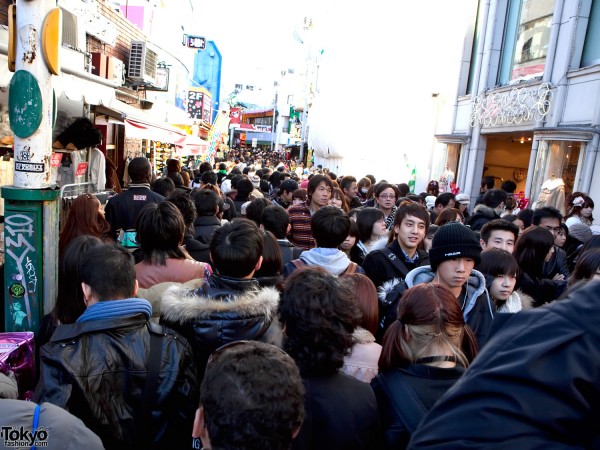 The crowds are huge, even by Takeshita Dori weekend standards. Hope no one is in a hurry.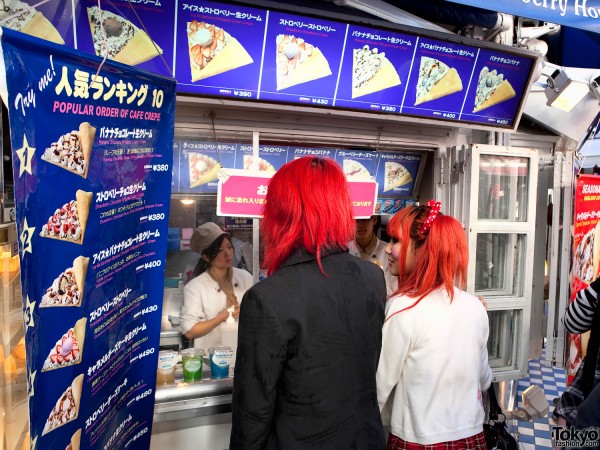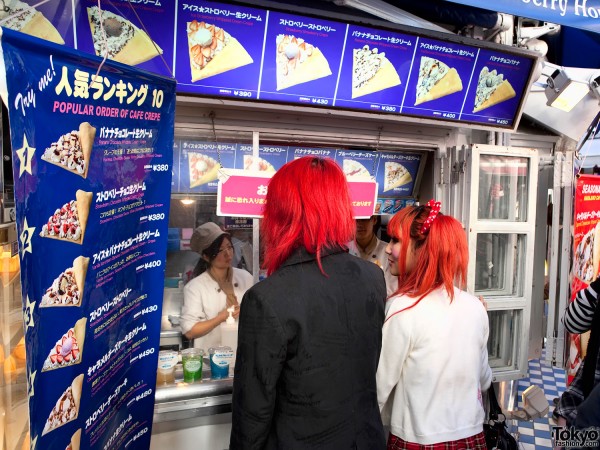 Luckily, there are crepe shops to help our morale (and fun couples with matching dayglo hair).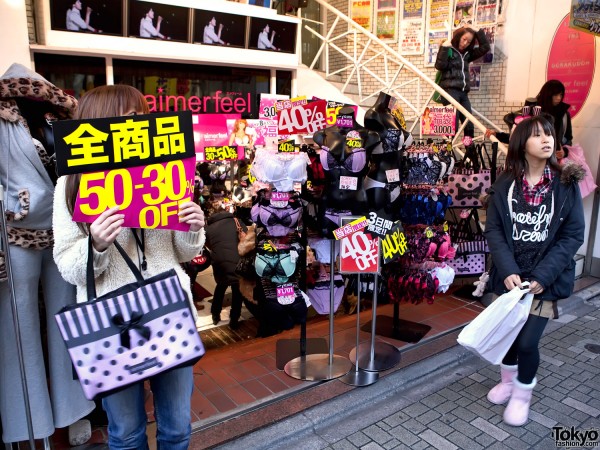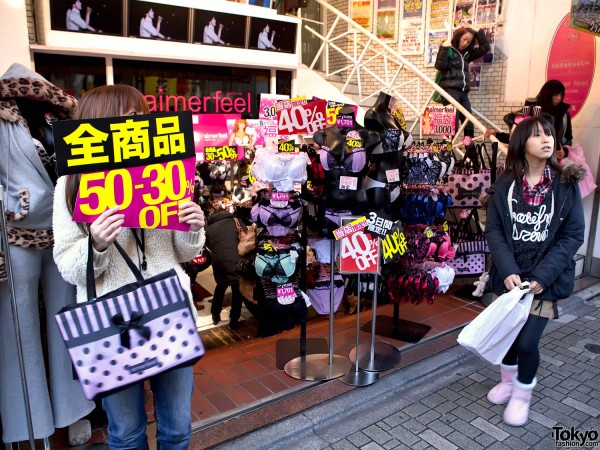 Underwear shop Aimerfeel offers lucky bags and 30-50% off storewide.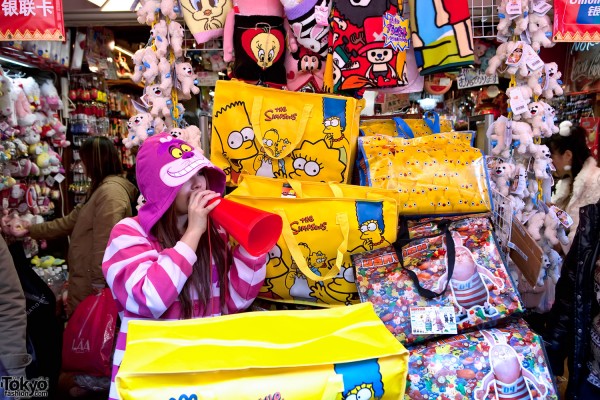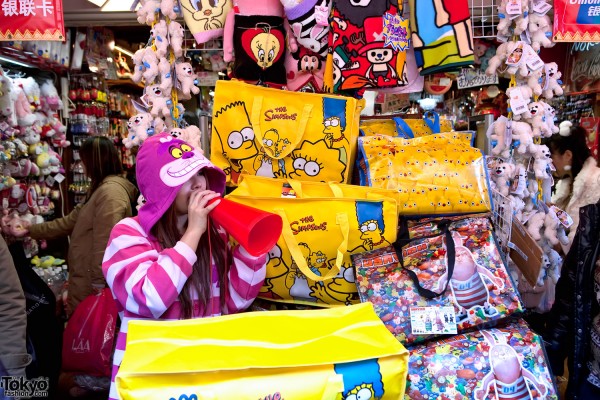 This picture is just so awesome that I don't know what to say.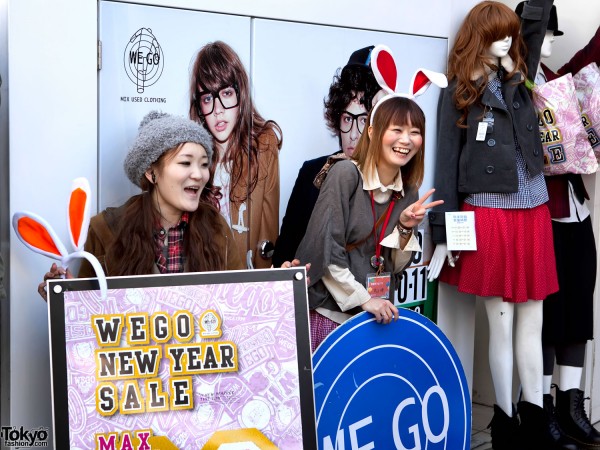 Adorable WEGO staffers. Too bad the girl on the left took off her bunny ears!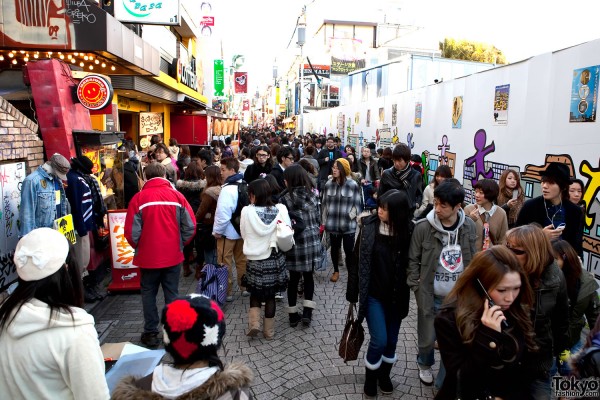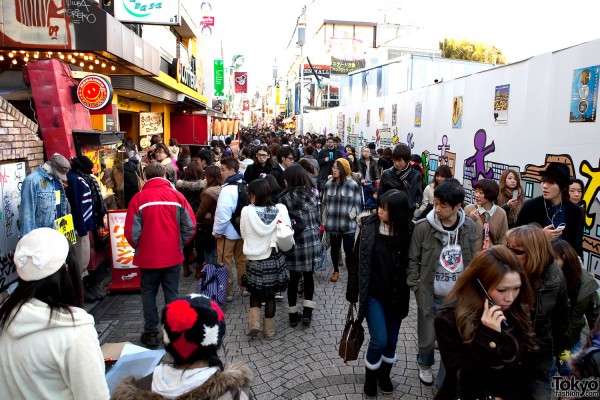 We did it! We made it back to Meiji Dori where we started yesterday.
Now it's time to head out into the rest of Harajuku and take Fukubukuro pictures at LaForet, Meiji Dori, Cat Street, and all of the little back streets that make this neighborhood so cool. Those pictures will be posted in our next report very soon – along with pictures of more shoppers holding their lucky bags. Please check back!
Also, remember that you can click any of the photos to see them bigger.
Happy New Year!