Fukubukuro Pictures – Shibuya 2011
It's time to experience the craziest shopping day of the year in Shibuya – and the grand finale of our 2011 Tokyo Fukubukuro and New Year's Sales coverage. Just after midnight in the early morning of January 2nd, people start lining up in the subway tunnels under Shibuya 109. By the time the first Fukubukuro sales start around 7am, there are thousands of people waiting to get into the department store, and many more thousands en route from all over Tokyo. These excited shoppers – most of them young fashionable women – are hoping to either buy Lucky Bags from their favorite brands or to load up on their favorite fashion at super low New Year's Sale prices. Once they leave 109, the huge crowds flood into the streets of Shibuya hunting for further bargains at all of the shops and department stores in the surrounding area. Shibuya during Hatsuuri must be seen to be believed!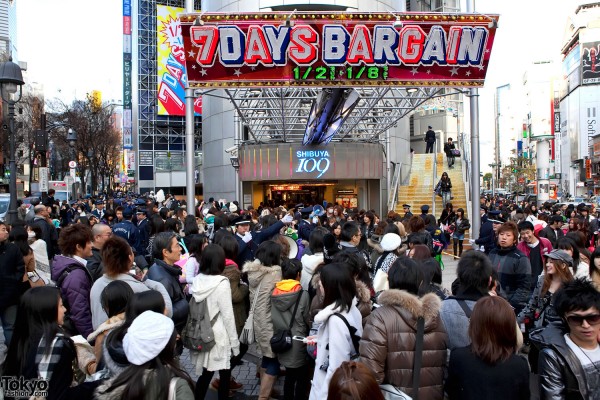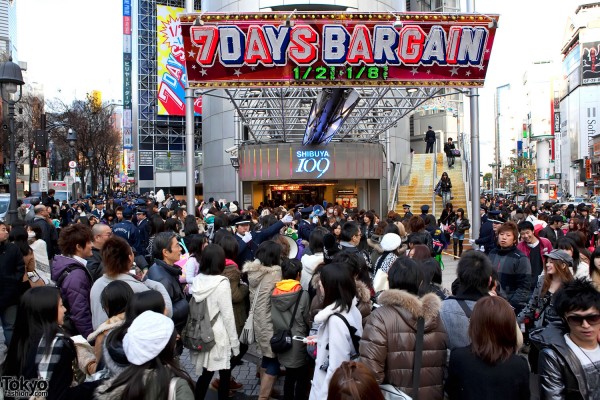 Shibuya 109's New Year's Sales event – this year called "7 Days Bargain" – is, in our opinion, the most chaotic of all of Tokyo's New Year's sales. Yes, there are a lot of people that wait in line to get into LaForet Harajuku's sale, but the scene at Shibuya 109 just seems more like anarchy. A big part of the reason for that is the impromptu flea market that develops on the sidewalks surrounding the department store as girls flood out the doors. Because Fukubukuro are "Mystery Bags", some girls end up getting things that they don't want or that won't fit. The solution to this issue is a massive onsite trading fair.
Girls pull their unwanted items out of their Shibuya 109 Fukubukuro and wave them above their heads, sometimes shouting the brand name. If another girl sees something they like, and they have an unwanted item to trade, then a deal is done. It sounds simple, but imagine thousands of Japanese girls waving clothing above their heads and trying to make deals – right in front of the store as huge crowds of shoppers are pouring in and out of the building. The entire area becomes a swirl of people moving in every direction – and not moving at all – all at once. We tried to capture a bit of that in our photos, but you really should try to attend the sale someday if you want to fully understand it.
Besides all of our Shibuya 109 pictures, we did a bit of wandering around Shibuya and taking pictures of Fukubukuro and sales. We also tried to get some street snaps of various different shoppers – both guys and girls – showing off their New Year's purchases. Please enjoy the pictures and remember, you can click on them to see them in high resolution. Also, don't miss our previous Takeshita Dori Fukubukuro and Harajuku Fukubukuro reports!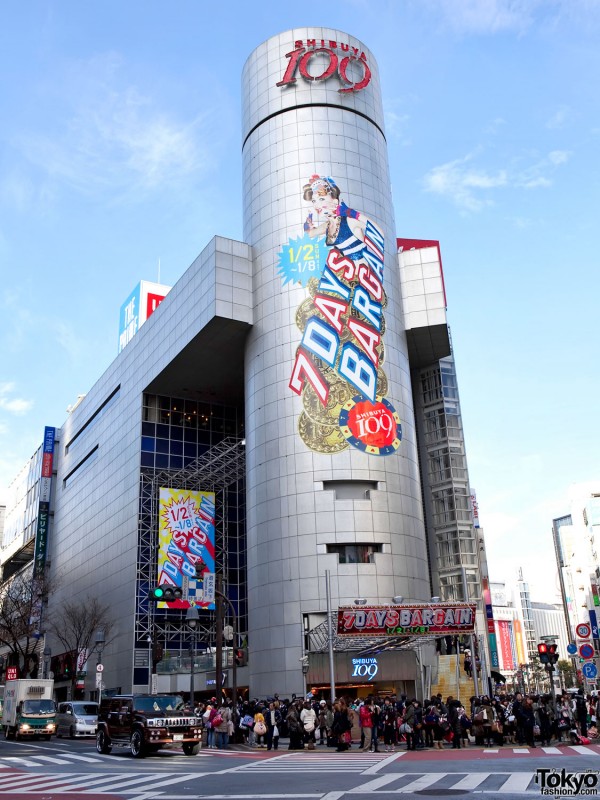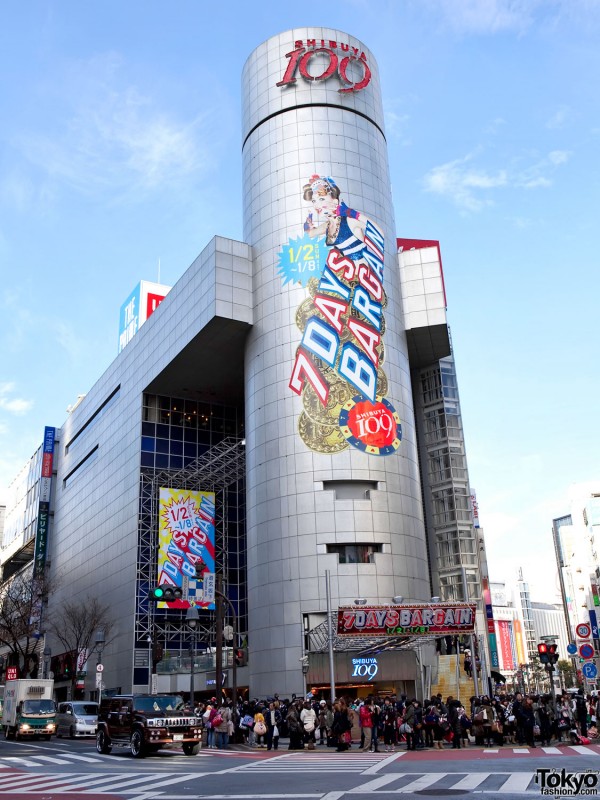 Shibuya 109 – can't see too much from here, right? Just wait until we get closer.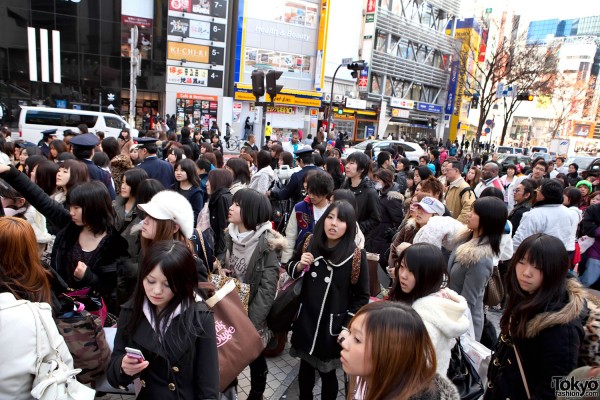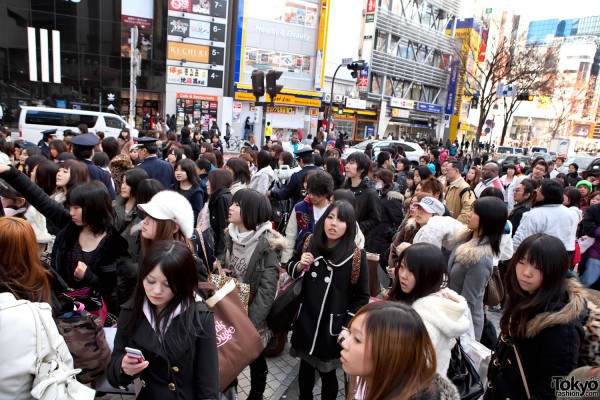 The crowd crossing the street to get to 109 before 10am in the morning. These pictures are taken above ground – there is also a massive crowd underground.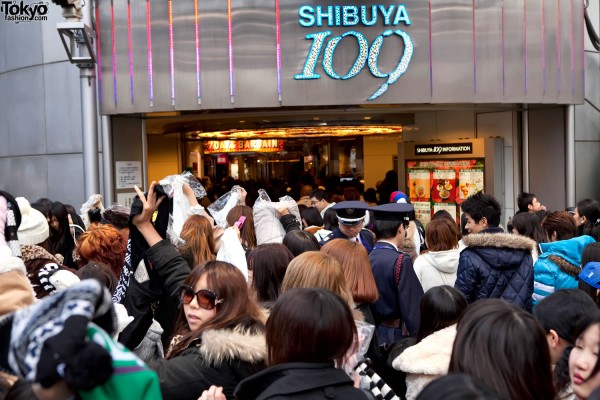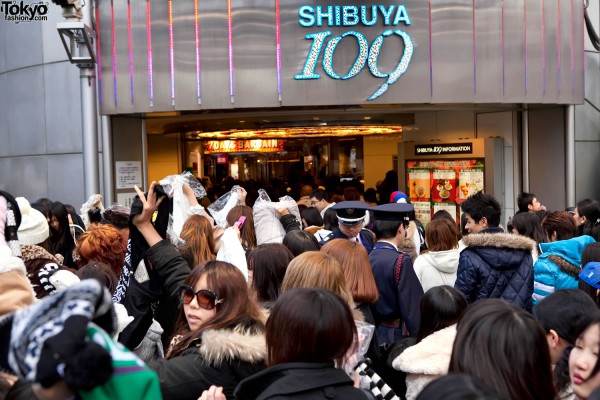 The crowd in front of Shibuya 109. You can see girls trying to get in the doors mixed with the girls trading Fukubukuro items.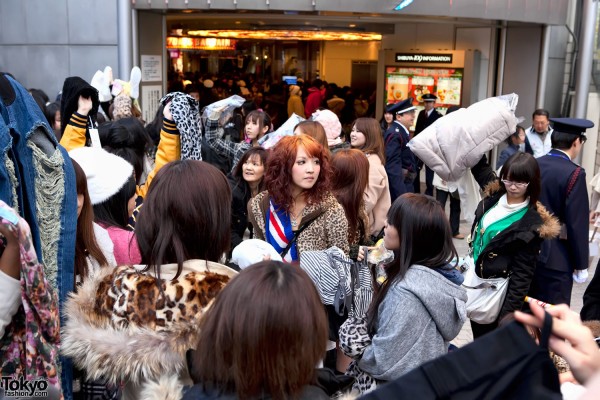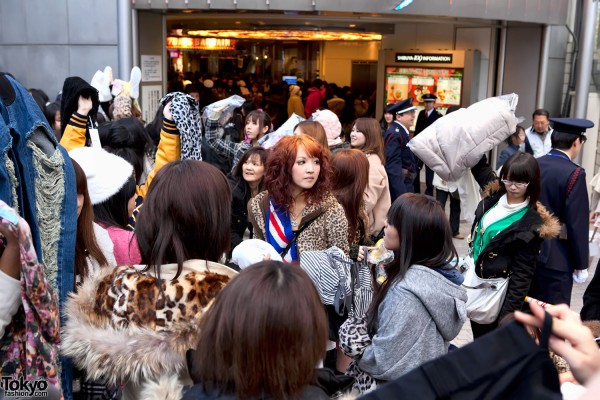 Lots of Fukubukuro trading going on in this group.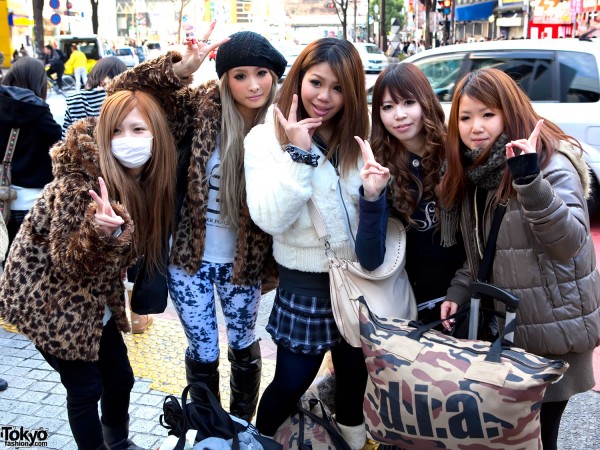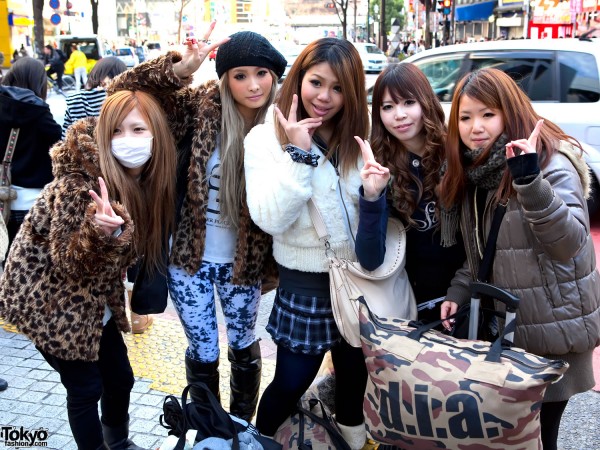 There was a crazy amount of leopard print during the New Year's sale. These girls had Fukubukuro from the Japanese brand D.I.A. These are the lucky bags we saw most often on opening morning. Not sure if they were the most popular, or if they were the only shop that made enough bags for all of the customers who wanted them (as many brands sell out of Fukubukuro right away).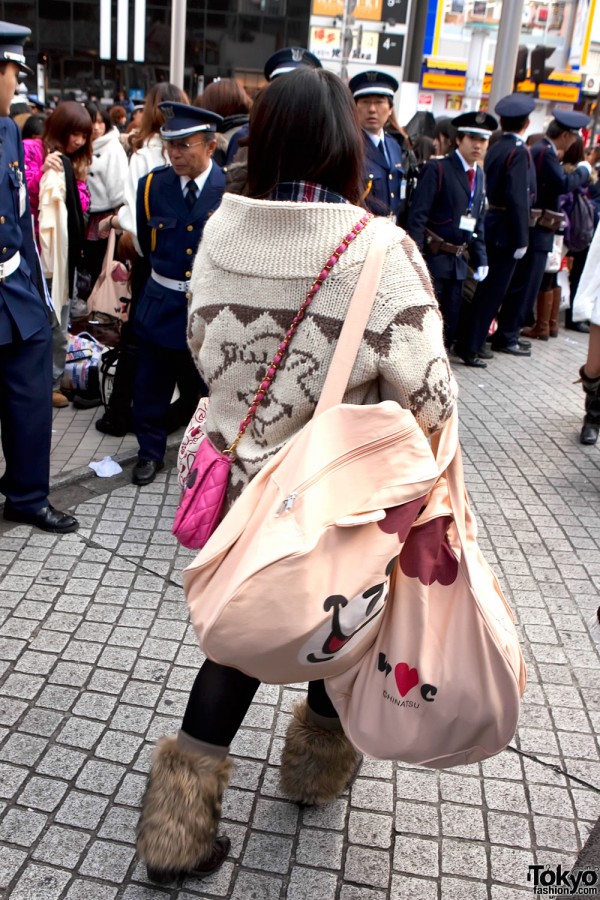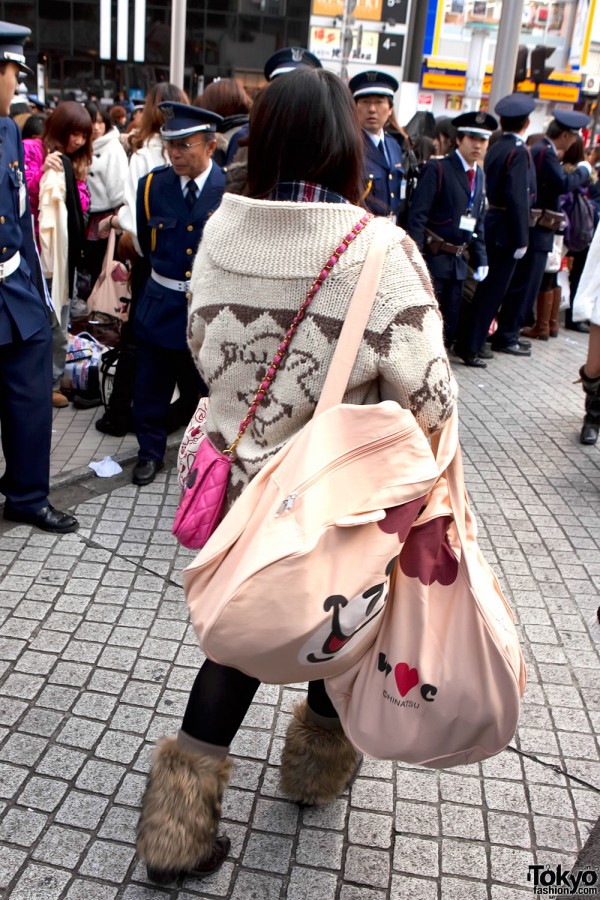 By far the cutest Fukubukuro of the day were the WC by Chinatsu Wakatsuki bags. We saw many of these as well.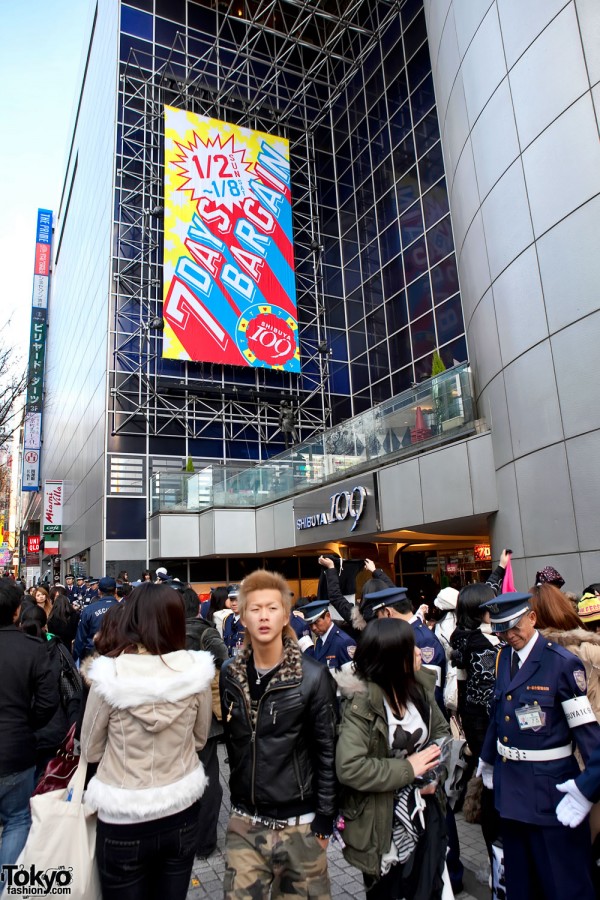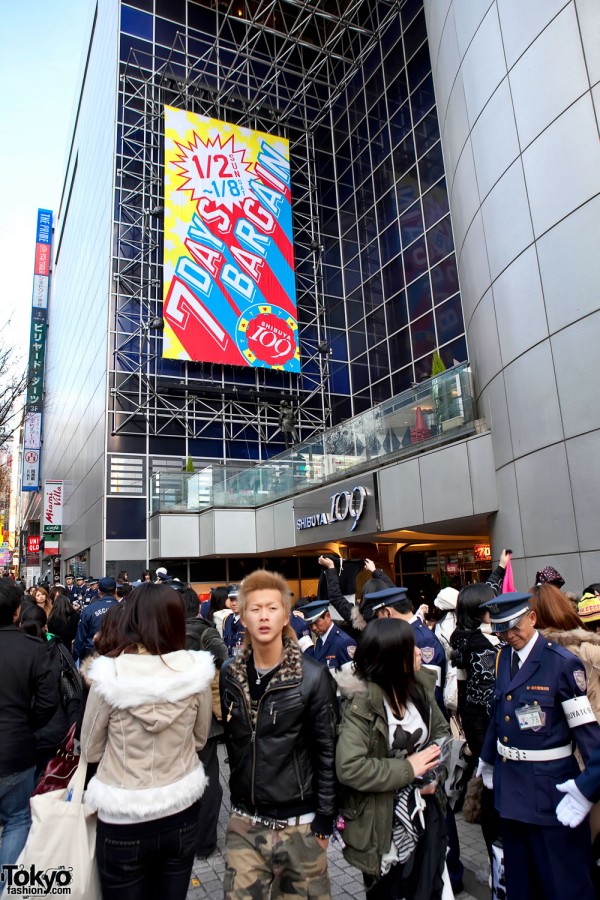 Yes, there are a few guys out in front of Shibuya 109 as well – but maybe they're just passing by on their way to another sale.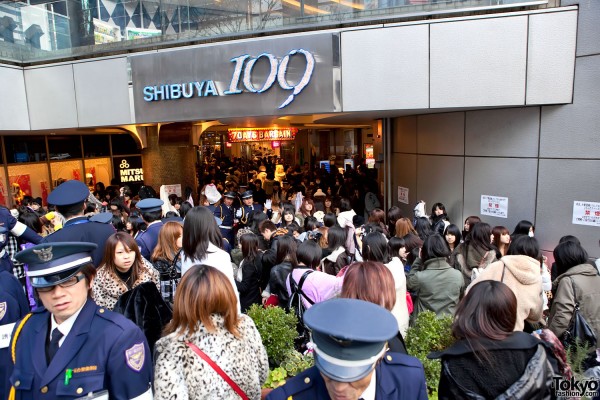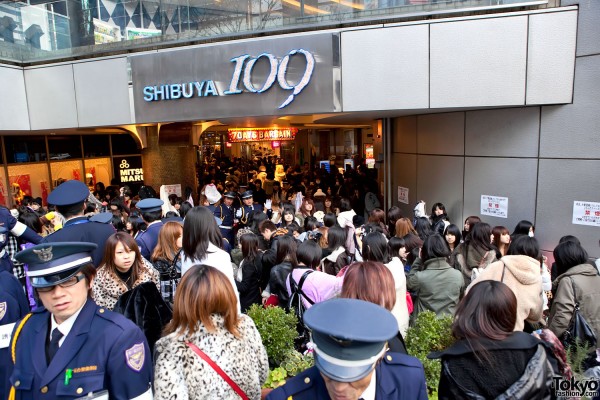 The crowds go on and on forever. Blow these pictures up to see just how many people there are here.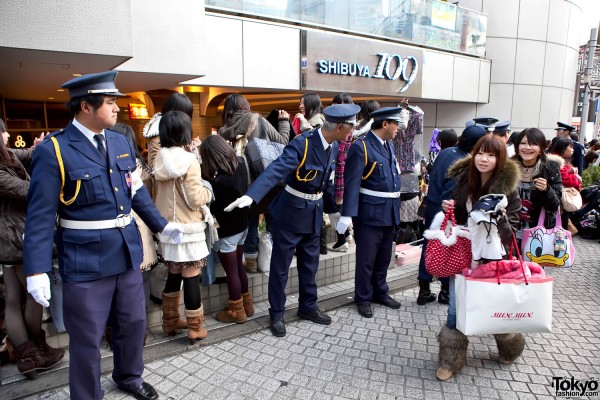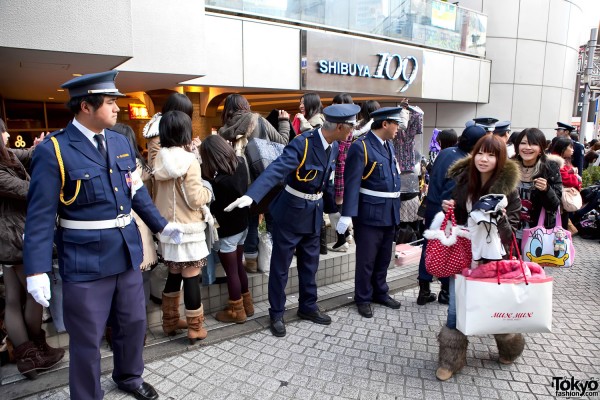 Smiling girls with Muse Muse and Donald Duck bags passing security as they try to make it along the sidewalk.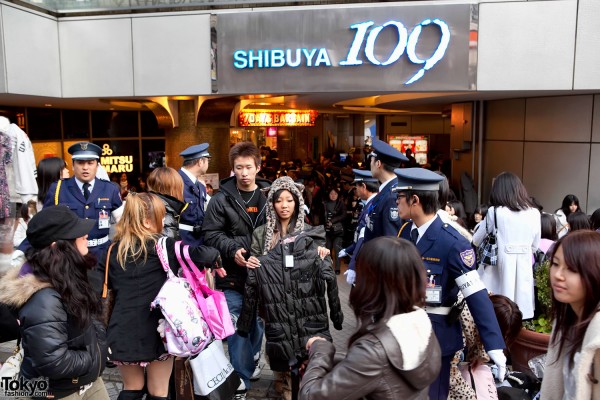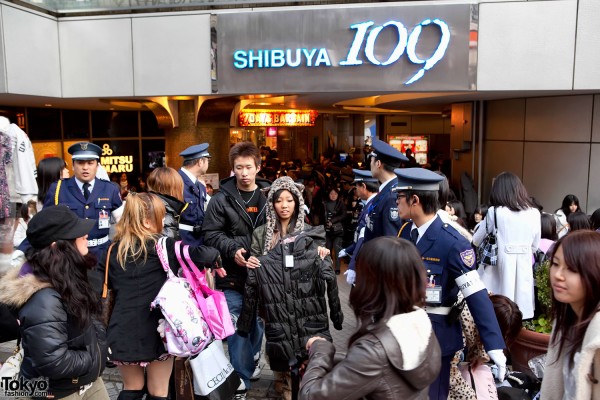 A girl holding up one of her purchases in front of Shibuya 109.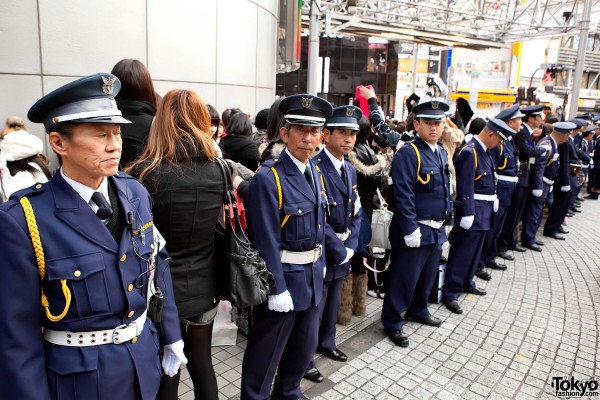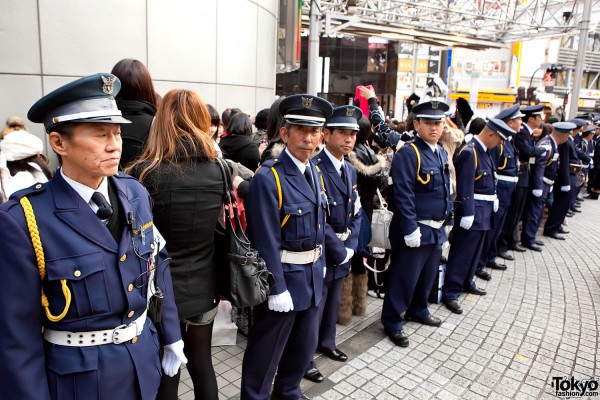 There are so many security guards inside and outside of the department store to try to keep things organized. All of them were friendly to us. :-)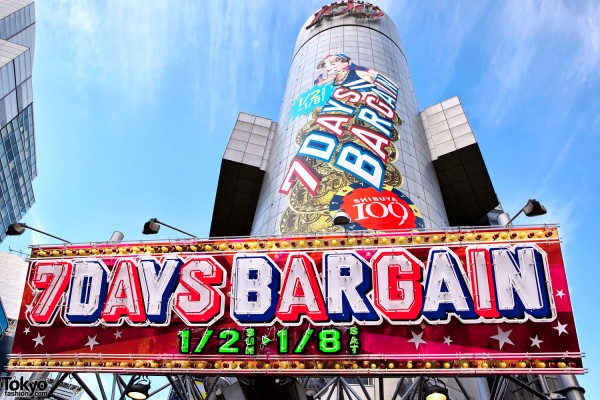 7 Days Bargain!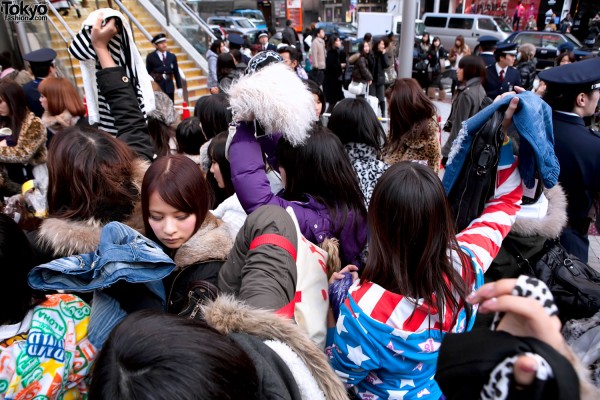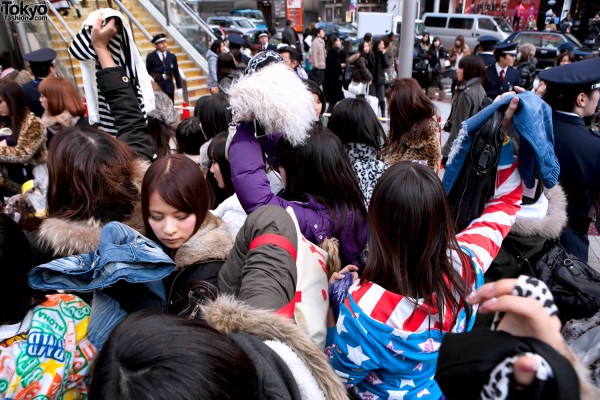 More Fukubukuro trading on the sidewalk.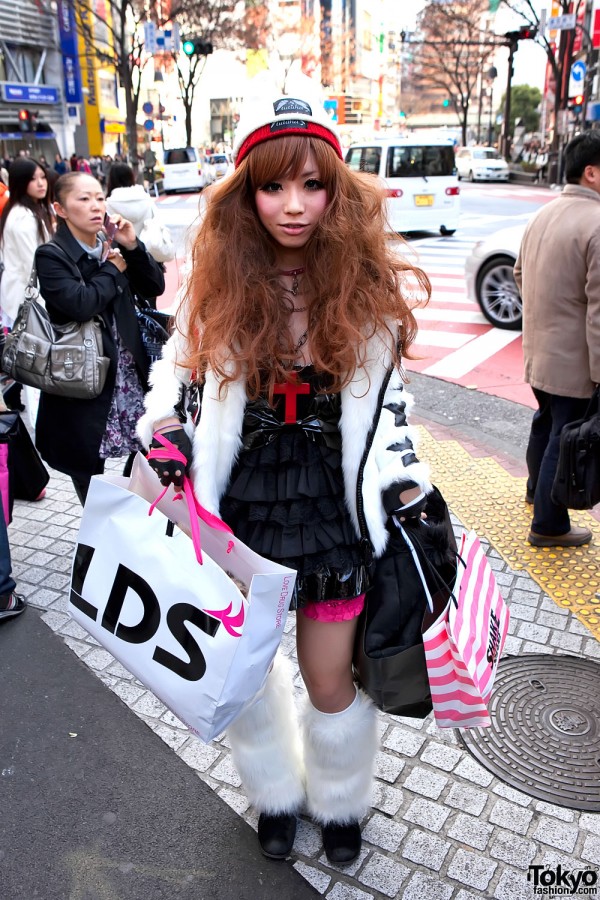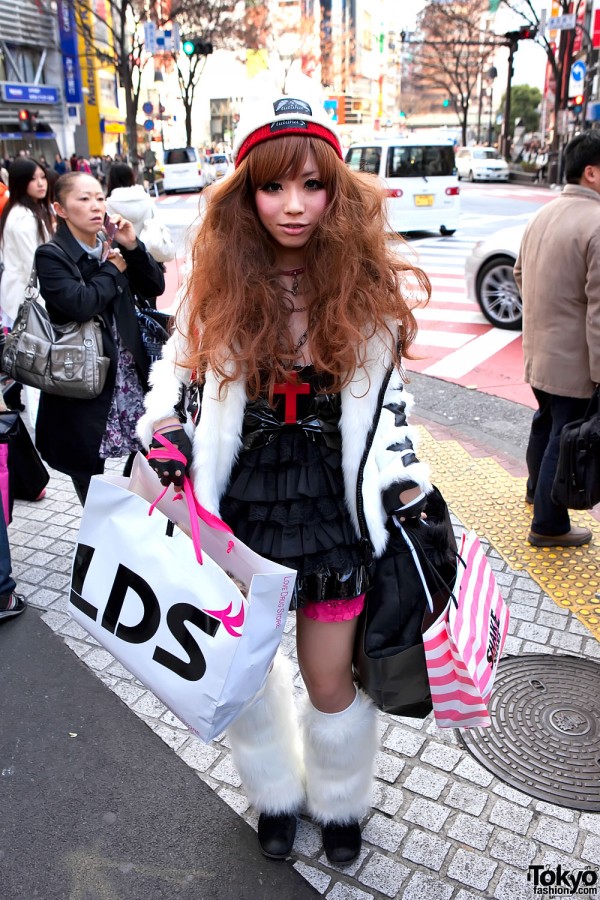 We saw a lot of girls with TutuHA bags and TutuHA fashion. This girl actually has an LDS (Love Drug Store) shopping bag, but her beanie is TutuHA and her outfit (at least the necklace) looks very TutuHA to us.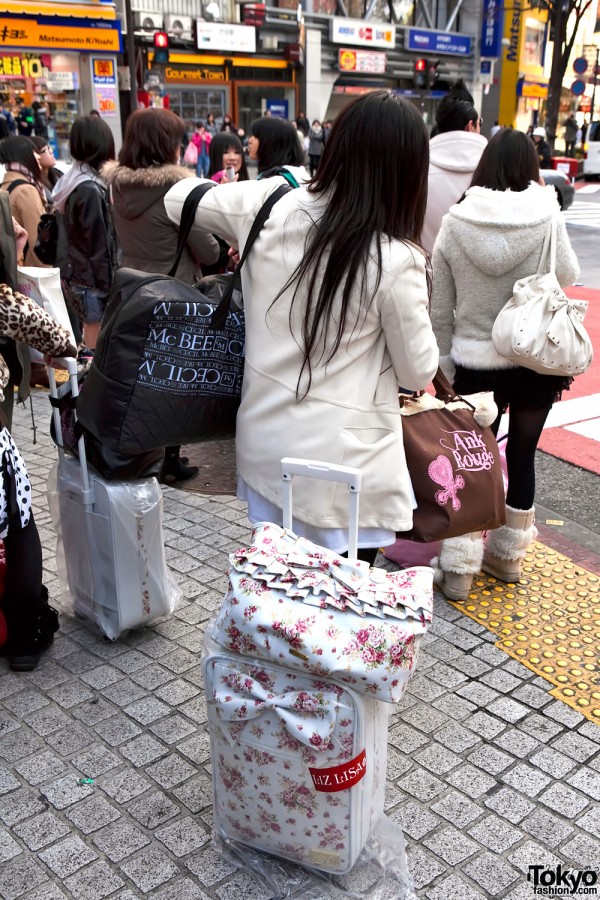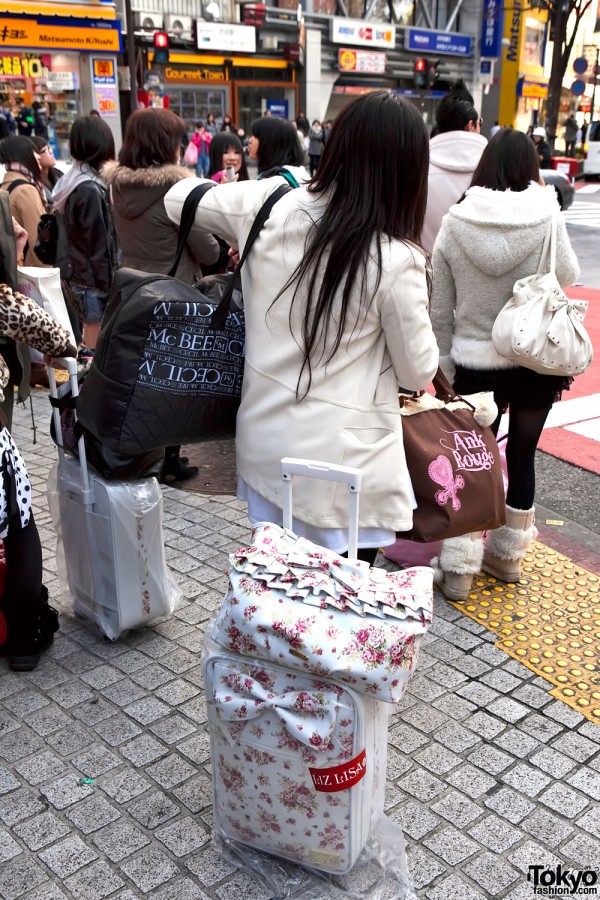 This girl has two of the most coveted Lucky Bags – the Cecil McBee one and the rolling Liz Lisa one. Wonder what time (or what day) she arrived?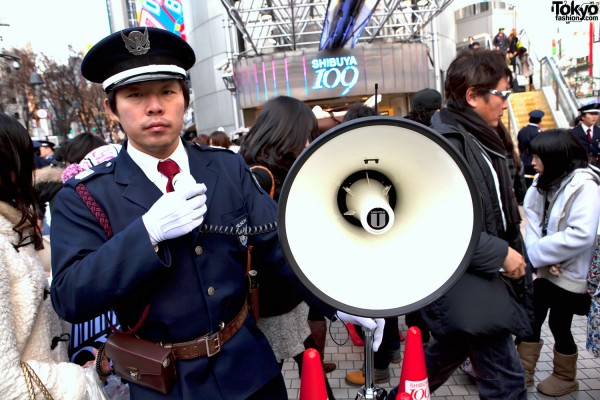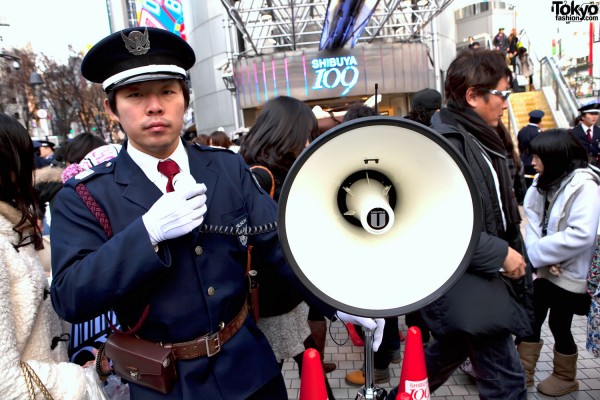 This guy has the biggest bull horn in Tokyo. Enough said.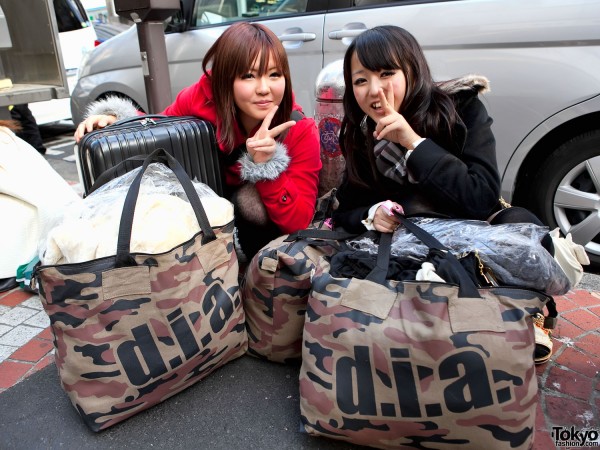 Cute girls with more of the huge D.I.A. brand lucky bags.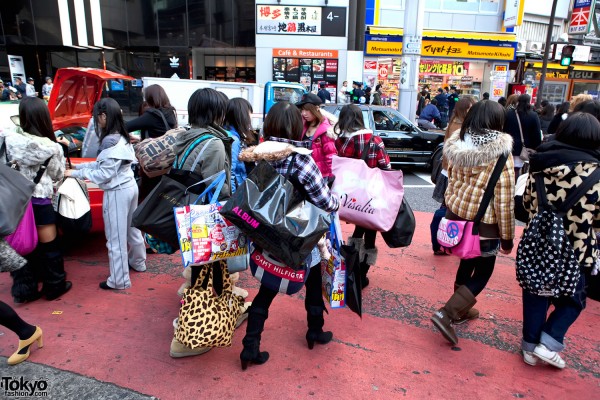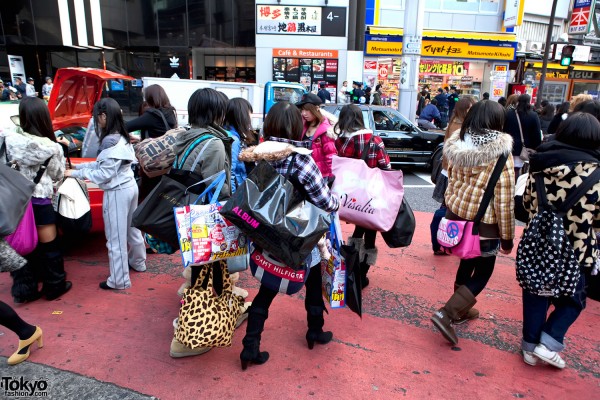 Shoppers carrying about a billion bags away from Shibuya 109. Maybe they're headed back toward the station?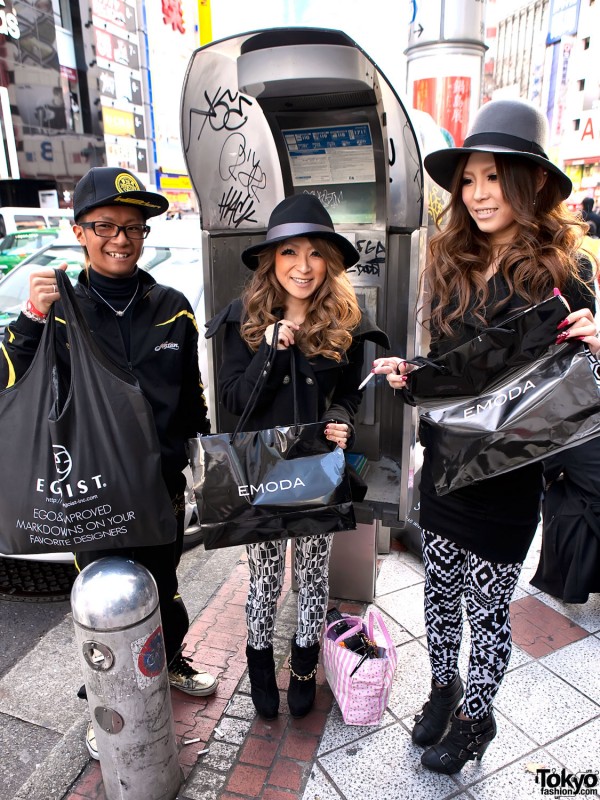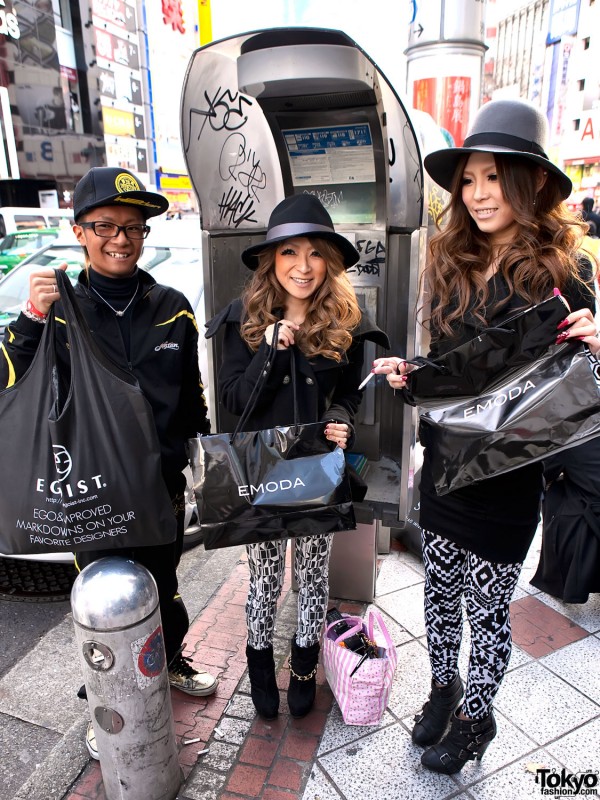 Emoda and Egoist bargains for these Shibuya-styled shoppers.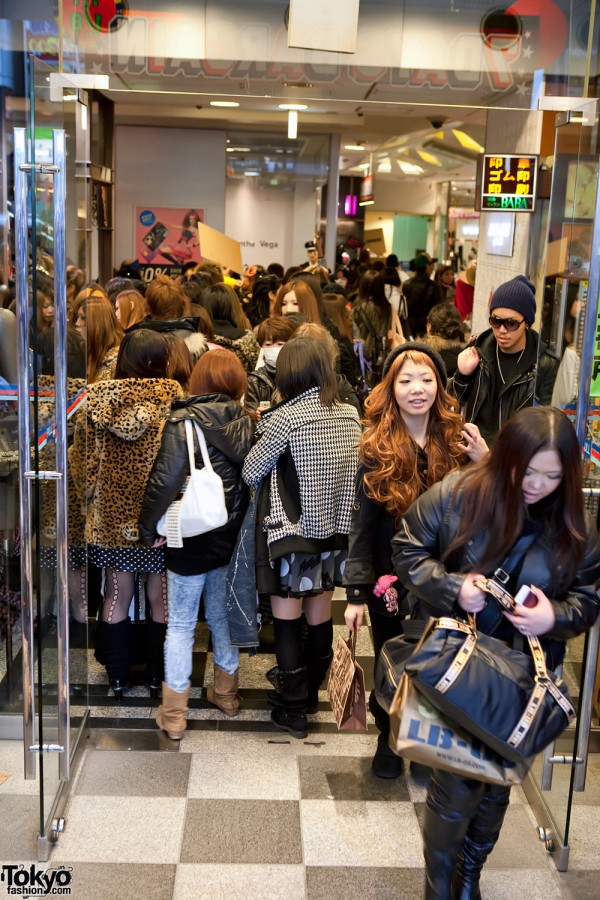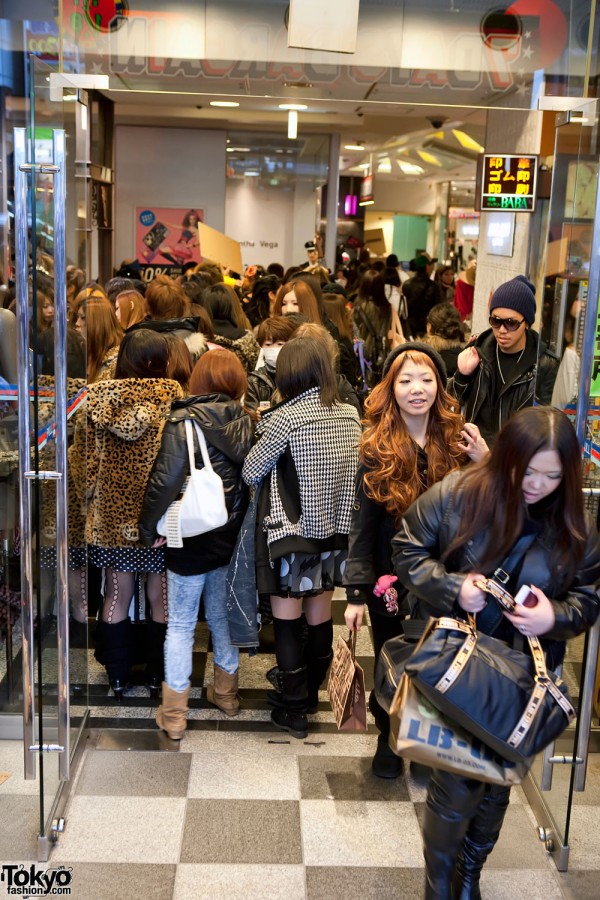 This is usually one of the Shibuya 109 entrances, but today they have huge "EXIT ONLY" signs above the door. You can see the mayhem – and leopard print – inside.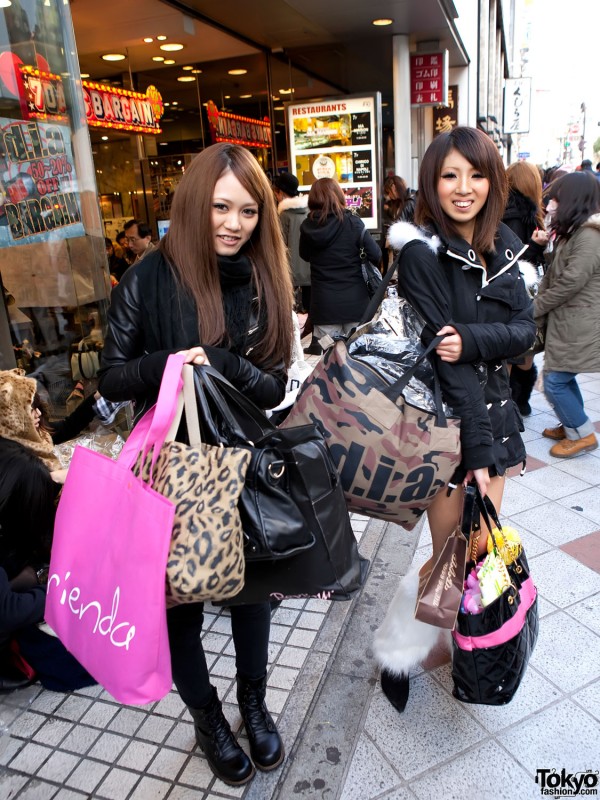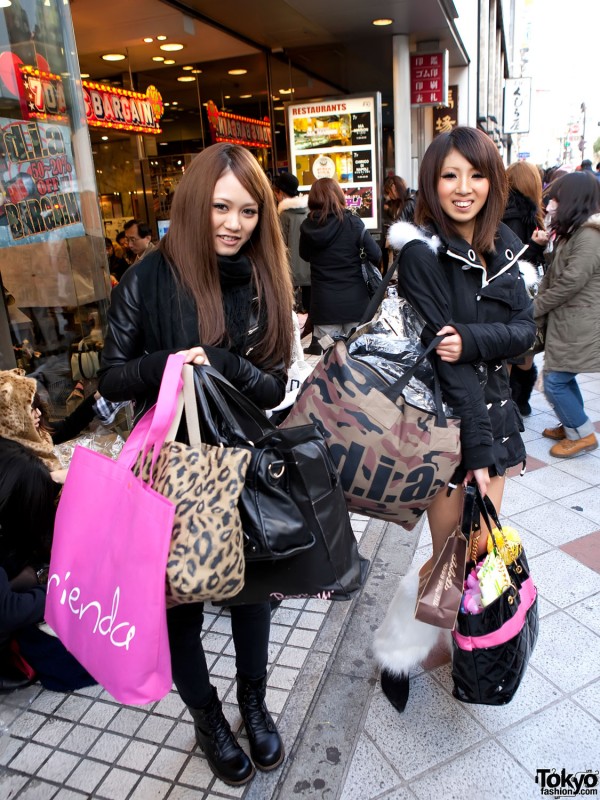 D.I.A., Rienda, and more leopard print for these stylish girls.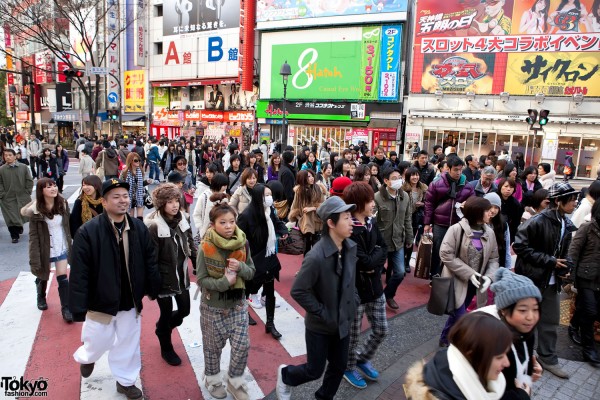 The clock keeps ticking, but the crowds only get bigger!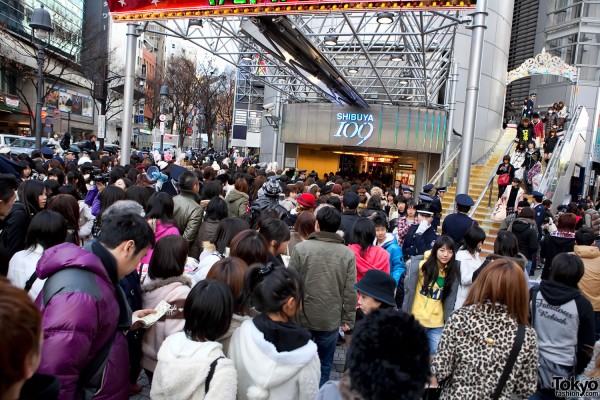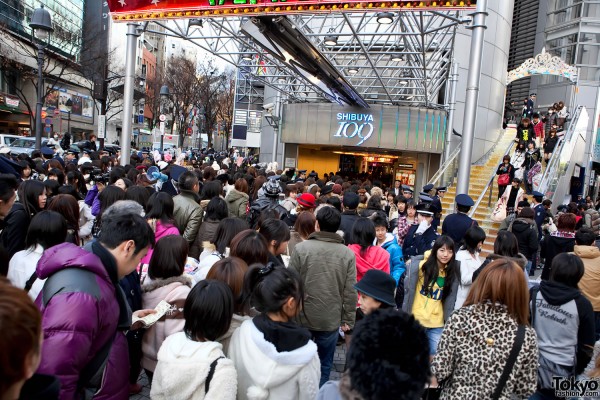 And bigger and bigger.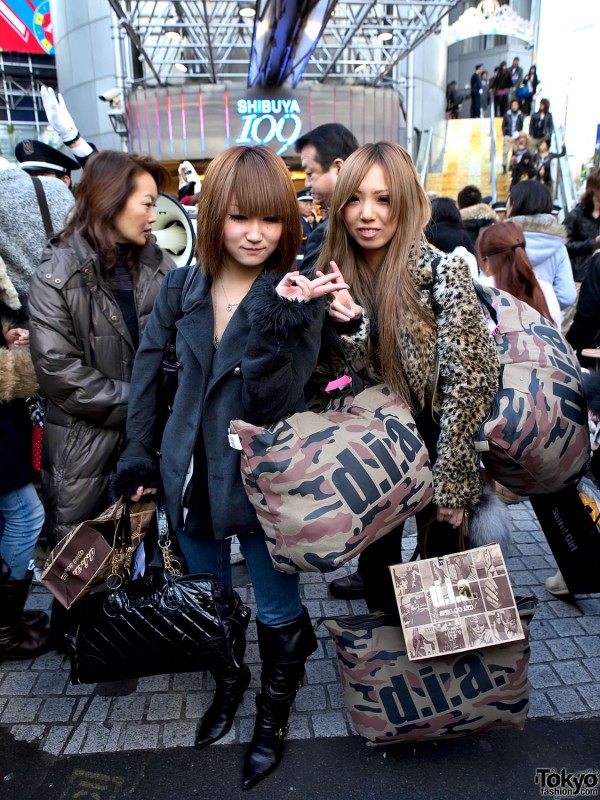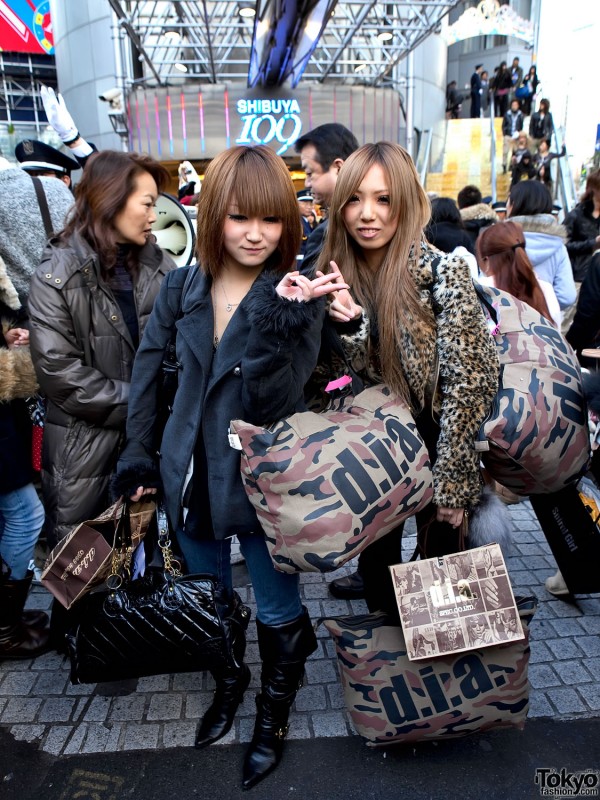 Guess what? D.I.A. Fukubukuro, leopard print, and stylish Japanese girls! Sound familiar? :-)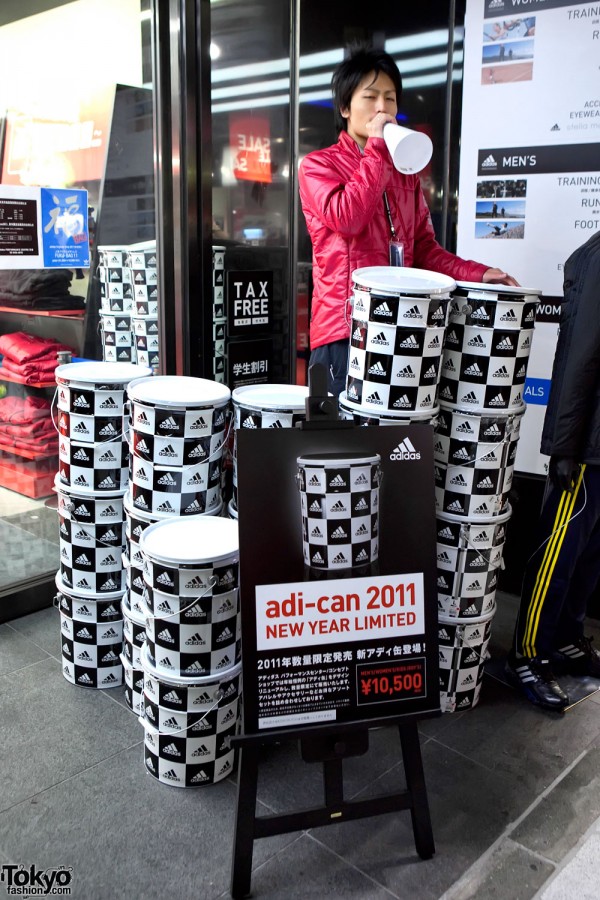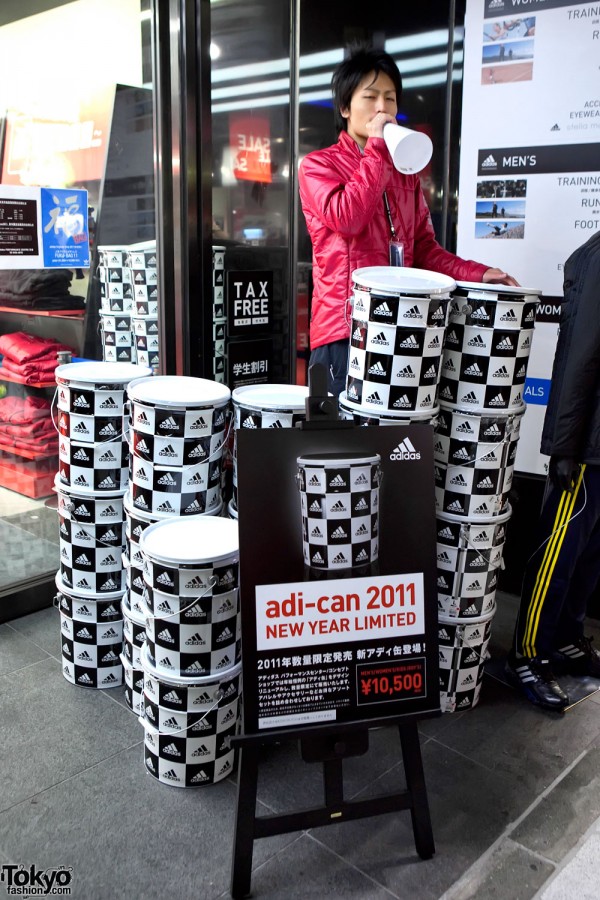 Walking across the street from Shibuya 109, we see that Adidas is selling lucky buckets instead of lucky bags. This seems like a trend, as we've seen quite a few shops with buckets instead of bags this year.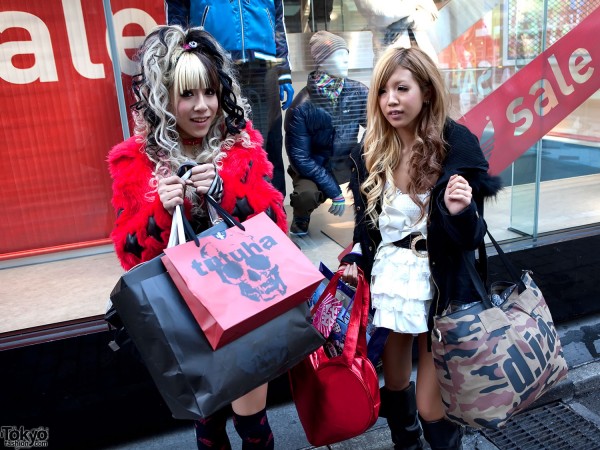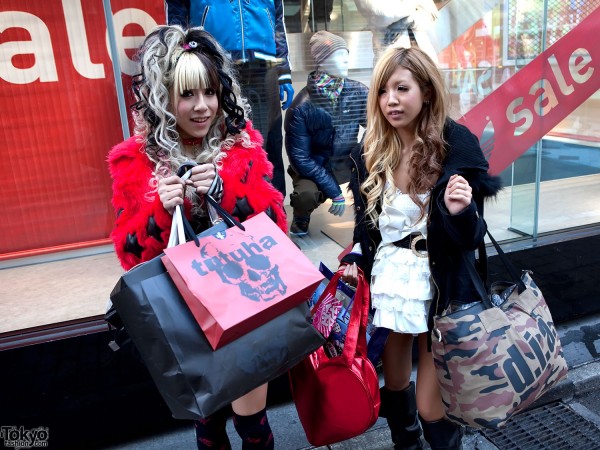 A girl with awesome hair and a TutuHA bag, and a girl with a D.I.A. bag, near Center Street in Shibuya.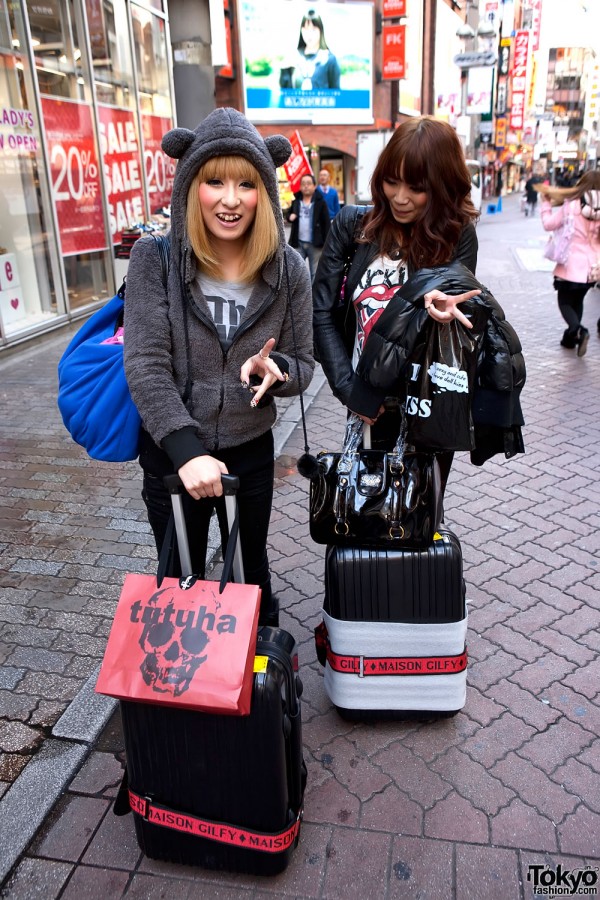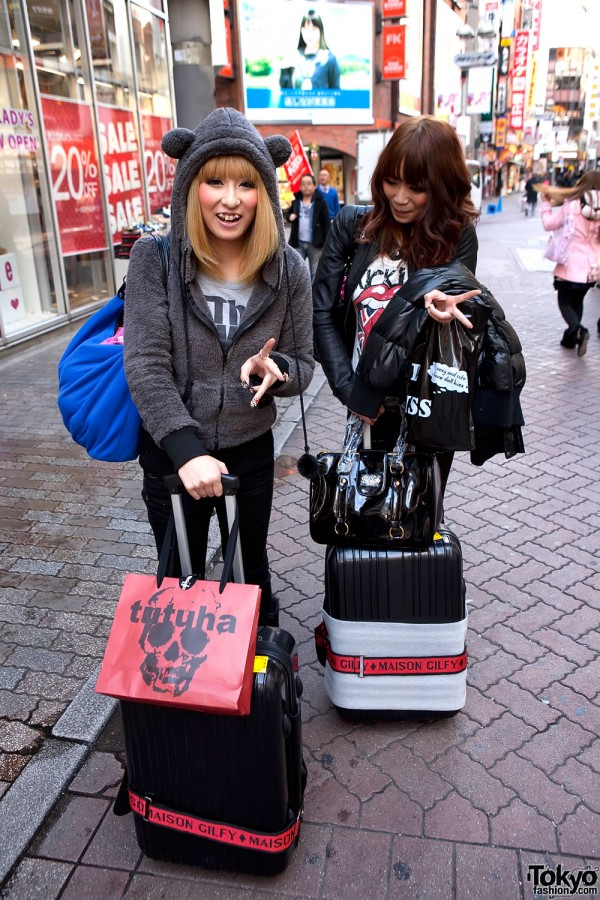 Very smiley Japanese girls with more TutuHA and two large Maison Gilfy rolling Fukubukuro. We saw a lot of Gilfy bags this year as well.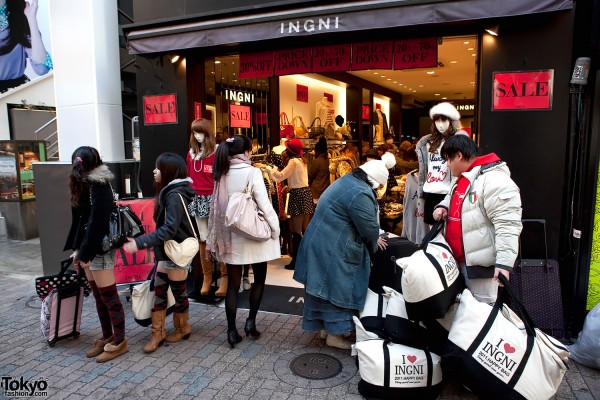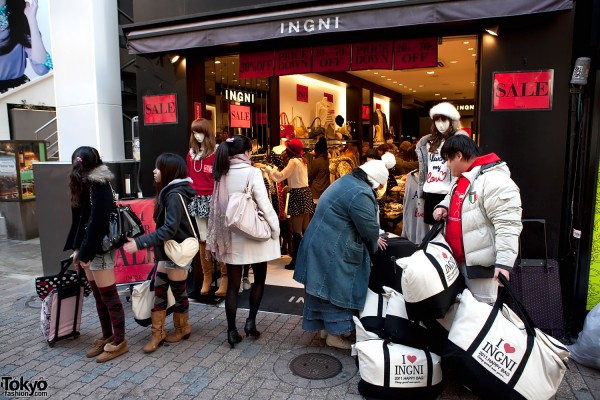 Huge stacks of Ingni lucky bags. Not sure if these are shop staff, people planning to resale the items, or just fans of the brand, but we didn't see anyone else with more bags from a single brand than these two.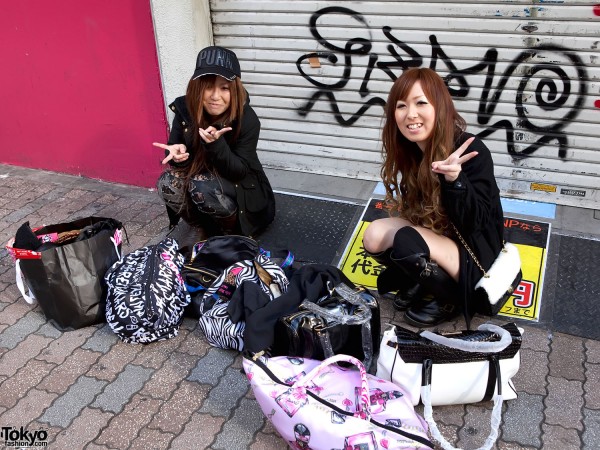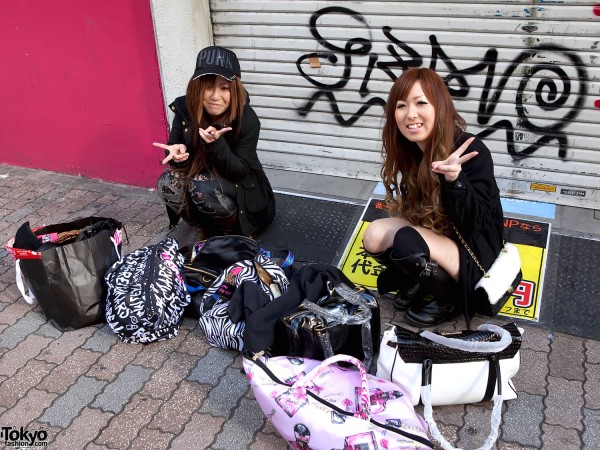 Two girls taking a well deserved break from the shopping mayhem at 109.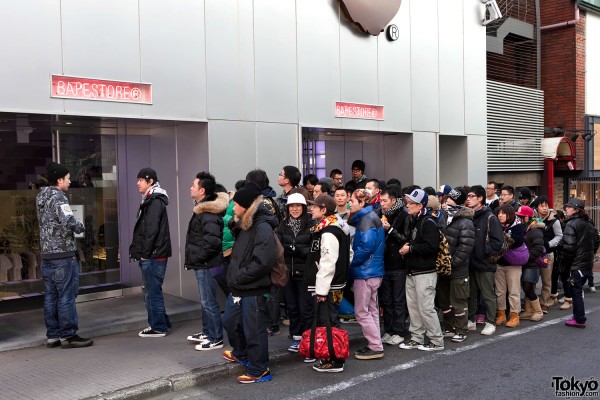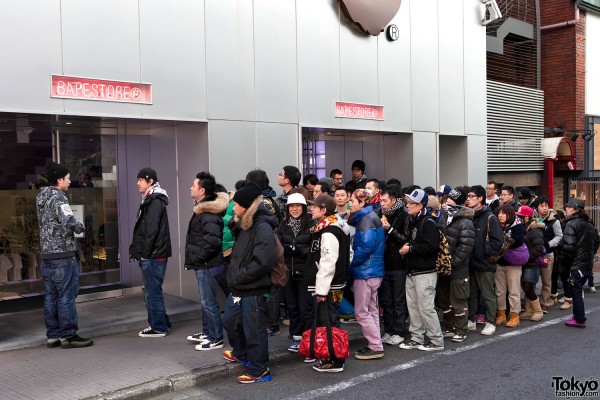 This is the line outside of BAPE Shibuya. Actually, the line goes around the corner and down Spain Zaka, but this gives you an idea of the difference in the crowd at BAPE and Shibuya 109.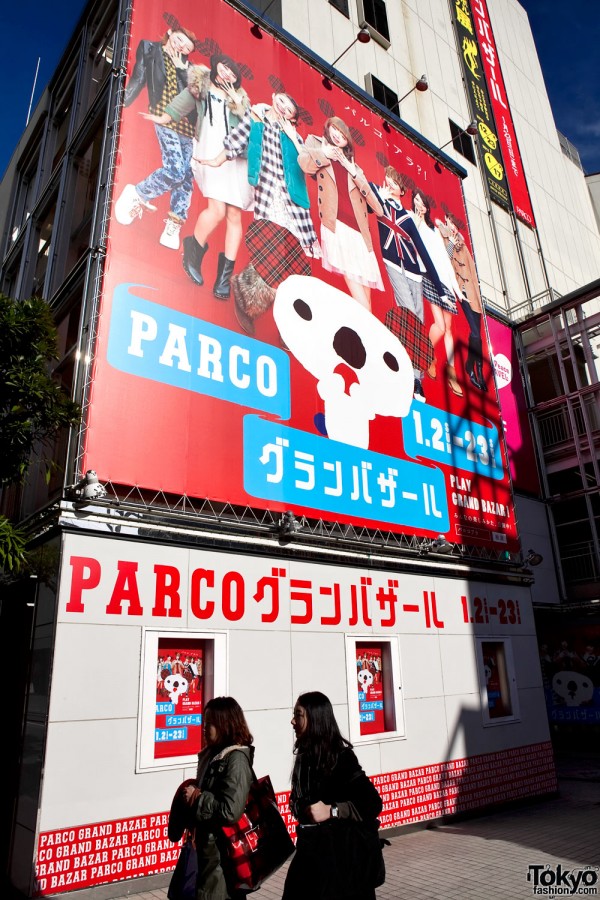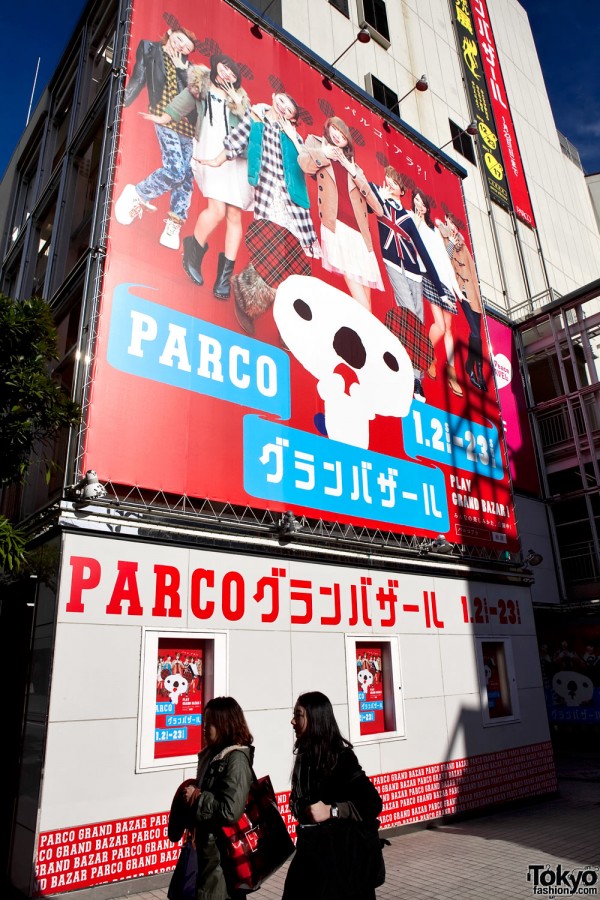 Parco Shibuya is also having a New Year's sale.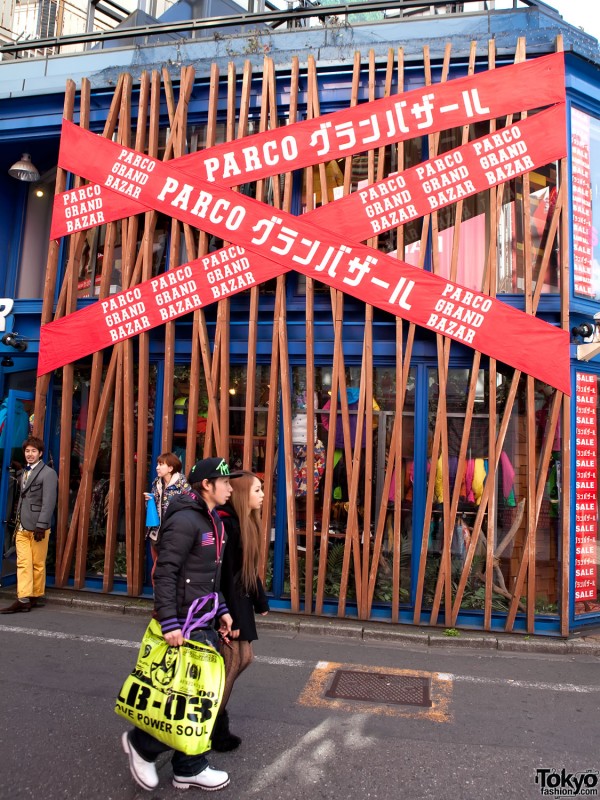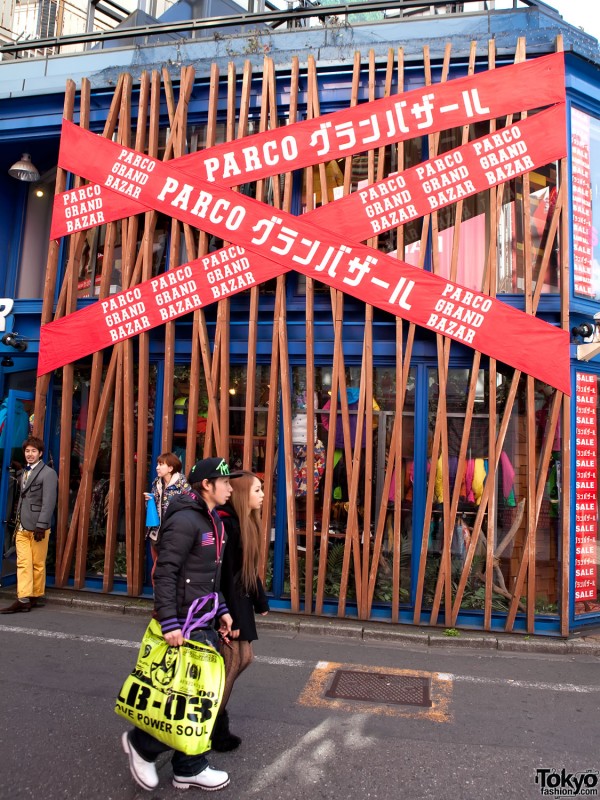 More Parco sale promotion.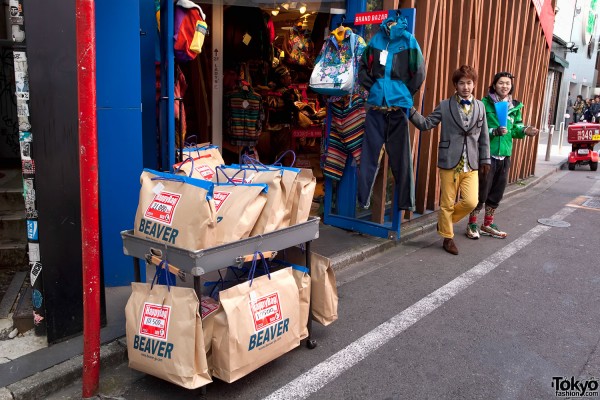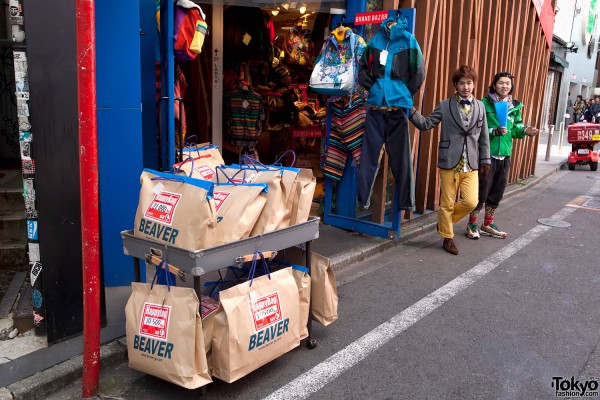 Beaver Fukubukuro!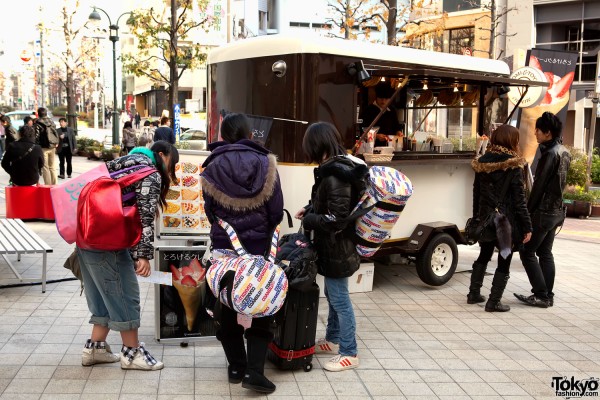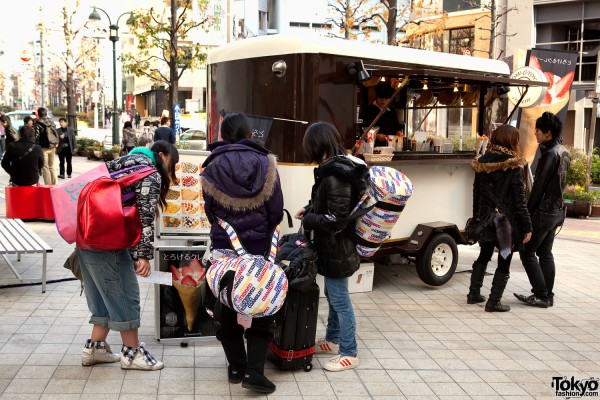 Girls with CoCoLuLu Fukubukuro looking at the menu at MOMI&TOYS Crepes near Parco Shibuya.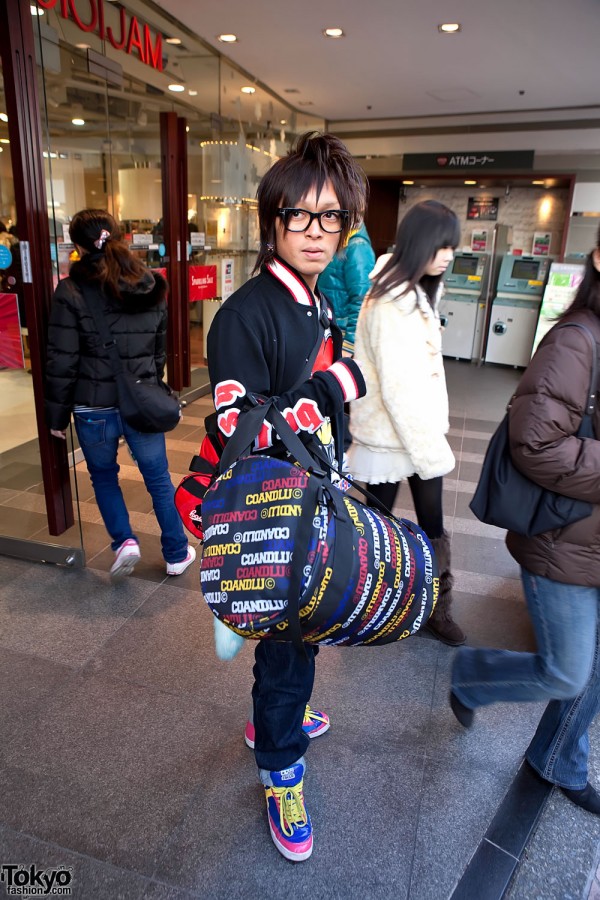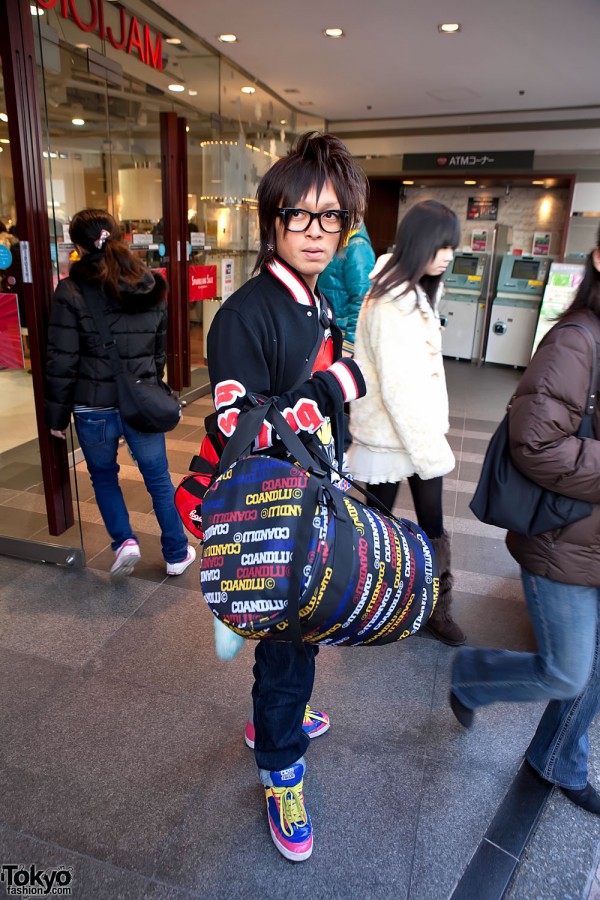 Speaking of CoCoLuLu Fukubukuro, here's a guy with one in front of Shibuya 109-2 (the men's store).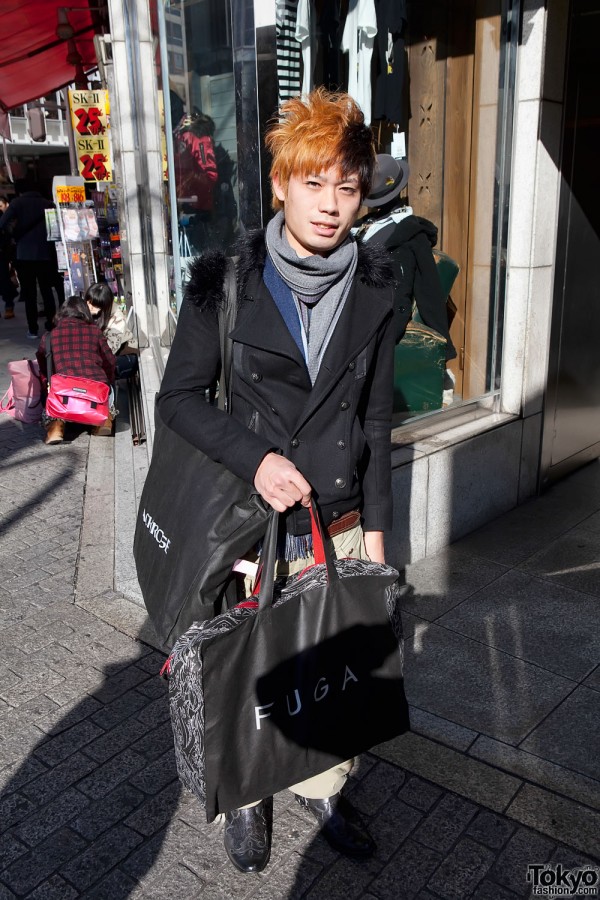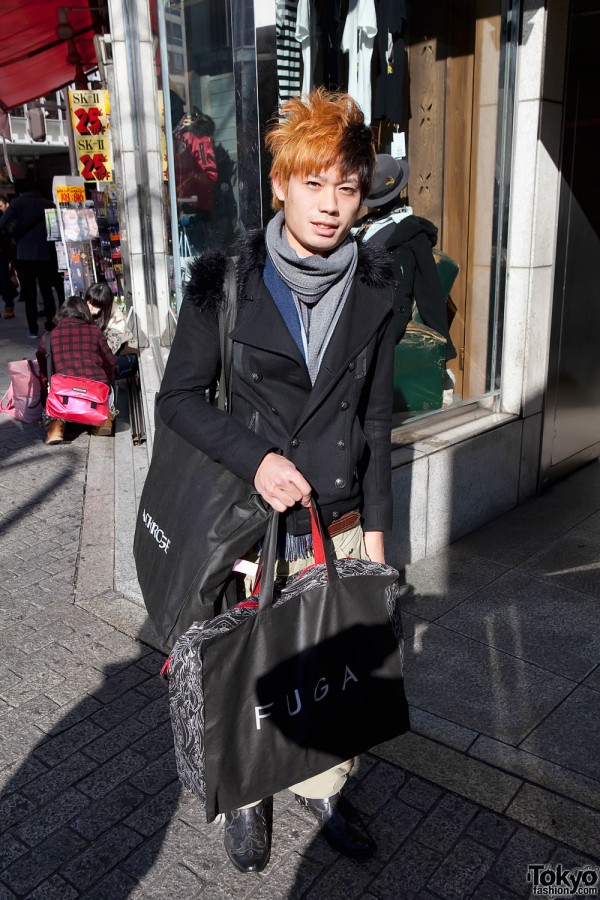 FUGA Fukubukuro seemed really popular with the Shibuya guys and Gyaru-o.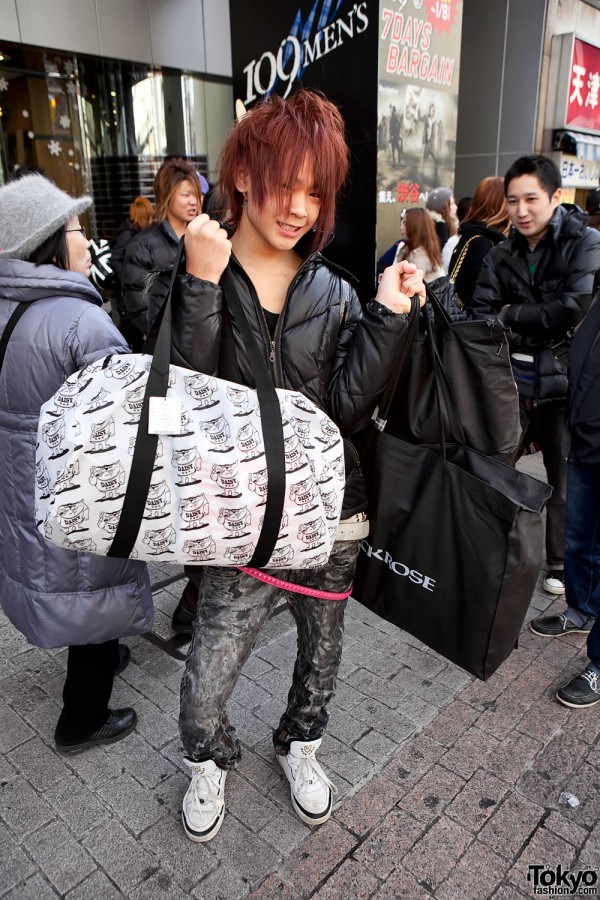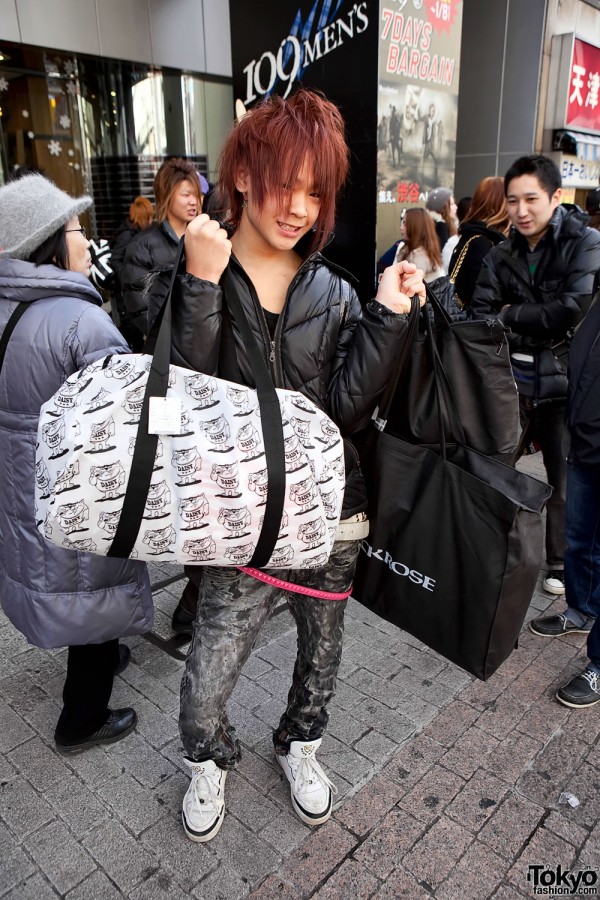 This guy had awesome hair, a big smile, and Lucky Bags from Daisy and Jack Rose.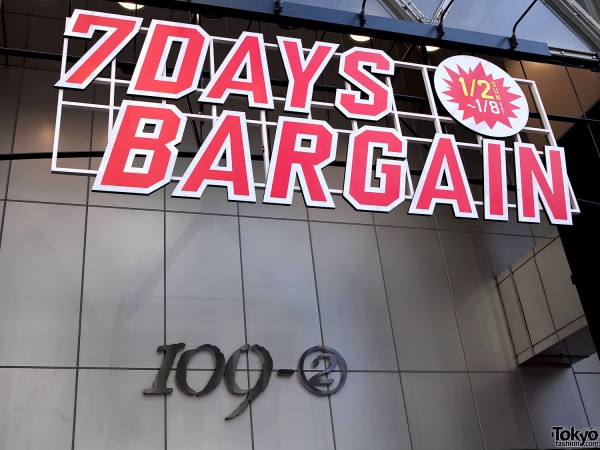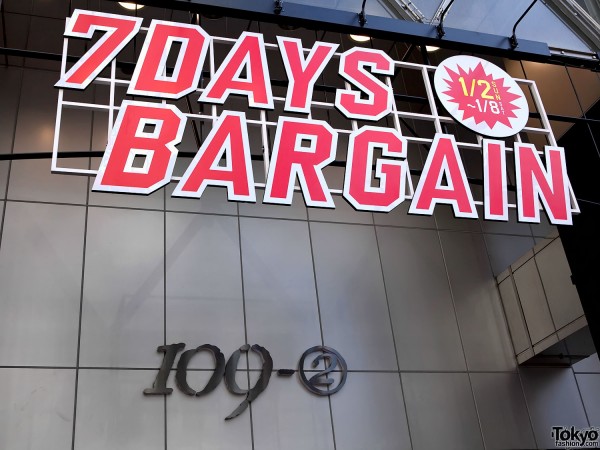 Shibuya 109-2 7 Days Bargain (for guys)!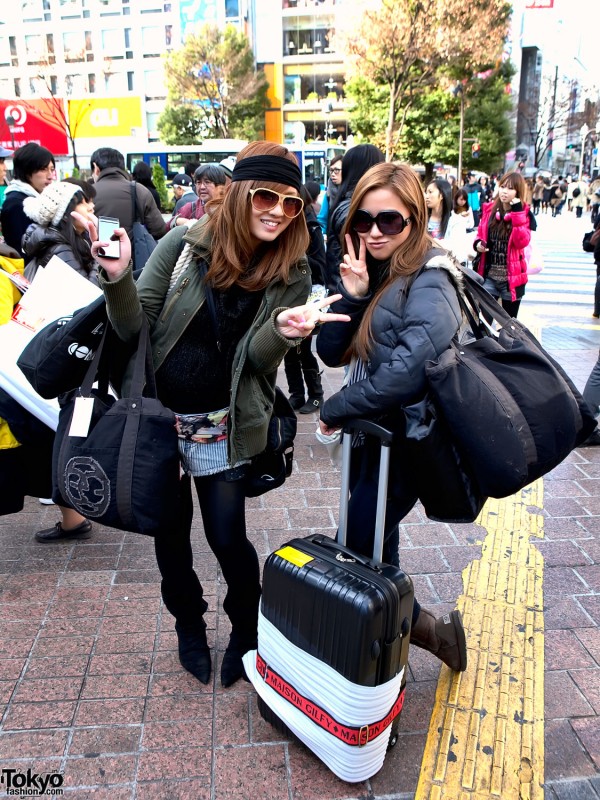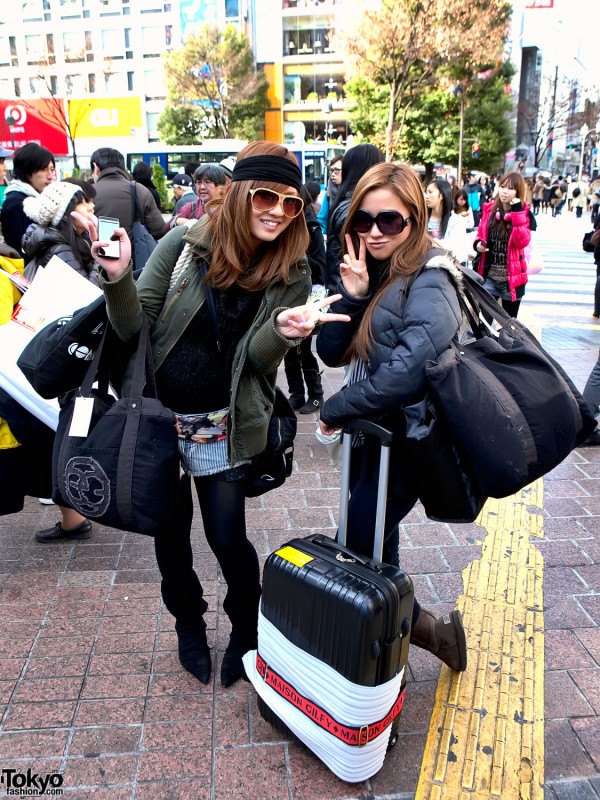 Fun girls with a Maison Gilfy rolling Fukubukuro and one that I don't know the logo of. If you know what bag the girl on the left is holding, feel free to post it in the comments.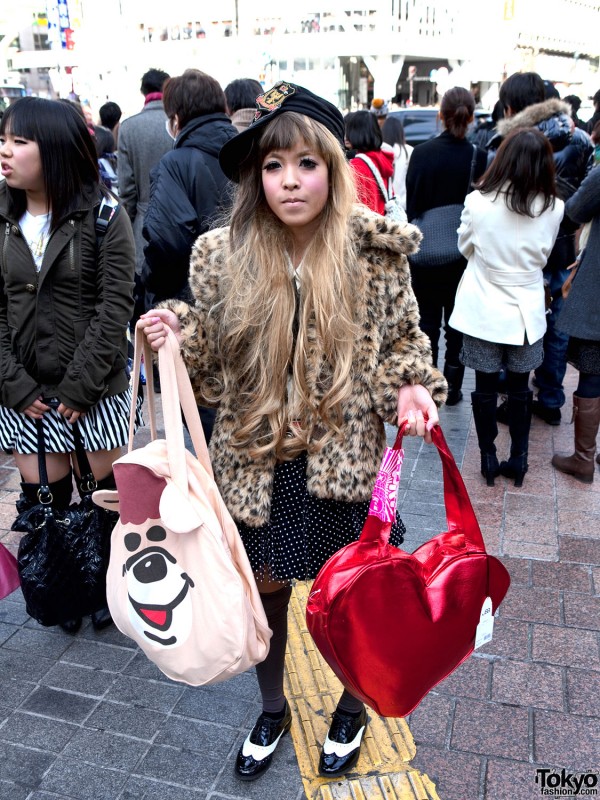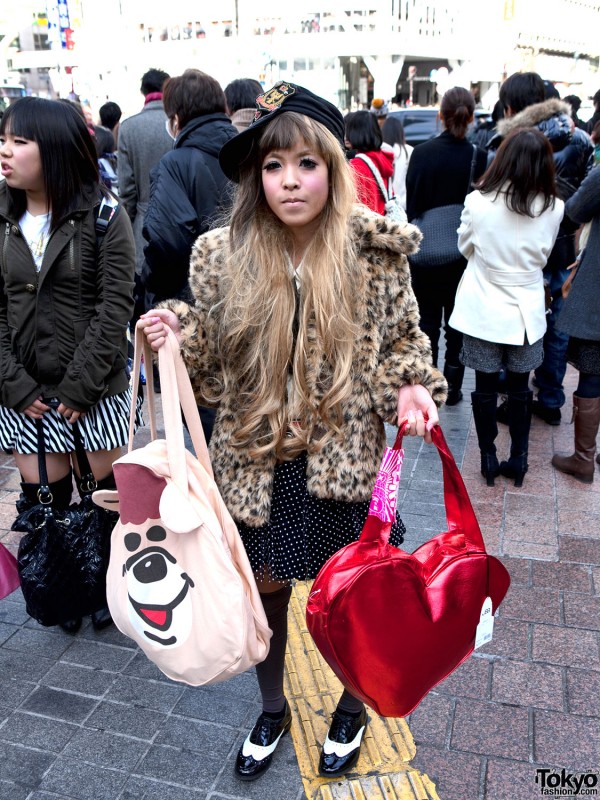 The cute girl went for the cute Fukubukuro – WC and a big red heart bag. If you know who the red heart bag is, let us know in the comments.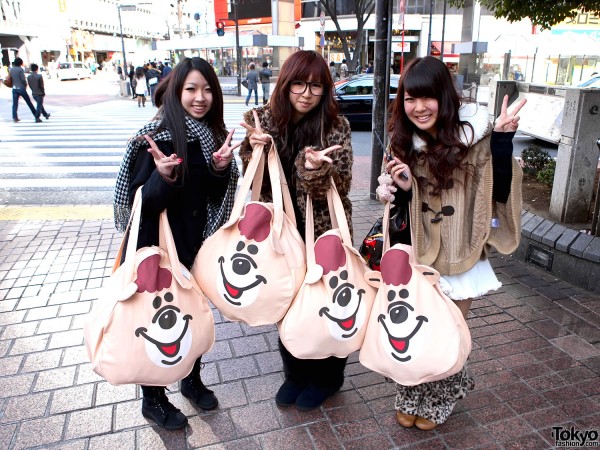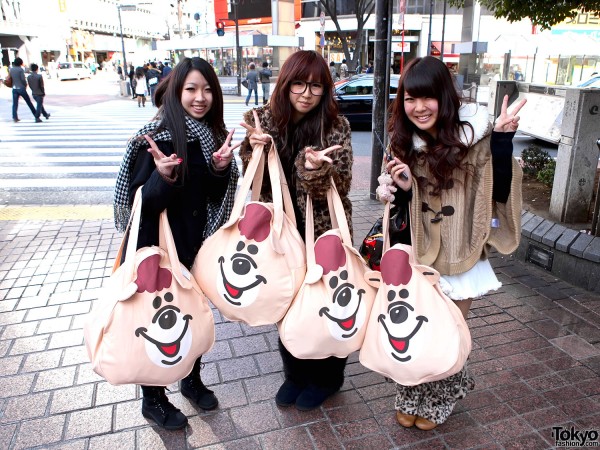 Wow, that's a lot of Chinatsu Wakatsuki/WC Fukubukuro cuteness right there!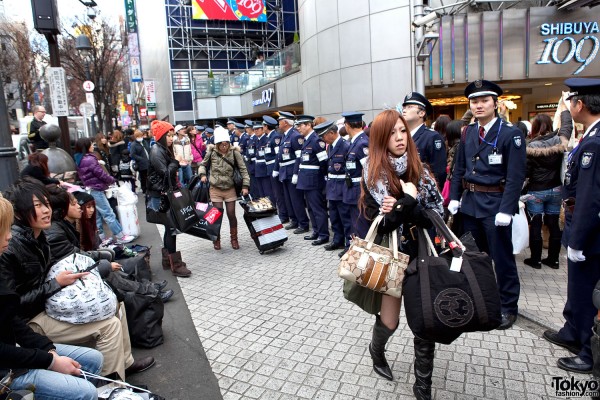 During another quick pass by Shibuya 109, we see that the crowds are still huge.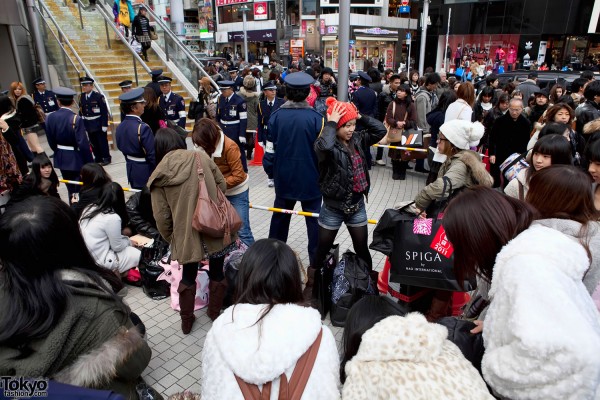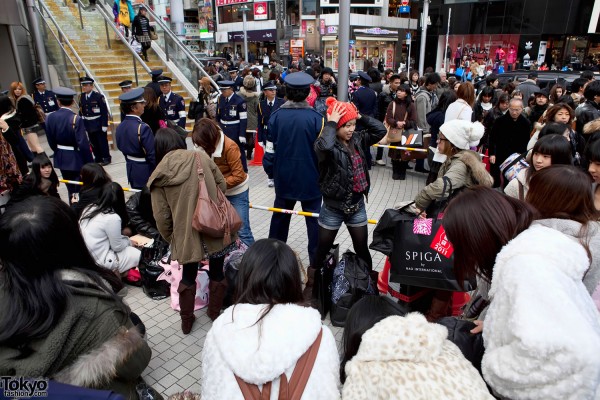 As hours go by, maybe a few less people, or everyone is just getting tired and sitting down?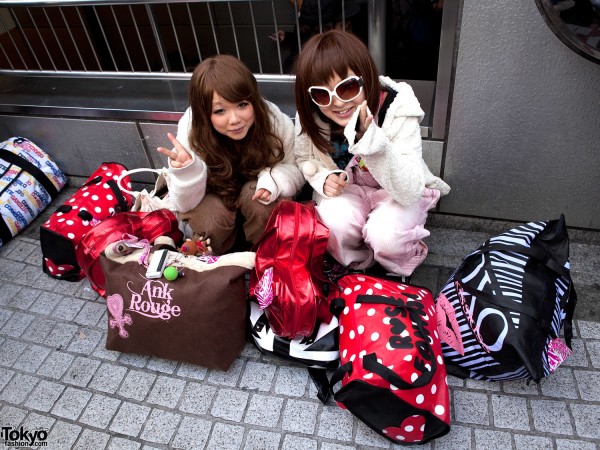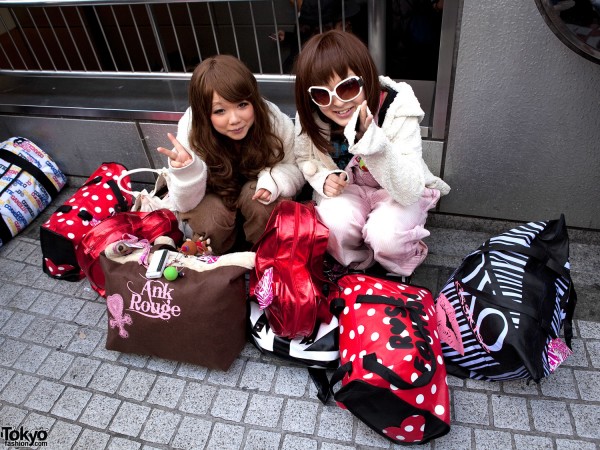 Cute girls with Ank Rouge & ROSE FANFAN Fukubukuro.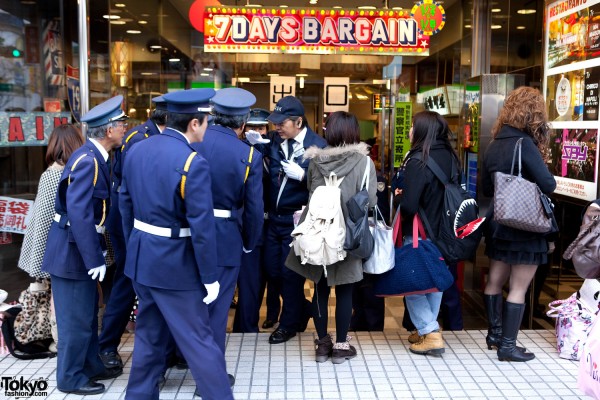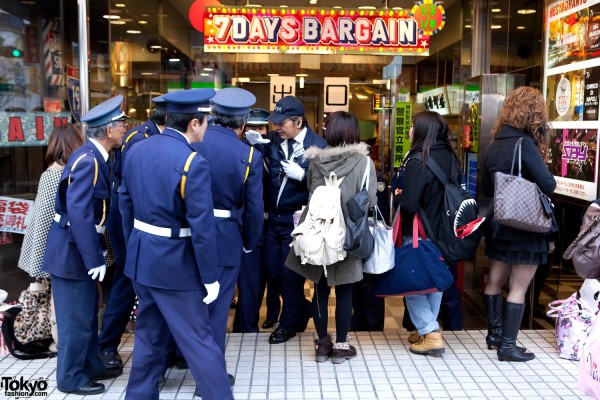 Security meeting at one of the exits. Anywhere else, this could mean trouble, but in Japan there will be no trouble! :-)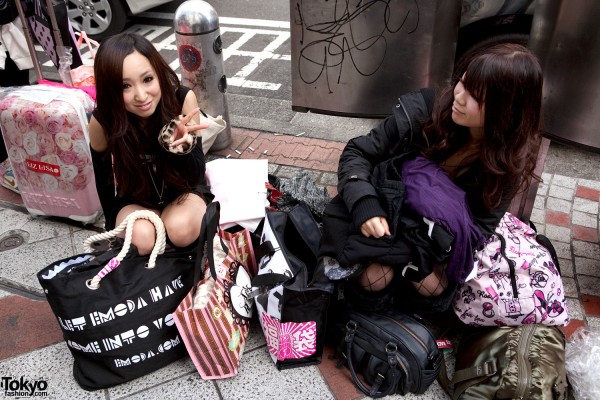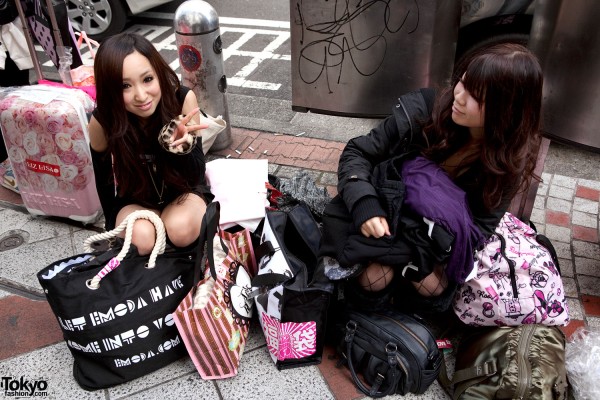 Smiling girl with an Emoda Fukubukuro and a Liz Lisa rolling bag behind her.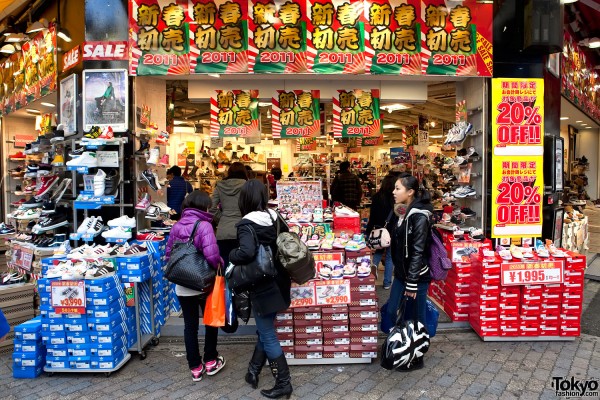 Leaving 109 again, we see that ABC Mart is having a big New Year's Sale.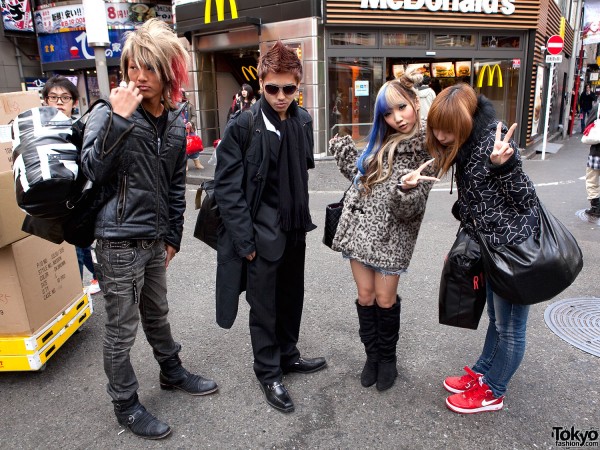 A few of the most awesome shoppers we've seen all morning. The guy on the far left appears to be carrying a Glad News Fukubukuro. If you want to see what's inside of it, check out this post on Moments Like Diamonds where Sara Mari dissects Glad News and TutuHA bags from Shibuya 109.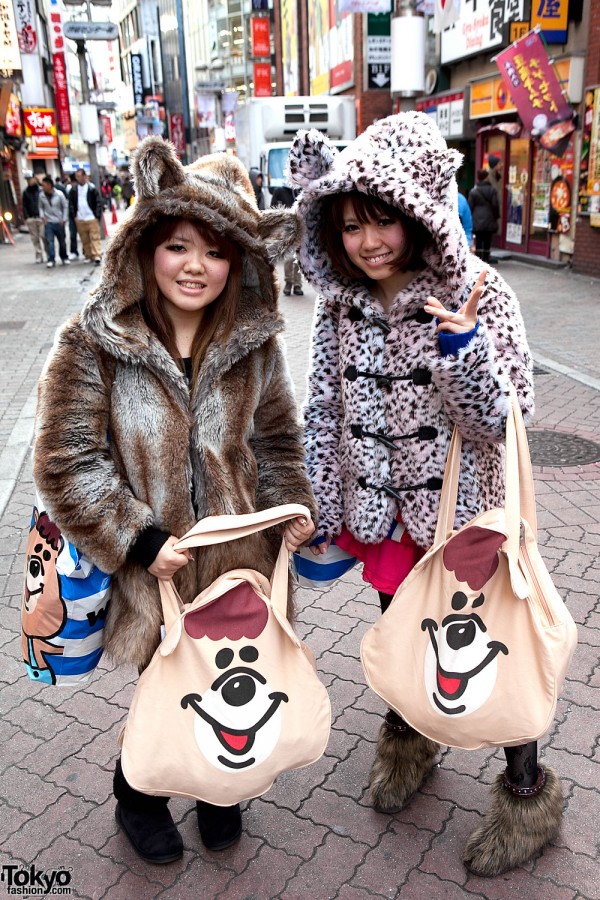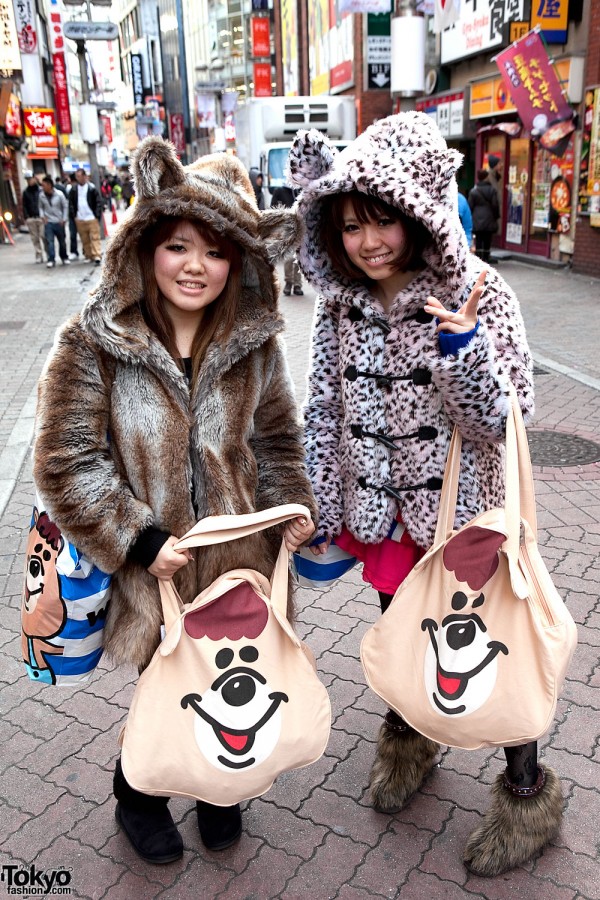 How awesomely cute are these two matching girls with their WC Fukubukuro?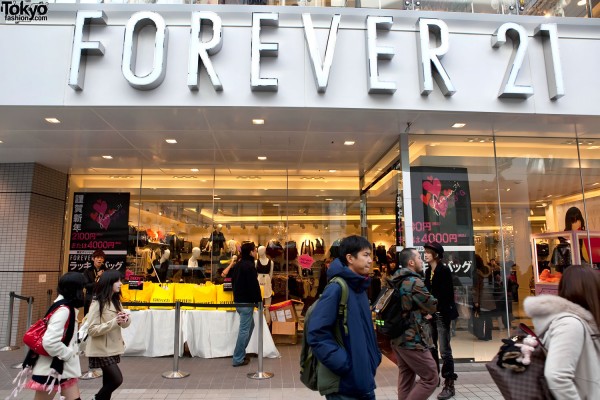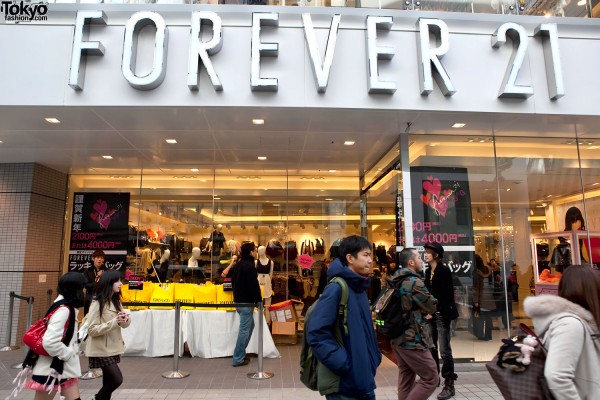 The newly opened Forever 21 Shibuya has Fukubukuro too!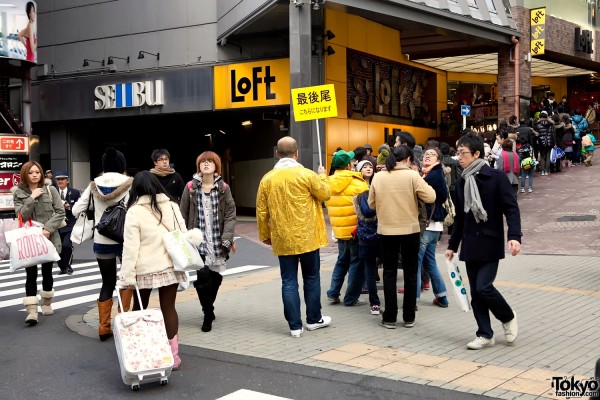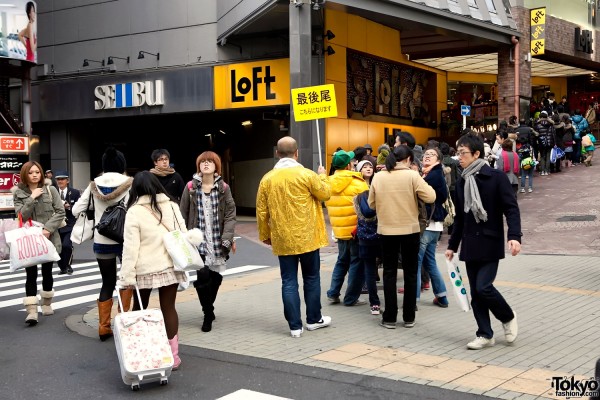 Loft Shibuya isn't fashion, but they have so many amazing things you can't live without – and the cutest collection of scissors and staplers in Shibuya.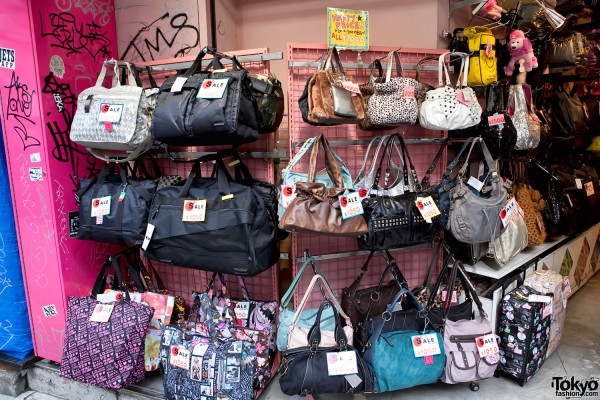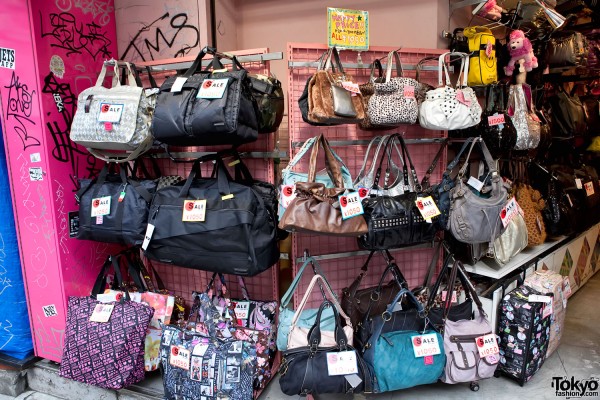 These aren't really Lucky Bags, but they are bags on sale – close enough?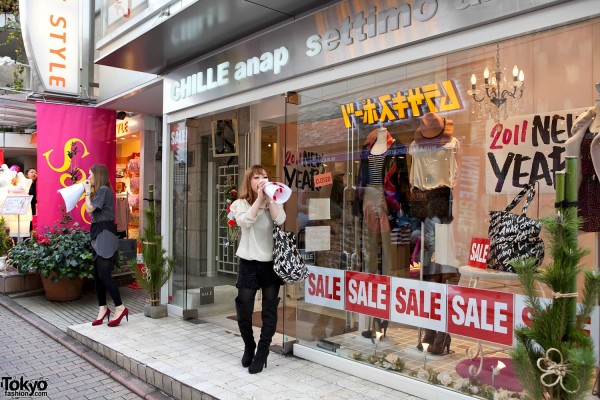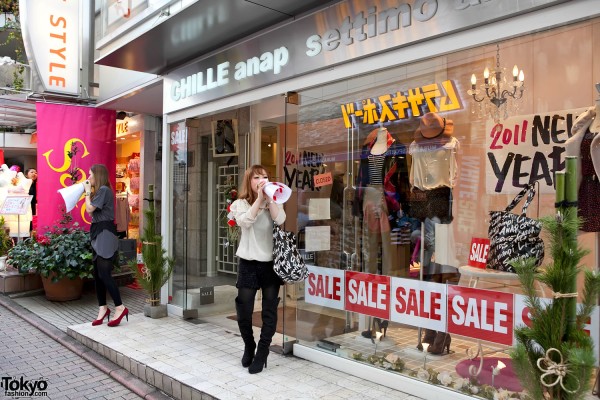 Two shouting sales girls outside of ANAP on Spain Zaka.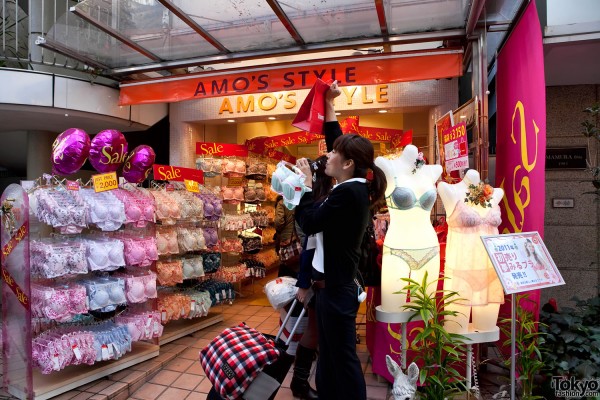 Amo's Style Fukubukuro!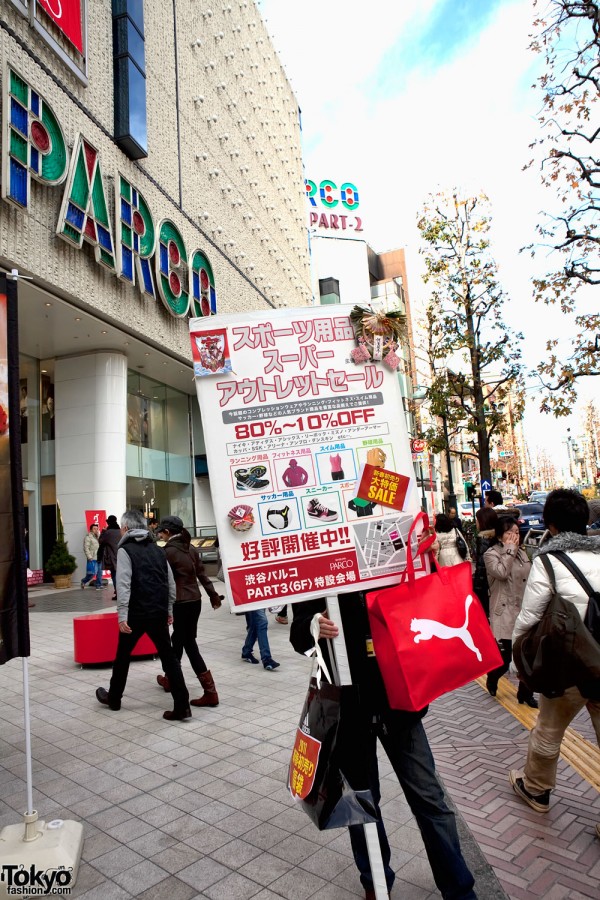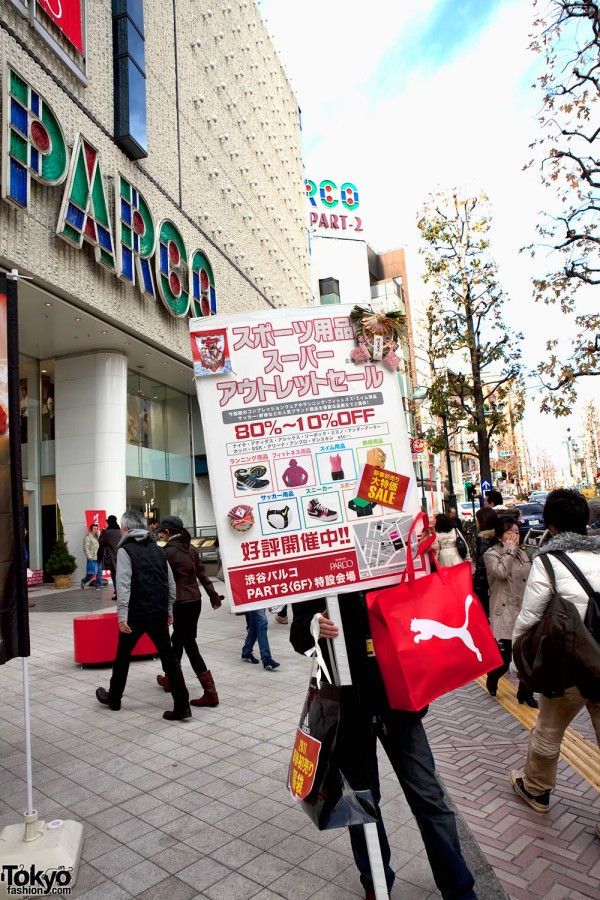 A guy. A sign. A sale. Parco. Okay. Next.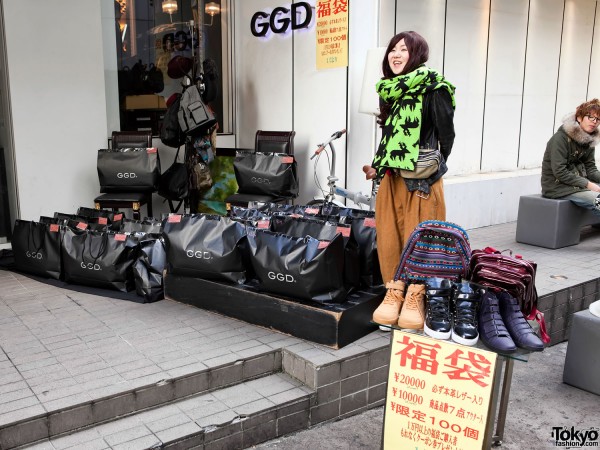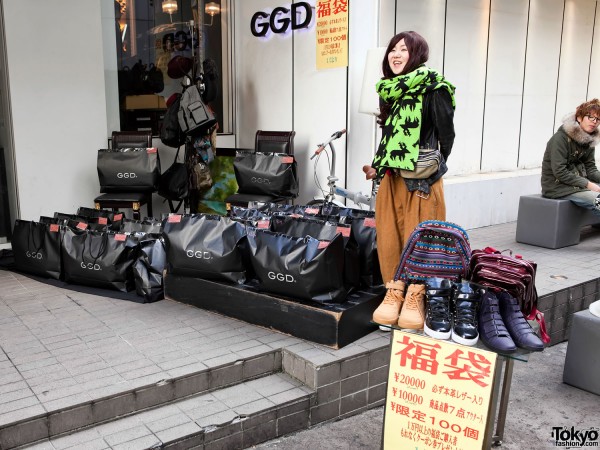 This girl wants to sell you a Mystery Bag from GGD.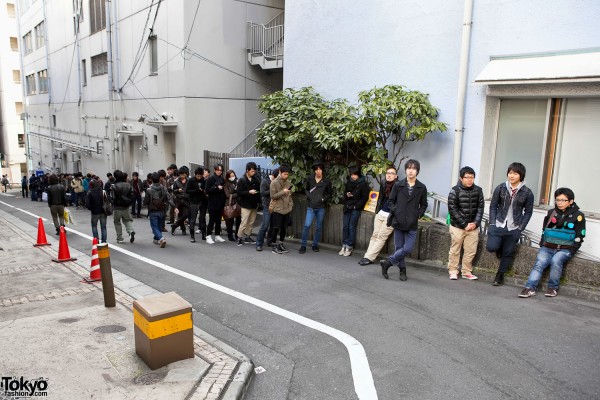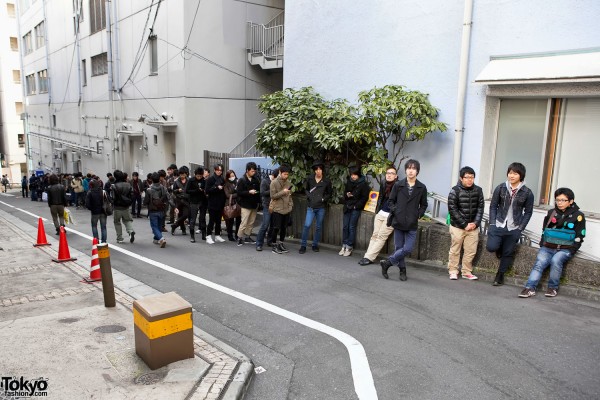 Just another street with a long line of people waiting for some shop to open. There were lines like this all over Shibuya.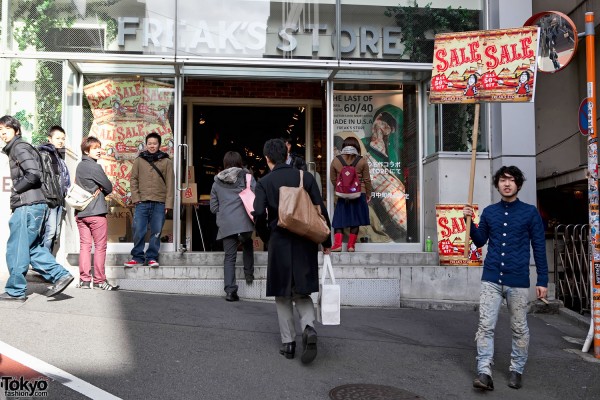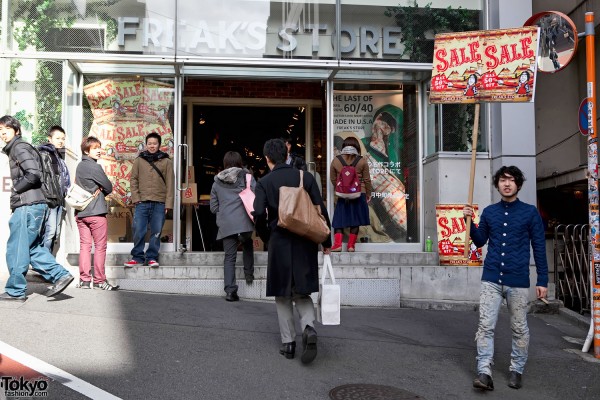 Freak's Store has a big sale and Fukubukuro.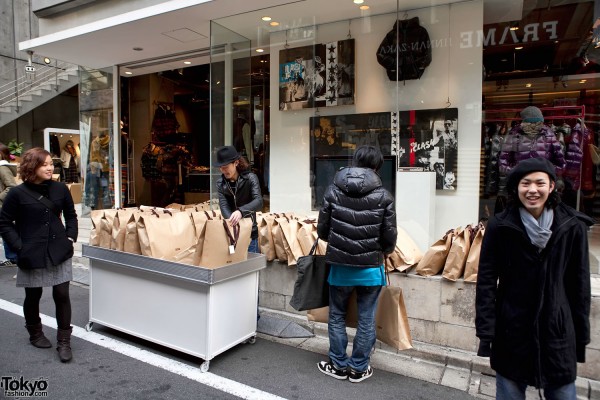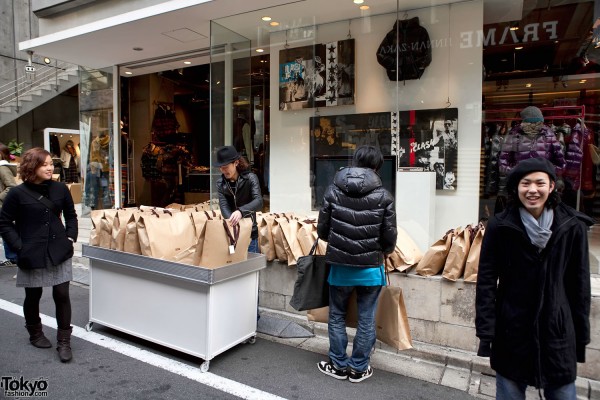 B2nd is one of the coolest chains of select shops in Tokyo. If you're looking for cool higher-level street brands (both Japanese and international), check them out. Not sure what was in the Lucky Bags!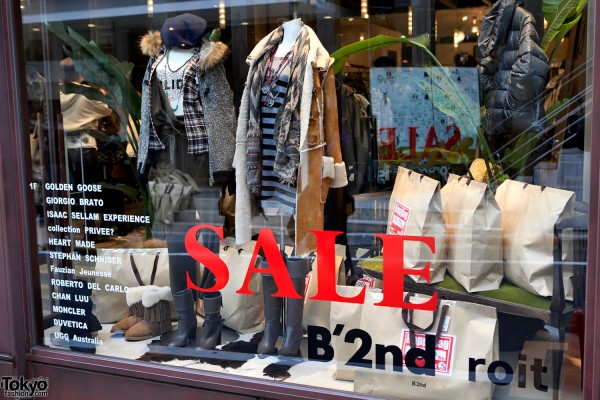 This store – called "ROIT" – is the female select shop run by the same company as B2nd. If you search for "ROIT" on Google, they will correct it to "RIOT". That's funny, except that it makes it hard to find the store online.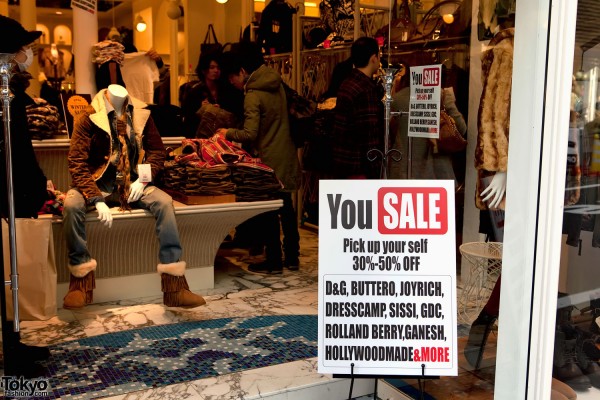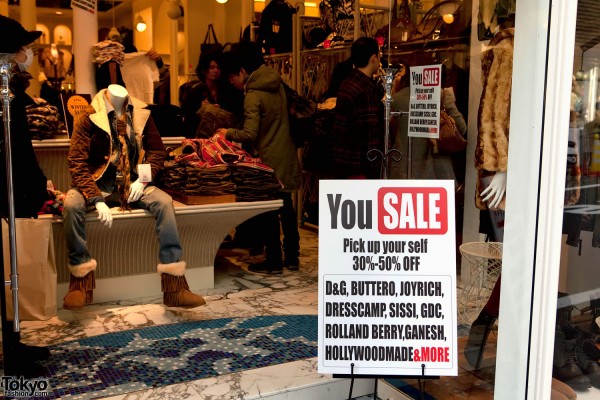 Free's Shop is having a "YOU SALE". Hmmm… why does that logo look so familiar?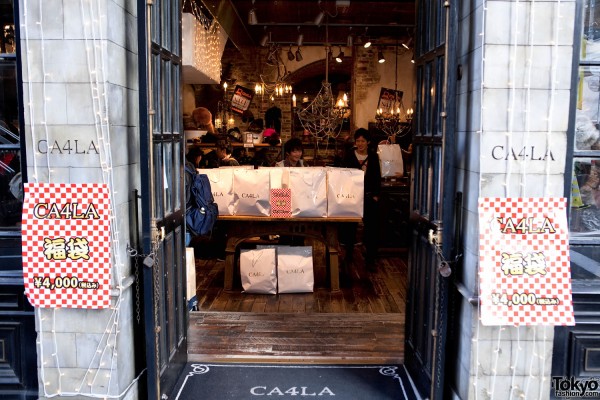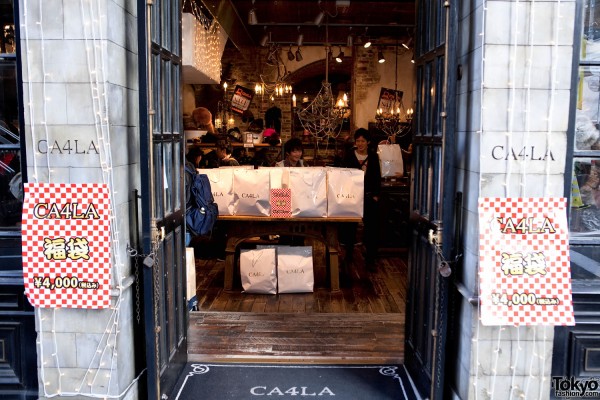 CA4LA Shibuya hat Fukubukuro.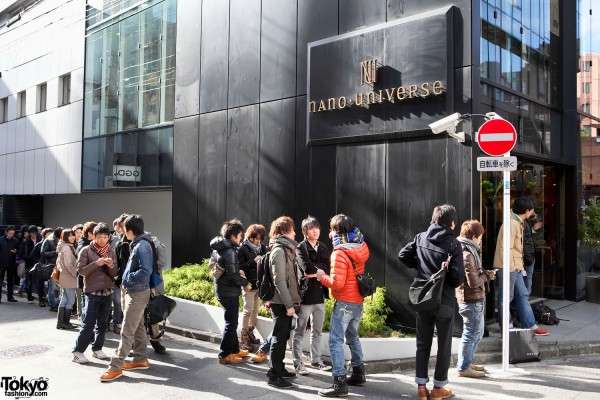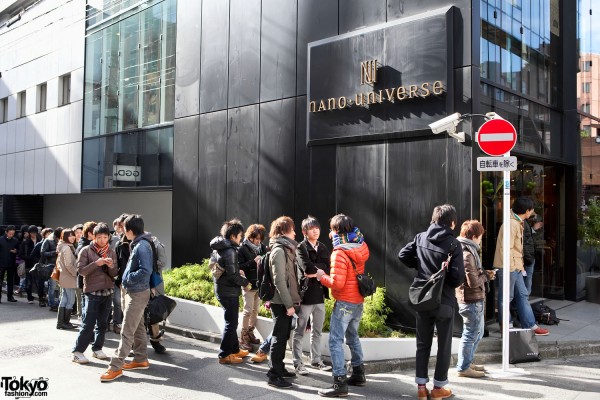 A line outside of Nano Universe Shibuya.

There's the Fukubukuro of the new 417 by Edifice shop in Shibuya.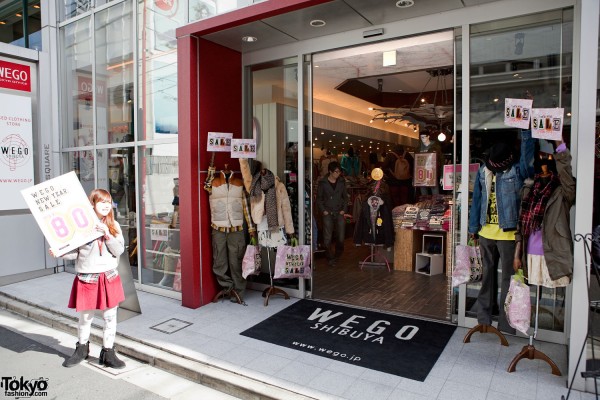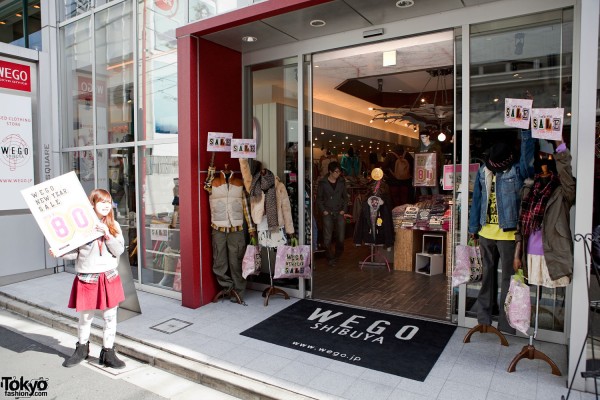 WEGO Shibuya. That girl's sign says "Someone Please Teach This Idiot How To Use A Camera In Bright Sunlight!" :-)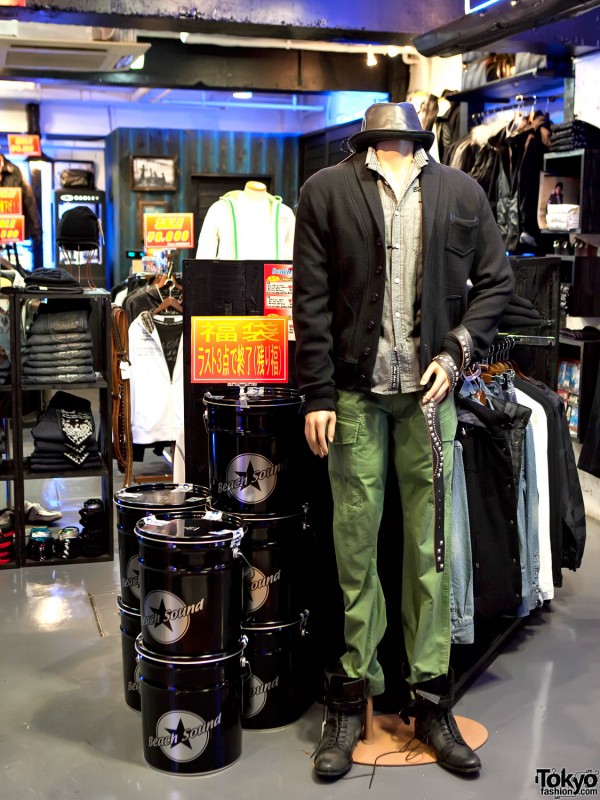 Beach Sound has bucket Fukubukuro instead of bags – like Adidas and True Religion.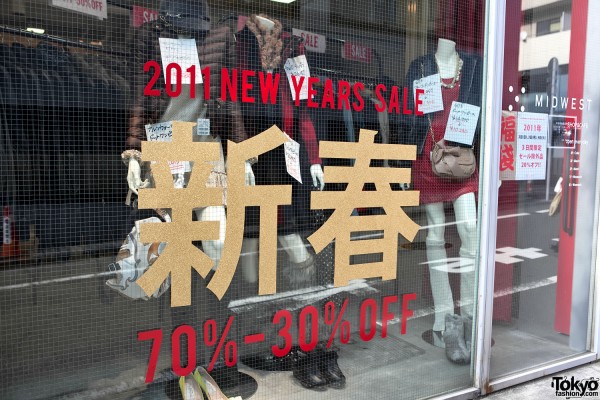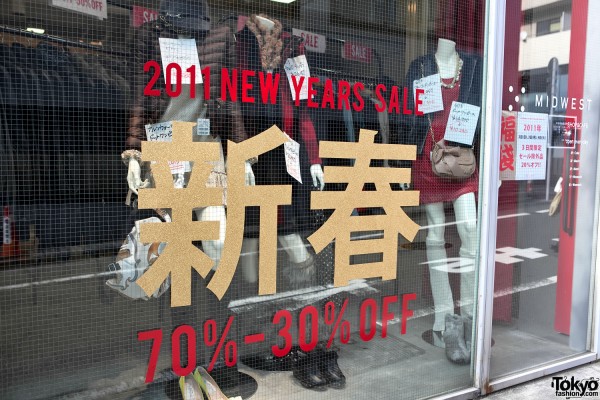 Some very big gold New Year kanji on the front of the awesome select shop Midwest in Shibuya. This is another one of the Tokyo select shops not to miss if you're looking for higher-end street-friendly fashion.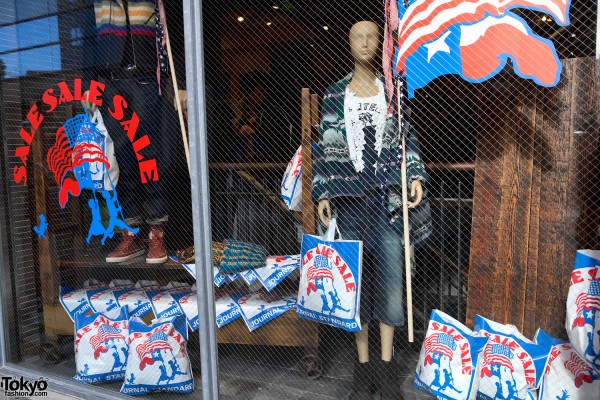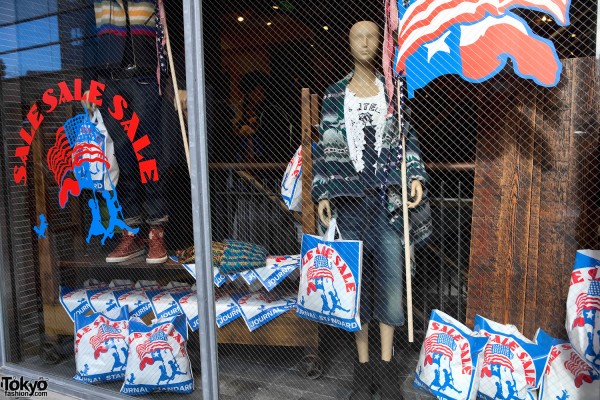 Journal Standard has American flags on their Fukubukuro this year. Not sure why.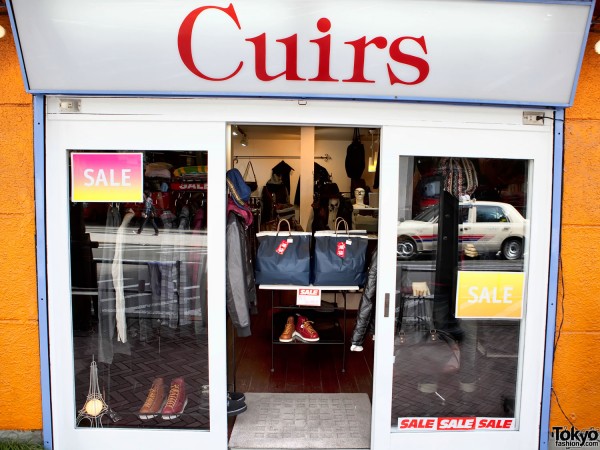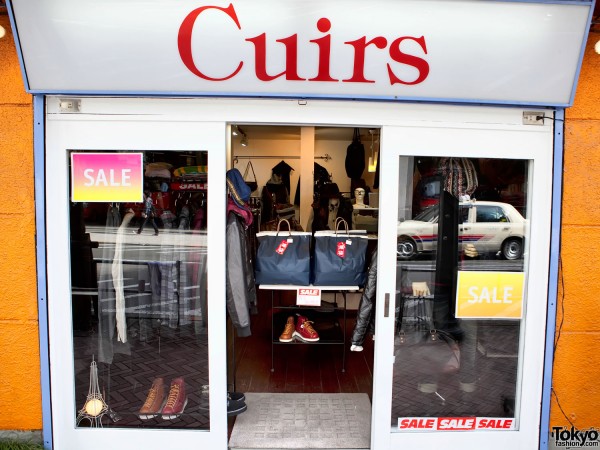 Small shop, big lucky bags.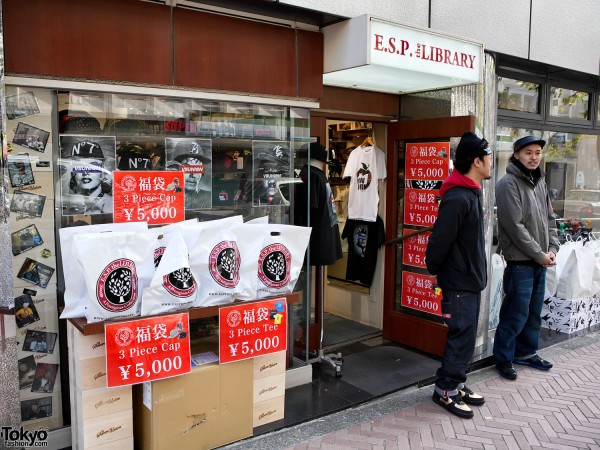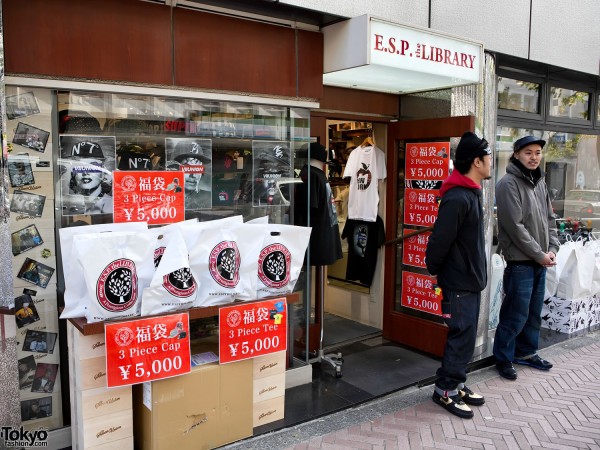 ESP the LIBRARY Fukubukuro features either "three piece cap" or "three piece tee". Better than that one we saw in Harajuku that featured three shoes. :-)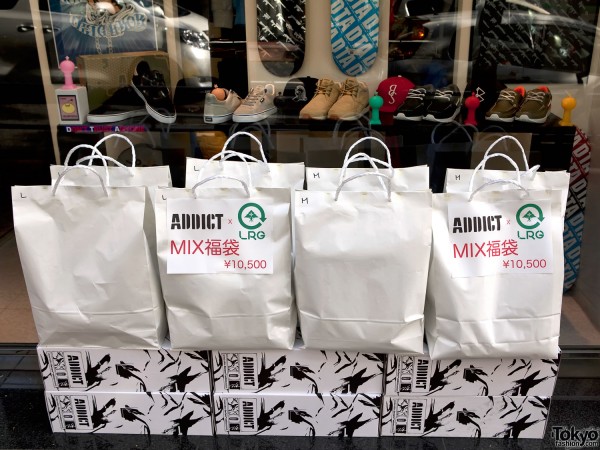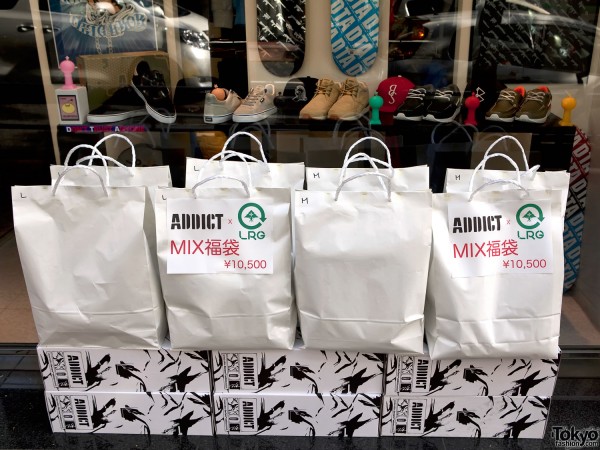 Tool Agit's Fukubukuro is a collaboration between Addict and LRG.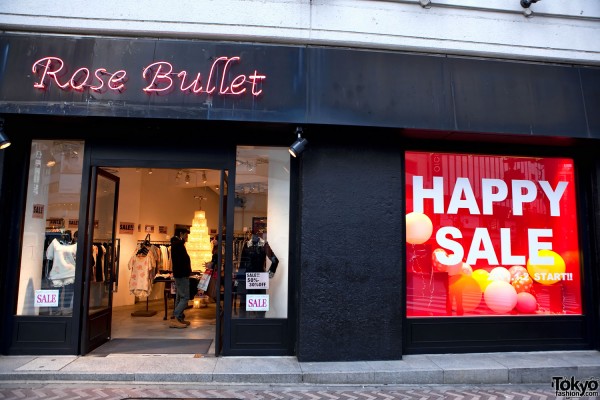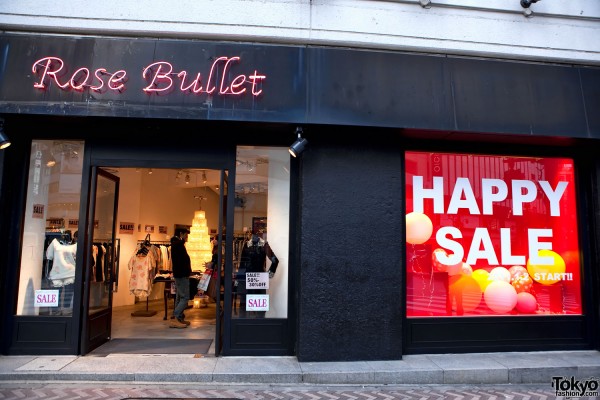 Rose Bullet Shibuya is having a Happy Sale.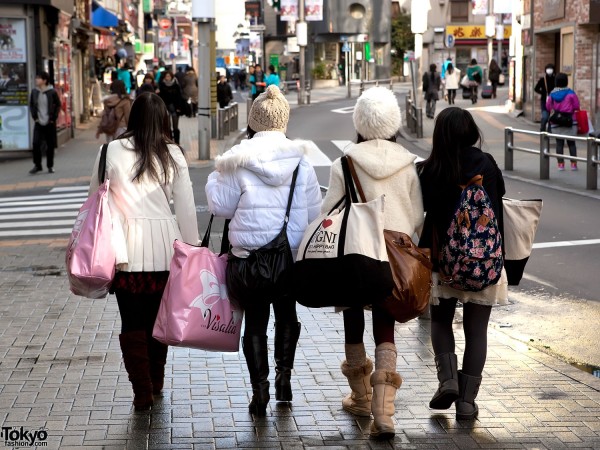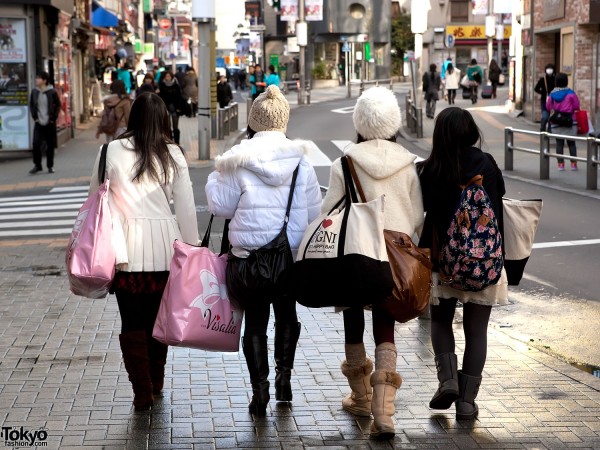 As we watch these happy shoppers walk off into the sunset with their lucky bags and New Year's Sale purchases, we'll end our 2011 Shibuya Fukubukuro report.
We hope you enjoyed this little photo tour of Shibuya on the first day of New Year's Sales! If you did have fun, don't forget to check out our 2011 Harajuku Fukubukuro and Takeshita Dori Fukubukuro reports as well. This also wraps up our Tokyo Fukubukuro coverage for 2011.
Happy New Year everyone, and here's hoping that you can visit these sales in person next year!