Fukubukuro Pictures – Harajuku 2011
Welcome to our second Harajuku 2011 New Year's Sale (Hatsuuri) and Lucky Bag (Fukubukuro) report! In our first report, we shared Takeshita Dori Fukubukuro pictures. Now it's time to see what was going on around the rest of Harajuku! We got up bright and early on January 1st (after a crazy New Year's Eve in Shibuya) to photograph one of the biggest shopping events of the year in Harajuku – the opening of the LaForet department store for Fukubukuro sales. After LaForet, we walked up and down Meiji Dori, Cat Street, and lots of streets with no names so that we could share the Harajuku New Year's shopping madness with you. We had a lot of fun. We hope you have fun looking at the pictures, too!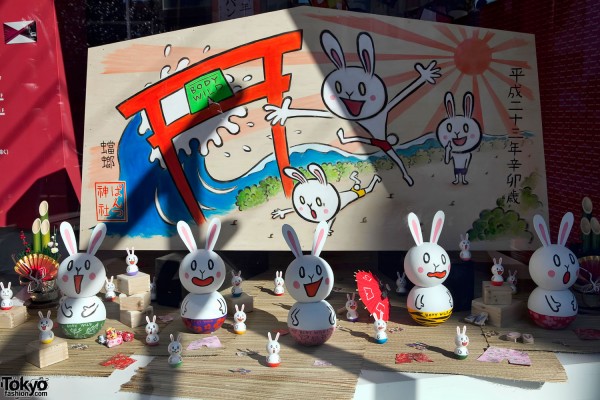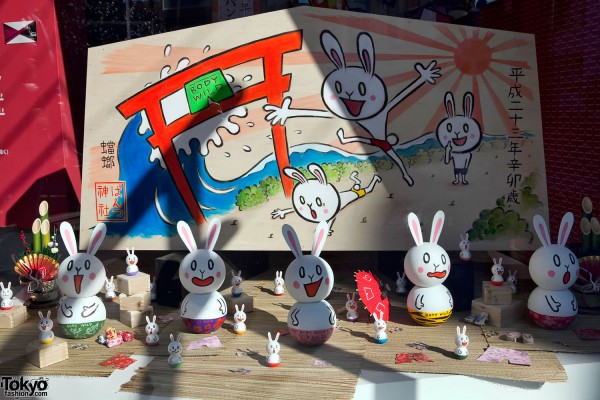 The first and most important stop on this trip was the legendary LaForet Harajuku. LaForet is a department store, and the dream shopping destination for many fashionable young people from all over the Japan. The News Years sales at LaForet start on January 1st – a full day earlier than Shibuya 109 (check our Shibuya Fukubukuro report). Every year, thousands of shoppers line up hours before the 11am opening to make sure they get first pick of sale items and the much coveted Fukubukuro. This year, LaForet's big opening started with a bang – literally!
After leaving LaForet, we walked down one side of Meiji Dori, then back on the other side. We then hit Cat Street, wandered around side streets, alleys, dirt roads, stream beds, and just about anywhere else we thought we might find a sale or a Lucky Bag. These photos were taken over many hours of walking during a two-day period, so some of the popular shops may have been sold out of Fukubukuro by the time we got to them, and others we probably just missed from delirium. That said, we think you'll agree that we cover a lot of Harajuku in this report. As always, you can click on any of the photos to see them in high resolution (and we recommend that you do). Enjoy the photos and let us know what you think!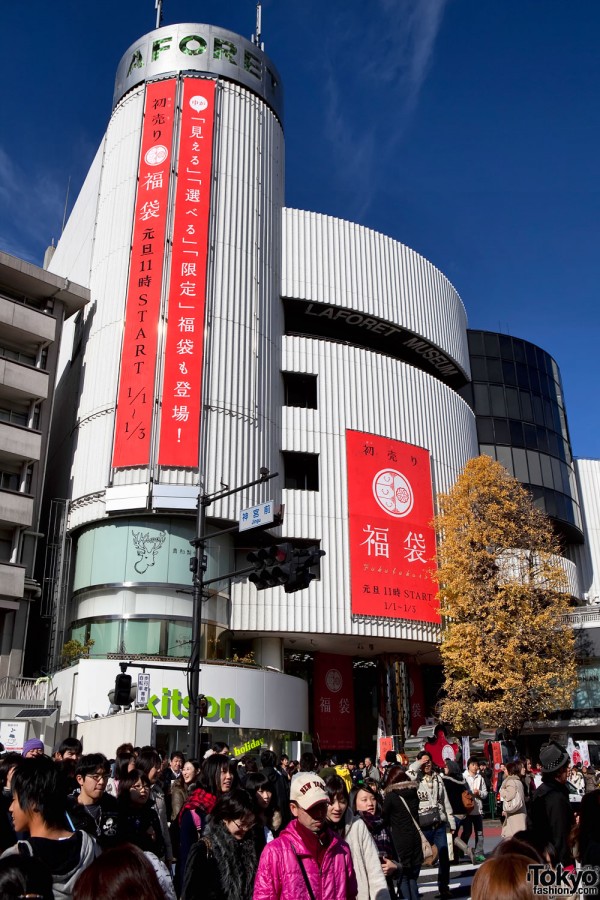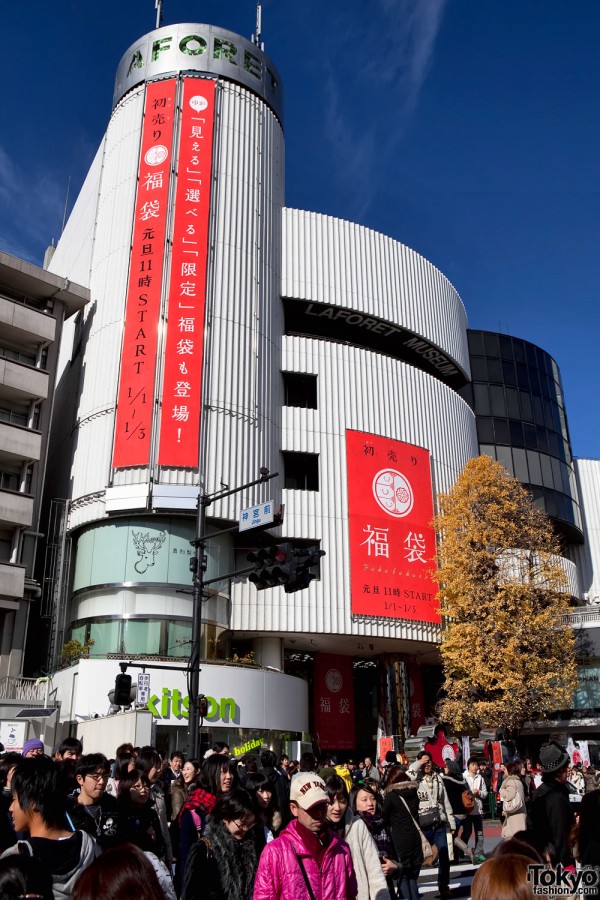 LaForet Harajuku decorated for New Year's Day 2011.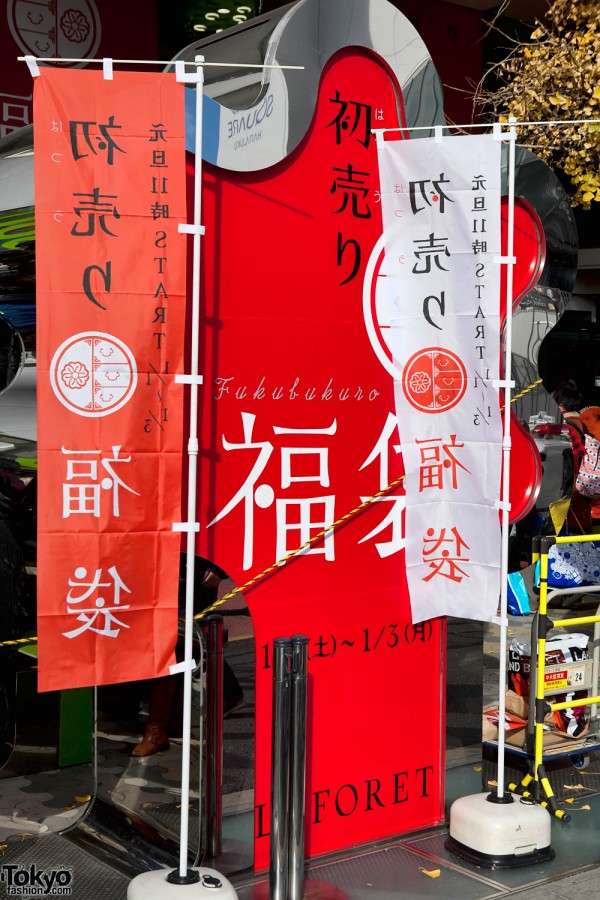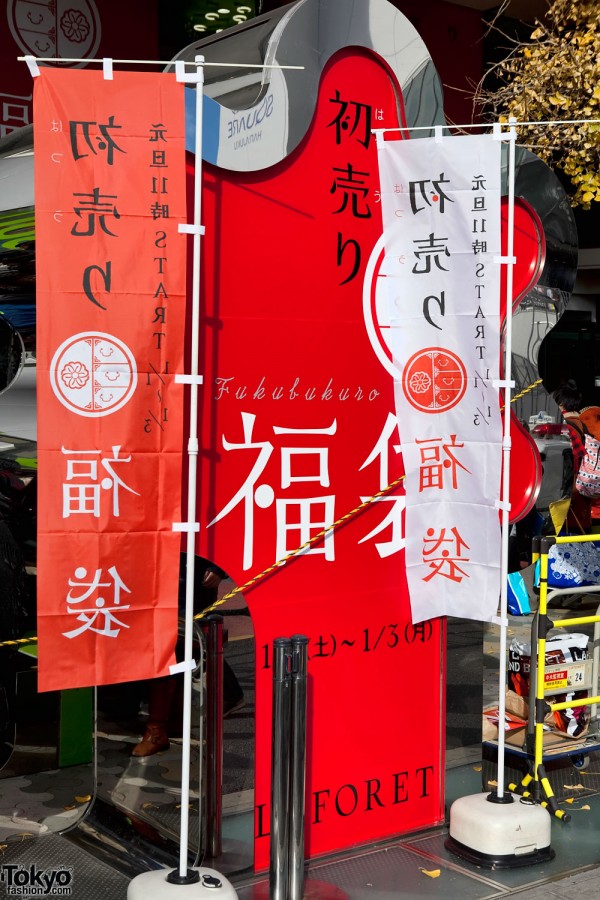 LaForet Harajuku.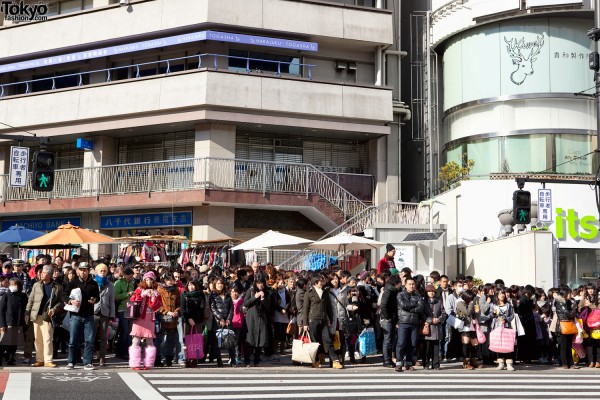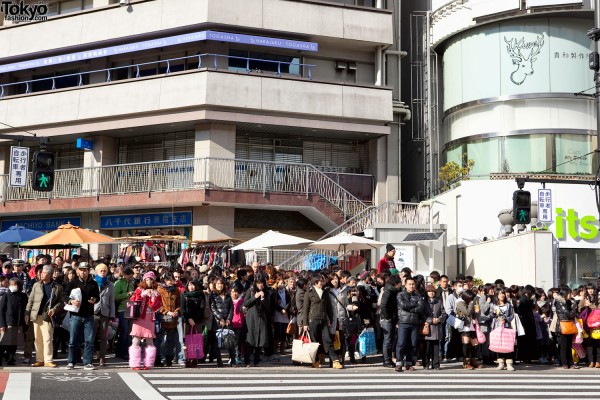 Huge crowd crossing the street in front of LaForet Harajuku.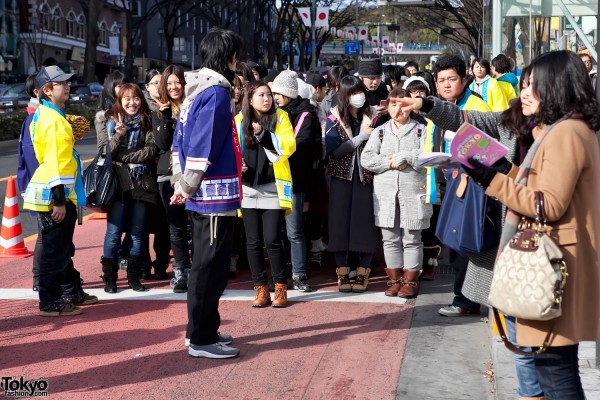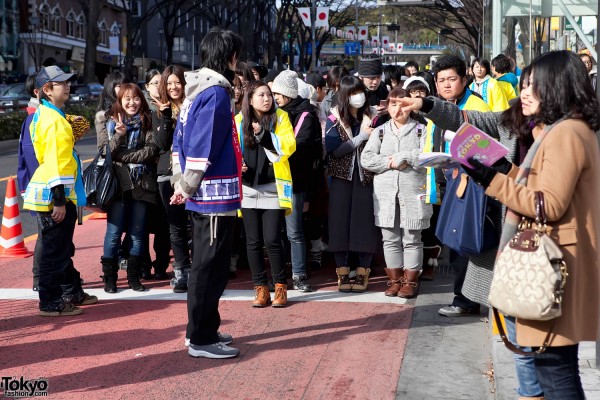 LaForet Harajuku opening day line.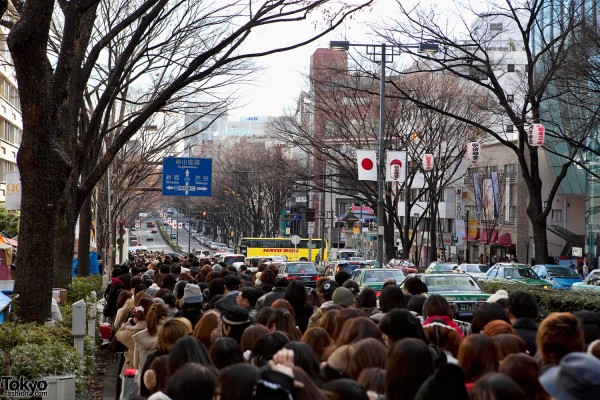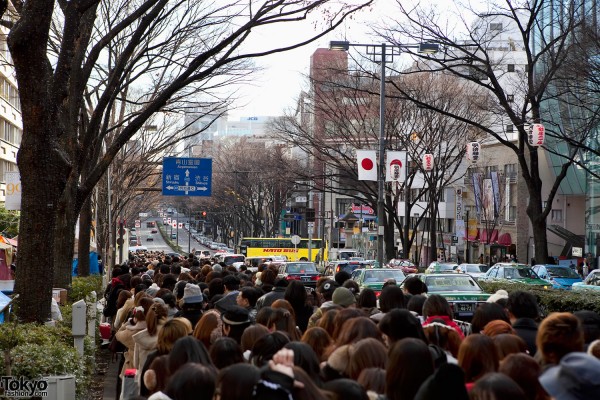 More LaForet Harajuku line – the crowd is HUGE!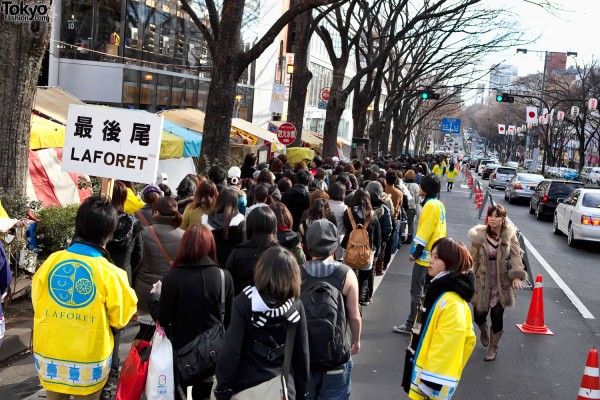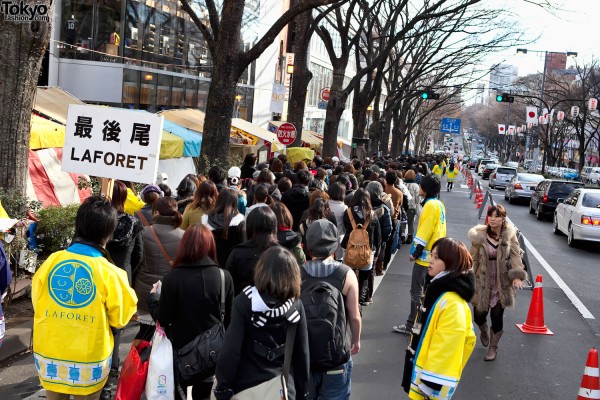 The end of the line for LaForet Harajuku New Year's day sale. This is all the way up Omotesando Dori, near Harajuku Station. If you look in the distance in this photo, the line goes beyond the little blue sign way down the street.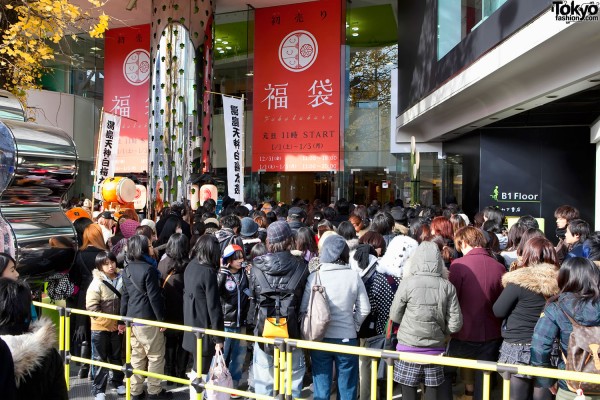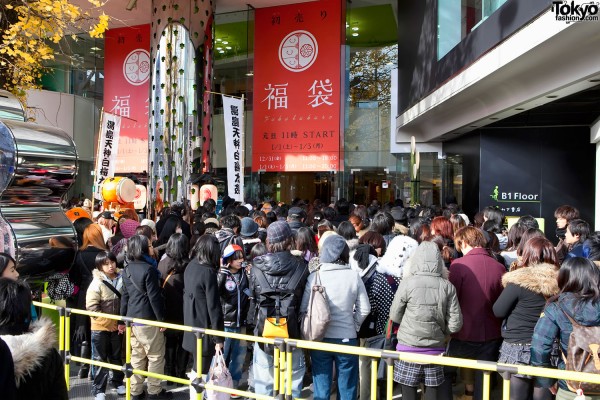 The front of the line waiting to get into LaForet Harajuku on New Year's Day. If you want to see a short video of the line moving, check the TokyoFashion YouTube page.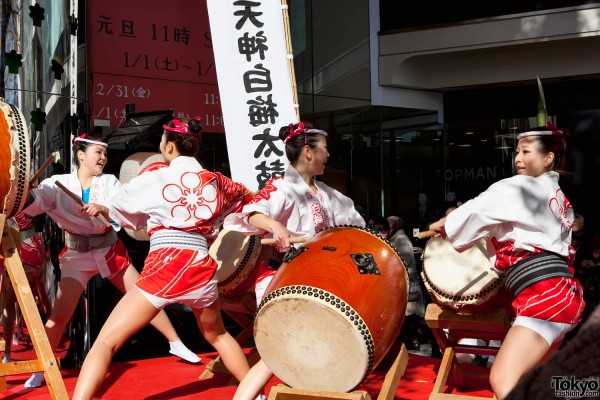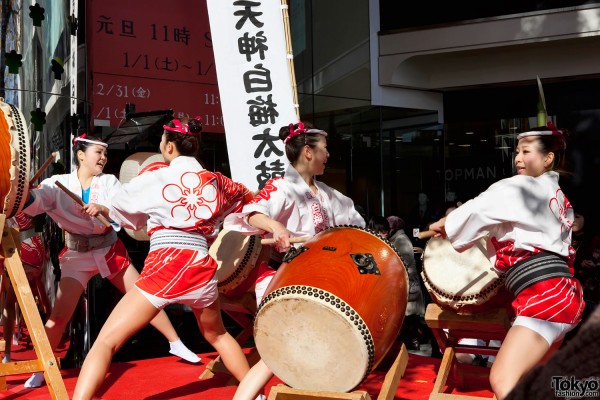 As the doors opened at LaForet for the first time in 2011, this Taiko drum group began pounding away. It was an awesome moment. Check out our video of the Taiko drummers playing as LaForet opens on YouTube here.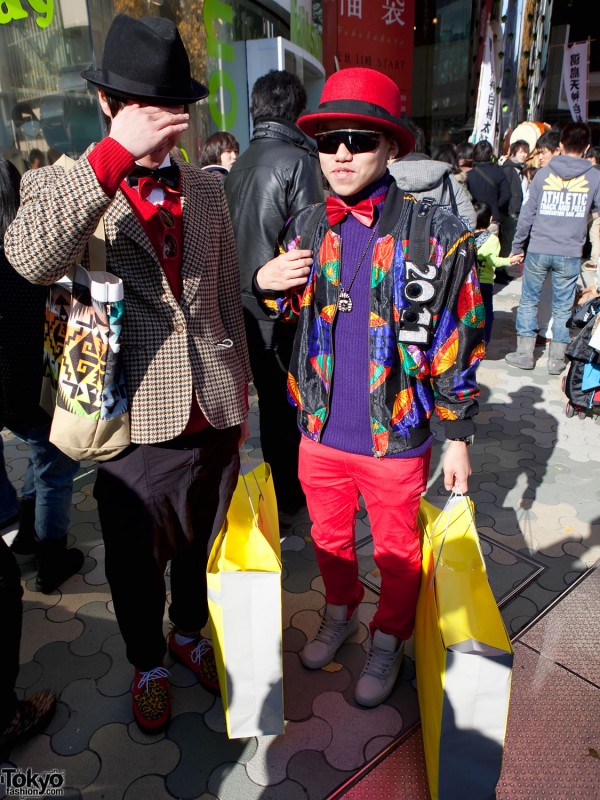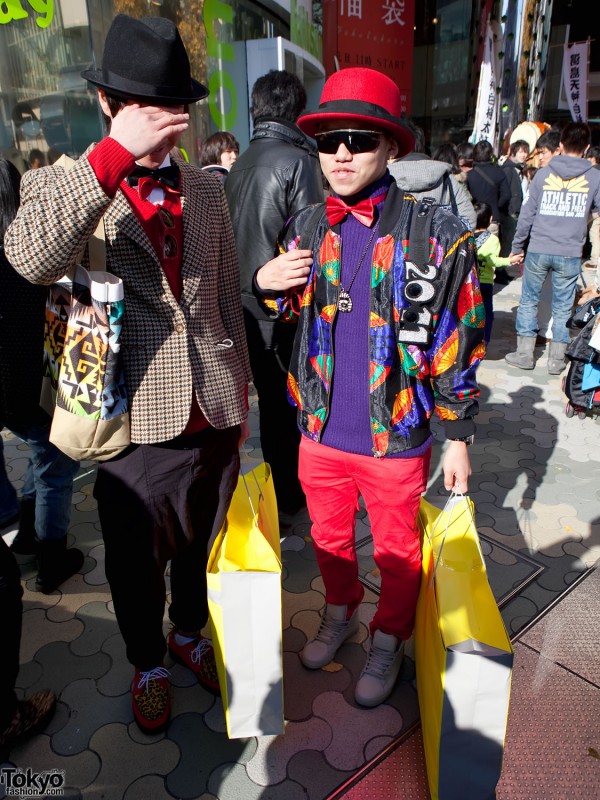 Two guys with Swagger fukubukuro outside of LaForet.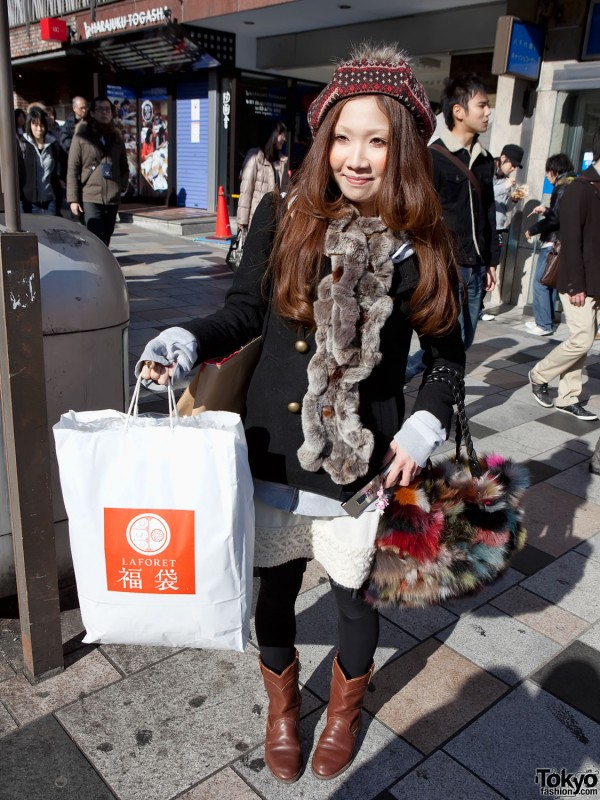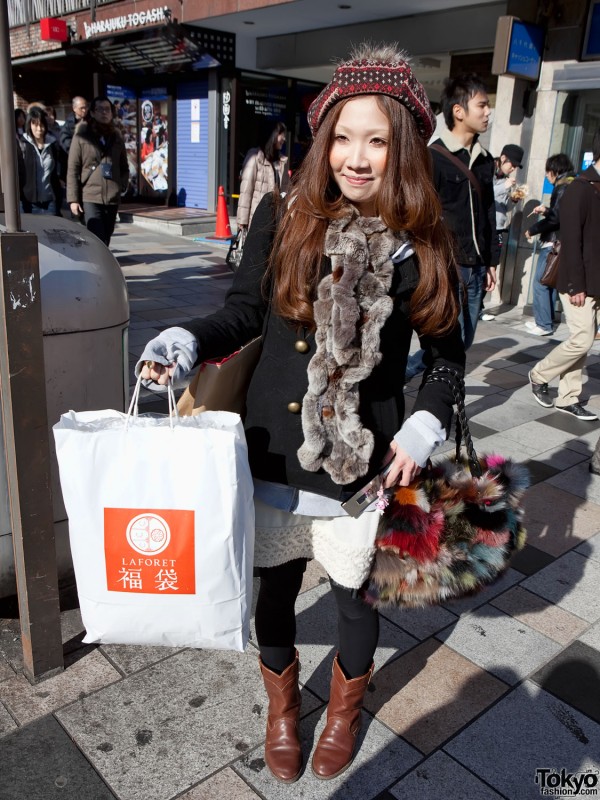 Here's a cute girl showing off her purchase from LaForet.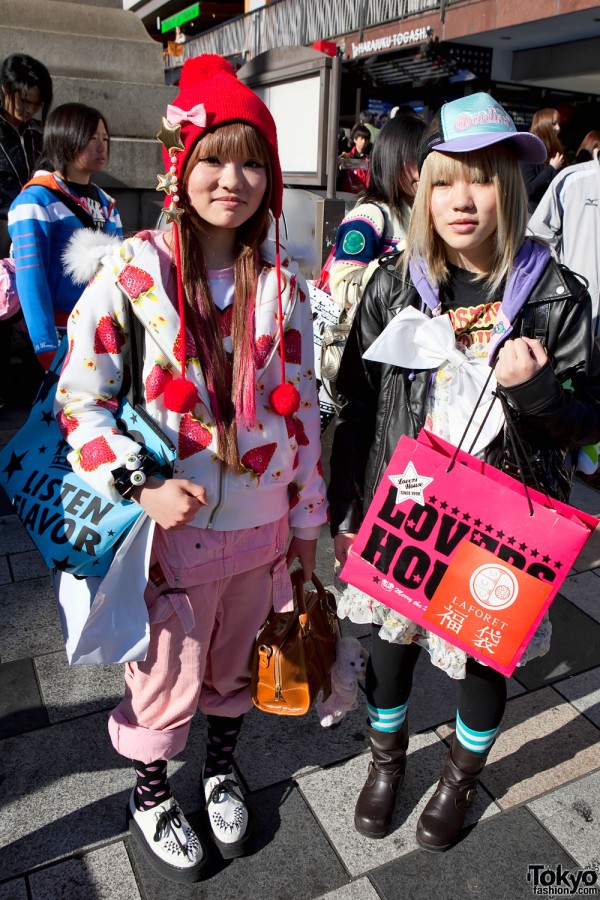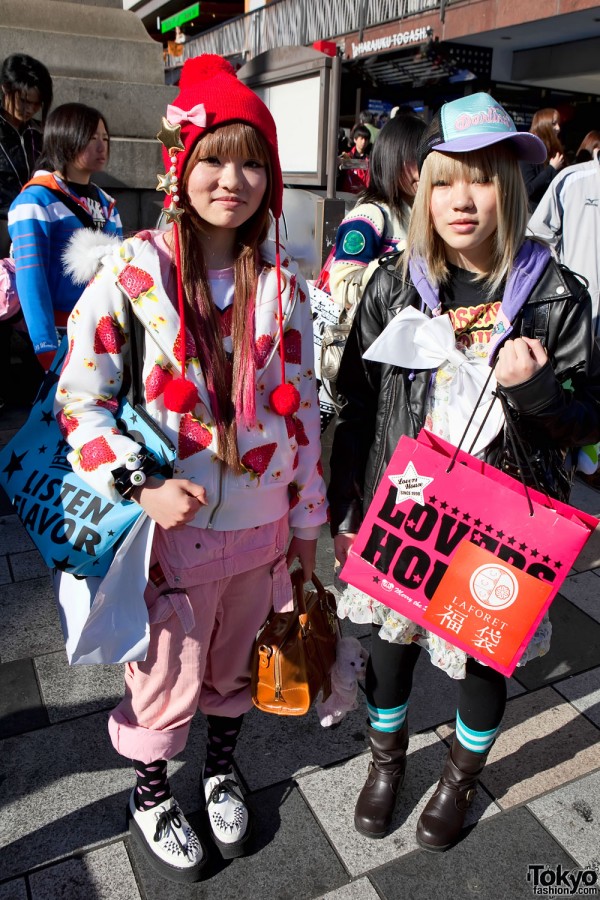 Lovers Rock & Listen Flavor shoppers near LaForet Harajuku.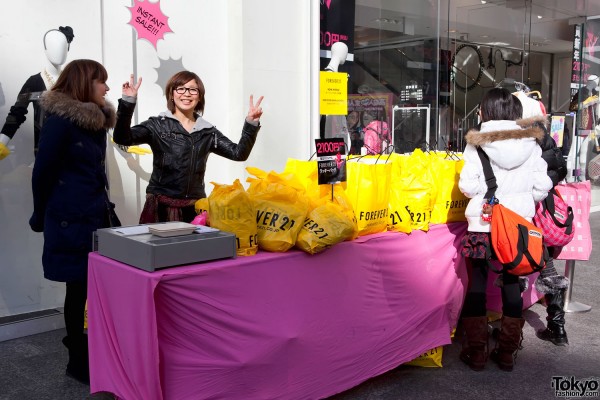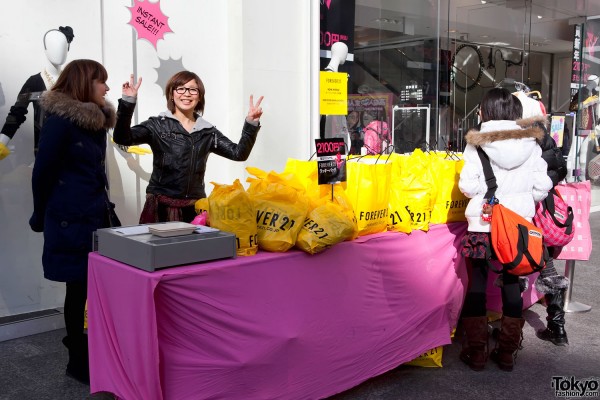 Forever 21 fukubukuro.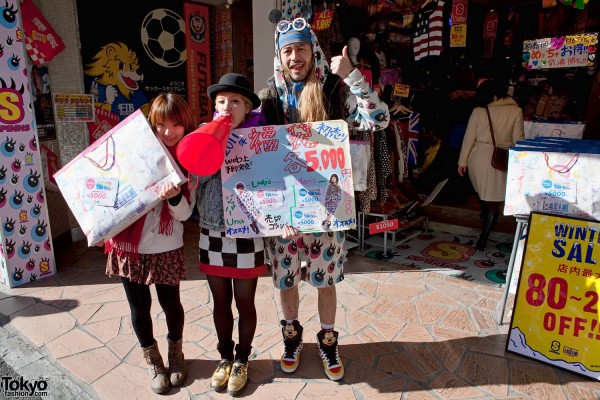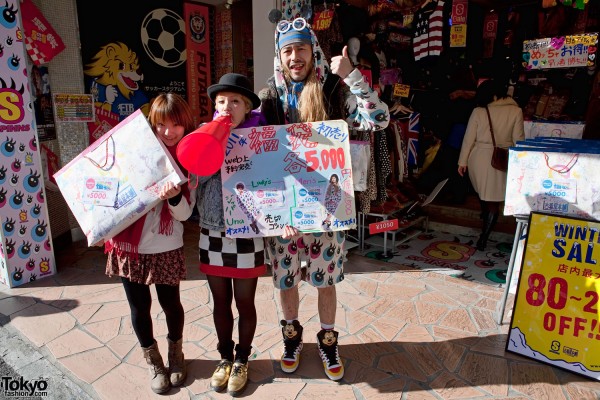 Spinns Harajuku fukubukuro.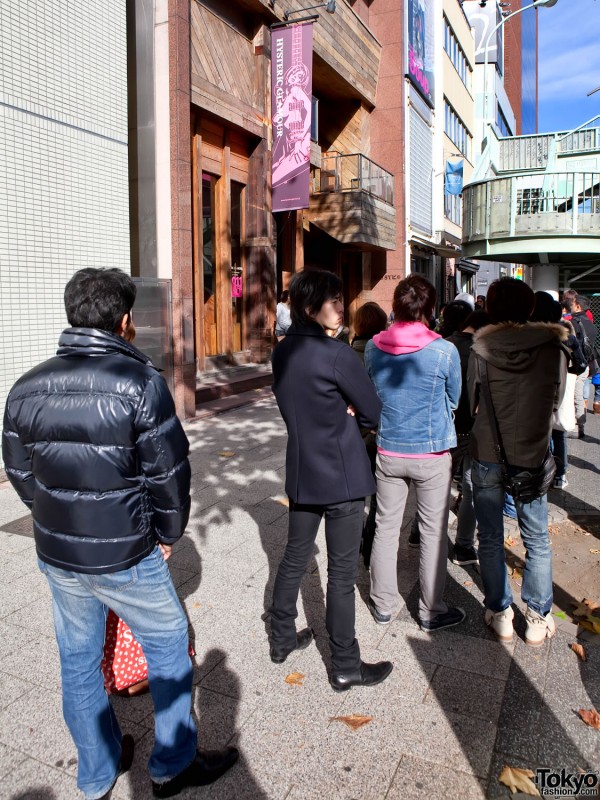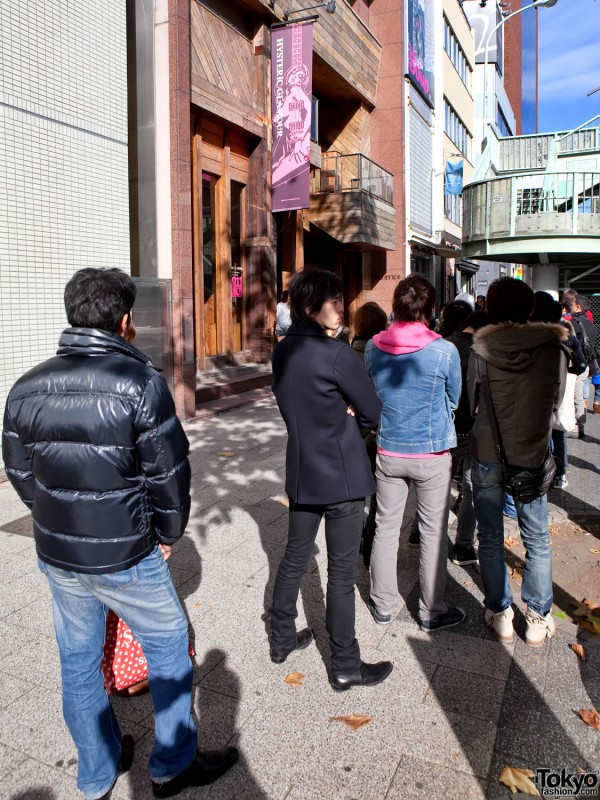 The line for Hysteric Glamour mystery bags.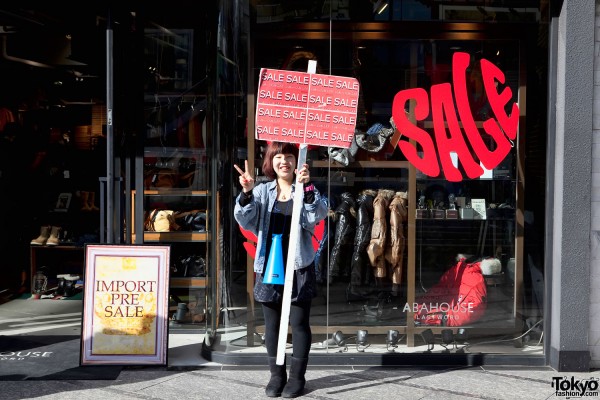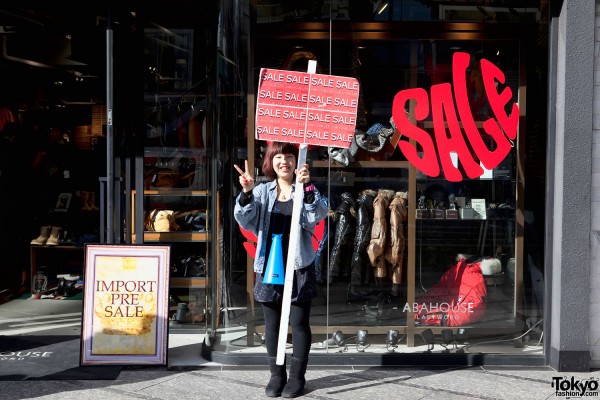 Fun Abahouse sales girl.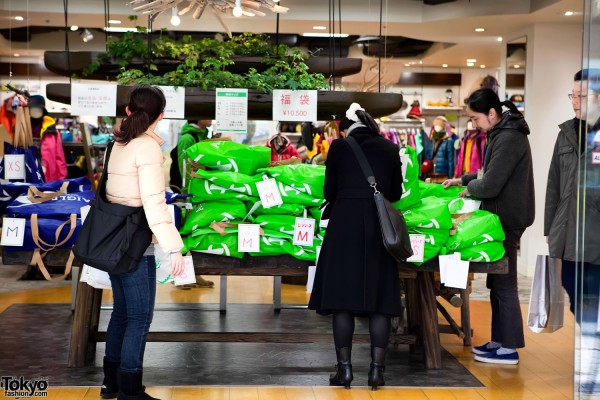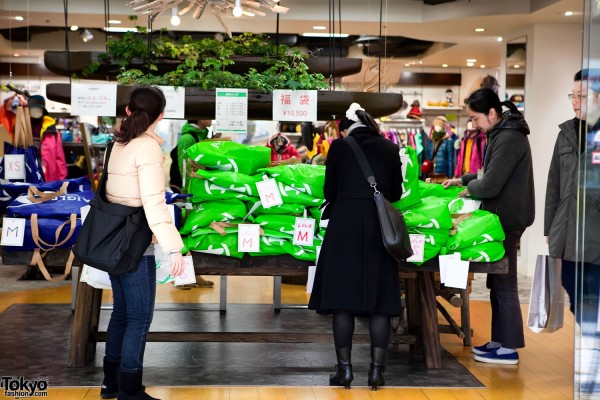 Aigle fukubukuro.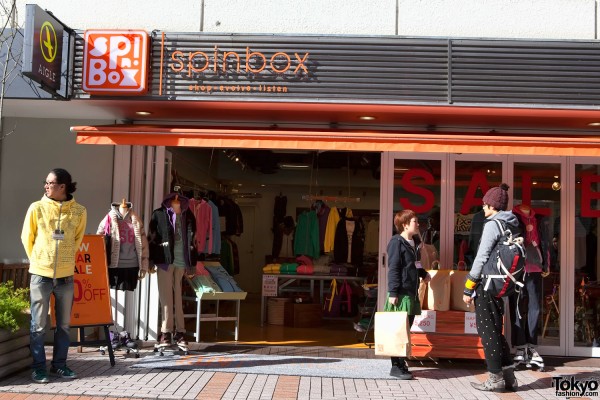 Spinbox Fukubukuro.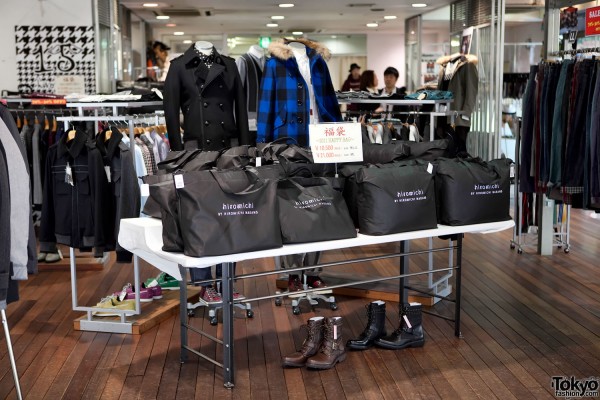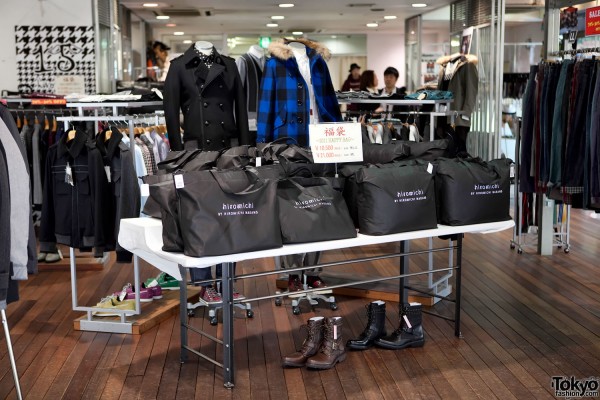 Hiromichi fukubukuro.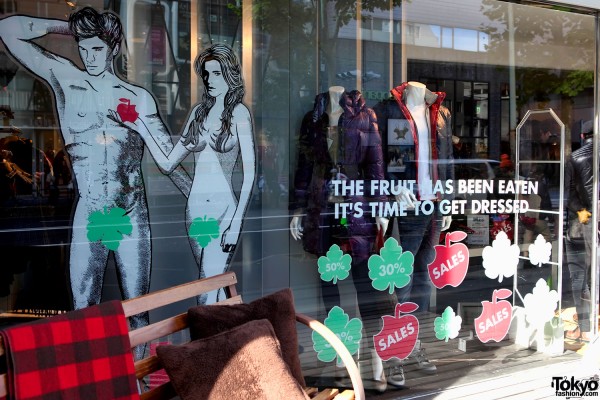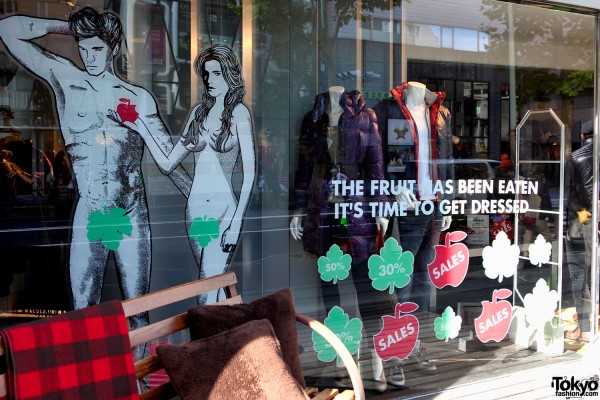 A funny sale window at Gas Harajuku.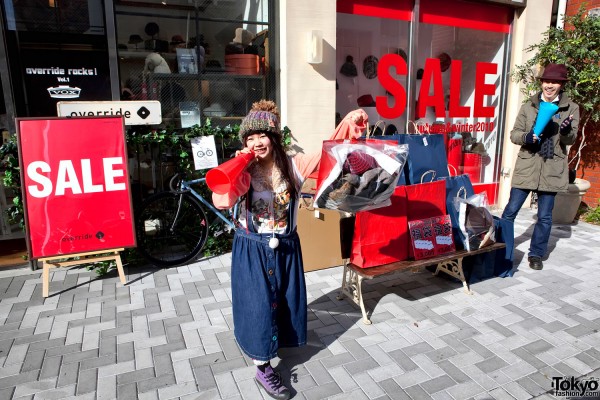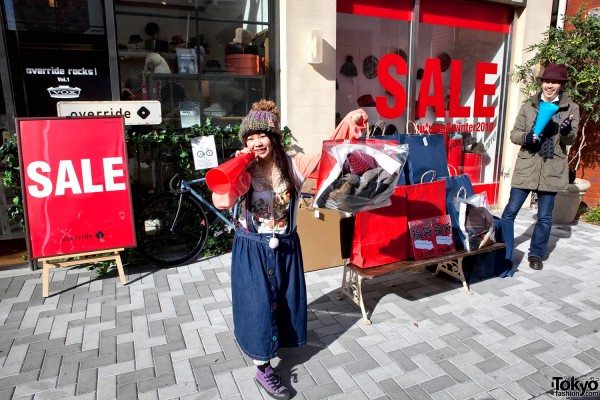 Too cute Override sales girl with a megaphone & fukubukuro.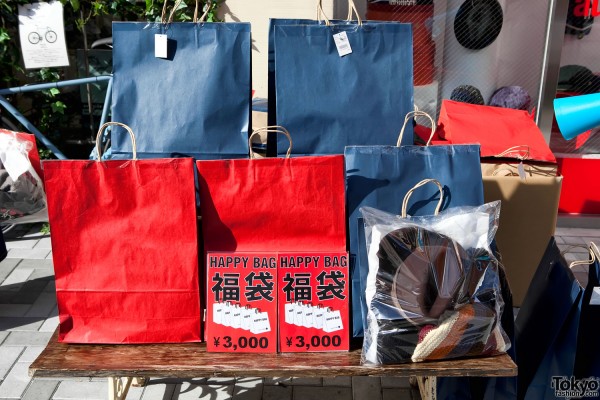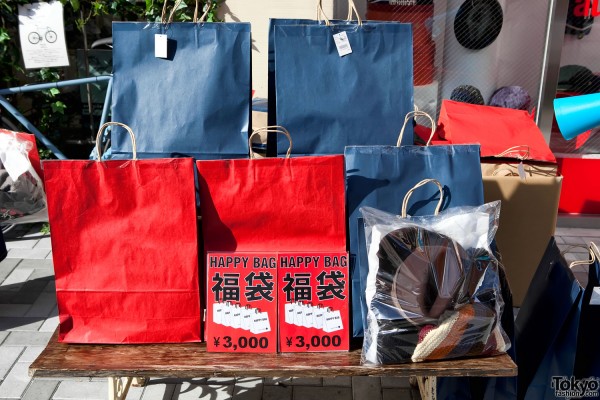 Override hat shop fukubukuro.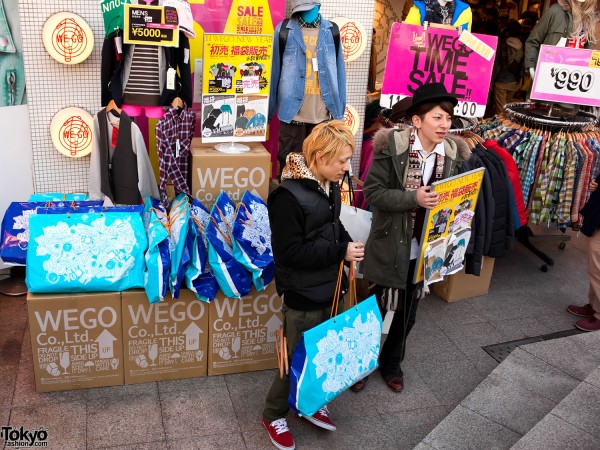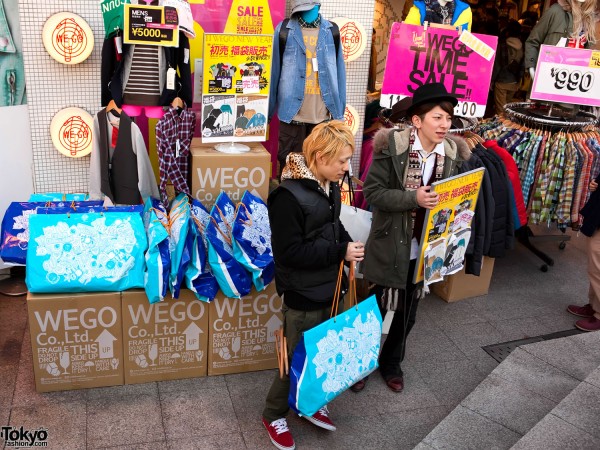 WEGO fukubukuro.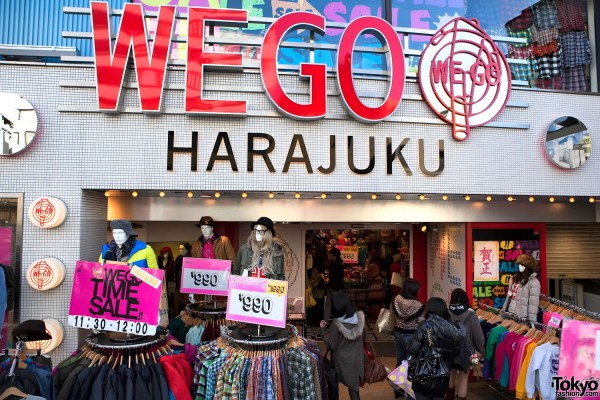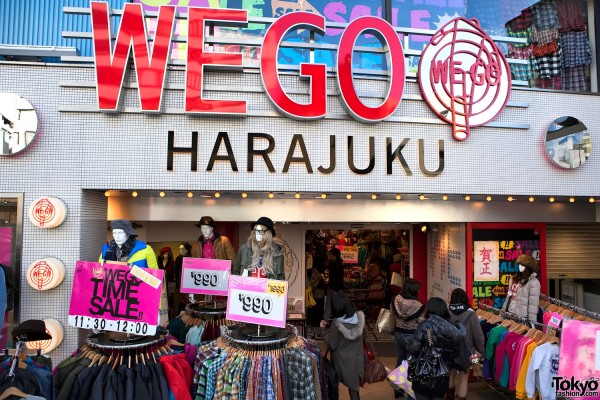 Big New Year sales at WEGO Harajuku.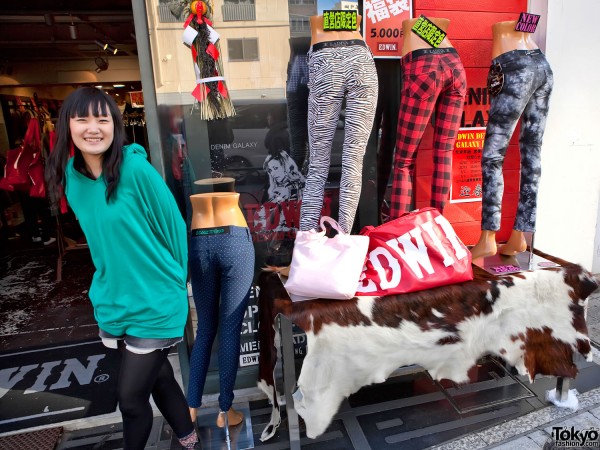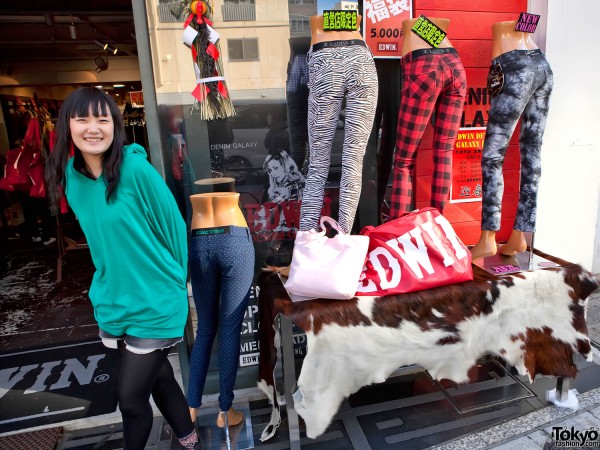 Edwin lucky bags.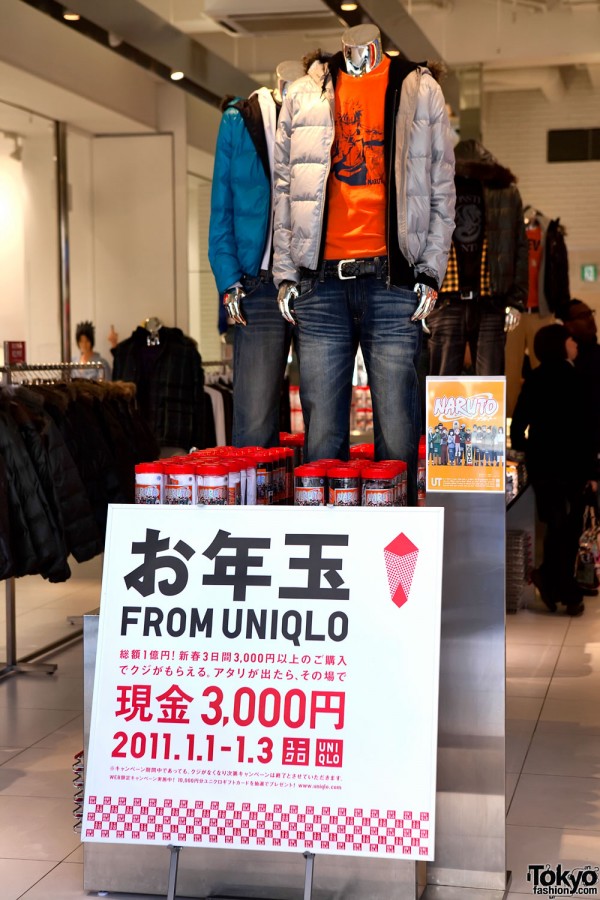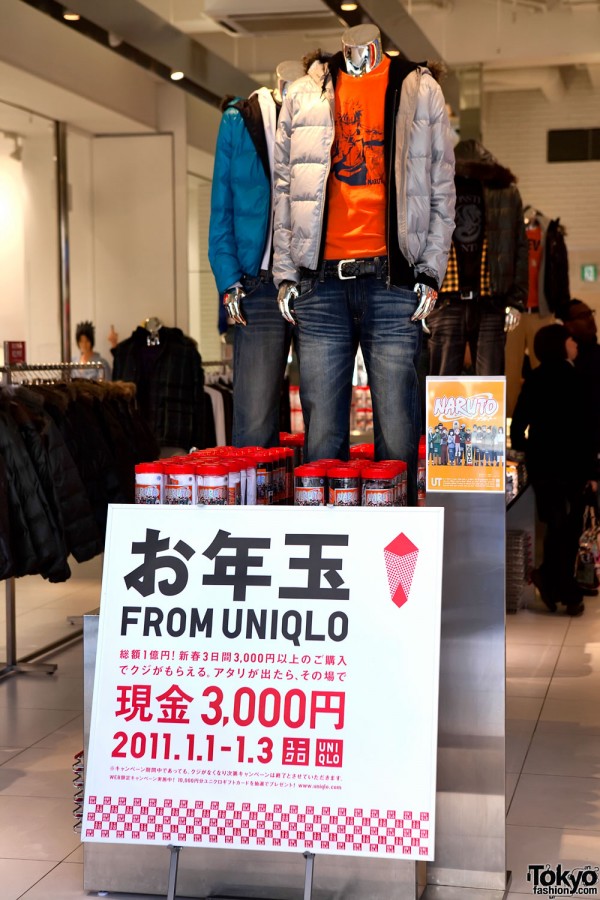 A sale at UT (Uniqlo T-shirt shop) in Harajuku.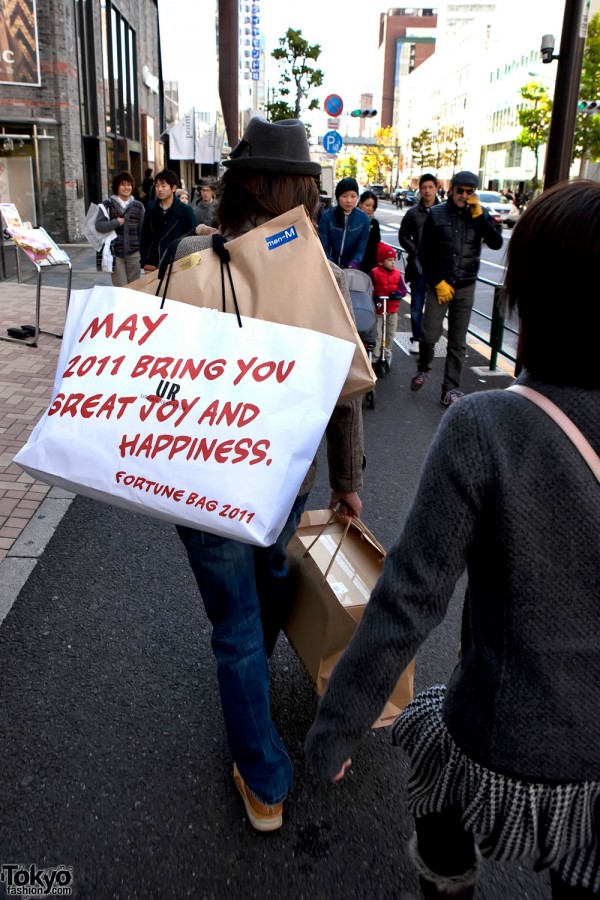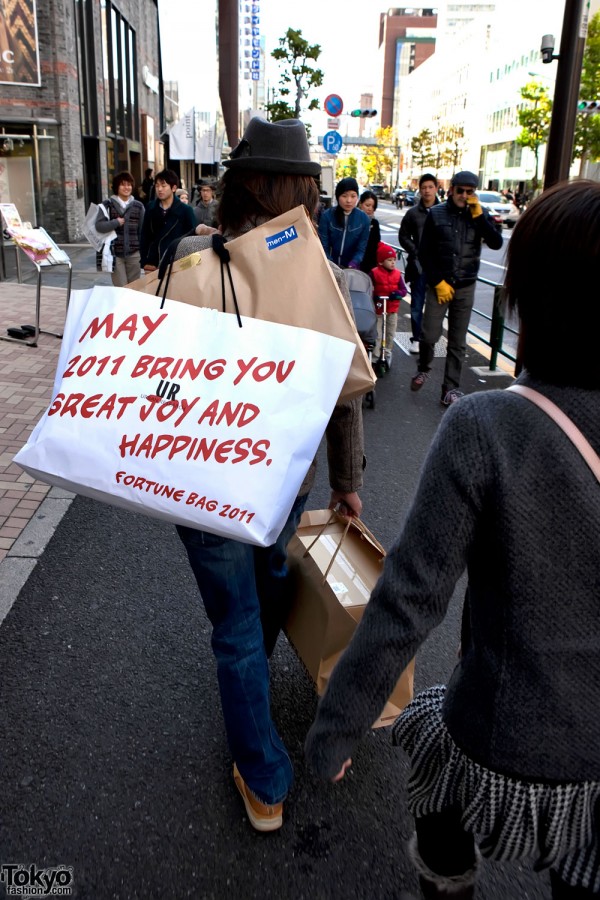 May 2011 bring you great joy and happiness!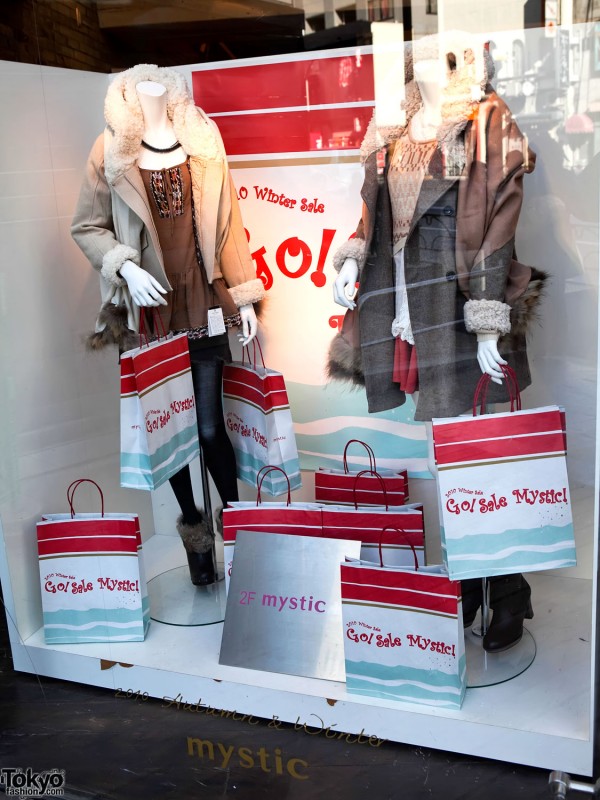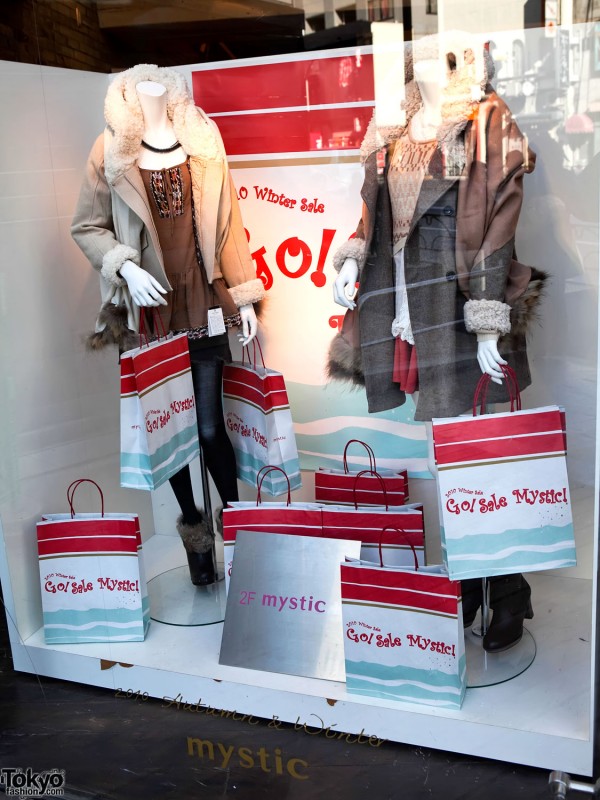 Mystic Fukubukuro.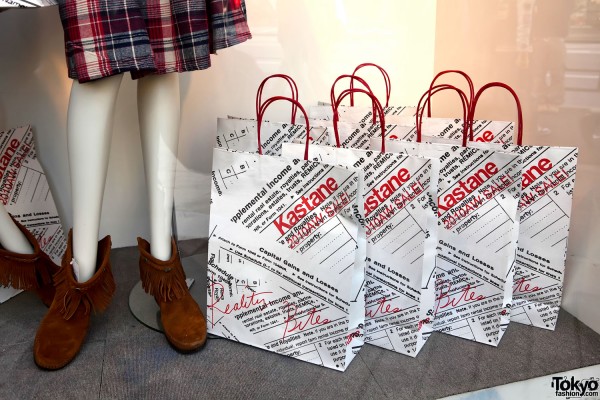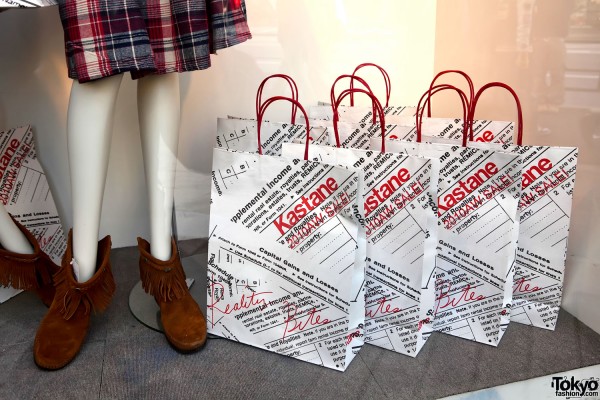 Kastane fukubukuro.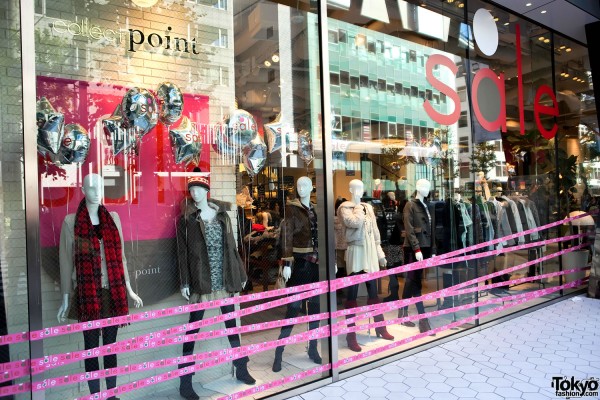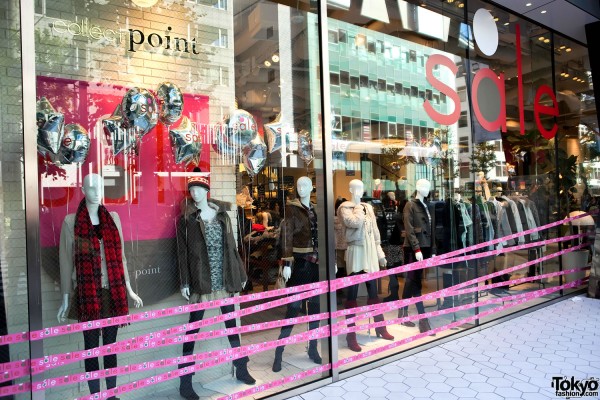 Collect Point New Year Sale.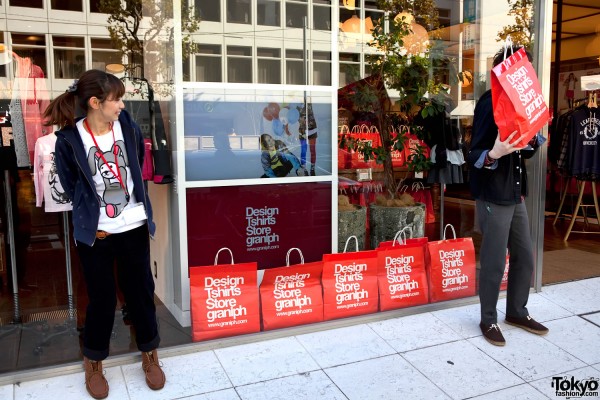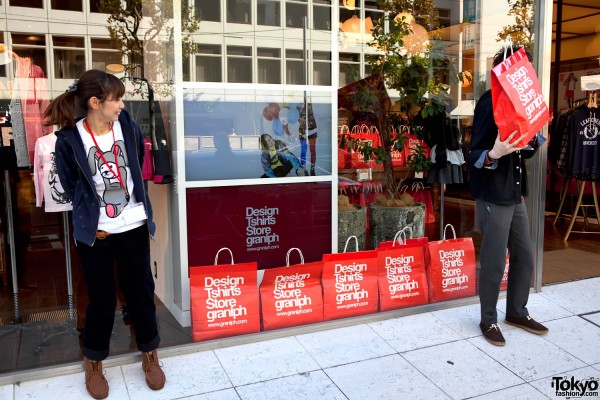 Graniph fukubukuro.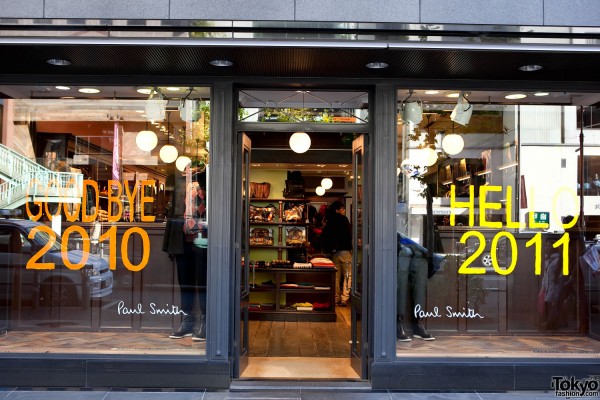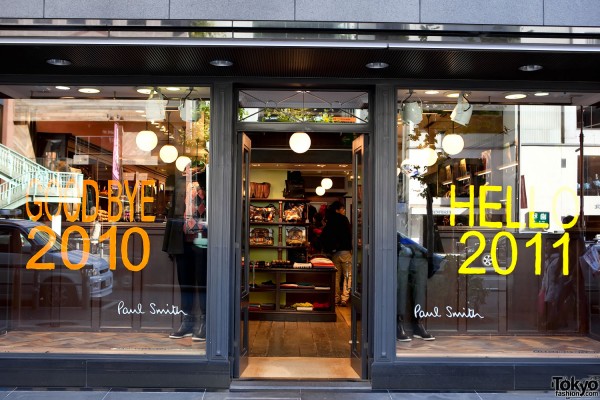 Paul Smith says, "Goodbye 2010, Hello 2011."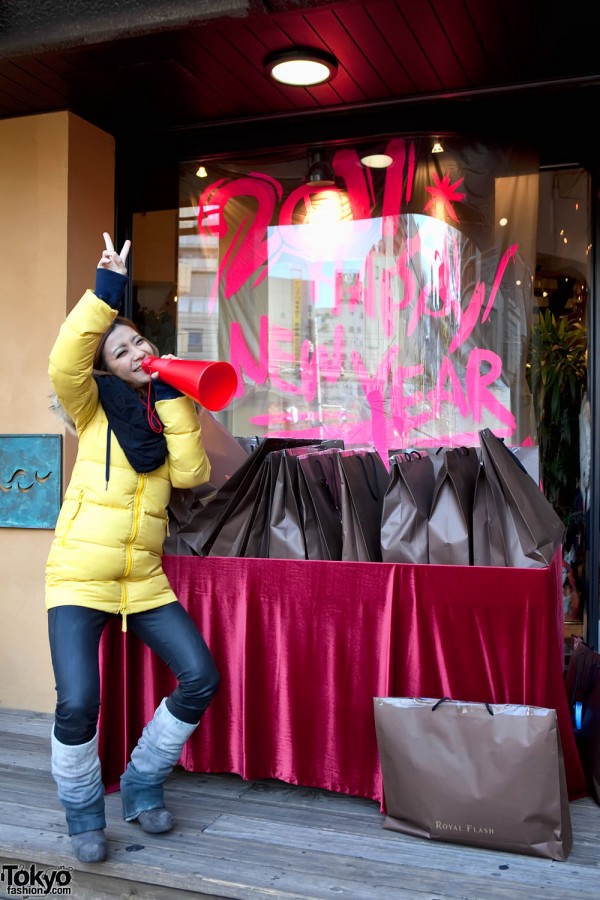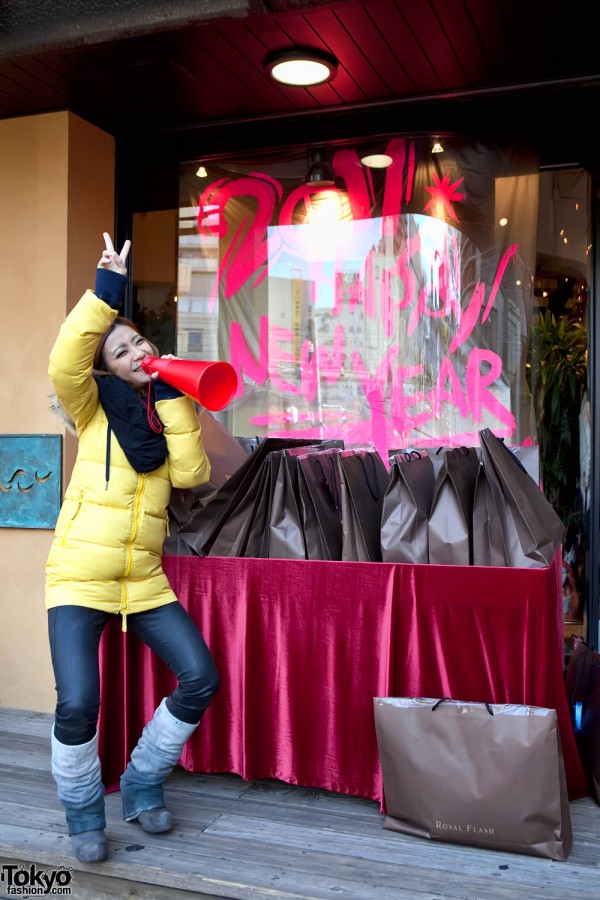 Awesome Royal Flash fukubukuro girl.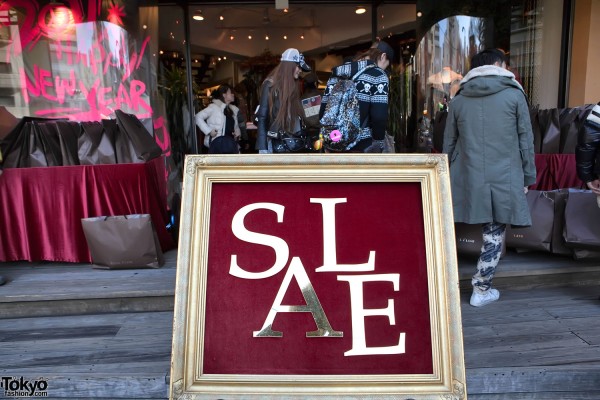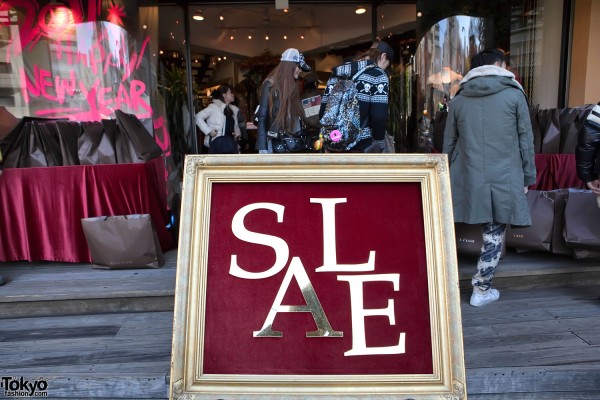 SALE!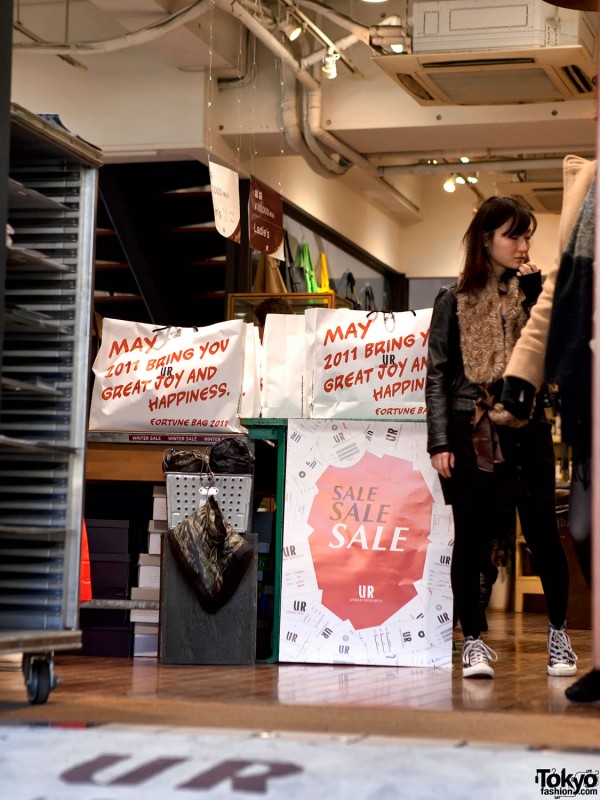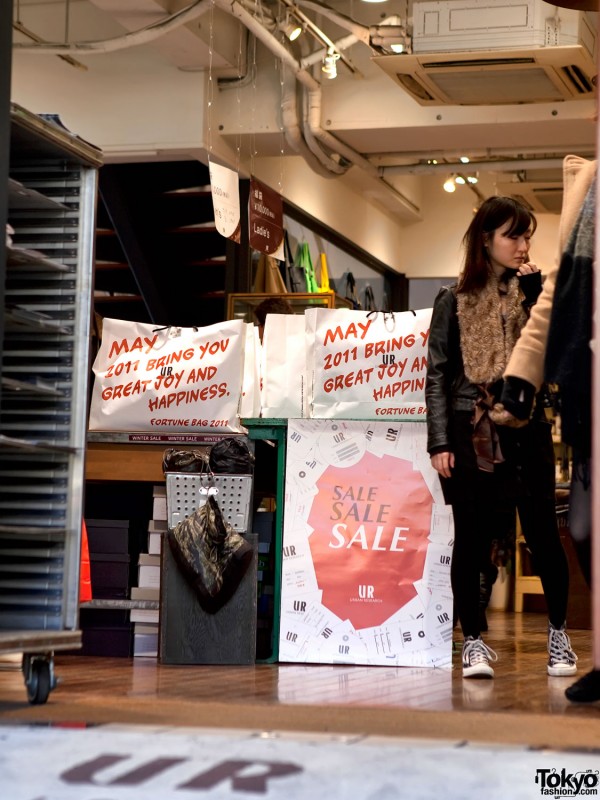 Urban Research fukubukuro.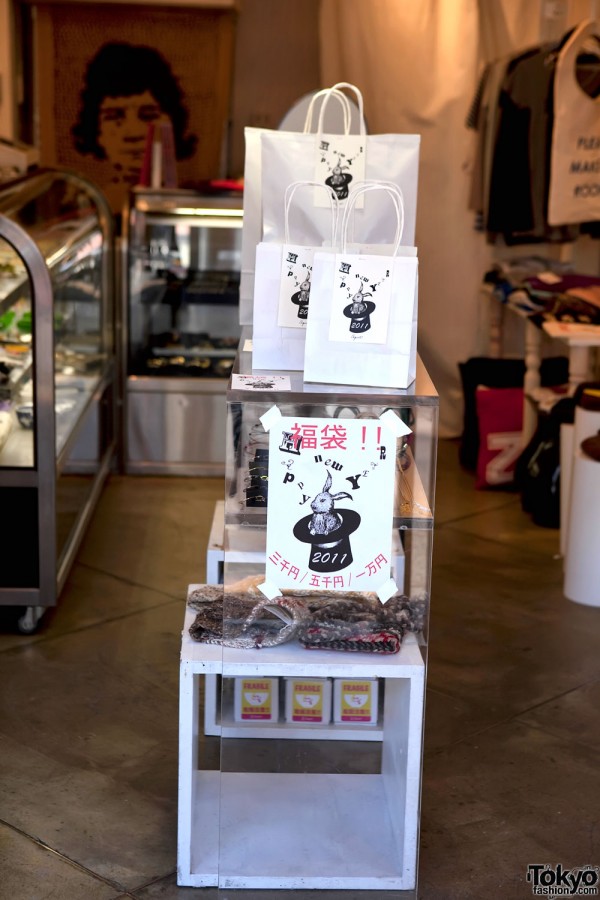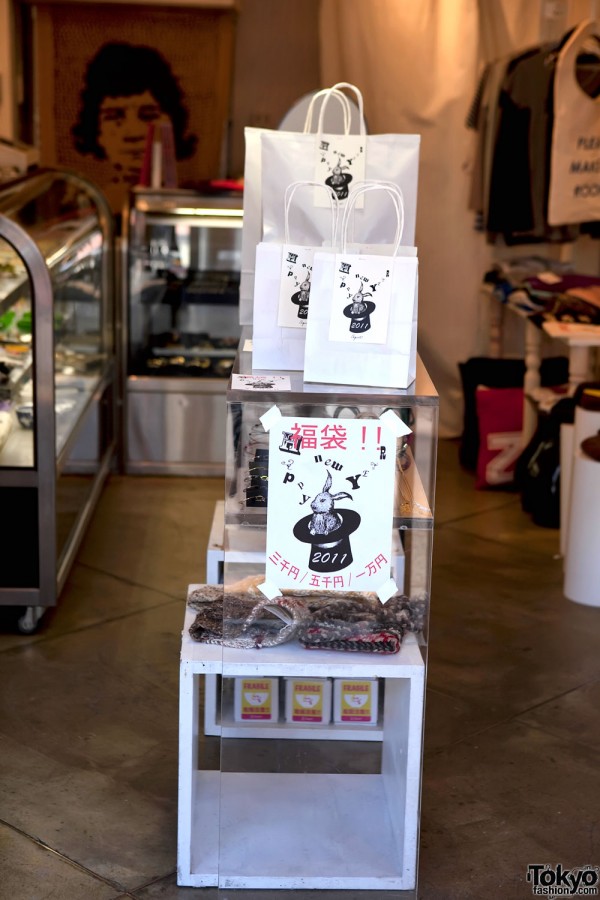 Random Lucky Bags!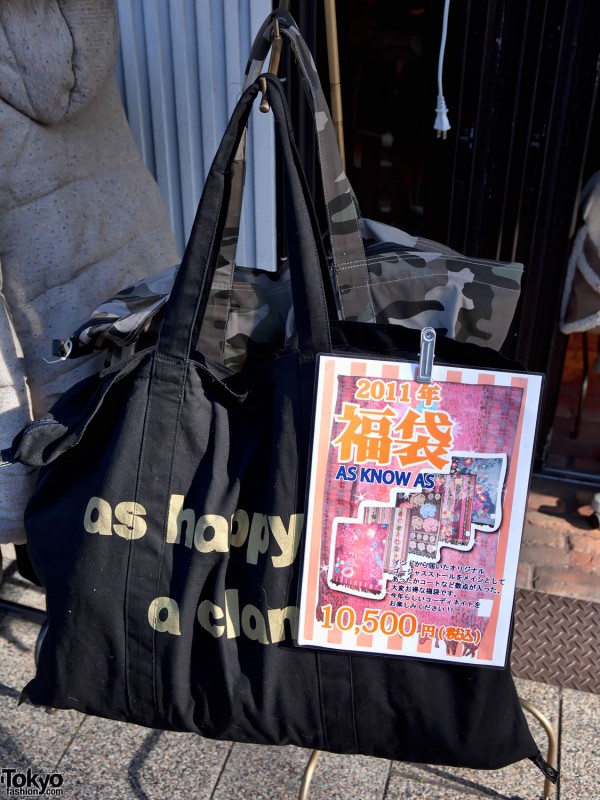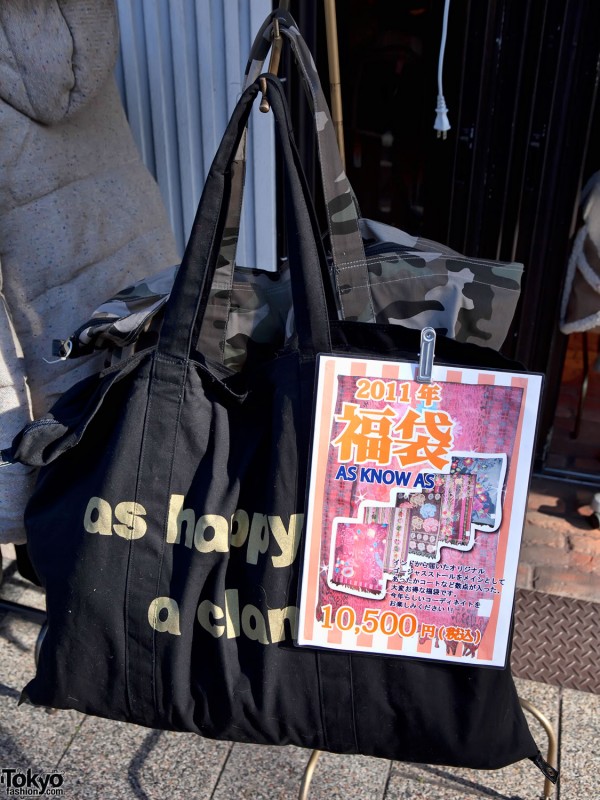 As Happy As – the happy bags from Japanese fashion brand As Know As.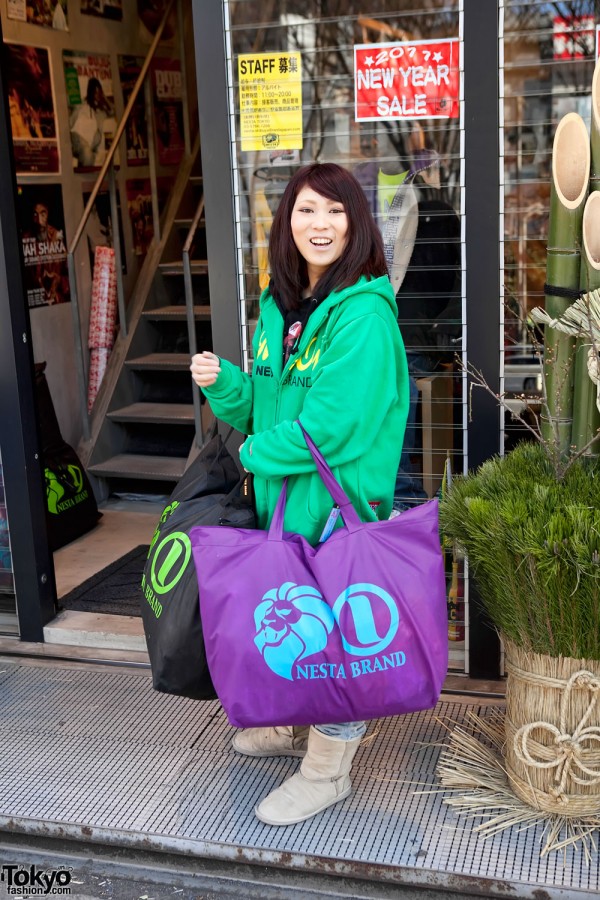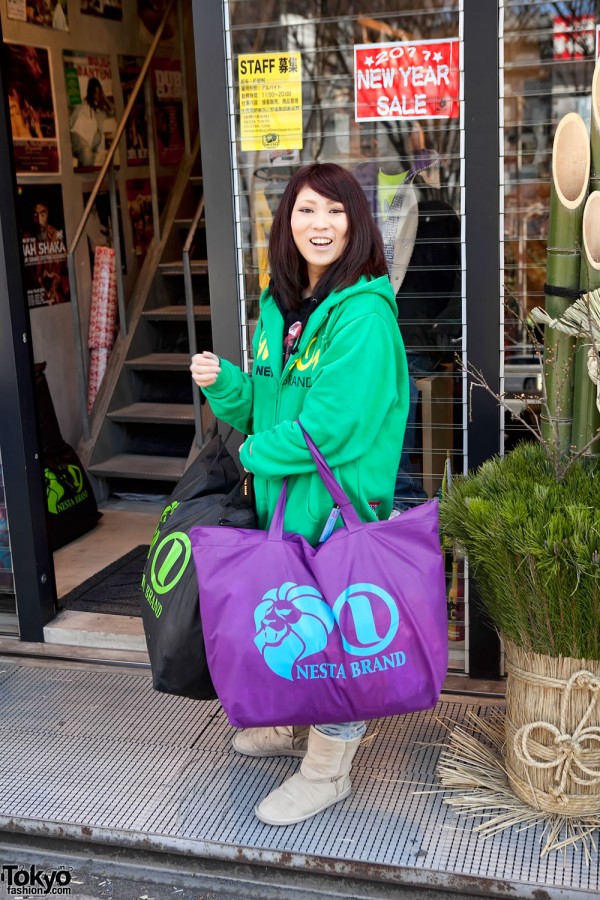 Cute girl with Nesta Brand fukubukuro. Please note that for this report, we treated all of Cat Street and all of Meiji Dori on the Harajuku side of Cat Street as Harajuku, even though some of it is technically Shibuya.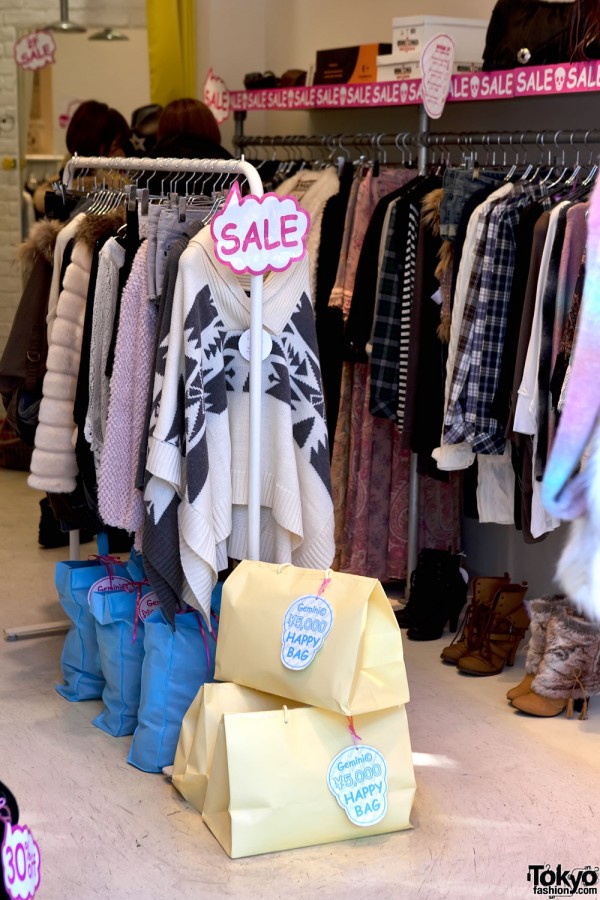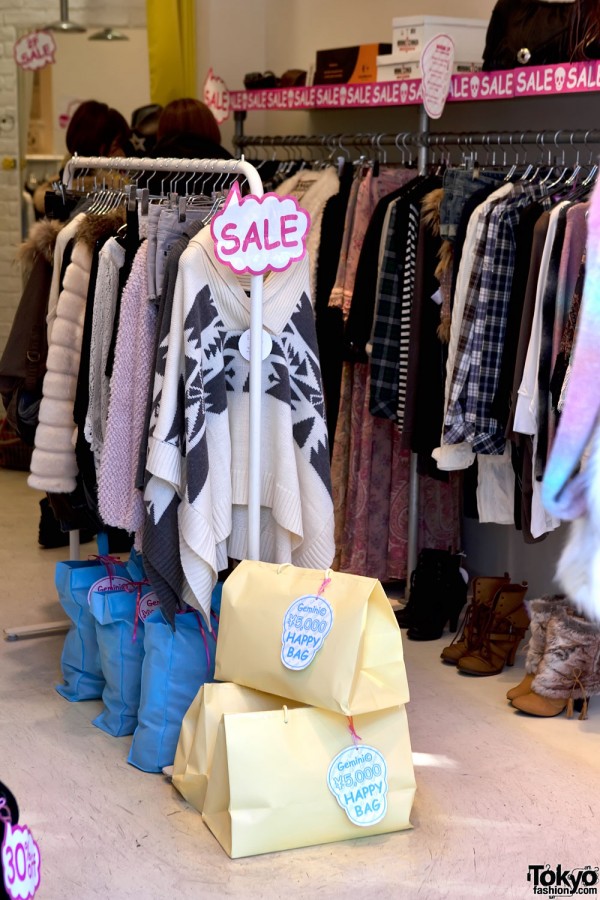 Cute Gemini fukubukuro.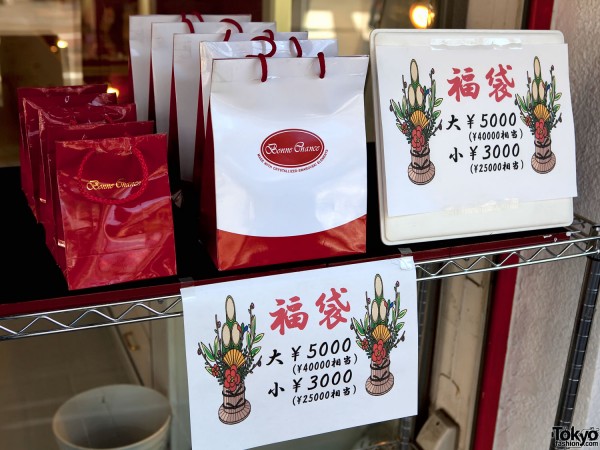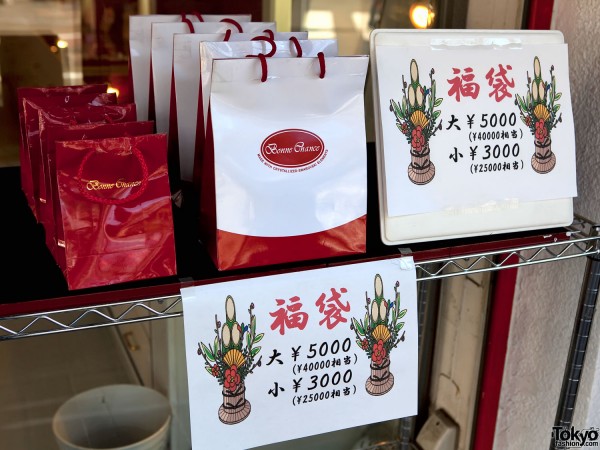 Bonne Chance fukubukuro.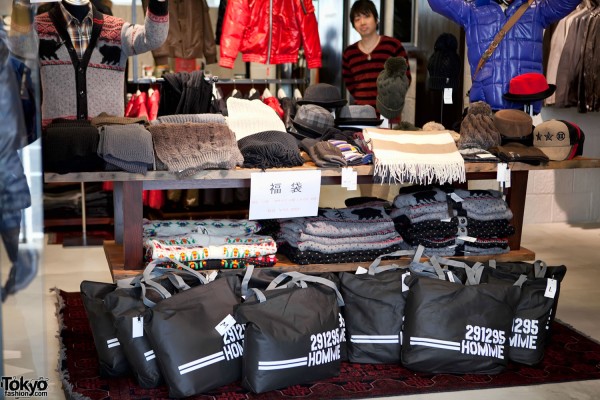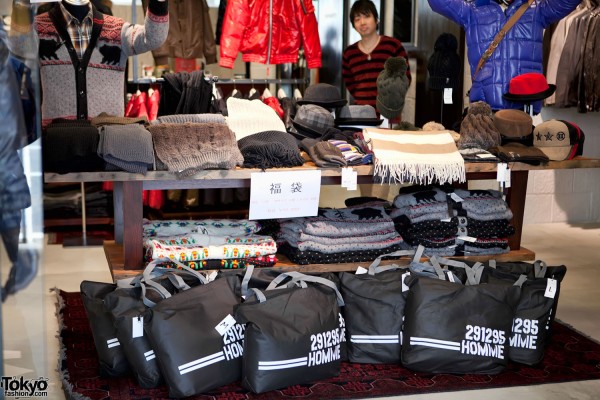 291295 Homme fukubukuro.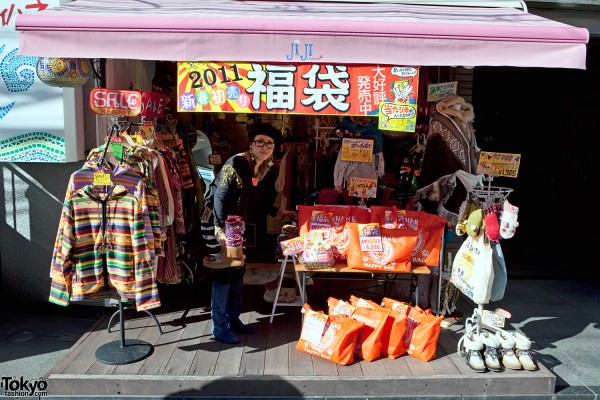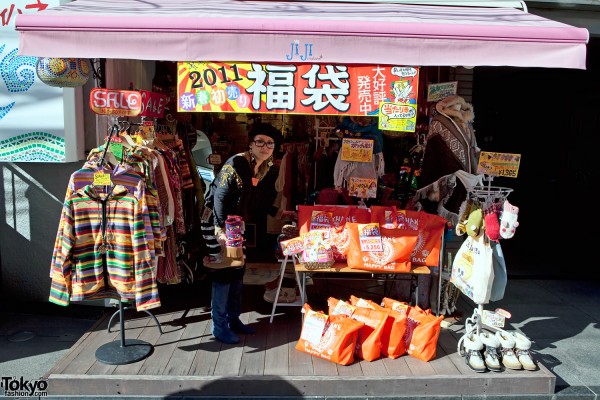 Jiji Cayhane fukubukuro.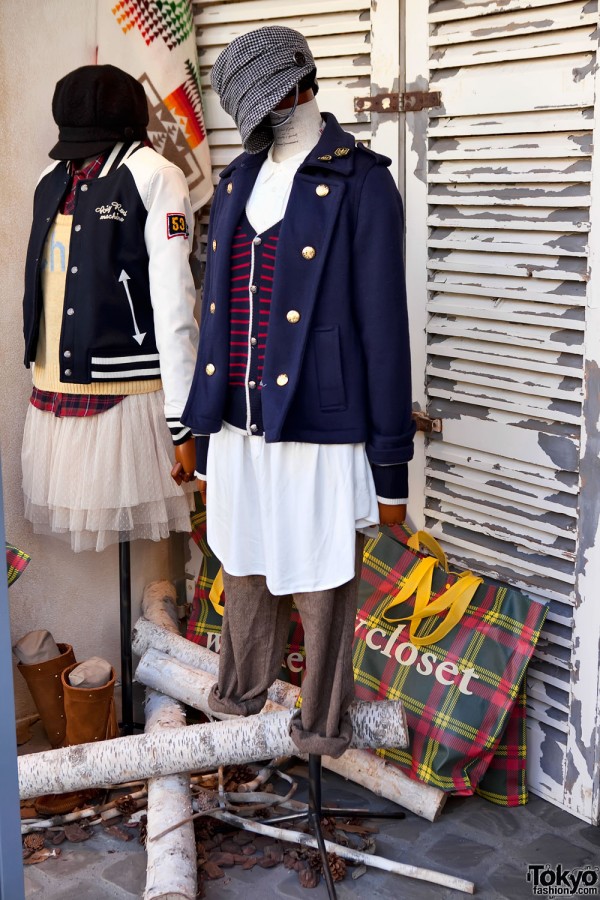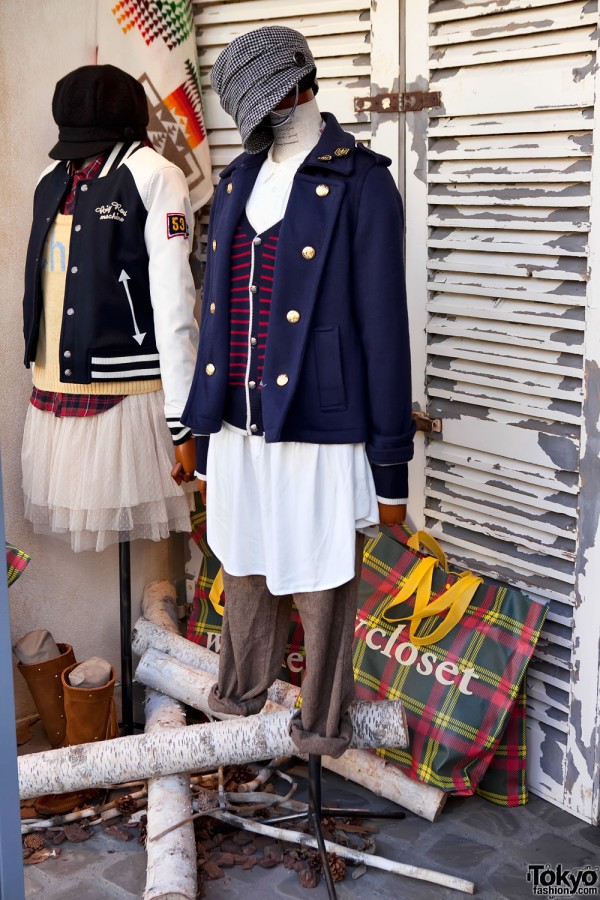 One lonely W Closet lucky bag.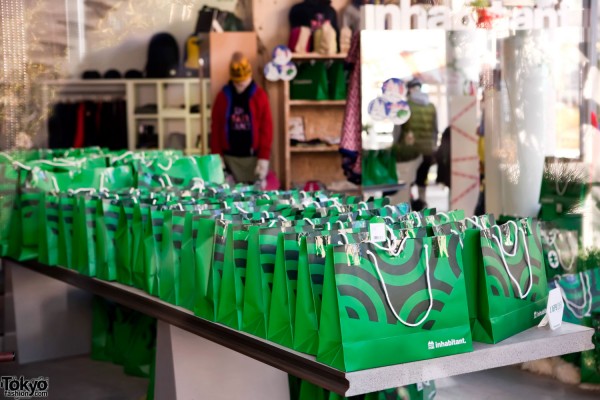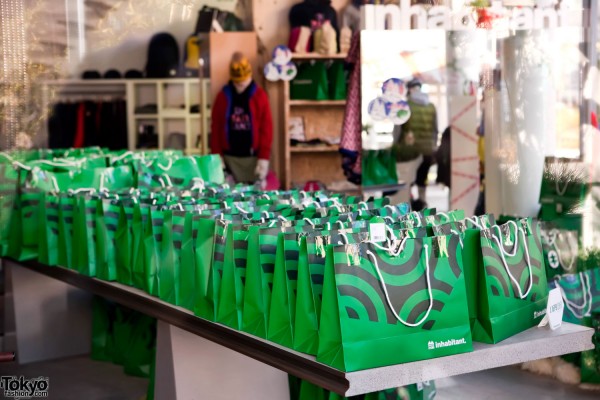 Lots and lots of Inhabitant fukubukuro.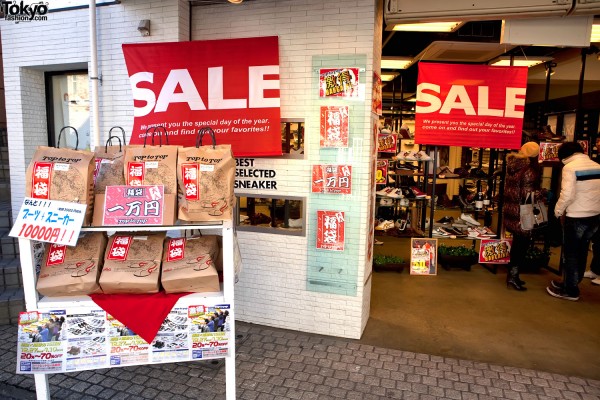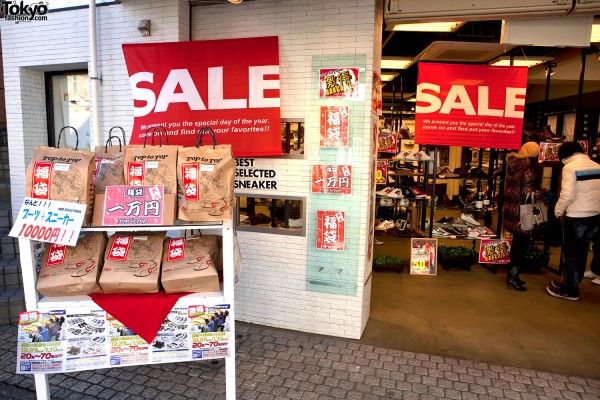 Top to Top shoe store fukubukuro.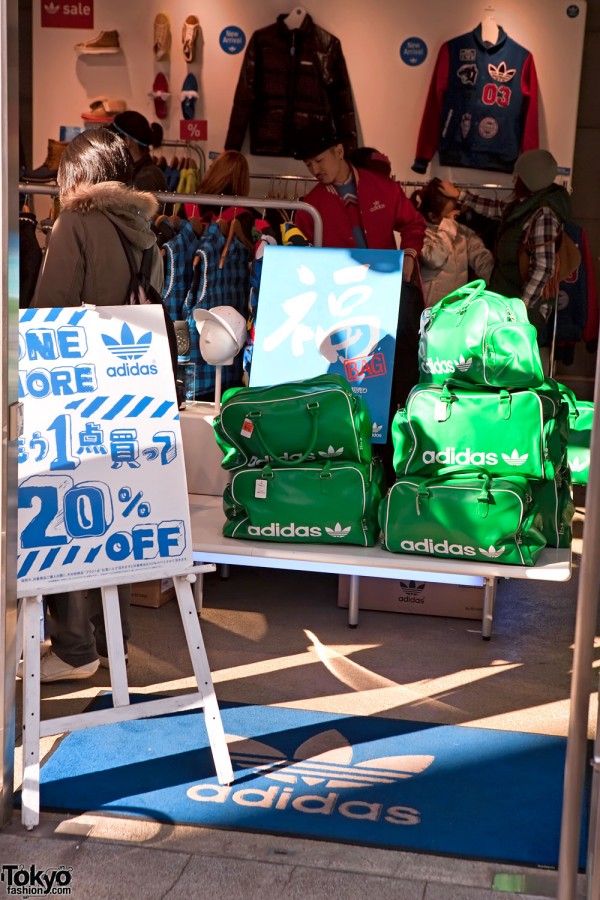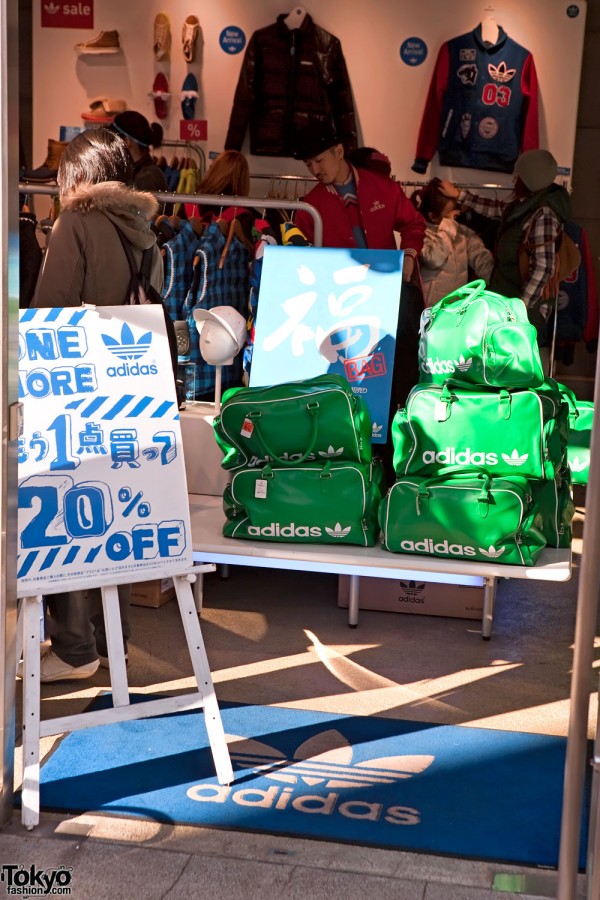 Adidas fukubukuro bags.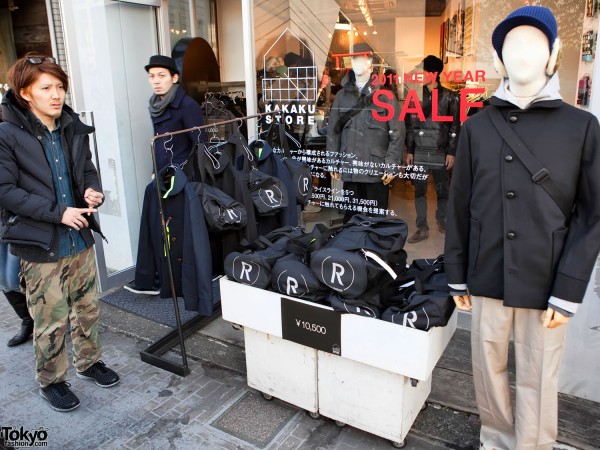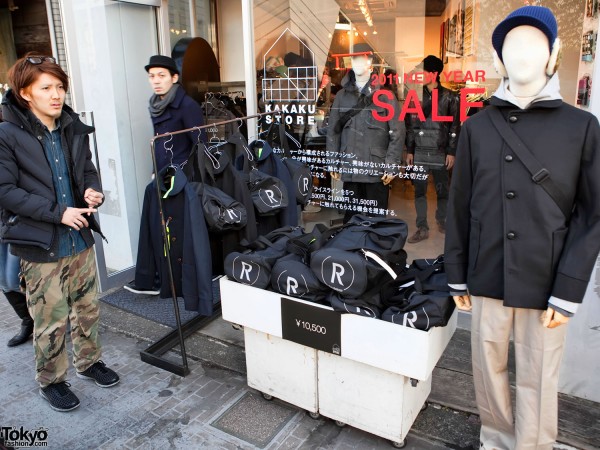 Kakaku Store by HP France fukubukuro.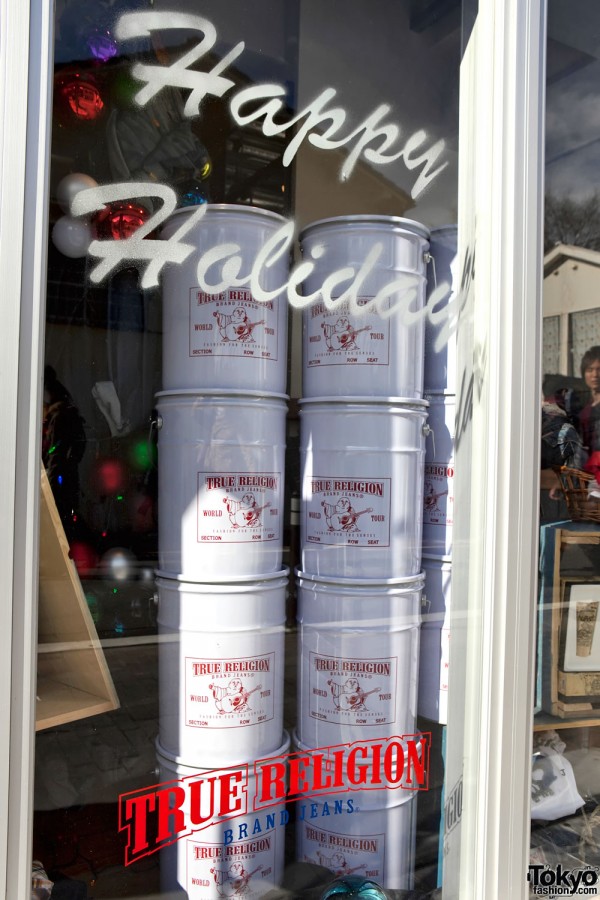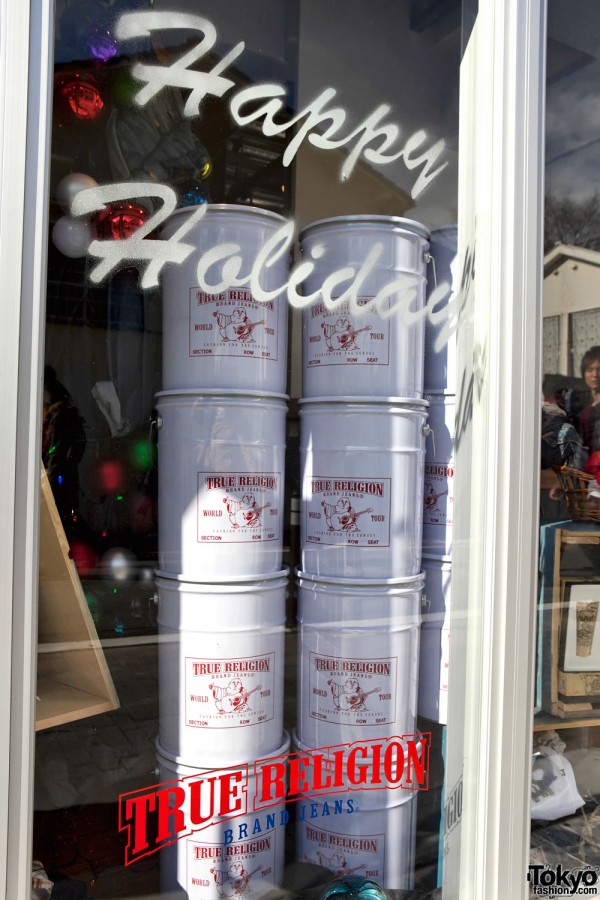 True Religion fukubukuro buckets. We saw several brands with lucky buckets instead of lucky bags this year!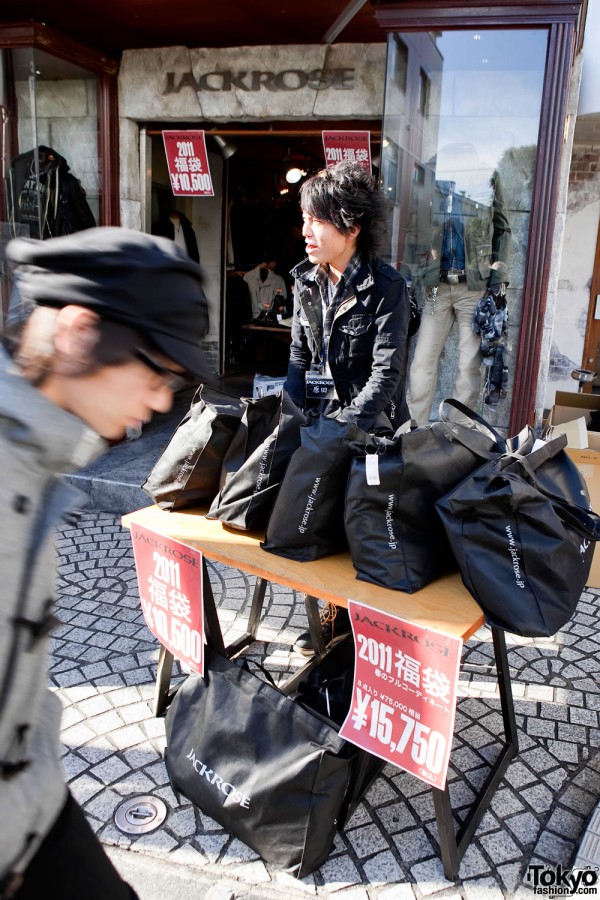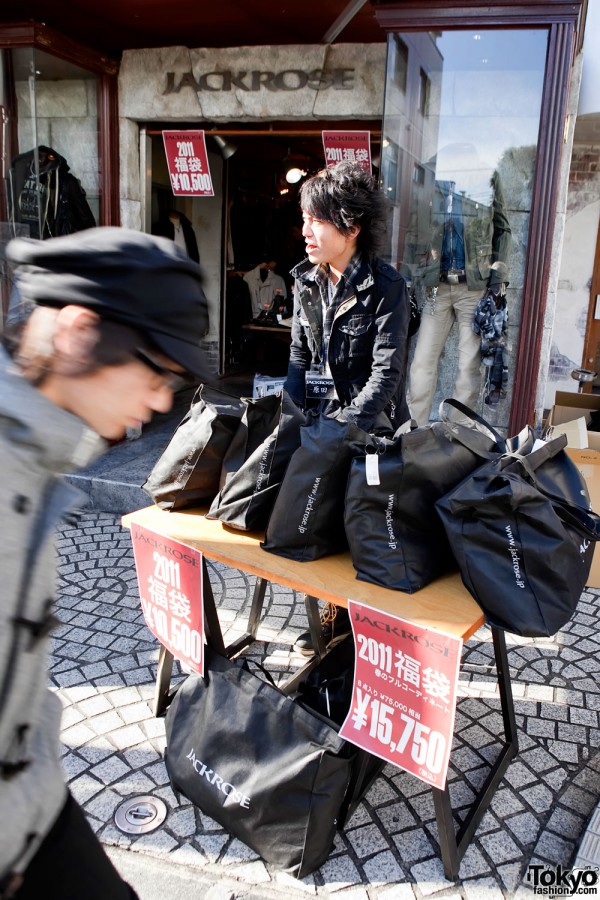 Jack Rose gyaru-o fukubukuro.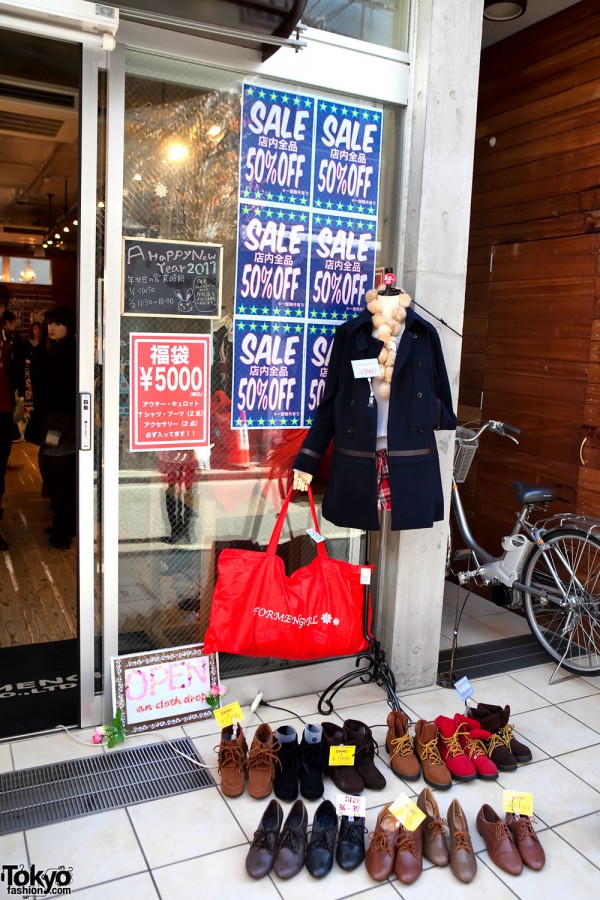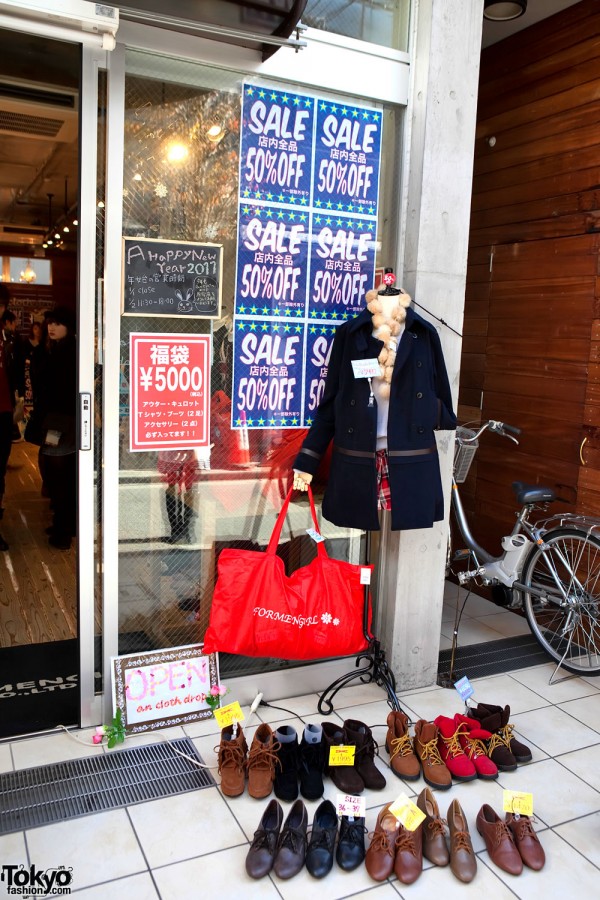 Formengirl fukubukuro.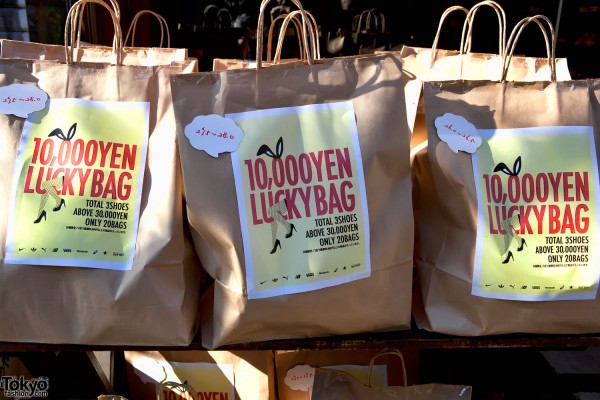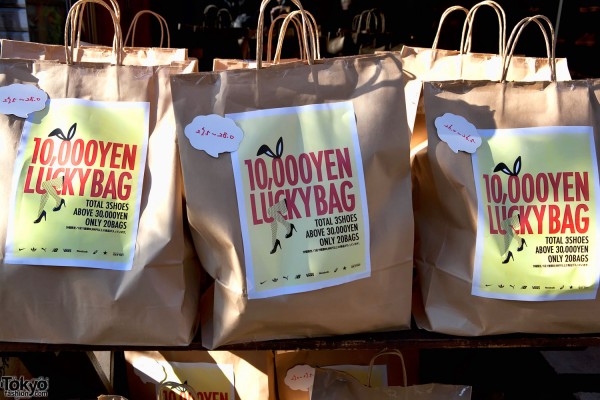 These lucky bags say that they have three shoes inside. I hope they mean three pairs of shoes! :-)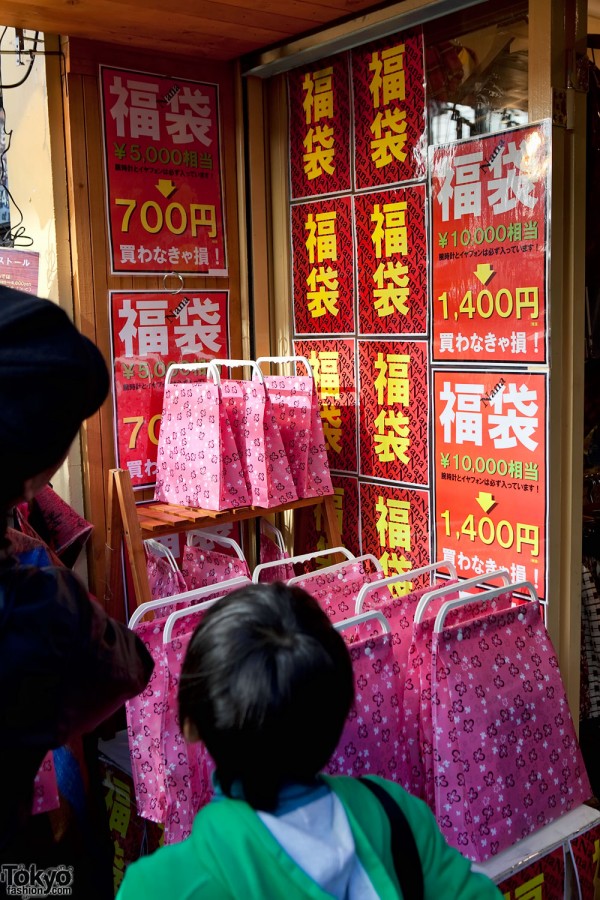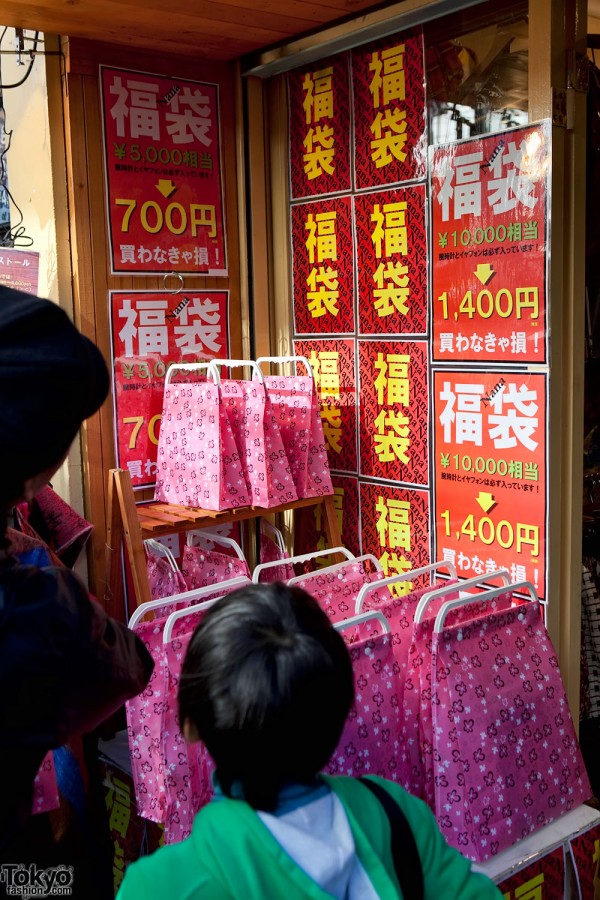 10,000 yen worth of something for 1,400 yen. Act now, this offer will not last.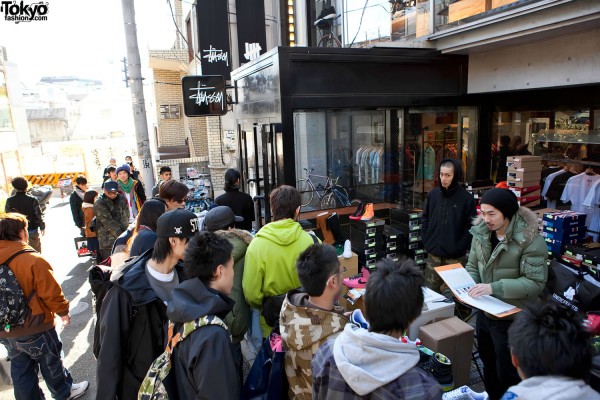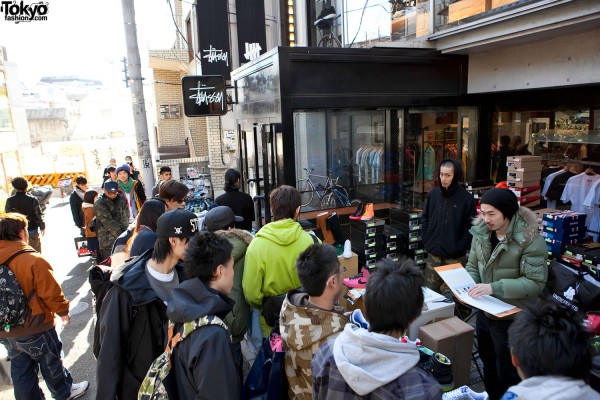 Lots of people at the Stussy or Undefeated New Year's sale.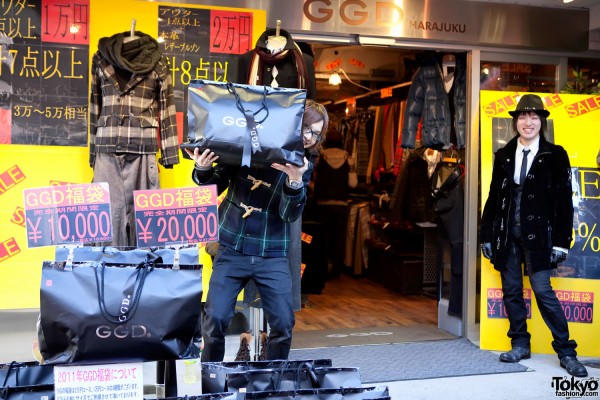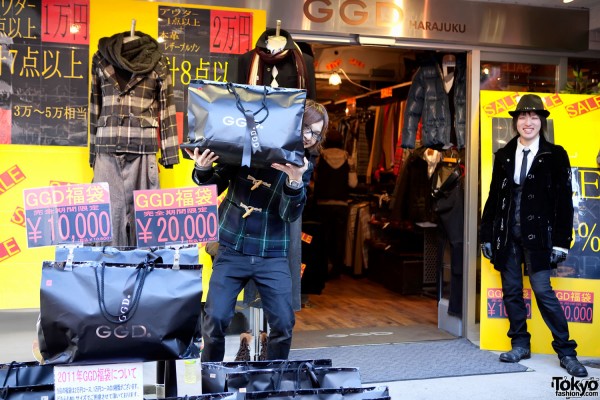 Happy shop staff offering up GGD happy bags.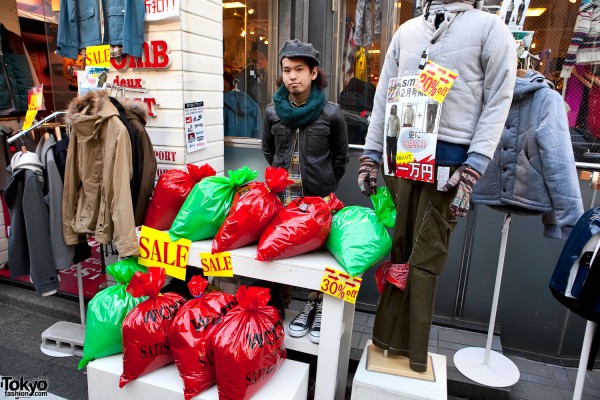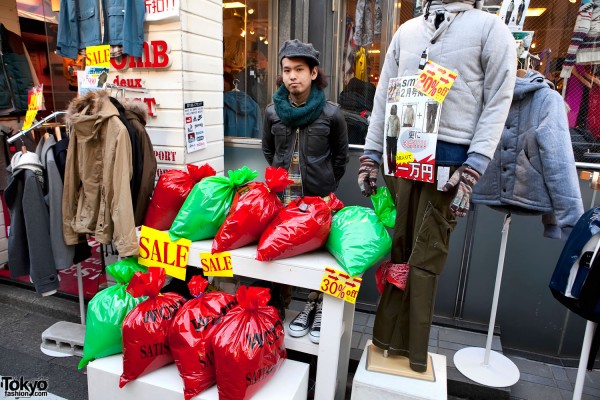 Colorful WOMB fukubukuro.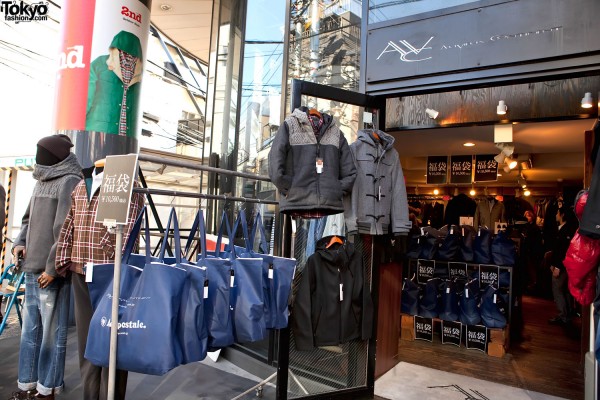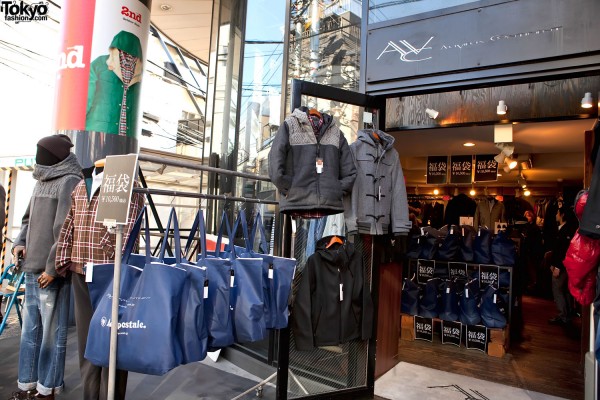 Aeropostale fukubukuro.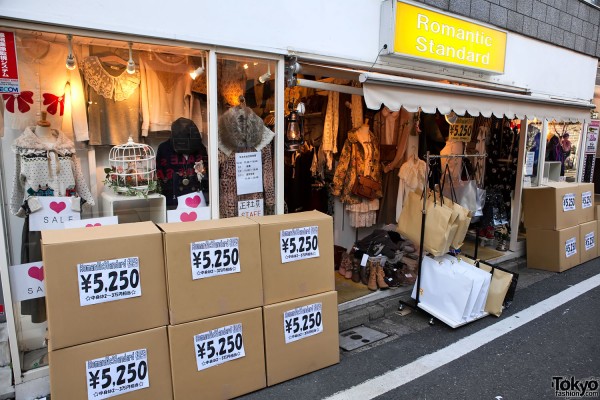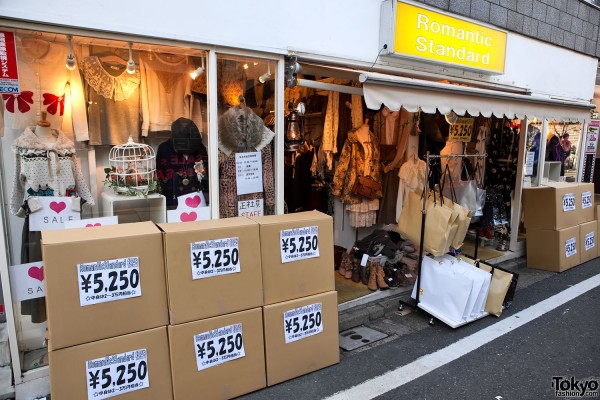 Romantic Standard fukubukuro.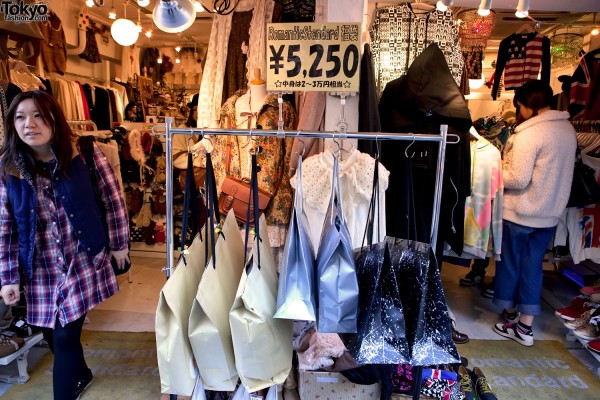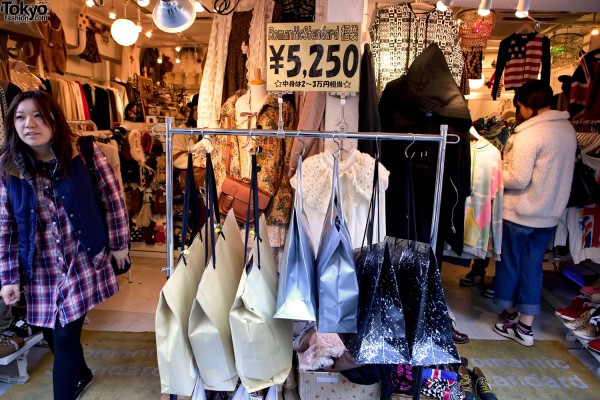 Mori Girl lucky bags?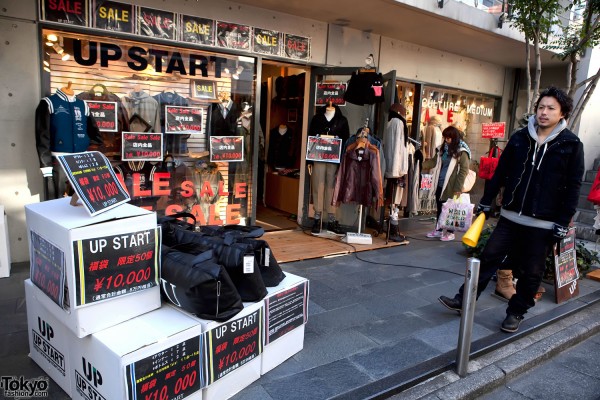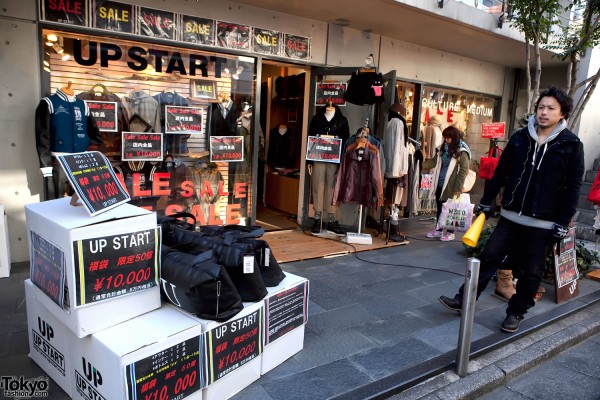 Upstart fukubukuro.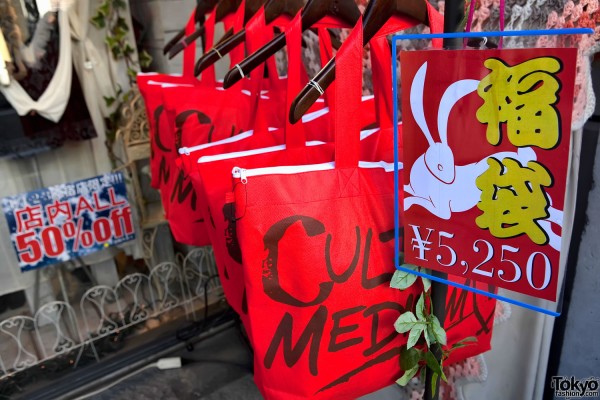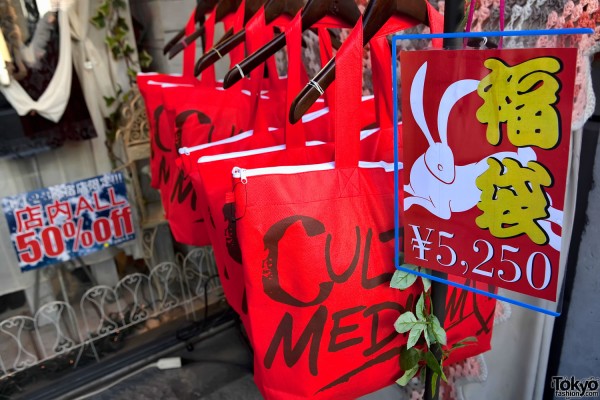 Bright red Culture Medium fukubukuro.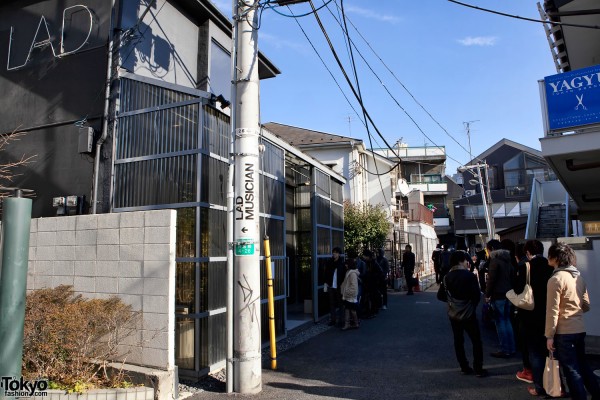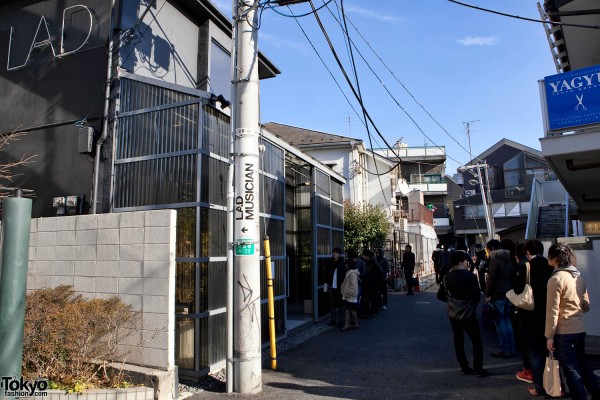 Lots of people waiting to get in to the LAD Musician New Year's sale.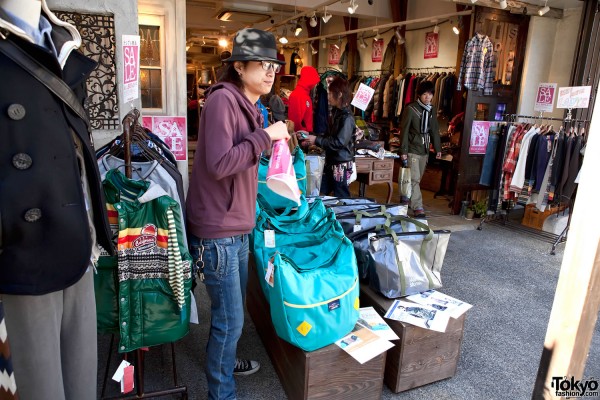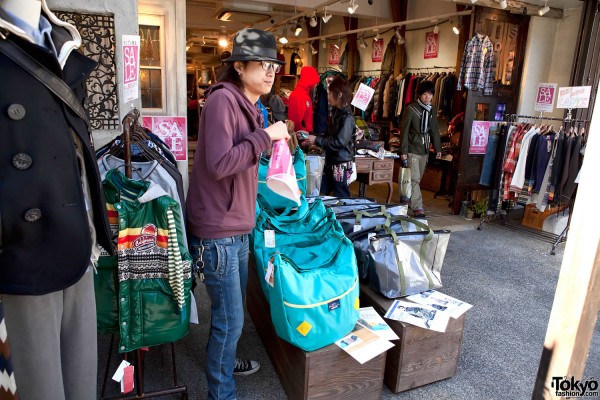 Can't remember the name of this shop, but it's definitely in Harajuku somewhere.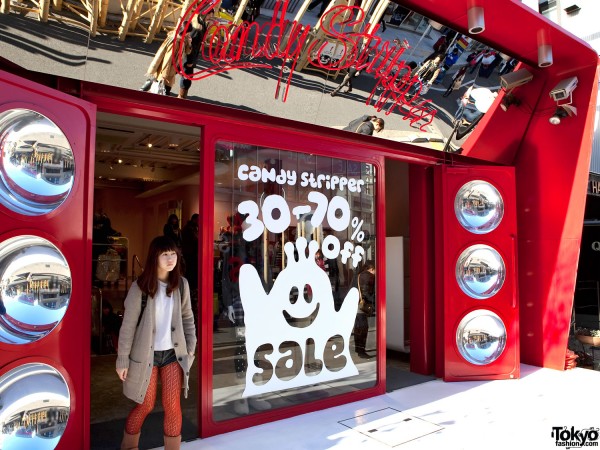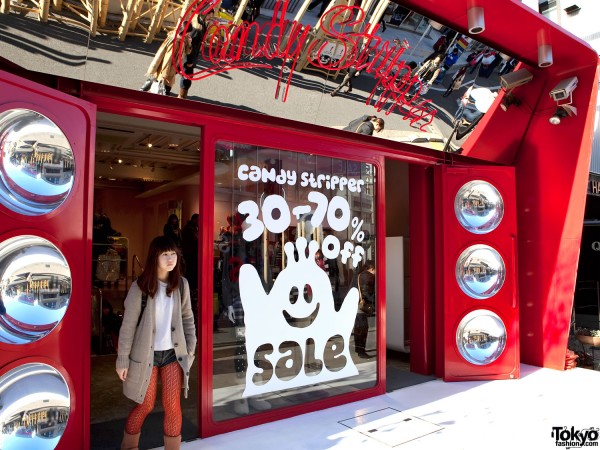 The famous Candy Stripper shop on Cat Street is having a New Year's Sale.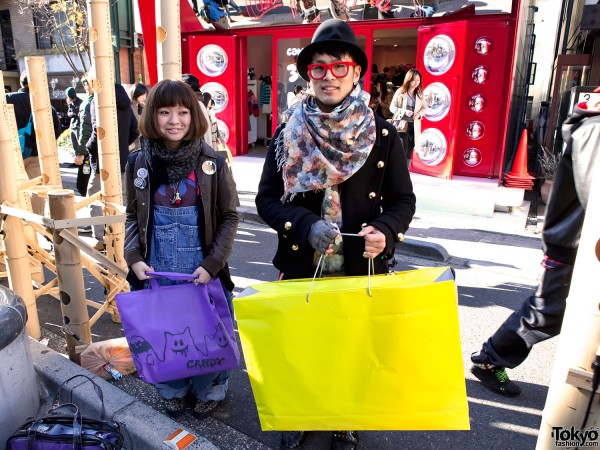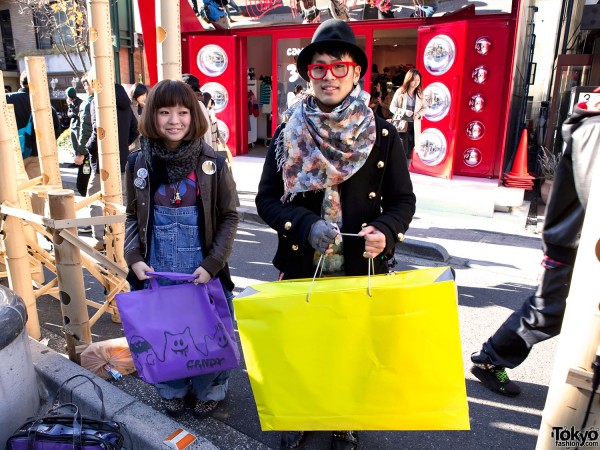 Two super cute New Year's sale shoppers showing off their fukubukuro. Hers is from Candy Stripper (which you can see behind them in the photo), whlie his is from Swagger.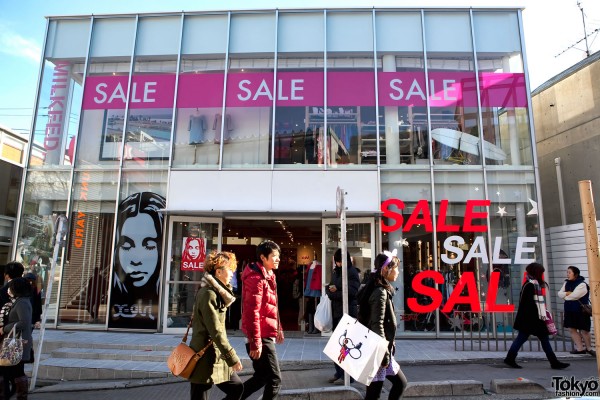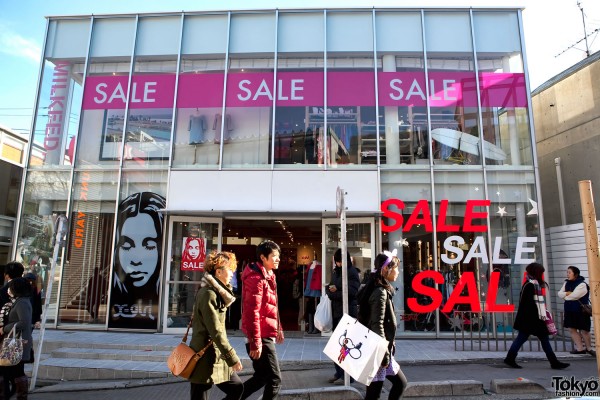 X-Girl & Milkfed New Year's sales.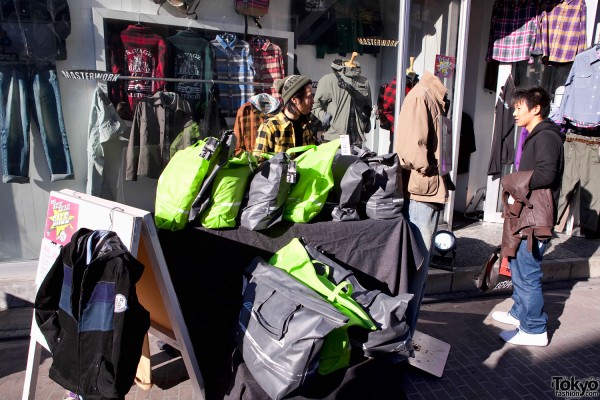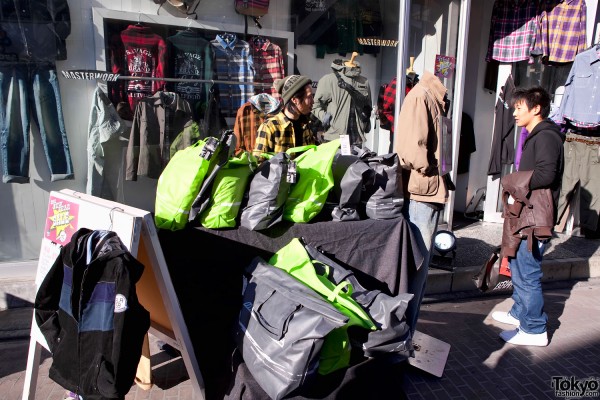 Masterwork fukubukuro.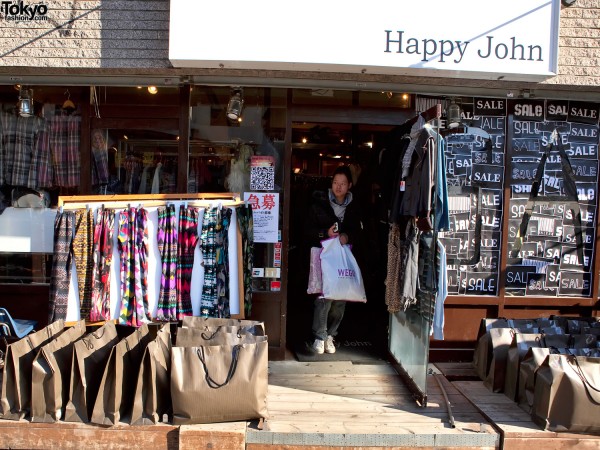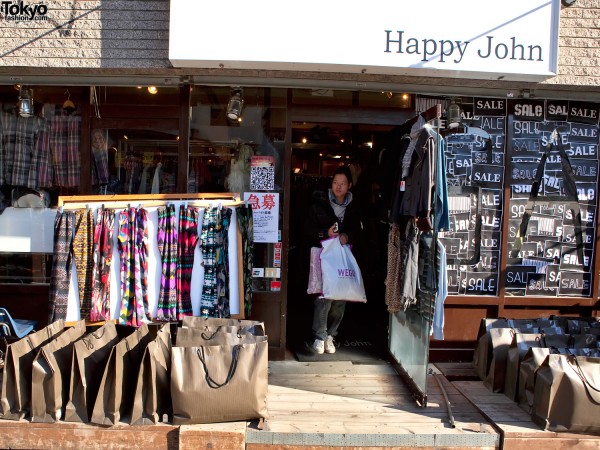 Happy John fukubukuro on Cat Street.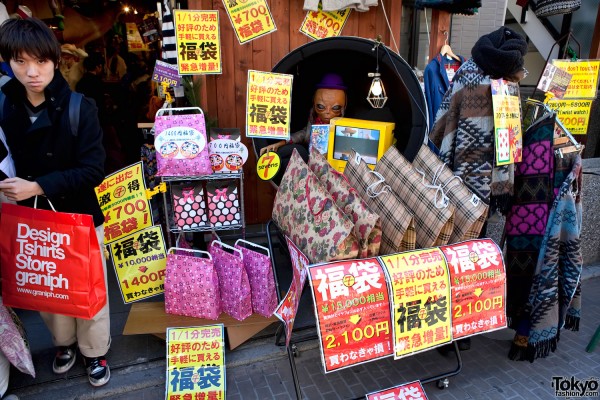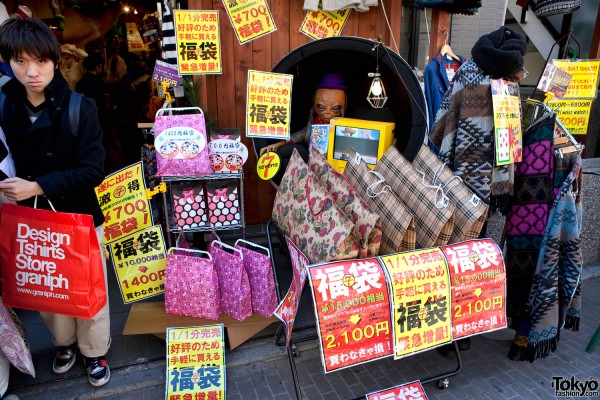 Sevens fukubukuro. This shop is cheap to start with. Who knows what kind of crazy bargains you get during a sale!?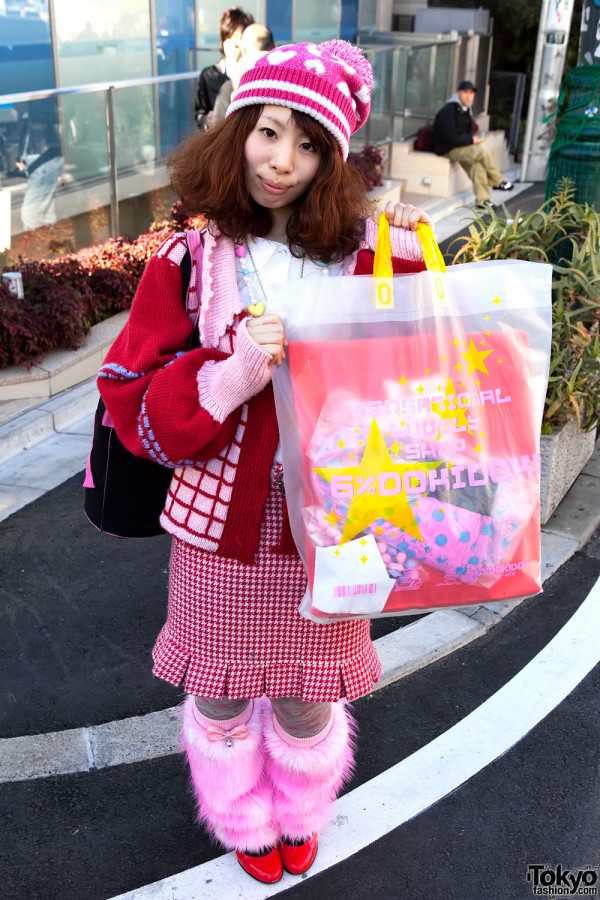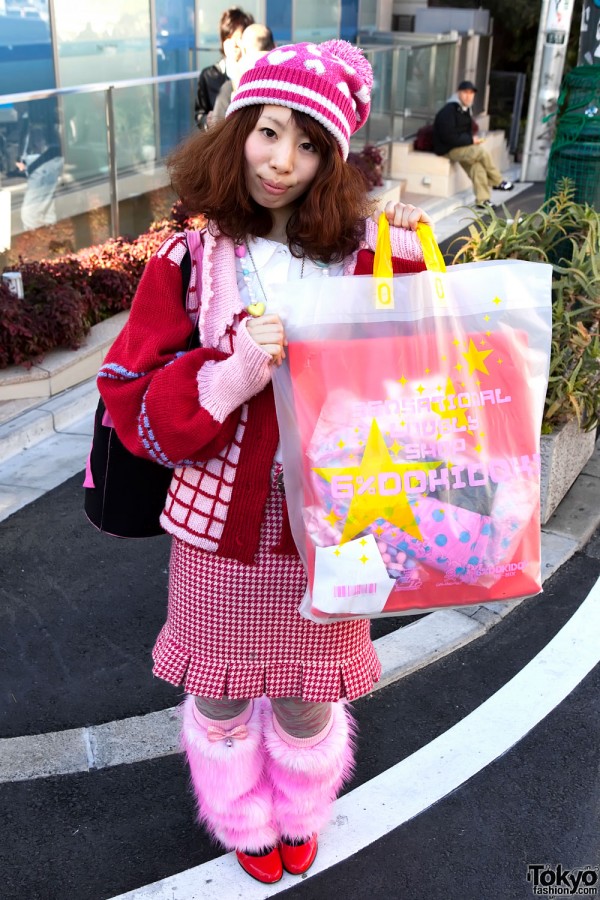 This cute and colorful girl is holding a 6%DOKIDOKI shopping bag!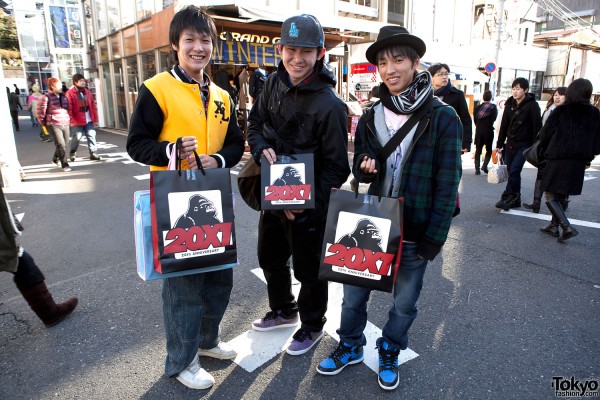 Three guys, three X-Large shopping bags for New Year's. These guys were so friendly! :-)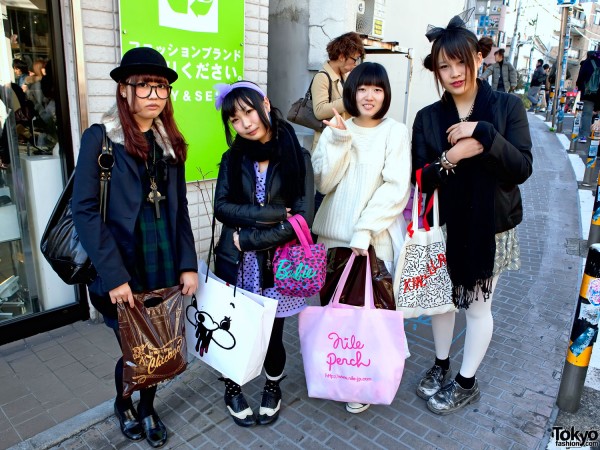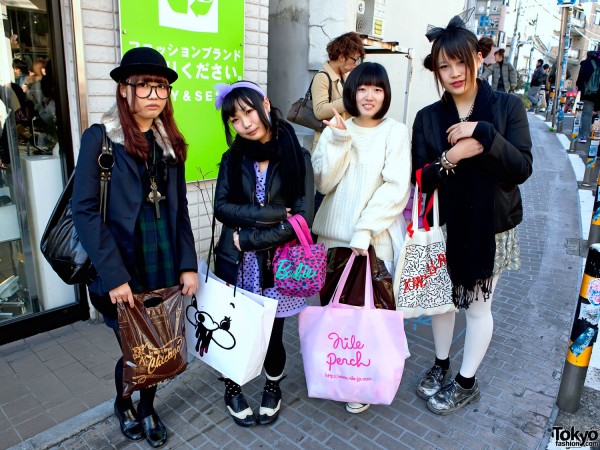 Four cool Japanese girls shopping on Cat Street – one with a Nile Perch bag, another with Monomania!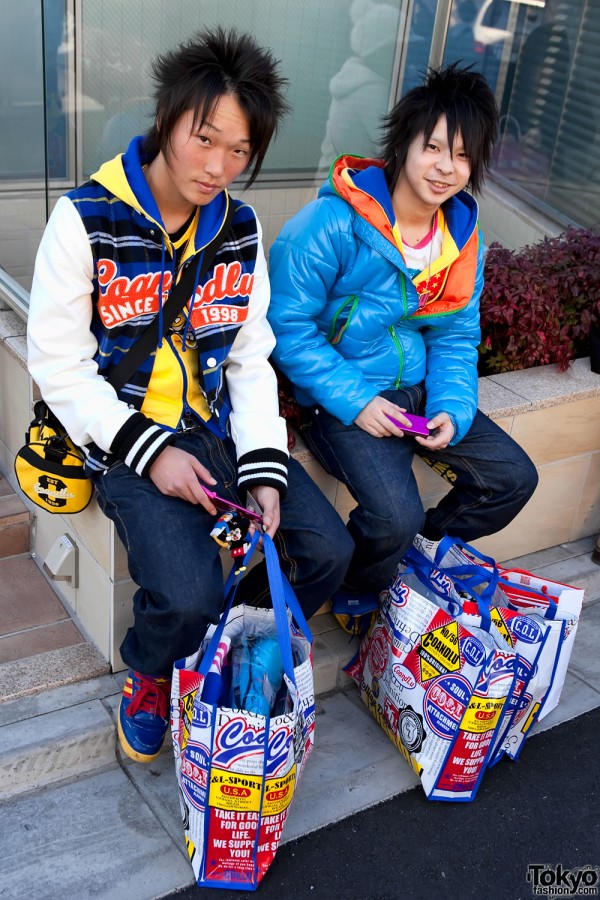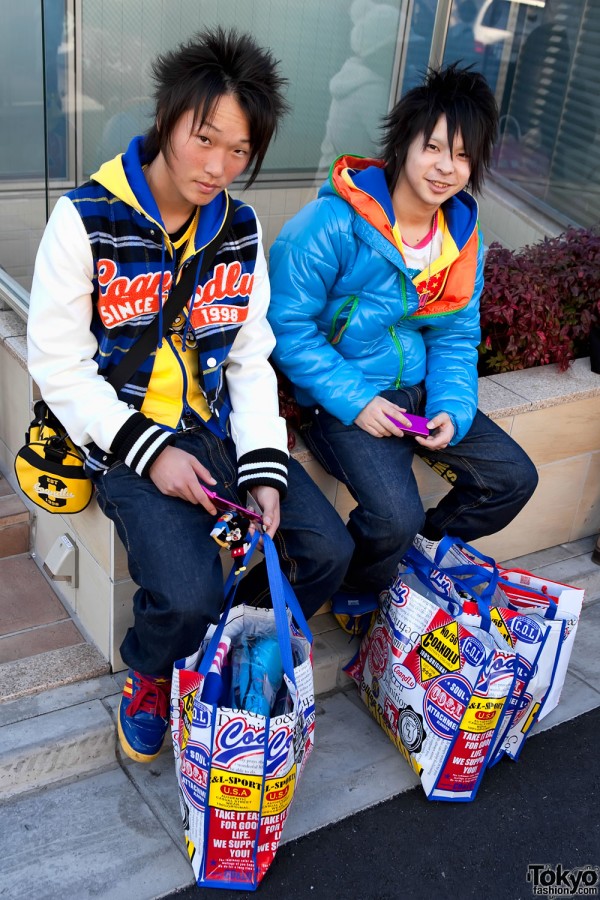 Two guys with bags from CoCoLuLu taking a break from shopping.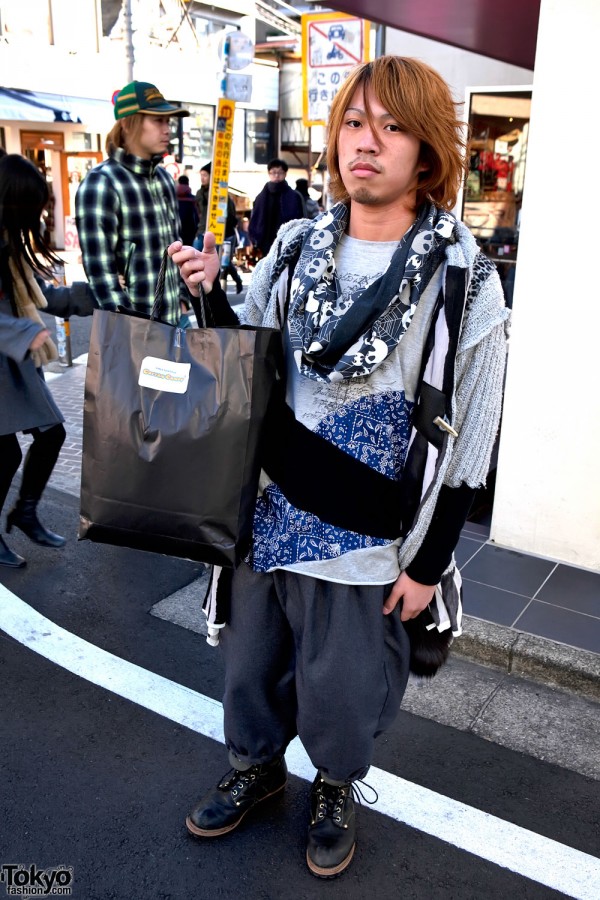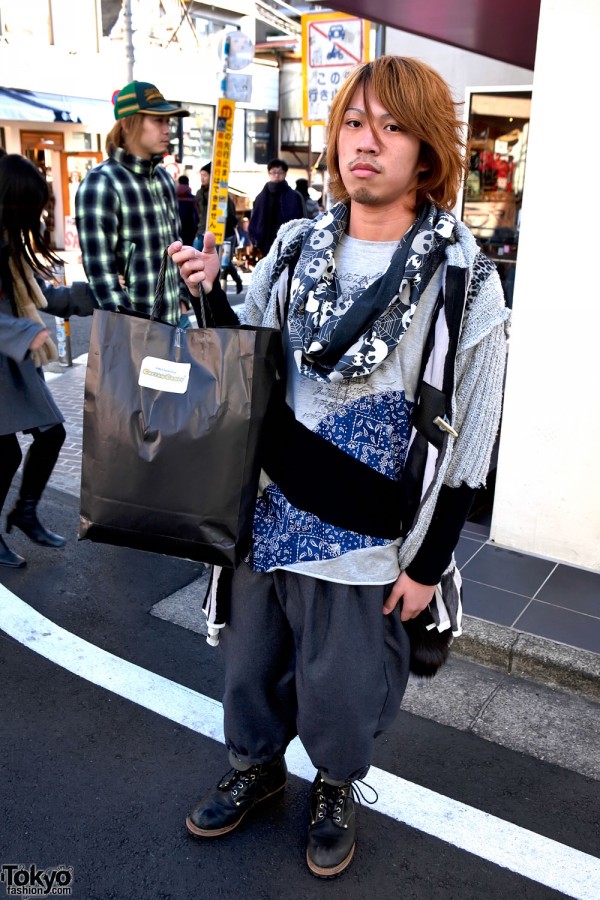 This guy is carrying a bag from Cotton Candy / Daybreak.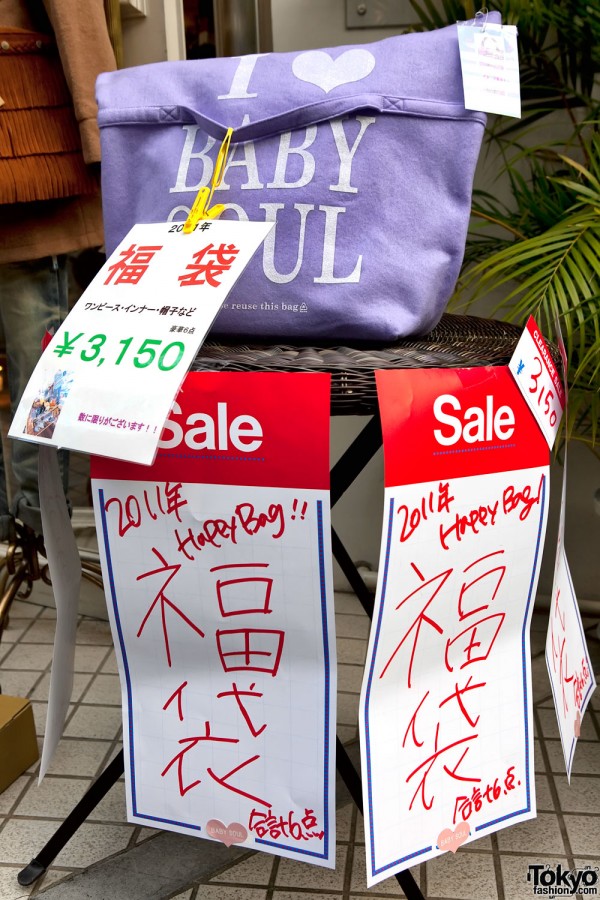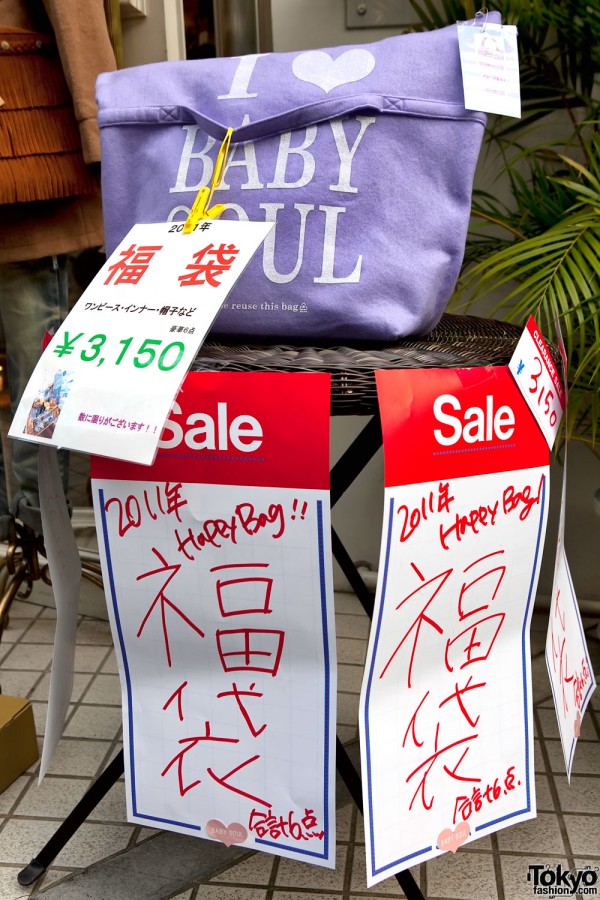 A purple Baby Soul fukubukuro.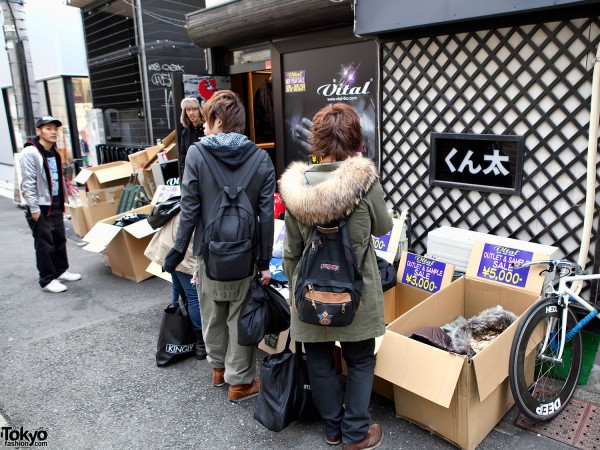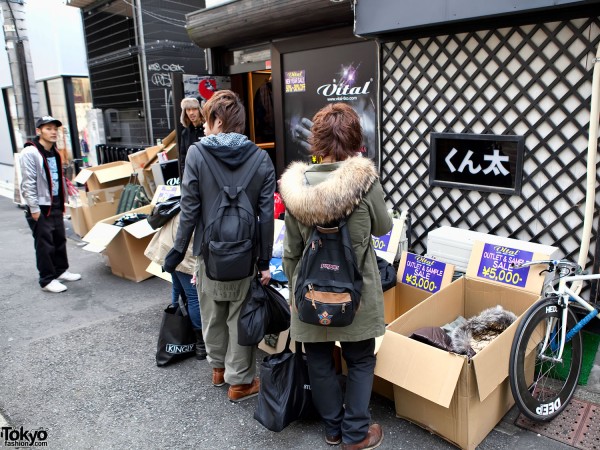 New Year's bargains down every alley!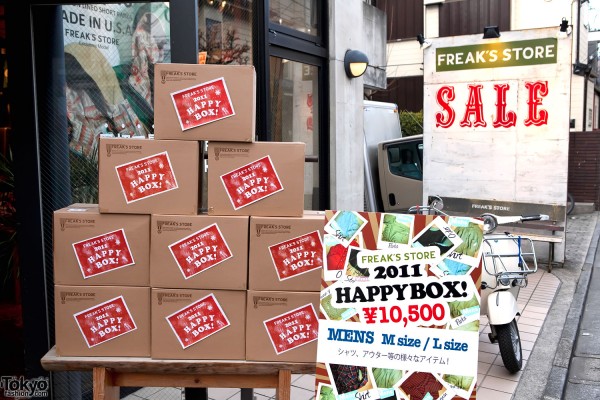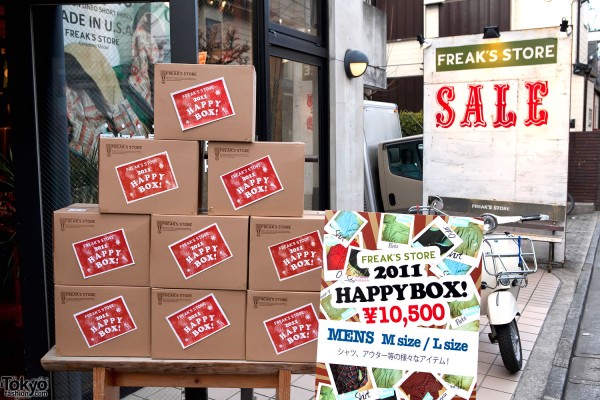 Freak's Store 2011 Happy Box – 10,500 yen.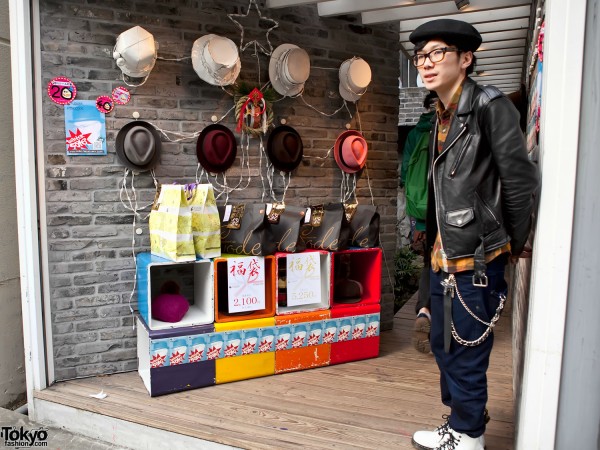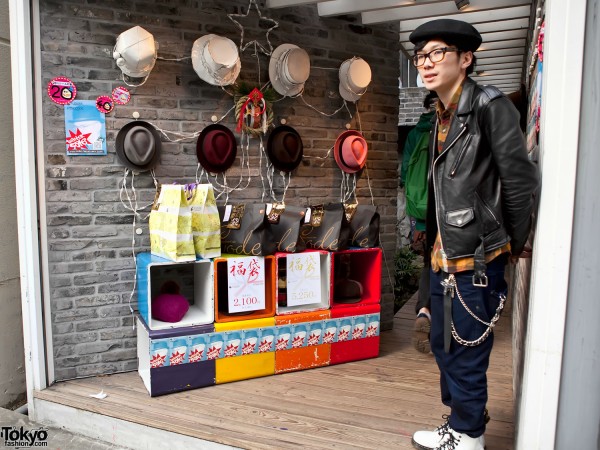 Code Headwear hats fukubukuro.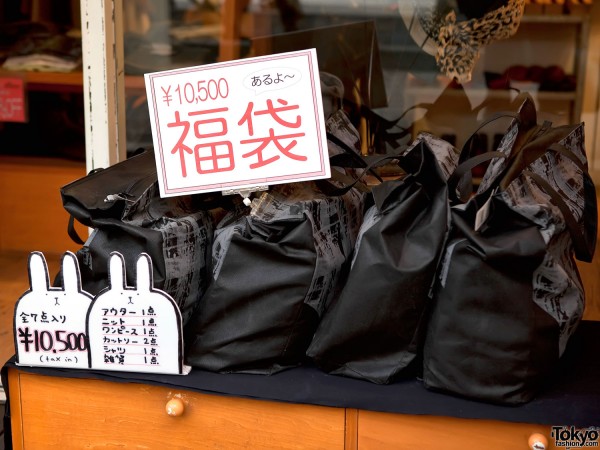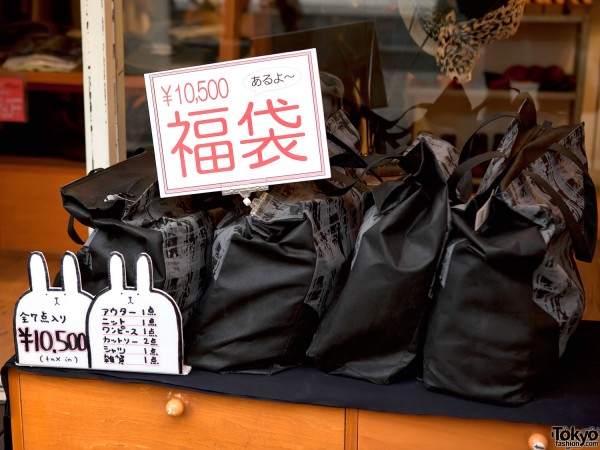 Cute year of the rabbit sign on these lucky bags.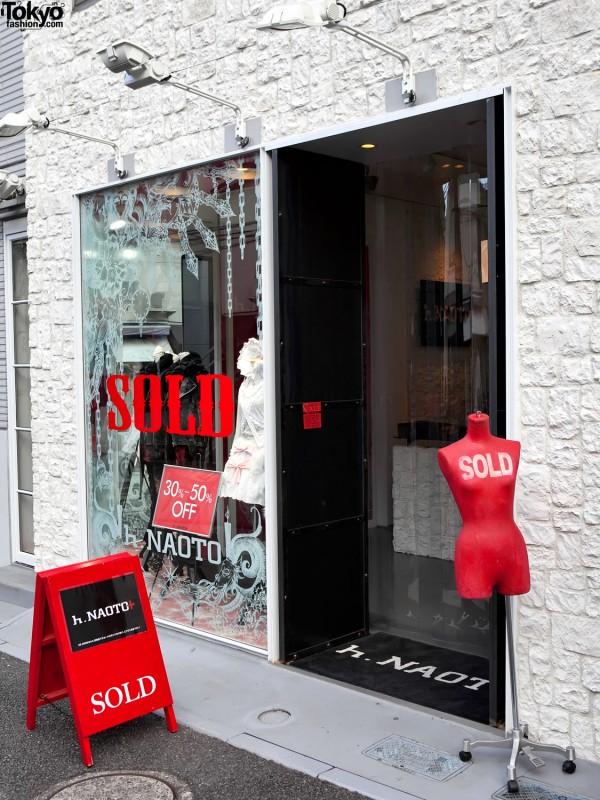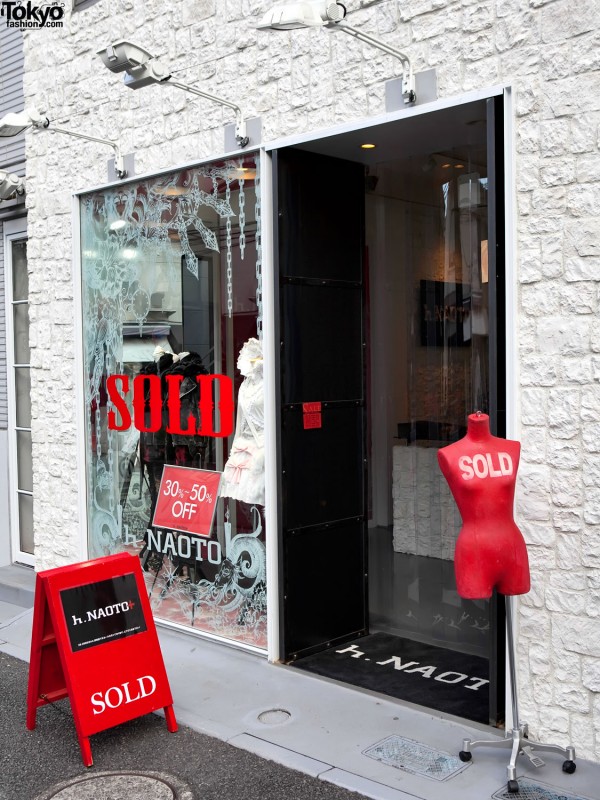 H.Naoto is having a sale, but their fukubukuro probably sold out like 10 seconds after the doors opened.

Polcadot has a hat lucky bag, too.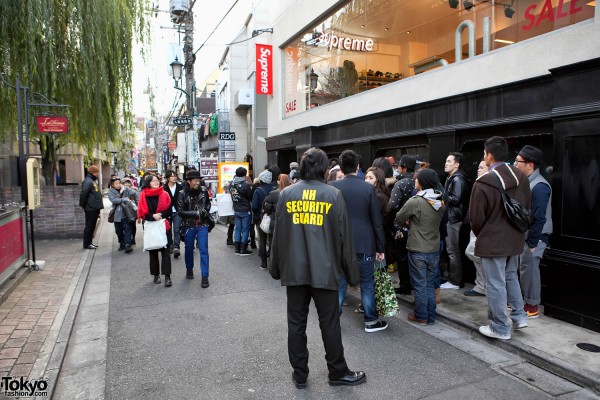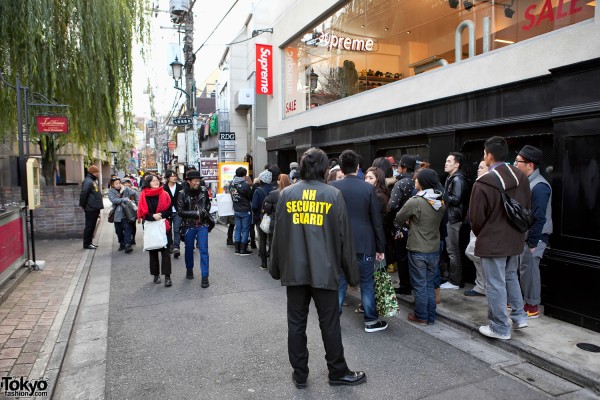 A sale line in front of the famous Neighborhood/Supreme building.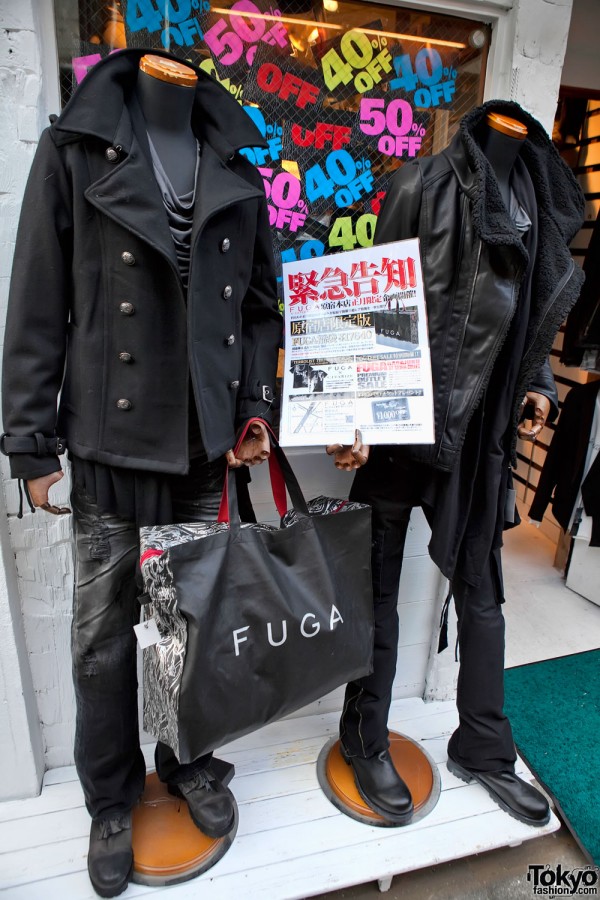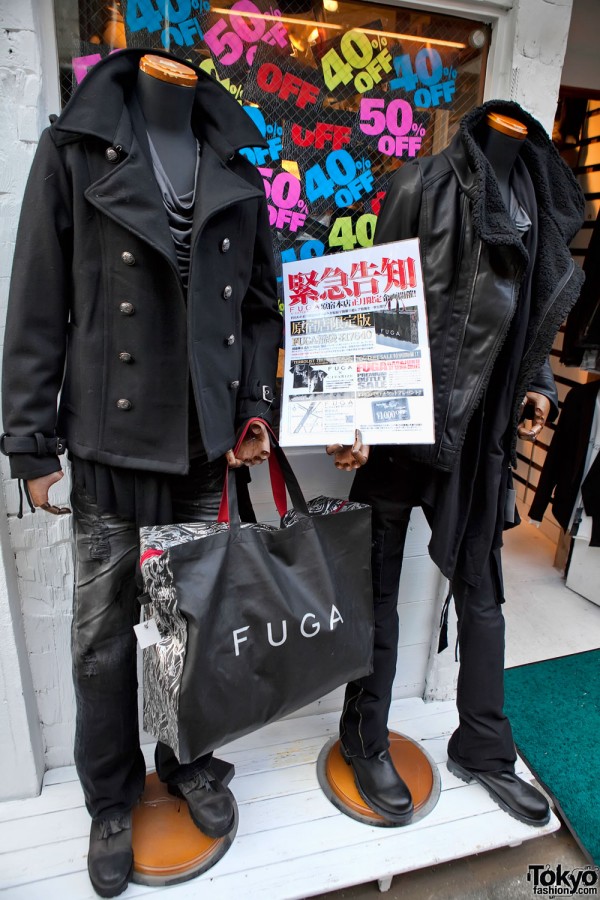 FUGA fukubukuro – another fashion brand popular with Gyaru-o.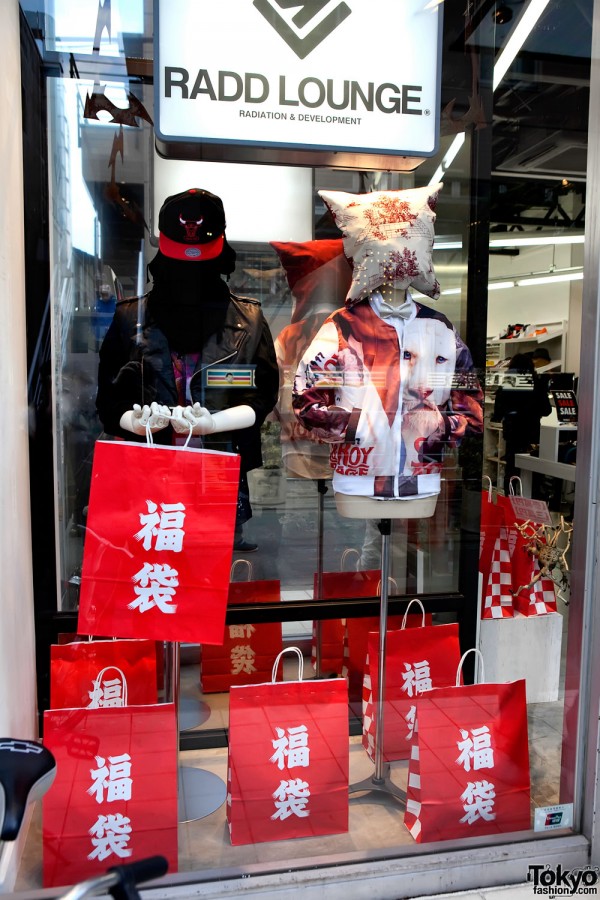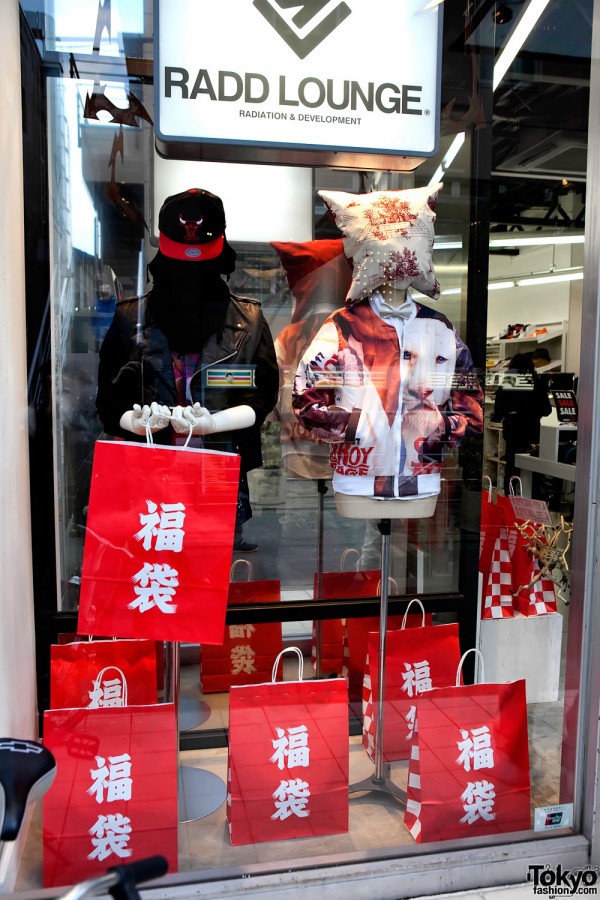 Radd Lounge fukubukuro.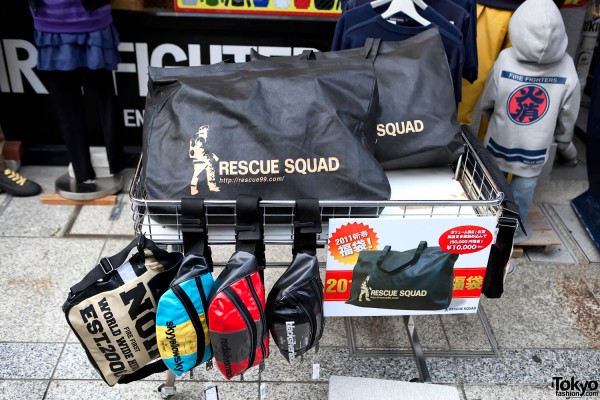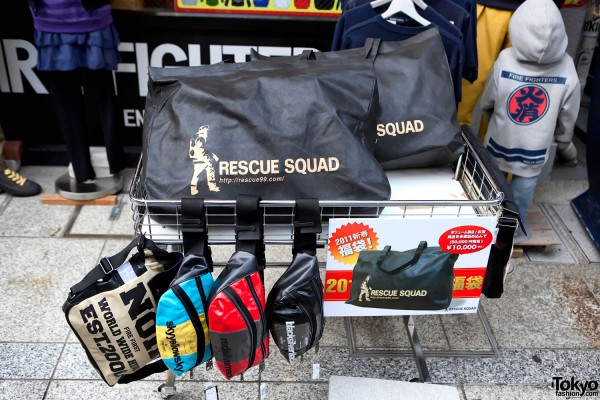 Rescue Squad fukubukuro. I wonder if there are bags inside of the bags. It hurts my head.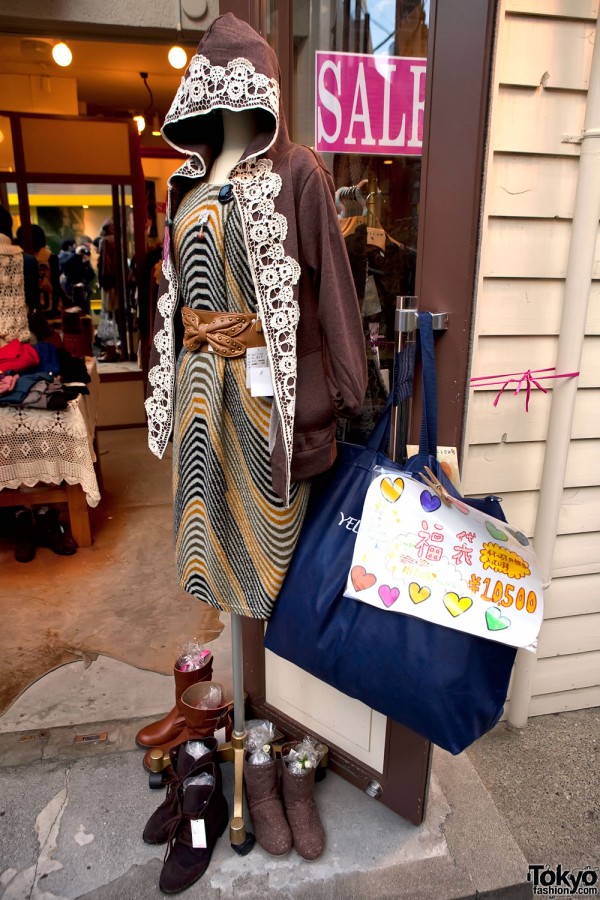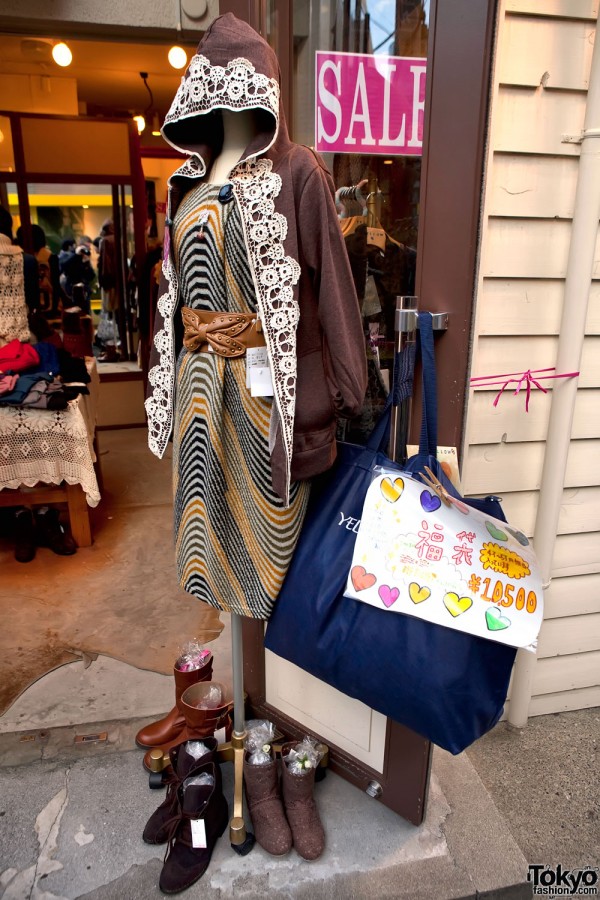 Yellow 96 fukubukuro.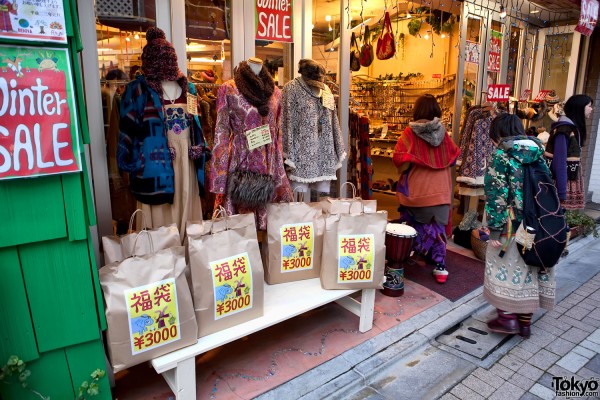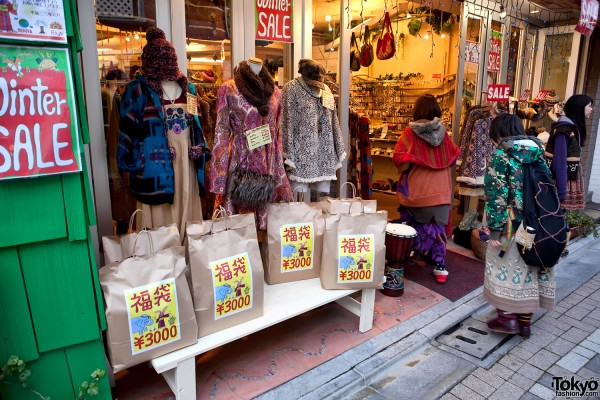 Amazing girls buying lucky bags at Rojo Harajuku.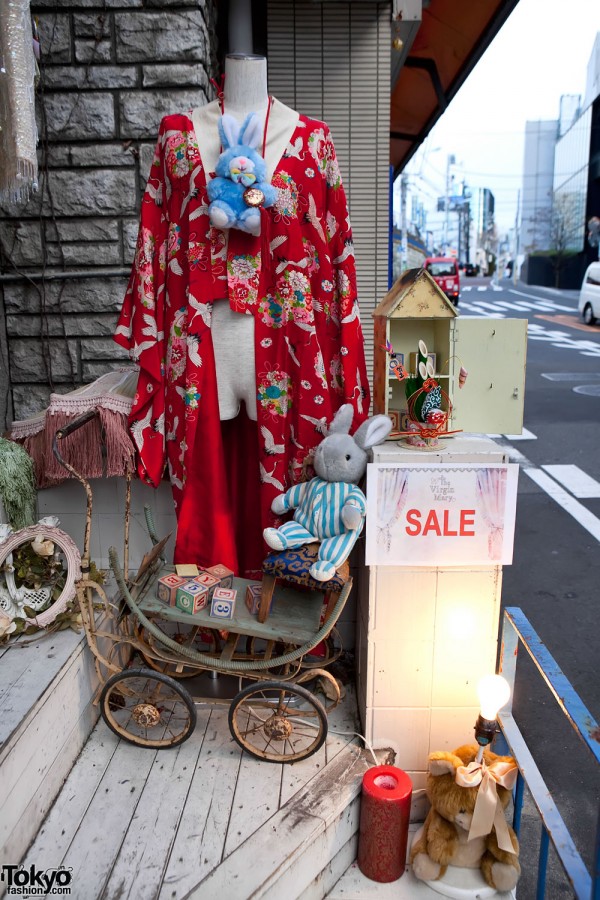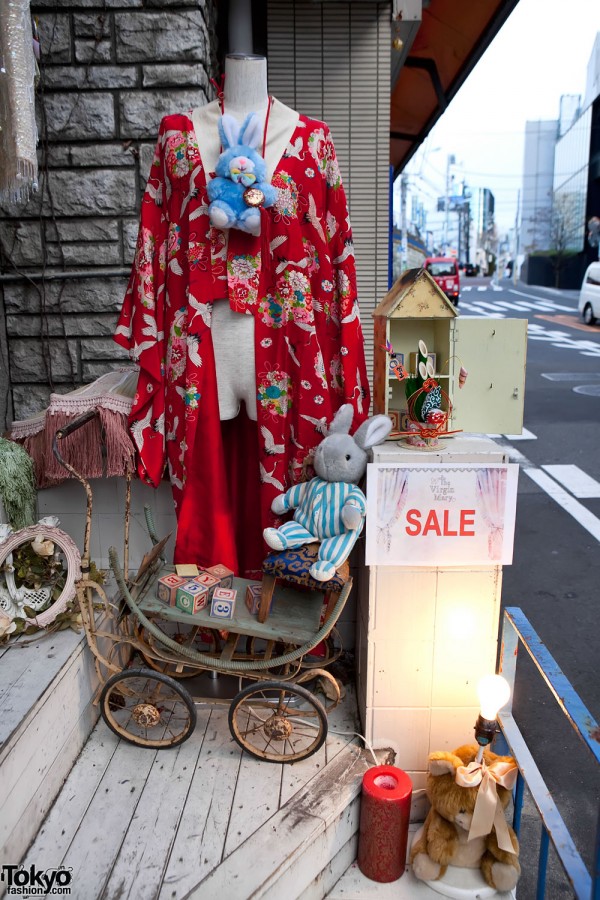 Dolly Kei's love The Virgin Mary resale shop. I didn't see any fukubukuro, but they are having a New Year's Sale.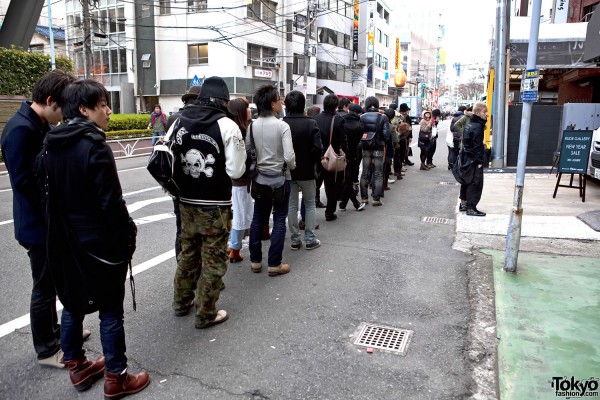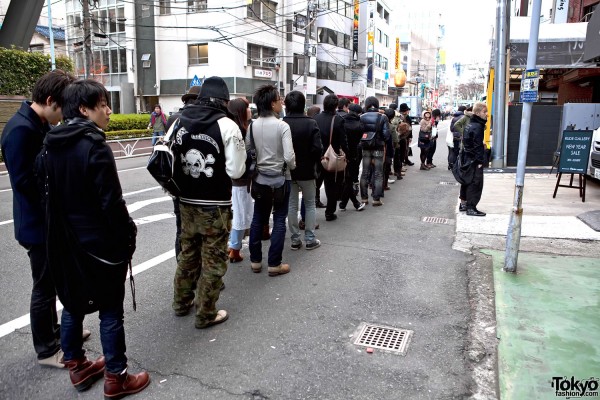 Lots of people waiting to get into Rude Gallery for their sale.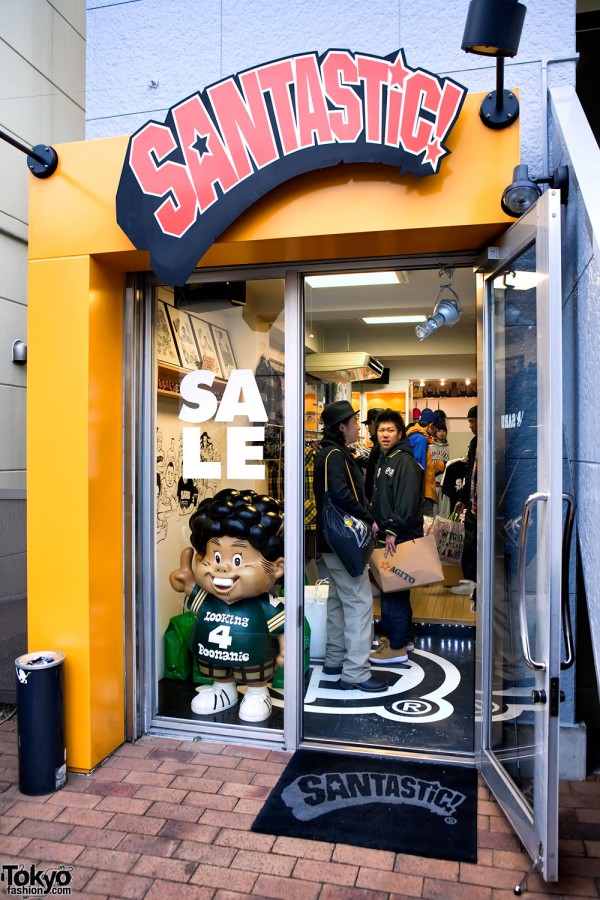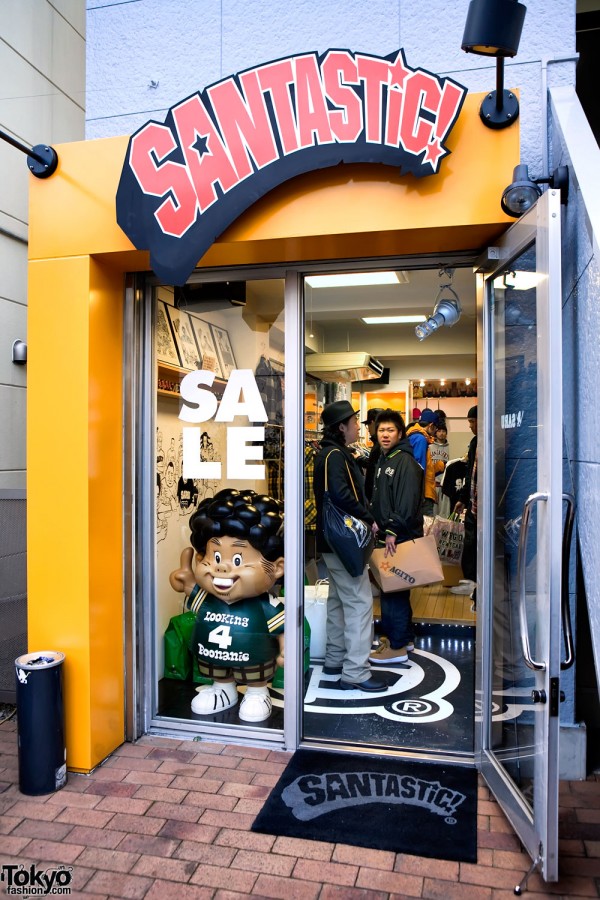 Santastic Sale!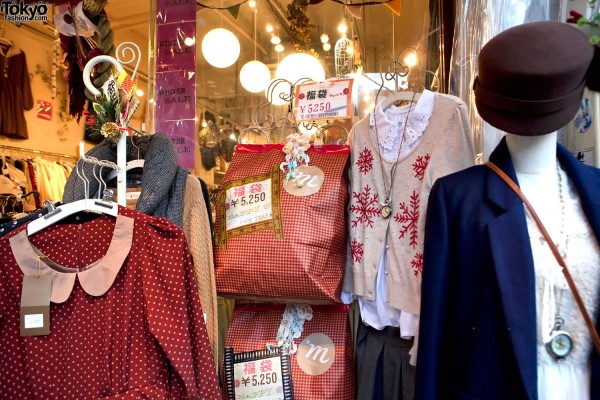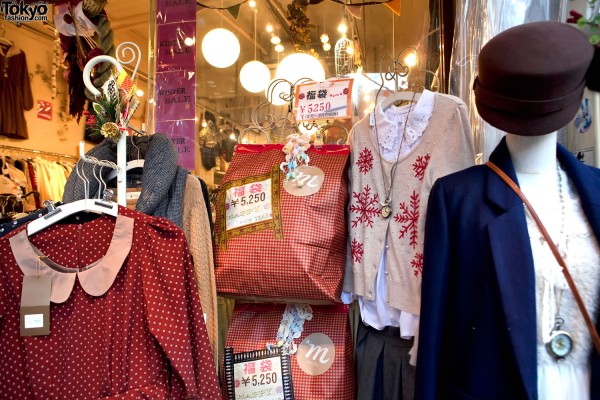 Lucky bags outside of Mocha on Cat Street. This is where we'll end our Harajuku fukubukuro report. Hope you had fun – and hope you can join the lines next year in person! :-)
Remember, you can click any of the photos to see them bigger.
If you enjoyed these photos, don't miss our 2011 Takeshita Dori Fukubukuro pictures and Shibuya 109 Fukubukuro & Sales pictures as well.
Happy New Year!