LaForet Grand Bazar Pictures – Winter 2011
It's hard to believe, but two of the biggest sales of the year in Harajuku take place in the same month. We start January with Fukubukuro, then towards the end of the month we jump right back into mayhem with the Winter LaForet Grand Bazar. The famous Grand Bazar (that's the right spelling) sale happens twice a year – once in the winter and once in the summer – and the deals are almost as good as the crowds are massive. As usual, we headed out to yesterday's opening, camera in hand, so that we could share some of the excitement with you!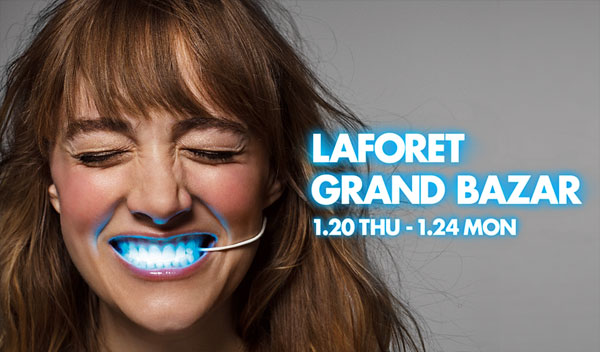 Each LaForet Harajuku Grand Bazar has a different attention-getting campaign theme. This year, the theme is "GEEE FACE". It sounds strange, but looks even more strange! The concept is based around these crazy color lights that flash in time to music INSIDE of people's mouths. Created by Daito Manabe, the "Party in Mouth" device can be seen in models' mouths in photos and videos all over LaForet and at the LaForet website. It's a bit scary, but cool too. Update: You can see a video of the devices – and a video of the LaForet opening line – at the bottom of this article!
LaForet Grand Bazar Winter 2011 edition kicked off on Thursday morning at 9am. That early in the morning on a weekday – and only a couple of weeks after the massive New Year sales – you wouldn't expect too many shoppers when the doors open, right? Wrong! When we arrived on the scene around 8:30am, there was already a big crowd and a line running up Omotesando Dori toward Harajuku Station. The line wasn't as big as the Fukubukuro opening line, but it was impressive for sure. Besides photos of the opening morning line and the crazy campaign artwork, we also stopped shoppers leaving the sale and took street snaps of people holding their Grand Bazar shopping bags.
These photos were all taken either early in the morning or late in the afternoon of the opening day of the sale. Check them out and remember that you can click on any of the pictures to see high resolution versions!
Click any of the pictures to see bigger versions.

Here is a video of the early morning Grand Bazar lines on opening day:


And a video of the Party in your Mouth promotion:


LaForet Harajuku Grand Bazar Winter 2011 edition runs January 20th through the 24th. If you want the best selection, best to get there early. Also, you can check the LaForet website for a schedule of which brands will be having special sales on which days. If you want to see some of the crazy Geee Face videos, or find out more about the Grand Bazar sale, check out the official LaForet Harajuku website (in Japanese)!