Harajuku & Shibuya New Year's Eve 2010-2011 – Pictures & Video
Happy New Year from Tokyo! 2010 is officially over, and the sure-to-be-great 2011 has begun. We celebrated New Year's Eve in Harajuku and Shibuya this year. New Year's is a huge holiday in Japan, and Shibuya and Harajuku are the centers of youth culture in Tokyo – so the number of people that converge on this area for New Year's Eve is amazing! As usual, we brought a camera with us while we rung in the New Year, so we've got pictures – and video – to share with you!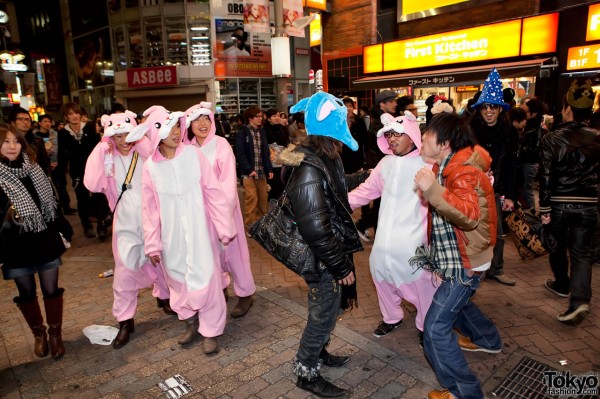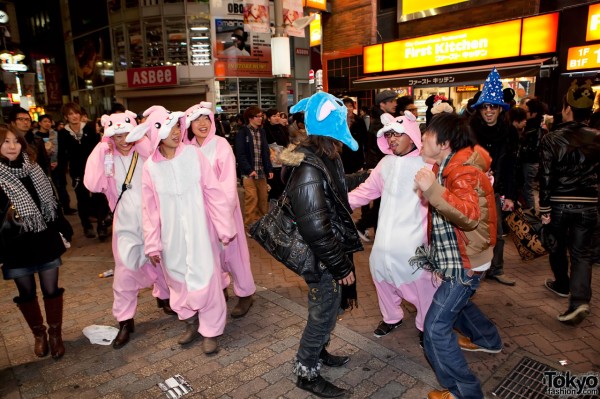 In the spirit of our recent Tokyo Holiday Photo walks, we'll share the route that we took on New Year's Eve with you. This walk is pretty simple, but it allowed us to hit a number of important Tokyo New Year's Eve events. We started at Harajuku Station and walked directly to Meiji Shrine. Meiji is the most popular shrine in Tokyo for ringing in the New Year, and the crowds are insane. More than a million people visit Meiji in the first three days of the year every year! We couldn't go inside (or we would have been stuck for hours), so we just snapped a quick photo of the gates.
After Meiji, we walked a few more minutes to the Yoyogi National Stadium where JPop princess Ayumi Hamasaki holds her incredibly popular New Year's Eve concert every year. We stopped outside the arena (sorry, we didn't have tickets) to chat with some fans and take a few Ayu fan pictures. After leaving there, we walked to Shibuya Koen Dori (stopping to take a Team Ayu fan car photo along the way) where there was a large video screen showing NHK's New Year's countdown TV show to a large crowd of people. From Koen Dori, we walked down to Shibuya Center Street just in time to join the huge crowd for the actual countdown to 2011.
There was a huge crowd at Shibuya Crossing, and it was a bit dark for crowd photos, so we took street snaps and shot video of the 2011 countdown and the street party.
Update – here is the video of the street party around Shibuya Crossing & Shibuya Center Street:
Once you've looked at the video (available in high definition on our YouTube channel), please enjoy these photos of New Year's Eve in Harajuku and Shibuya – and remember that you can click any of the pictures to enlarge them!
Click any of the photos to see them bigger.
Happy New Year from Tokyo and we hope that your 2011 will be a great one!