Tokyo Girls Collection Street Snaps 2011 S/S
This weekend is a huge one for Japanese fashion fans – at least, for fans of Japanese women's fashion. Why? Because it's time for the one-and-only Tokyo Girls Collection fashion show, party, concert, and all-around super-bash. This is the Spring/Summer 2011 Tokyo Girls Collection – and many of the fashion trends on display (and on sale) at this event are sure to rule the Japanese fashion scene in the months to come.
TokyoFashion.com had people both inside and outside of the TGC venue, and we've got several reports – and lots of pictures – to share with you. To get things started, we want to show you a sampling of the fashion worn by the girls attending today's event. This is basically a large Harajuku street snaps update, but every person in these snaps is a girl on her way to Tokyo Girls Collection.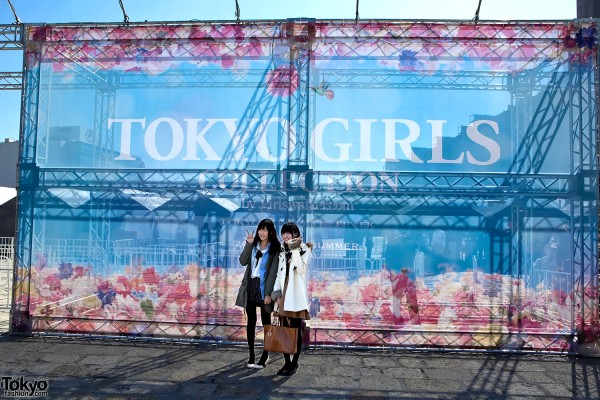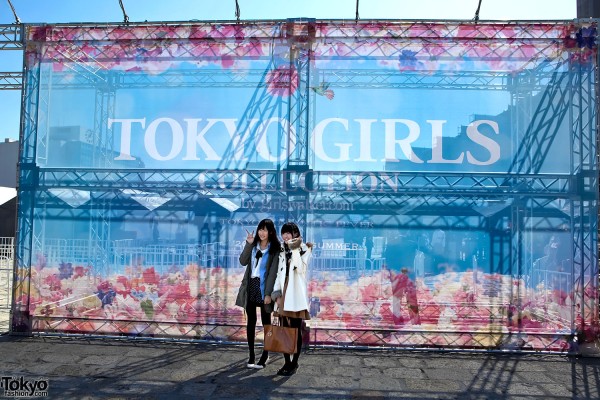 Over 25,000 people (almost all female) were expected to attend Tokyo Girls Collection 2011 S/S at Yoyogi National Gymnasium in Harajuku. We wouldn't be surprised if there were even more than that! When one of our photographers arrived on the scene well before noon, there were already thousands of girls lined up outside, even though the event didn't officially start until 3pm.
To kick off our coverage of the event, we decided to wander amongst the big crowd outside of TGC and see if anyone would be willing to pose for street snaps. Luckily for us, the girls who go to Tokyo Girls Collection are so fun and friendly that we didn't have any problem finding volunteers – lots and lots of them. The pictures that you see below are just a tiny sample of the cute fashions being worn by attendees. Tokyo Girls Collection is a fashion show, but it's also a huge party. Many of the girls going to the event get into the spirit of things and dress up for the occasion, as you'll see below.
As for fashion trends that we picked up on while watching the TGC crowd, there were two huge ones that were obvious right away. The first trend we could have predicted just by looking at this year's Fukubukuro sales – glasses with no lenses (we call them "Tsubasa Glasses"). They've been around for several years, of course, but the percentage of girls wearing them today was extremely high. The second trend that was everywhere today was gray knee-high socks. You can see several variations on this theme in the pictures below. Not sure exactly where this very specific trend came from, but it's hot hot hot.
Pictures are better than any explanation, so go ahead and take a look below. You'll get a good idea of what was going on outside of Tokyo Girls Collection. In our next update, we'll take you inside of the event where the models, music, and fashion shows were going non-stop all day and into the night! Don't forget that you can click on all of the photos to see high resolution versions!
Click any of the street snaps to enlarge them.
If you didn't get enough TGC snaps, you can always check out our 2009 Tokyo Girls Collection street snaps featuring the famous Japanese model twins Ami & Aya!