Grimoire Tokyo Christmas Party Pictures – A Fairy Tale Holiday For Vintage Fashion Lovers
Grimoire Shibuya (along with its sister shop Grimoire Almadel) is not only one of the most famous vintage clothing shops in all of Tokyo. It's also at the center of Japan's vibrant Dolly Kei universe. Grimoire's aesthetic – like their influence – has continued to evolved over the three years since the shop first opened. But one thing that remains constant is the core "fairy tale" theme running through the entire Dolly Kei scene. It's hard to think of a boutique/brand in Japan whose aesthetic is a more perfect match for Christmas than the fairy tale stylings of Grimoire. So when Grimoire announced their year-end "Grimoire White Christmas Party 2011", we couldn't have been more excited!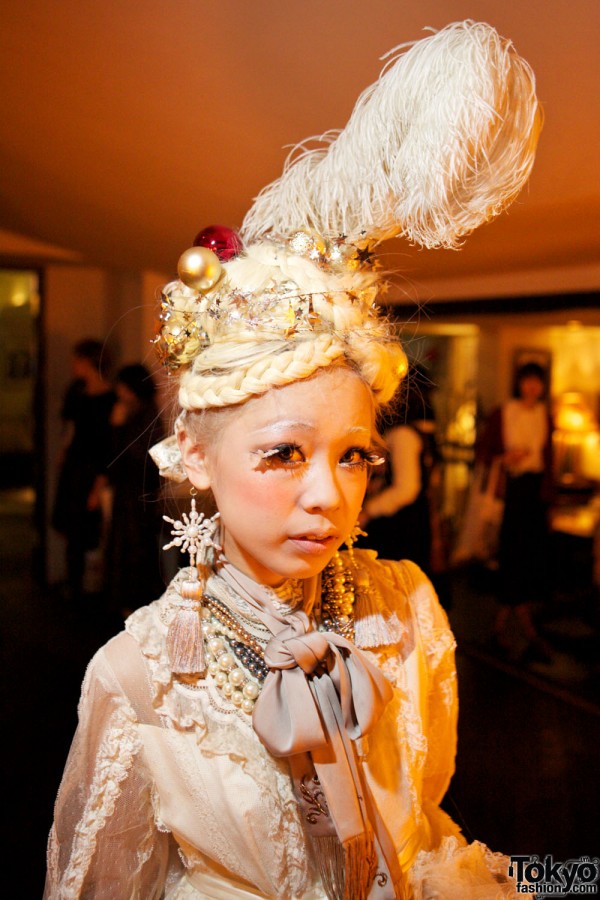 Grimoire parties always mix extreme fun with jaw-dropping fashion. The Grimoire family – including Hitomi, Naoaki, Kaori, Heri, Saki & others – spend countless hours preparing their looks. At this year's Christmas party, attendees dressed up in amazing vintage outfits completed with hair and makeup that must be seen to be believed. There were plenty of other styles on display as well – even some punk/gothic looks – but the fairy-tale-inspired ensembles inevitably steal the spotlight at any Grimoire event.
The 2011 Grimoire "White X-Mas" party was held at Chambres D'hotes HANA in Aoyama (the same location as the Grimoire 3rd Anniversary Party). The lineup for the all-nighter included a DJ set by the one-and-only Leo Candycane, a classical music performance, other DJs & performers, and free Grimoire tote bags for the early entrants.
TokyoFashion was lucky enough to score an invite to the Grimoire Christmas Party (thank you Hitomi!). We brought back lots of pictures of the fashion and holiday fun to share with you. If you're a fan of Japanese Dolly Kei fashion, you'll see many familiar faces in the photos. Pretty much everyone from the scene showed up, and every single person we talked to was having a great time. We hope that you enjoy the pictures. Don't forget to stop into Grimoire and say hello the next time you're in Tokyo!
Click on any of the party pics to see them in high resolution. We took so many pictures (250+) at the Grimoire Christmas Party that we're testing a new way to load photos. If you have any problems viewing the pictures below, please let us know.
Click any of the Grimoire Christmas Pictures to enlarge them.
While looking through the above pictures, you might notice tights with vintage patterns on them. Some of those tights are from Grimoire's newly launched Dolly Kei tights brand Verum. You can find images showing all of the Verum tights line on the Grimoire blog.
We want to send out a big "Happy Holidays!" to everyone reading this and to our friends at Grimoire as well! We appreciate Grimoire inviting us to their Christmas Party. We wish them (and you) only the best for 2012 and beyond!
The next time you're in Tokyo, be sure to stop by the amazing Grimoire shops and experience their antique fairy tale world for yourself!
Grimoire Tokyo:
Address: 7th Floor, 1-10-7 Jinnan, Shibuya-ku, Tokyo 150-0041
Map: Grimoire Tokyo Map
Website: Official Website
Grimoire Almadel:
Address: 2nd Floor, 1-17-3 Jinnan, Shibuya-ku, Tokyo 150-0041
Map: Grimoire Almadel Map
Website: Official Website
All photographs by Will Robb.
About the photographer:
As long as he is behind his camera Will is a happy man. He has photographed everything from the slums of Bangkok to the catwalks of Tokyo. He is a contract photographer for Lonely Planet, his images and photo essays have appeared in Time Out, The Japan Times, Sportswear International and a variety of other newspapers, magazines and guidebooks around the world and his photo essays from Iraq for The Griffith Review even earned him a mention in the Australian book review of the year in 2006. In addition to his media related work, Will also shoots events, portraits, weddings and the occasional CD cover. His full portfolio can be found at WillRob.com and whatever he's working on, he always writes about his jobs and how he goes about them at Will Robb Photography.