Grimoire Tokyo 3rd Anniversary Party – Dolly Kei & Vintage Fashion Pictures
Grimoire, one of Tokyo's most well-known vintage clothing boutiques and the heart of the Japanese Dolly Kei community, celebrated its third anniversary earlier this month. In addition to the Shibuya shop's birthday, the Grimoire crew was also celebrating the successful launch of their recently opened store Grimoire Almadel. With so many things to celebrate, Grimoire did the only sensible thing – they threw a huge party! After all the fun we had at last year's Grimoire party, we definitely weren't going to miss this one. Before viewing the party pictures, though, you should check out the first part of our coverage where we followed the Grimoire crew to see the magic behind their amazing Dolly Kei hair styles.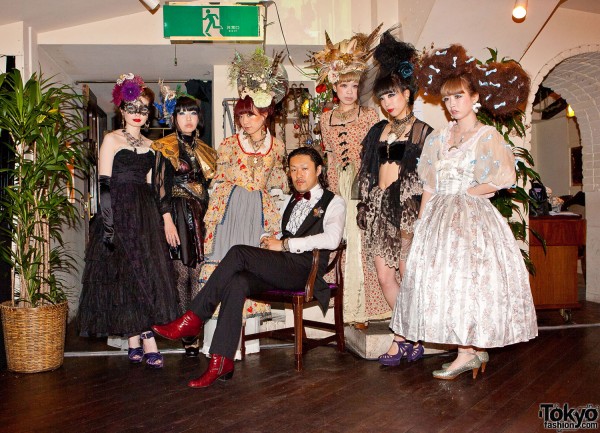 The Grimoire 3rd Anniversary Party was held at Chambres d'Hotes HANA in Aoyama. There was a live DJ, plenty of dancing, and lots and lots of amazing hair, makeup, and fashion. Guests were encouraged to dress up for the party, and some of them took that suggestion to the extreme. Dolly Kei parties are always full of beautifully put together vintage outfits, perfect makeup, and incredible hairstyles. That said, this Grimoire party went beyond the average Dolly Kei party, and reflected how much the subculture's popularity (and influence) has grown in the three years since the shop first opened. Naturally, the fashion on display at the party was still heavily weighted toward vintage gowns. However, this year we saw more sexy outfits, a few increasingly gothic-influenced styles, and even a number of punks/skaters showing their support.
If you've followed our coverage of Grimoire over the last few years, you already know that the shop is run by Naoaki Tobe and Hitomi Nomura. They were both on hand and, as you'd expect, dressed in amazing fashion. The other well-known Grimoire staff and friends – including Saki, Heri, and Kaori – were also in attendance. If you look through all of the pictures below, you'll find a who's who of Dolly Kei scene in Tokyo. No doubt you'll recognize many people at the party from our street snaps, as well as from Japanese fashion magazines like FRUiTS and TUNE.
We feel very lucky that the Grimoire crew invited us to their party so that we could share this special night with all of you. We are also super happy for them for their success! The next time you're in Tokyo, we highly recommend that you stop by and check out one (or both) of of the Grimoire shops. What they are doing is much more than just selling clothes – which we hope you can tell when you check out all of the pictures below. Don't forget that you can click on any of the images to see them in super high resolution – and we recommend that you do!
Once again, we want to say "Thank You!" and "Congratulations!" to everyone at Grimoire. We hope you've enjoyed these pictures. Already we're looking forward to next year's Grimoire 4th Anniversary Party. Hope to see you there!
Until then, check out the following links for more info:
About the photographer: Michael Steinebach has been fortunate enough to travel and see the world. Exposed to the limitless possibilities of photography 20 years ago, he grew up looking at things differently. He currently shoots in the areas of people, fashion, and news photography in Japan. He maintains a Facebook page with samples of his work. He can be emailed about contract work or with questions or comments on his photography.